If you read my blog (THOSE BACKSEAT SMOOCHES) from a while back regarding the exciting news of a small independent cinema re-opening in my home town you would have read how passionate I am about bringing back true cinema romance!
I think you'll agree that the magical charm of cinema going seems like a distant memory to some and just a nice story your grandma told you to others.
Ice creams trays, intervals, flickering whirs, sugar papered tickets, soft seats and a snog! For a REAL experience that's what it should be about and now it seems cinema-going has become nothing but a robotic system that stinks of overpriced popcorn... Which is why I am sticking close to the buzzing developments and rebirth of Telford's Clifton Cinema. An art deco cinema that once had its grand opening with a Shirley Temple film back 1937 but was sadly closed in the 80's, eventually losing out to a home-ware store...I didn't even know it used to be a cinema until a year ago....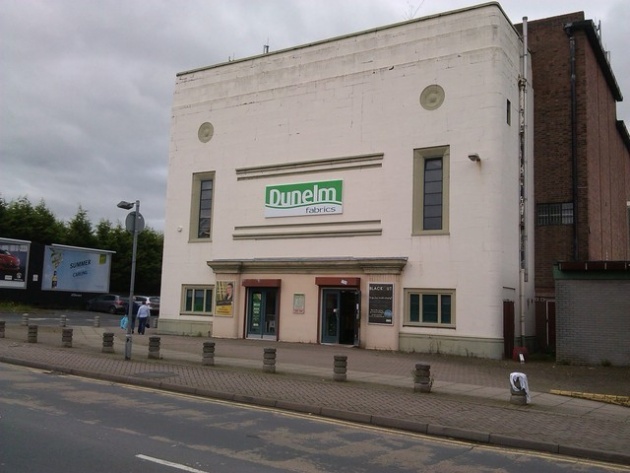 But hold back those tears for a moment! ...I was approached by a real interesting gentleman a few months back, the lovely Dave, a man I admire massively! He told me all about the new plans for the re-opening of the Clifton, how it is to become a community project, how the community will have to scrape together the pennies to buy it back, how the community will steer it's future and ignite a little culture back into our home town. A project like this is something I would do anything to be involved with and luckily I now am!
Sipping a good old English brew with Dave, he asked if maybe I would create a painting of the Clifton, a sort of 2013 vision of what the building could be become. The painting could then be printed as postcards and signed high quality prints to raise money for the pot - It's a challenge I was up for and I enlisted the help of my mum to create the painting.
Here are some snap shots of our progress!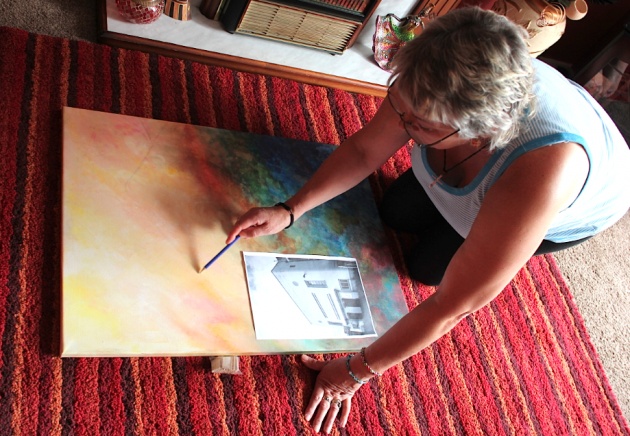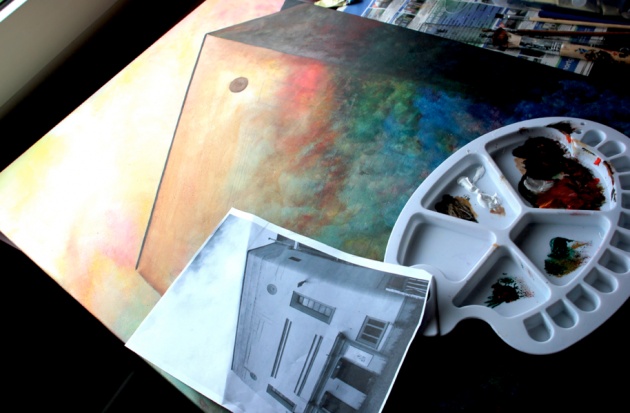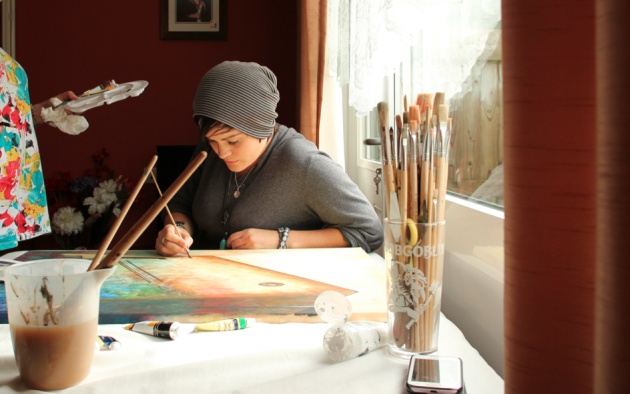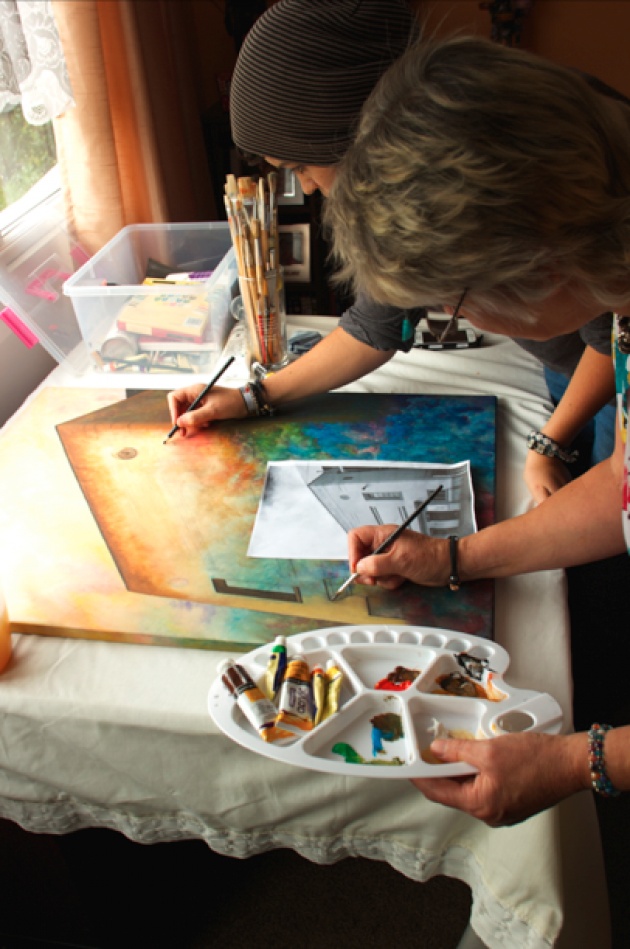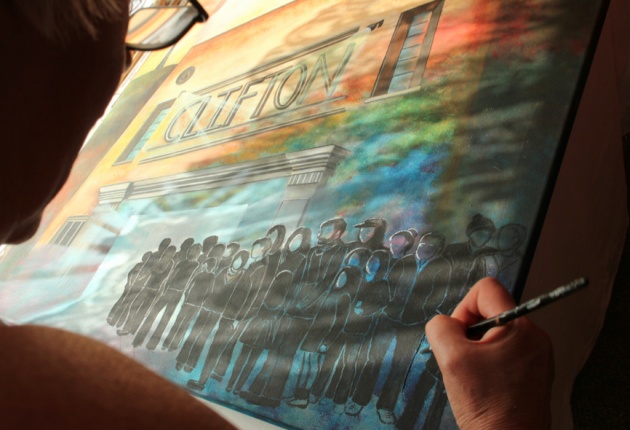 And the final piece.....!!!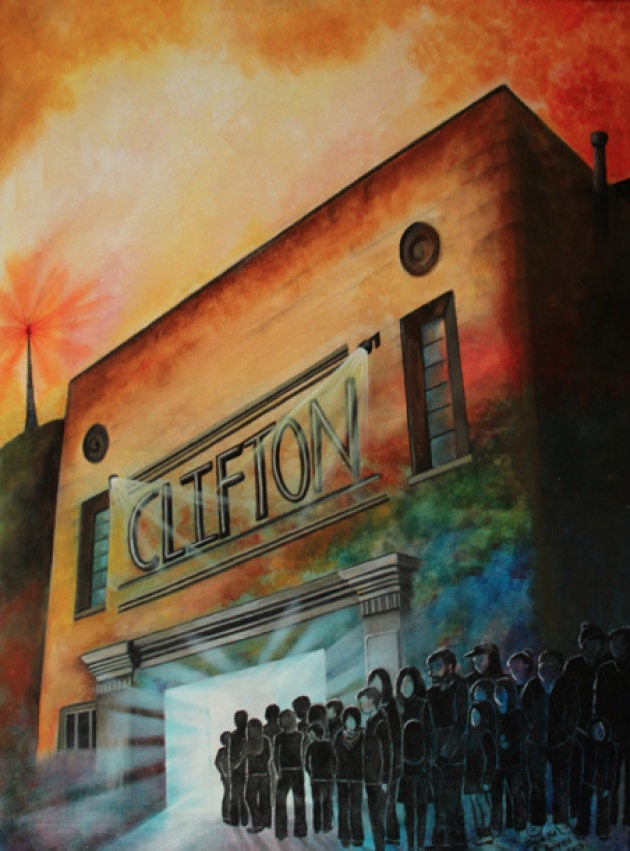 Now on display at the Kings Cafe in Wellington with postcards on sale across town!
Hopefully it can contribute a little to the large pot of money needed to get this community project off the ground and to put Telford back on the map for a taste of culture.
Being a small independent cinema means there is a possibility to introduce a town film festival......I want to help drive it! Shortly the Clifton will hold a share holders event where ANYBODY can buy a share for as little as £50, with this comes the opportunity to perhaps have a little say in it's future plans and to proudly announce 'I own a bit of that' if you are interested in keeping up to date with this unique little project check out the website The Clifton Telford for more details.
Peace Out!