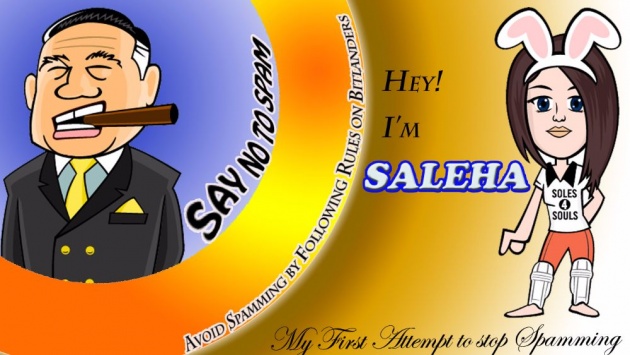 Personal image
Hello! My dear followers and readers.
Today I am going to discuss about how to avoid spamming on bitlanders. I will discuss about the bad impacts of doing spamming here. First of all I would like to tell all you of that never commit any Spam here, because it can cause negative impact on your using bitlanders. If you will be found doing this (Spamming), you can face Suspension or banning.
I would like to bring your attention towards suspension and banning, because when a user gets suspension or banning, he/she cannot use his/her account for a particular time or a user can face permanent suspension from using bitlanders.
WHAT IS SPAMMING?
In simple words non-following the rules is known as "Spamming". Bitlanders has given instructions about spamming many times through their rules. The team or management of this great rewarding platform want users to follow the rules and regulations. They send their instructions to users through an Administrator. Now you will be thinking that who is administrator here for bitlanders, so I would like to bring into your kind information that Micky (micky-the-slanted-salerno) is an admin here on behalf of bitlanders. He often comes online in global chat to monitor the activities of users. He has the authority to mute a person in chat who does not follow the rules in global chat.
The rules of Global Chat is very clear to all,
1. Use English only in Global Chat
2. Don't ask for BUZZ or SUB in Global Chat
So any user who does not follow the above mentioned rules faces suspension from chat for a particular time as set by Micky.
All users can read about English language policy by click the link down here.
http://www.bitlanders.com/blogs/the-public-chat-becomes-english-only/3934889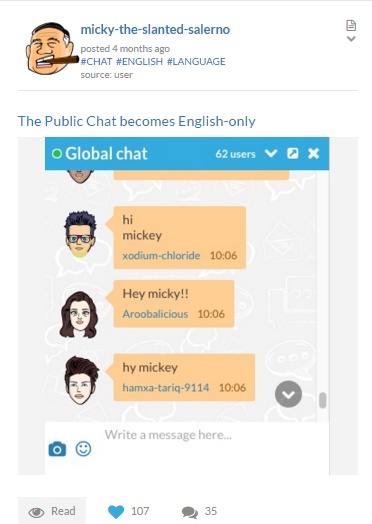 Screenshot
All users can read about BUZZ and SUB policy by click the link down here.
http://www.bitlanders.com/blogs/suspend-for-buzz-and-sub-comments-and-on-the-chat/3909776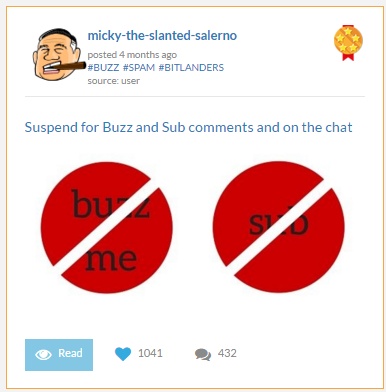 Screenshot
These above two rules or category or rules were introduced to users because bitlanders thought that many users are spoiling the environment here. The main objective of using bitlanders is to post some quality material and then attract users to get visit on your profile. But recently bitlanders noticed that many newbies joining bitlanders are disturbing this community. Users were coming here and posting some irrelevant or meaningless posts. The team management do not want users to spoil the things here so the made some rules about using bitlanders which were then delivered through admin to all users, and then everyone is restricted to follow those to prevent from suspension of banning.
What bitlanders observed before applying those rules? they observed that users are making Buzz and Sub deal all the time in Global Chat. They also observed that users are posting some invaluable stuff in Micros. They then introduced their policy to keep this platform a clean place, free from spammers.
source:youtube.com
EXAMPLES OF SPAMMING:
Spamming on bitlanders is being done not only in Global chat but also on contents too. People do many posts which are not meaningful. So bitlanders discourage this and ask or demand for posting some quality contents.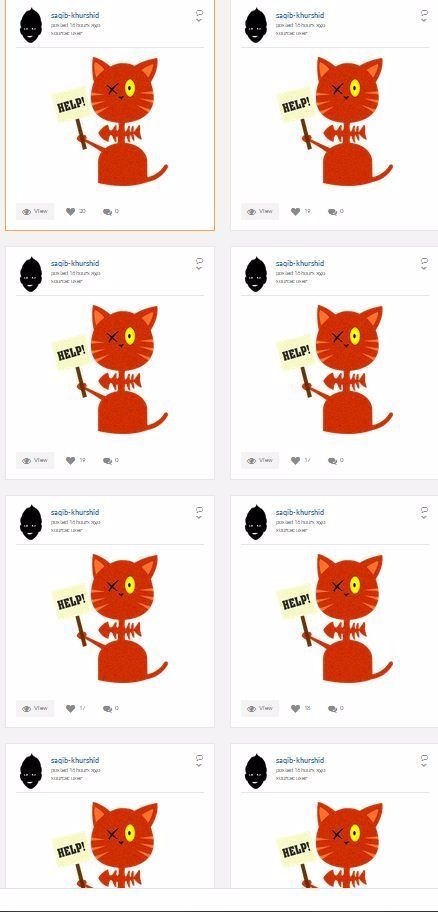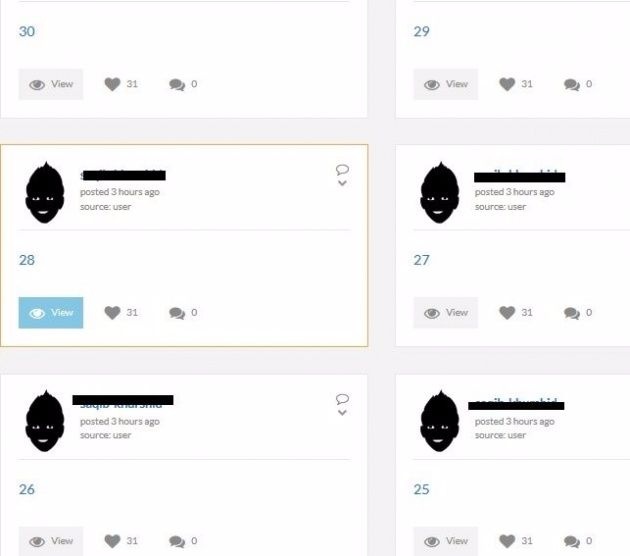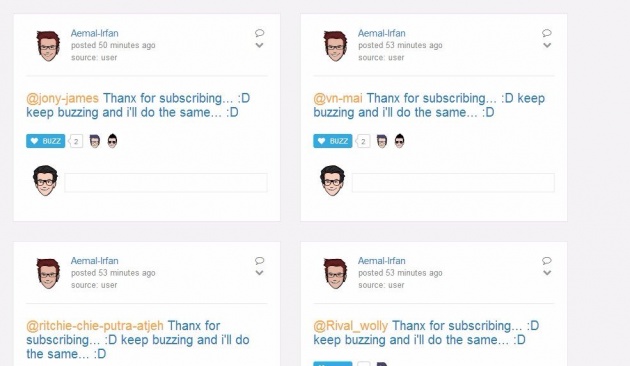 Source: google
It will be worthy to mention here that an old user of Bitlanders (Own-Muhammad) got suspension here due to spam. He was not able to use his account. I don't know what have happened to him, but what I saw that he was not able to use his account which was not good to observe. I am sure that Own will not be happy by this. No any user
Not just Own-Muhammad, many other users like Wayeez, Arjun-gants, etc. have faced suspension. As you can see that bitlanders is very strict towards their rules. They do not spare anyone who do spam. So we should be careful and avoid from doing or committing a spam here. A user who uses this platform with rules and regulations does not face any type of such problem.
Posting Quality/Personal Contents is the only way to avoid suspension:
As every user know that we can post Movie, Blog, Micros and Gallery. We just need to make it sure that what material we are going to posts is a genuine and original post. We cannot post others data or material because bitlanders has applied some restriction on irrelevant material or data. So everyone must be careful about posting data.
we can read all rules about posting material in Micky's profile. I am sharing here the link of blog about New Rules of bitlanders. It will be very handy for users to study these and then apply it in their daily using.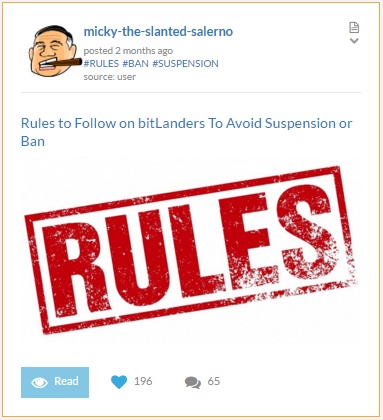 Screenshot
This is the picture from the Micky's blog about rules. The link of blog is here http://www.bitlanders.com/blogs/rules-to-follow-on-bitlanders-to-avoid-suspension-or-ban/4408394
In this blog everything has been told about from avoiding spam and also to follow rules.
Any of the following behaviors or action will lead to temporary suspension or definitive ban from the platform:

- Posting scrambled content from the web

- Posting duplicated content copied from the web: NO pic galleries with pics that you didn't take yourself, NO video uploaded that is not yours, NO micro-blogs with quotes or pic that is not yours, NOT a whole blog not written by you. What you CAN do is embed a few pics and/or videos in a blog that are not yours but mention the source.

- Providing fake or doctored ID documents for payment requests

- Cheating the buzz system by using bots

- Asking for buzz or sub deals on the chat or comments

- Repeatedly not using English in global chat (you can speak any language you like in private chat)

- Spamming comments or micro-blogs

- Posting inappropriate content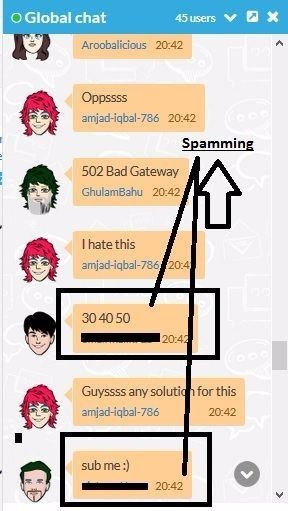 Source:google
Now I hope it will be very clear to all of you that what spamming is actually and how can we avoid from it. We just need to post good contents. If we will be following these rules we will get Buzz score. The Buzz score is obtained by the activities like posting micros and then to receive buzz from others, we get buzz also by doing daily tasks as provided by bitlanders.
Here i like to mention what microblogs should be added. You can Post what are you doing. Post picture of your room thing, food Post any thing which u like.
I am seeing s person posting same photo again and again its called spamming. we should post real pictures from you gallery. You can post pictures of the places whom you vists, You should post personal and also good quality pictures.
Videos:- Post videos which are sitting in your phone. Always upload original videos of your everyday activities. You can upload video of your room, your new dish, the gardens, videos of your funny kids, post video taken while traveling funny dubsmash and so on... There are so many options that you can do.
Here is a video i post in my movie section:
Bitlanders video
The most best and most appropriate way to get high buzz score is to submit Blog for review. We can make our own blog and then we can submit if for review by click the Submit for Review button available in blog at the top left corner of blog. It takes 10 gems to do this. A user get reward on review according to star received on blog after review.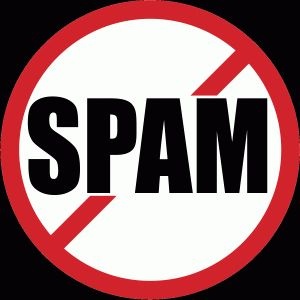 Source: google
Unfollow spammer users who are posting spam. I unfollow many users because of their spam. Spamming is a moral crime I wish and d request to all my friends please avoid doing it. Have you all fun time at BITLANDERS.