Film Annex - Waiting Period
Film Annex is an incredibly innovative social media platform and is significantly unique in the way it pays users in Bitcoin for the content they create and share. Film Annex is able to pay users, also known as "content providers" as a way of sharing the advertising revenue from various ad networks. Other social media platforms receive ad revenue as well - Twitter, Facebook, LinkedIn, etc. They choose not to share the revenues with users. Film Annex is taking a different approach.
Unfortunately, the ad companies that pay Film Annex have a payout waiting period of up to 75-days after the end of each month. This can be very frustrating for users who wish to spend their earned revenues - that's over a 2-month wait! However, there is a trick that I discovered and tested today that helps avoid this dilemma. It worked for me so I know it can work for you!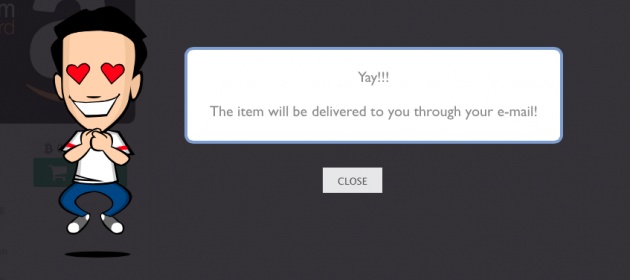 Amazon Gift Cards
Film Annex offers users the ability to purchase Amazon Gift Cards through their online store. Currently, users can purchase $10, $25 and $50 Amazon Gift Cards that can be redeemed on www.Amazon.com. The cards will usually arrive via email a few days after the initial purchase. A redemption code will be provided with the email, and the full amount of the gift card can be redeemed at www.amazon.com.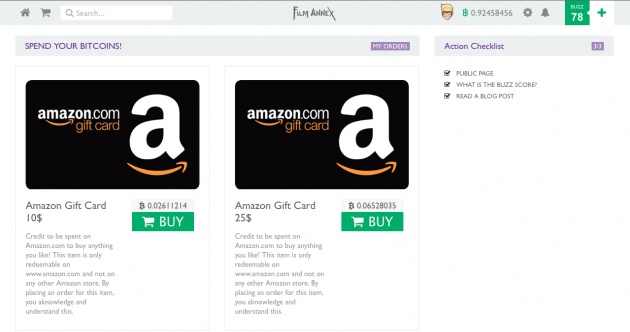 The Amazon Gift Cards can only be used for purchases on www.amazon.com. This can be a burden for those who wish to spend their earned Bitcoin at a local grocery store or restaurant. Fortunately, an alternative has been discovered! It's still in "beta" testing, and has only been tested once. However, the test was extremely successful so I wish to share this method with others on Film Annex - letting them test it out for themselves!
eBay
eBay.com is one of the largest and most well-known online stores for individual sellers. Various products and services are offered by millions of people around the world - and this includes gift cards! If you search on eBay, you can find similar Amazon Gift Cards for sale. If you haven't put the pieces together yet, you'll have an understanding by the end of the next paragraph.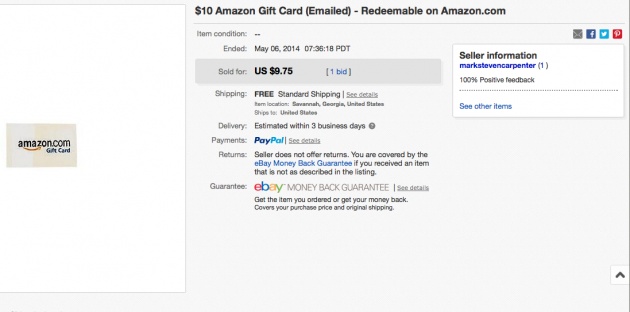 Notice in the above image the $10 Amazon Gift Card listed and sold on eBay for $9.75! By sacrificing a quarter, I was able to sell my gift card on www.eBay.com. eBay then prompted me to send the information to the buyer via a secure online messaging system specifically designed for eBay users. The entire process - listing, selling and receiving funds - took less than 4-hours! My PayPal account was credited the $9.75 and I am now able to transfer my PayPal funds to my bank account.

I've purchased four other gift cards - all worth $50 each to test the same method with a higher value and multiple cards. I should be receiving my gift cards within a few days, and will be posting them on eBay for $49.50 each. I will sacrifice a total of $2.00, but have the opportunity to spend my funds outside of Amazon.com. Please test the method for yourself and let me know when you have the results!
Video Introduction
Thanks everyone!
Please subscribe to my page at www.filmannex.com/steven-carpenter!