A warm hello everyone! A few more weeks before summer ends and rainy season is finally coming. Before I proceed may, I just say a big thank you to bitLanders for awarding me the third place for the "My Querlo, My Blog" contest. I wrote about matcha, "Matcha: The Green Tea Sensation" out of my love for it. If you don't mind, check out the entries of the 1st, 2nd, and 4th winners too! (Congrats to us girls!)
Returning to what I am saying, I can't wait for rainy season; for the temperature to get a little bit less warm. Although I worry about typhoons and floods too. I guess I should buy a raincoat, it will be useful when visiting our business.(Lol) Anyway, it's still summer and different festivals are happening at every corners of the Philippines. Summer season in the Philippines also means festival season! It's the time of being under the bright scorching heat of the sun and surrounded by vibrant festive colors.

(image source: Jojo Estrada Tamayo via Facebook.com)
Bangus Festival street dance parade.



In the province of Pangasinan, where I live, one of the most awaited festivals is the Bangus Festival. I've never been to most of the activities of this festival but I am going to introduce to you how the Bangus Festival is celebrated and why do people love it. Galila!(Pangasinan word for "Let's go!")

First of all...

What is Bangus?

(image source: Anne V via stretchyourpeso.com)
Photo of a milkfish from Bonuan, Dagupan. The tastiest milkfish in the world!



"Bangus" is what we call milkfish in English. I'm certain everybody knows this fish but let's take a little closer look to it. The bangus or milkfish has the scientific name of "Chanos chanos." They reside in tropical waters mostly in Southeast Asia, and is a popular fish especially in the countries Indonesia and Philippines. Bangus is Philippines' national fish, by the way.

Milkfish are toothless and have small mouths. They feed on algae, pellets, zooplankton and detritus. Their body is covered with beautiful shiny scales and they grow around one meter long. Although, the bangus that are sold in markets are smaller with just around one feet long.


Dagupan City Swims to a Good Economy


(image source: trips2philippines.com)
Fishermen harvesting bangus on a fishpond.



People say, the tastiest bangus can be found in Dagupan, a city located along the Lingayen Gulf in the north central coastline of Pangasinan province. These feed backs from people are not rumors because it is a proven fact! Bangus that are from Dagupan particularly from Bonuan is the best one out there. Some towns in the province also produce milkfish, but the ones from Dagupan remain unrivaled. So if you've bought a milkfish coming from Dagupan, you are sure of taste and quality.

How do we know if the milkfish we bought is from Dagupan? First, the lower fin is shorter than the upper fin. Second, mouth is small and the head is little and rounded. Third, rounded belly. Of course, only buy those with tags that says it's from Dagupan. But be careful some vendors try to trick people by putting tags and labeling them from Dagupan. Milkfish sold within Dagupan City don't have tags. The reason why bangus in this city has a unique delicious taste is due to the fresh water and salt water combination in the river. Dagupan City is very blessed to have a body of water like this.

The bangus industry continues to move forward throughout the years that it had eventually helped Dagupan City swim up towards a good economic growth. The city government worked hard on developing this industry and slowly bangus from Dagupan was recognized outside the province, into the entire Philippines, and even across the globe. Today, Philippines is one of the major exporters of milkfish and Dagupan City had also made sure they export their fishes at their utmost quality. They built two bangus processing plants in the province a few years ago, one in Dagupan City and the other on its nearby town, San Fabian.(I wonder how these export quality milkfish tastes. They must be expensive though.)

Bangus, being a superstar seafood here, had undoubtedly swam the city to a better economy giving livelihood to thousands of people especially to the Dagupeños. A lot more people got employed too, and through the years, more businessmen and investors came to the city and Dagupan continues to grow up to this day. I have seen Dagupan City since I was little and witnessed how it greatly improved. I strongly believe this luck Dagupan City is receiving is due to the good bangus industry.

Dagupan City takes pride on their bangus and a proof of that is the annual celebration known by everyone as the Bangus Festival.


The Bangus Festival

(video source: Kabaleyan Channel via youtube.com)
Bangus Festival 2017 advertisement where Dagupan City Mayor Belen Fernandez invites people.



Dagupan City is known as the bangus capital of the world so it is just not right if they do not hold a grand annual festival for it. The city celebrate Bangus Festival as a tribute for the abundant harvest of bangus throughout the year. This city also holds the record of the longest milkfish grilling in the Guinness Book of World Records with 1,007.56 meters.

The Festival lasts over a month with most activities happening on the month of April. This year, the festival began on March 31st and ended on May 6th. It is the grandest festival in Pangasinan and probably the most celebrated fish in the Philippines. Yearly, the city highly prepares for this big event. The streets of Dagupan City becomes lively in colorful flag banners and other decorations. During these days, different activities and contests are held in the city for everyone to enjoy.

Bangus Festival Activities

For over a month long, Dagupan City becomes festive. Streets become busy while people flock to check out the different fun activities/shows the city has prepared. From photography contest, carnival, beach volleyball, beauty pageant contest(Miss Dagupan and MsTisang Bangus), car show, dog show where dogs wear bangus costumes, slalom car racing, skim boarding, sand sculpture, kick boxing tournament, taekwondo competition, open golf tournament, music and arts festival, dance battle, tattoo competition, job fair, etc. With so many activities to see in this city, these following events I am going to share with you next are the major events people are looking forward to the most.


#1 Bangus Rodeo

Bangus Rodeo has six contest categories people can participate to: longest bangus, heaviest bangus, prettiest bangus, fastest bangus deboner, fastest bangus classifier, and fastest bangus eater.


• Longest and Heaviest Bangus


(image source: Jojo Estrada Tamayo via facebook.com)
Some of the milkfish during the Bangus Rodeo.



Longest and heaviest bangus are two different categories but the milkfish usually used for this contest are cultured for a long period of time, most likely around 5 years to 10 years. They are raised solely to be entries for the contest.(Maybe they'll feast on these fishes after the contest. Poor milkfish.) The longest bangus for this year measures 76 centimeters or about 30 inches, owned by a resident from Barangay Pantal. Meanwhile, the heaviest bangus weighed 8.04 kilograms and was owned by a resident from Barangay Salapingao. The fishes for the heaviest bangus are mother milkfish also known as "sabalo."

• Prettiest Bangus

Yes, you read it right. Humans have beauty pageants and so are milkfish! To be hailed as the prettiest bangus, the fish must possess these following characteristics: fresh smell, red gills, firm and smooth flesh, small head and round clear eyes, beautiful and fine scales, round belly, lower fin shorter than the upper fin, and weight should be within a half kilogram to one kilogram. This year the prettiest bangus winner was owned by a resident of Barangay Caranglaan.

• Fastest Bangus Deboner

Deboning is the process of separating the bones from the meat/flesh. Bangus is a fish with lots of bones ranging from thick to thin and big to small. Imagine how difficult this bones are to remove. But deboning milkfish is nothing for the bangus deboner experts. I only witness the bangus deboning contest through our local channel here in the province but I often see these bangus deboners for real whenever my mom and I would go to the wet market. Using forceps, they could debone a fish for just around 20 seconds! Okay, that's maybe an exaggeration, less than a minute is more appropriate. But really, these bangus deboner will just leave your minds blown with their speed.

• Fastest Bangus Classifier


(image source: Boom Boom Ochave via facebook.com)
A fish about to land on one of the baskets.



In the fastest bangus classifier contest, the participants need to sort the fish into their corresponding size. Containers are placed in front of them and they need to sort the size of the fish and toss it into the corresponding container. They need to sort the fishes with speed and efficiency. Bangus classifier experts do it just like they are juggling. That's how fast they are. They could easily classify the size of the fish in just a second and they don't even look at the containers when tossing the fish. Amazing!

• Fastest Bangus Eater

Well, this is self-explanatory. The first one to finish eating the fish wins! But be careful of the bones you'll never want to get choked, right? If I were to join this contest I would empty my stomach for a day. (Lol)


#2 Banguisine

Banguisine is one of the activities that people look forward to on every Bangus Festival. This is the time where different ways on how to cook bangus is shown. Culinary experts down to students from different universities in the city participate on this event to showcase their own recipes. From the typical grilled or boneless bangus to something obscure that will surprise visitors. Indeed, a moment where visitors get to tickle their taste buds and love this fish even more. An event where you can have a free taste spree!


#3 Gilon-Gilon Ed Baley

(video source: francis Lim via vimeo.com)
Gilon-Gilon Ed Baley 2017.



Gilon-Gilon Ed Baley(roughly meaning "catching fish") is a street dance competition showing how bangus is harvested. Barangays of Dagupan City are grouped into clusters. During the Gilon-Gilon day which happens in the afternoon, major roads of the city are closed by lunch time and people start to gather on the sides of the road as the time for the event draws near. Waiting under the heat of the sun is all worth it when you get to witness the colorful costumes and amazing choreography of each cluster. And no worries because the city government put up stalls where you can get a bottle of water to keep yourself hydrated. I remember, they handed me a bottle of water even without asking for it. Maybe I look dehydrated that time. (Lol) Anyway, the winner for this contest will proceed to compete at the Festivals of the North.


#4 Festivals of the North


(image source: Jojo Estrada Tamayo via facebook.com)
Pandan Festival, the overall champion for Festivals of the North 2017.



Festivals of the North is a more grand competition of street dancing where different towns and provinces from northern Luzon gather in the city to compete. They showcase their product and culture through dancing. Their creativity of their props, costume and choreography will really amaze and delight the audience's eyes. The contest proper for both Festivals of the North and Gilon-Gilon Ed Baley takes place at the city plaza. The overall champion this year is the Pandan Festival of Mapandan, a town in Pangasinan.

Here's a video summary of Festivals of the North.


#5 Kalutan Ed Dalan and Bangusan Street Party


(image source: Jojo Estrada Tamayo via facebook.com)
The lighting ceremony for the bangus grilling.



April 30th is the most-awaited day by everyone. This is like the highlight of the Festival because on this day is where the "Kalutan Ed Dalan"(grilling on the street) and Bangusan Street Party happens. On this day, the De Venecia Road is closed to give way to these two big events. The grilling activity takes place in the afternoon where people line up their grills forming a very long line. Guess what they grill? Of course, it's the bangus! If you try to walk on these streets while the event is ongoing, you might have mistaken the place is on fire. Well, it is, but just on the grills! Don't forget to bring a handkerchief to cover your nose from the smoke and a fan to cool yourself. If you want to participate to the grilling event, you can approach someone from the Dagupan City Hall and buy a grilling set with free milkfish to grill.

(Did you know, Dagupan City was recognized for having the longest milkfish grill last 2003 by the Guinness Book of World Records? Grilling milkfish simultaneously, they were able to reach the length of 1,007.56 meters besting the country Peru with only 600 meters. This is like one of the most amazing things that had happened in the history of the festival. If you visit Dagupan, you can find the proof at the East Junction in front of Bank of the Philippine Islands.)


(image source: Dagupan City Tourism via facebook.com)
De Venecia Road turns at its brightest during the Bangusan Street Party.



The fun on this day doesn't end with the fish grilling. When night comes, the Bangusan Street Party commences. This event attracts hundreds of thousands of people, especially the youth, from the city and different towns to witness live performances from bands from the province, mainstream local bands, solo artists, celebrities and more. This night is mostly pure music entertainment. A couple of stages are set up at the De Venecia Road as it has a wider space compared to the main streets of the city. (Tip: Most seafood restaurants of the city can be found along this road.)

If you plan to join this party, be sure to wear your comfiest shoes because you are going to walk your way to reach each stage. And the stages are very far from each other! I've been to Bangusan Street Party twice and probably I might never go again because it's too exhausting, numbs my feet and worried about varicose veins appearing on my legs. You have to swim into the tight crowd and you can't avoid to rub elbows and bump with other people—and I mean, sweaty elbows! (Lol) You'll often be pushed and get your feet stepped on. Oh the stressful things when walking in a crowd! Most of all, be wary of your precious belongings. In the sea of crowd, you'll never know when will those pickpockets strike. Going to this event is very memorable and a fun experience. If you're planning to go to Bangus Festival, be sure to check out this event.

Here's a must-see video about the Kalutan Ed Dalan and Bangusan Street Party.


A Festival with a Bang!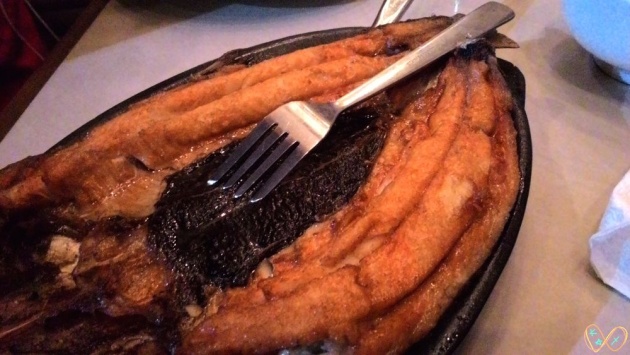 (image source: Katsanslimites)
Yummy boneless bangus of Dagupeña restaurant. The belly part is my favorite. Hehe!

Starting from a simple festival to one of the best festivals in the country today, this just shows how far the city has reached and how they are blessed with the bangus industry. It is definitely a celebration worth visiting. Savoring into the tastiest milk fish while feeding our sight with the beautiful city. The bangus, indeed, brings this fish-tival with a bang!

Before I finally end this blog, here are the most popular milkfish recipes in the province: inkalot ya bangus(grilled milkfish), boneless bangus, lumpiang bangus(milkfish springrolls), kilawing bangus, sinigang na bangus.

And since festivals attracts people from different places, here's a Querlo chat about travelling. Enjoy!



Thanks for reading!



✧ Katsanslimites