It's pretty obvious I love any form of street art. What I love about it is the freedom that it conveys, and the beauty that one may serendipiditoulsy found hidden in plain sight on walls, signs, cars, corners, and chimneys...
Speaking about freedom, yesterday I came across a few examples of street art using bird, wing, and angel symbolism :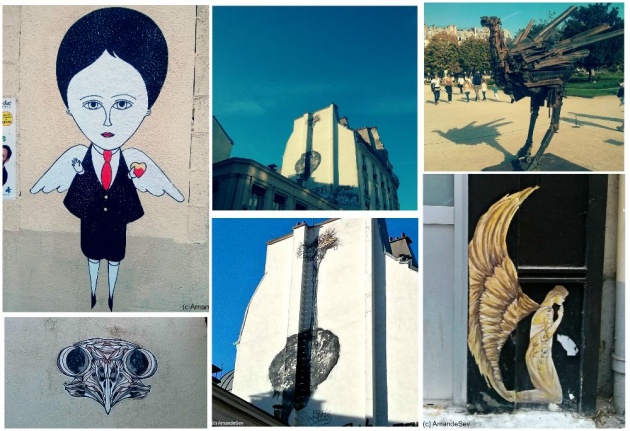 From top to bottom and left to right :
(1) The Heart Angel, "collage" in black, white and red, rue Bichat (Paris), November 11th 2014.
(2) Eagle Face, "collage" in black, white, grey, and pink, November 11th 2014.
(3) and (4) The Ostrich, beautiful immense drawing on a facade of a building, November 11th 2014. Apparently it has been here for years.
(5) Wood feathers, sculpture exhibited in the Jardin des Tuileries during the Comtemporary Art Forum (FIAC), October 22nd 2014. I did not think to write down the artist's name at the time, so I'm sorry for the lack of credit.
(6) Praying Angel, "collage" in yellow, rue Amelot, November 11th 2014. I love how this one fit in the door, almost kneeling to the actual ground.
All photographs taken by me in Paris.