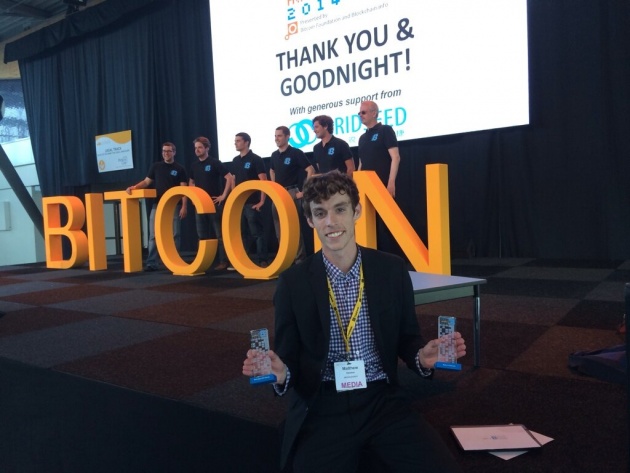 Last week, 22-year-old Matthew Kenahan had a tough decision to make--attend his high school graduation or an international Bitcoin conference. For any other high school student, the choice would be clear: Go to graduation. For Matthew, though, as founder of the Bitcoin Society, the choice might have been one of the hardest he's ever had to make.
For the record, he chose to attend the Bitcoin2014 conference in Amsterdam, where he would later recognized for running the Bitcoin Society as the "Most Impactful Charity" and also took home the "Bitcoin Champion" award. Fittingly, his reward for being one of the most impactful Bitcoin advocates was 1BTC, which he proceeded to donate to the Women's Annex Foundation, a foundation launched by the Film Annex team to foster digital literacy, sustainable philanthropy, and community building for women and children in Central Asia.
According to Kenahan, one of the foremost reasons he has so much faith in Bitcoin is that it makes the donation and transfer process so seamless and fast.
"[Bitcoin] allows you to create a unique address, for a very specific cause," he told Coindesk. "We see both the incoming and outgoing transactions, and we can see that it's used for a very specific cause."
Bitcoin, a decentralized form of "cryptocurrency" has been making headlines in recent years as a potentially viable alternative to more traditional currencies. Earlier this year, the Film Annex film distribution network began paying its content contributors exclusively in Bitcoin in an effort to expand their economic and professional opportunities.
Although Bitcoin has traditionally been associated with its more controversial applications, Kenahan predicts that the future of the currency will likely involve an image transformation.
"One of the biggest issues with bitcoin, and one of the things that hindering the development of our community, is we have this fundamental image problem that oftentimes stems from misinformation or slanderous articles," he argued.
Now, Kenahan is embarking on a project that aims to show off the potential for Bitcoin as a risk-reducer through bitcoincourses.org, a new website built to educate people about Bitcoin and create a more fair buy-back process for college textbooks. For Kenahan, the world is Bitcoin's oyster, and he sees no reason to stop expanding: the Bitcoin Society will soon have representatives in Shanghai, New York, India, San Francisco, Los Angeles and Chicago.
And remember, please donate to the Woman's Annex Foundation: