There's paper money which we use to pay items we like and services we accept. In this age, we also are aware of digital money such as those which we have in our cryptocurrency and e-wallets.
In the Philippines, GCash is one of the e-wallets which is making an effort in encouraging every Filipino to switch to cashless shopping and more. With GCash, there are already several manual things that I could automate such as credit cards and bills payments, load purchase money deposit and transfer and so much more.
But if I should mention one most loved feature of this app, it would be the instant PayPal to GCash money transfer. It's very convenient and efficient that I don't have to wait for days for my PayPal funds to reach my hand. In fact, I can move the amount in seconds and withdraw the funds in an instant as soon as it arrives in the e-wallet.
Today, I would like to highlight another GCash feature, shoppers would usually use either cash or card when shopping but with the many issues circulating nowadays with credit or debit card fraudulent activities and hacking, people are starting to become paranoid with using their cards in either buying in physical stores and even online.
The answer to this has been already given and I believe there are so many similar apps like GCash in other countries. But in the Philippines, we have one fit for this need. Introducing GCash Pay QR!
Engage with me as I elaborate this GCash feature in this Querlo Chat: "bitLanders C-blogging: GCash Pay QR and Vouchers!."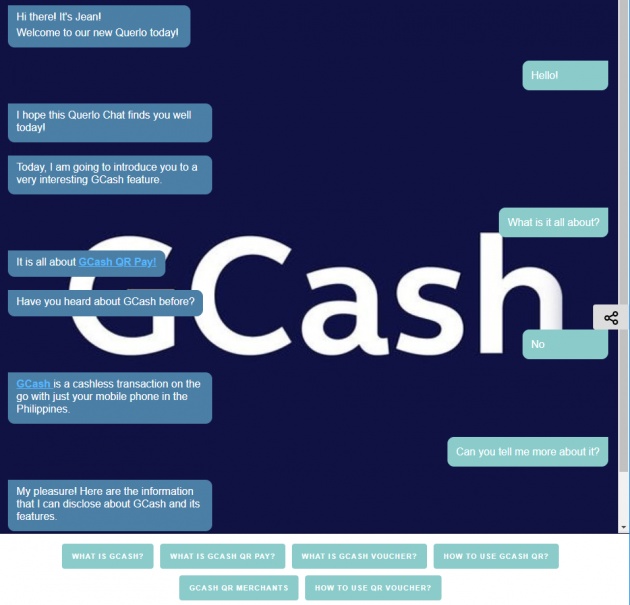 Image Credits: screenshot of the Querlo chat - GCash QR
This blog is published in support to bitLanders' C-blogging. Learn more about it in the quoted box below:
The future of blogging - The bitLanders C-blogging

bitLanders, the worldwide blogging platform, introduces the future of blogging "The bitLanders C-blogging", Conversational AI blogging by Querlo powered by IBM Watson and Microsoft Azure with the purpose to provide bloggers the possibility to communicate and establish a conversational relationship with their readers.

Thanks to the world's most prompt technology - Artificial Intelligence, powered by Querlo's conversational AI technology.

Querlo integrates the DeepQA Artificial Intelligence functionality of IBM Watson and Microsoft – a collaboration which sets Querlo apart from other solutions in the market.

Information from: https://www.bitlanders.com/blogs/new-topics-for-the-bitlanders-c-blogging/7757301
Thank you for reading and participating in the GCash Querlo Chat!
---------------------------
About the author:
Jean Beltran-Figues is a photography enthusiast.
A traveler who wants to promote her beloved country, the Philippines.