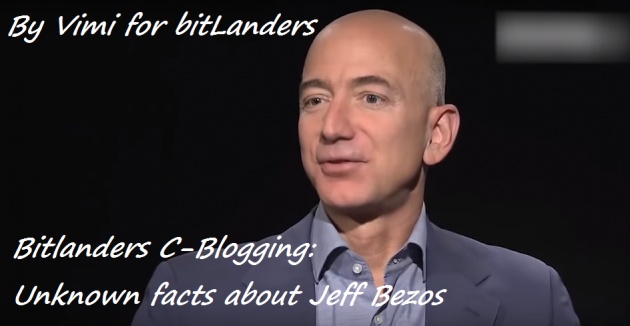 Image credit: Screenshot from Top Trending via YouTube, changed by Vimi for bitLanders
This is my fourth participation in the unique project entitled "BitLanders C-Blogging." I have chosen the topic for my C-Blog myself: "Bitlanders C-Blogging: Unknown facts about Jeff Bezos."
My previous C-Blogs are: "Bitlanders C-blogging: Dubai Smart City," "The bitLanders C-blogging: Remembering George H. W. Bush," and "BitLanders C-Blogging: Curious facts about Tom Brady."
Jeff Bezos is a very interesting person for me. He is a successful businessman who managed to become the richest person in the world in 2017.
However, in addition to a huge sum of money in his account, the billionaire can boast with other, more impressive achievements: he is the creator of the Internet empire Amazon, the owner of the famous publishing house The Washington Post, and the founder of the first private space company called Blue Origin.
It is widely believed on the Web that Jeff Bezos is a Jew, but so far, these guesses have not found any official confirmation.
Jeff generously shares his own knowledge and best practices: in his several published books, the businessman talks about the principles and key points that helped to achieve such a dizzying success.
This year, Jeff Bezos has divorced with his spouse, Mackenzie Bezos. The couple brings up four children - three sons and an adoptive daughter.
I have prepared a number of unknown facts about Jeff Bezos. I have divided them into the two categories - facts about his personal life and his career.
You may join the Querlo chat below and learn more about this outstanding person. Reply to my words with the given variants, please.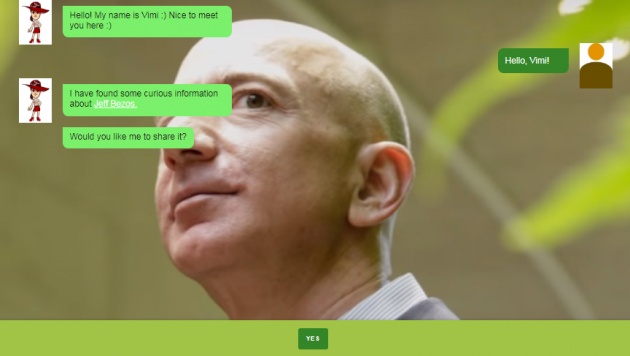 Image credit: Screenshot of Querlo chat: Bitlanders C-Blogging: Unknown facts about Jeff Bezos

I am glad to participate in the project "Bitlanders C-Blogging." C-Blogs have opened the world of innovative blogging for me. Hillary Summers calls C-Blogging "the future of blogging." You may learn more about this initiative in Micky-The-Slanted-Salerno's several latest C-Blogs. To create your own Querlo chat, visit Querlo.com. The process is easy and fun!

Thanks for reading!