Edited by me
HEY IT'S ME IRFAN!
Before getting into today's Blog about "BitLanders Learning and Earning" I want to put here a brief introduction of myself regarding my journey here at BitLanders. At beginning, I was very curious about earning here like all the users who come here to earn by socializing their contents. But for me it was not as easy as I thought it before joining this platform. I spend my days and nights to get the real learning of this web. Luckily, I found here some good fellows, who guided me how to operate this magical social website. So, when I started operating in the light of those rules as told by my dear friends (MubashirNNN, Harrrr) and then I was on my way to get myself in the LEADER-BOARD.
("Leaderboard" is a chart which displays latest top 30 users in a descending order with respect to buzz-score earned for that particular day)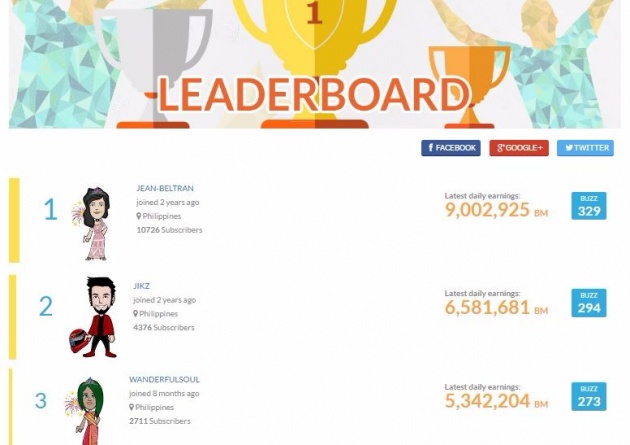 Being very honest to all of you, from the very first day I set my target to take myself in the Leaderboard. Because everyone likes to be on top list: P So, I liked the same too. This urge pushed me very hard to learn how to get there in no time.
Note:
"Reviewed Content" Helped Me a Lot To Reach Leaderboard And Earning.
♠ To submit a blog for review, once it's published, click on 'Submit for review' at the top left.

This particular blog is being written for newbies and for those bitlanders fellows, who always keep me asking some basic and startup questions. Mentioned here;
"HOW CAN WE EARN HERE?
WHAT IS BLOG?
HOW TO WRITE BLOG?
WHAT IS GBMs?"
Questions of all time :))
♠ LET'S TALK ABOUT STARTING UP HERE ♠
Before heading towards answering the very important interrogations as desired by all of the users who really does not know about the true operating of this best social website, I would like to bring your attention towards the main theme of bitlanders i.e. SOCIALIZING CONTENTS. I hope you all know that we all are here to socialize and sharing our contents here. What Contents Can We Share Here? Perhaps you already know it. Yeah really you all know it. Just throw a look at your sign up here. When you were asked to fulfill your Quest Box. Those were the tasks that were to be followed by all users on permanent basis. If you remember that, those tasks were as under;
1. Upload Your First Movie
2. Write Your First Blog
3. Write Your Microblog
4. Upload Gallery/Album
Apart from that Quest Box, bitlanders has another list of tasks, which is known as DAILY QUESTS. Every user must fulfil those tasks to get a number of Buzz-Score as Direct Power-ups in our Total BUZZ SCORE. Are you little confuse to hear about buzz-score? So don't be please. I just make it clear right now. The proper definition of Buzz-score is given here below
"The revenues are based on a scoring system that we created called the Buzz Score."
Video About Buzzscore
Source:
www.bitlanders.com/movie/the-buzz-score/30530
It is also very important to mention here that Buzz score is made up of two buzz combinations which are known as BASE BUZZ and Direct Power Ups (As shown below in picture). The blue color shows Base Buzz and the orange color shows direct power ups.
What is Base Buzz?
The buzz score that quantifies the quality, sharing and influence of the content posted. Base buzz is the actual buzz score that make our rank up. It will be higher if we will share high and unique quality contents.
Direct Power-ups?
The buzz score which is taken by user for buying items from SHOP. Having buzz score bonus with them. There are lot of items containing buzz bonus for a particular period of time. This buzz bonus expires atomically after reaching the limit as described in the item while purchasing it.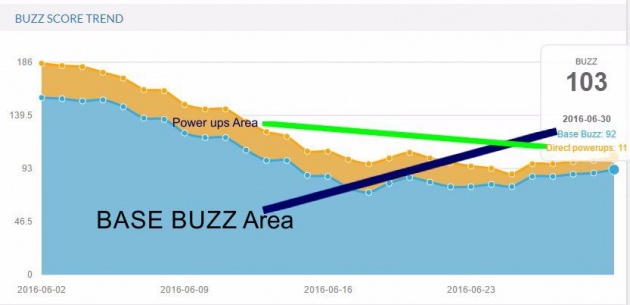 My Buzz Score Trend
OKAY GUYS! Let's jump to the main point of my Blog. I hope you remember that main objective of my blog. If you forgot it. Here are the main points once again for all of you :)
♠ "HOW CAN WE EARN HERE?

♠ WHAT IS BLOG? HOW TO WRITE BLOG?

♠ WHAT IS GBMs?
♠ HOW CAN WE EARN HERE?
Probably this is the mostly asked question on bitlanders by all of the users who join this website. Because everyone knows that bitlanders is a paying website that rewards its users for socializing here. But for a new user, it is like a mystery. So he tries hard to get to know about "How to earn here".
So, coming on answer to this very important question. I would like to tell you that Bitlanders has four kind of contents like Movies, Blogs, Microblogs and Gallery or Album. So every time we share any of these contents by signing into to our account. The others users BUZZ on our sharing material. We receive Buzz on that content. The Buzz score is the real earning. Yeah Really! I am not kidding at all. The increase in buzz score is directly proportional to increase in rewards/earning. The more buzz we get on our content the higher will be our points, then obviously the earning will be high too.
♠ NOTE PLEASE:
According to new rules as told by Micky Salerno (Administrator) via his Blog http://www.bitlanders.com/blogs/update-rules-on-content-on-bitlanders/5010412
1. Any user who publish a blog post copied from the web (even partially) or with scrambled (nonsense) text will get banned right away permanently.

2. Only the buzz given and received on content (blogs, videos, galleries) that has been rated 2 stars or higher will count in the BuzzScore.
WHAT IS BLOG and HOW TO WRITE IT?
Before answering this question, I would like you to read the blog of MINATO, in that blog which was rated 5 stars by Miss Hillary, he explained very well about blog. The link is given here for you, please click and read it http://www.bitlanders.com/blogs/the-makings-of-a-great-blog/4707471
As mentioned in that blog, Minato wrote this blog only for newbies. So that they can get an appropriate idea about blog and its writing. I hope you read it all. So now you are in a position to think and write about a topic.
Listen newbies, to write a fair and unique blog is the best way to start a good earning here. Because many top users are on top only for the reason that they write good blogs off and on. So this keep them on the track of earning a handsome amount here.
Useful Tips for Writing Blog
https://youtu.be/_f5IFRKstVg
♠ WHAT IS GBMs?
Bitlanders counts rewards in form of bit miles loyalty pints which can later be converted to USD by withdrawing those rewards to Payza or PayPal. Bit miles points are categorized in three units as BM > KBM > GBM.
1 gBM = 1,000 kBM = 1,000,000 BM
1 kBM = 1,000 BM
1 gBM = approximately $1
Users are rewarded with these points on daily basis. So we have to collect those points by daily login. If we don't collect our points on daily basis then those points are not added to our account automatically.
Different Ways of Earning BM Points:

Above picture is showing the three simple ways for earning BM points. The first one is to open Treasure Box. The second way is to answer Bitlanders Chat and the third way is to click on the blogs showing BM tags on the top. By opening those blogs we see a treasure box to get our BM points. So hence, every user can earn BM points in an easy and simple way.
Hope! you all got some useful learning through this blog.
♠♠♠♠♠♠♠♠♠♠♠♠♠♠♠♠♠♠♠♠♠♠♠♠♠♠♠♠♠♠♠♠♠♠♠♠♠♠♠♠♠♠♠♠♠♠♠♠♠♠♠♠♠♠♠♠♠♠♠♠♠♠♠♠♠♠♠♠♠♠♠♠♠♠
♠♠♠♠♠♠♠♠♠♠♠♠♠♠♠♠♠♠♠♠♠♠ THE END ♠♠♠♠♠♠♠♠♠♠♠♠♠♠♠♠♠♠♠
♠♠♠♠♠♠♠♠♠♠♠♠♠♠♠♠♠♠♠♠♠♠♠♠♠♠♠♠♠♠♠♠♠♠♠♠♠♠♠♠♠♠♠♠♠♠♠♠♠♠♠♠♠♠♠♠♠♠♠♠♠♠♠♠♠♠♠♠♠♠♠♠♠
Exclusively Prepared & Presented By:
Mirfan87
Your Appreciation will be highly obliged :)