March 2010 was my first time to visit Santa Ana, Cagayan. This is located almost at the uppermost tip of Luzon - an 11 to 12-hour or more drive from Manila. Santa Ana is famous for Palaui Island where Survivor: Blood vs. Water was filmed. If only we went there three years late, we might have watched Survivor live, but that's not what we went there for. It's the unspoiled beach, not so white sand, fresh catch from the sea and just to relax and enjoy. On the way to Sta. Ana, you will pass by CEZA and Port Irene - known for it's imported cars being sold there.
Buguey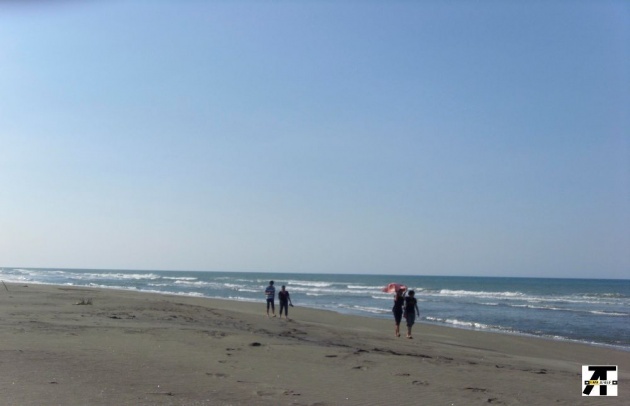 The main purpose of our visit there was to attend one of our batchmate's wedding. Most of us who went there haven't seen each other for more than 10 years. This was a reunion of some sort. I had to travel from Baguio to Santiago City (that took about 8 hours) to meet with friends and then from there, we drove the next day to the groom's place where the wedding will be held. From Santiago City to Tuguegarao City is about 6 hours by bus and from Tuguegarao to Buguey is about another 4 hours. Their place is located in between fresh water and the sea. AdGoogleKo's place reminds of me of my friend's beautiful place. The pictures below were taken behind their house.
Notice the coconut trees in the picture below and you can tell that the wind is blowing in our faces.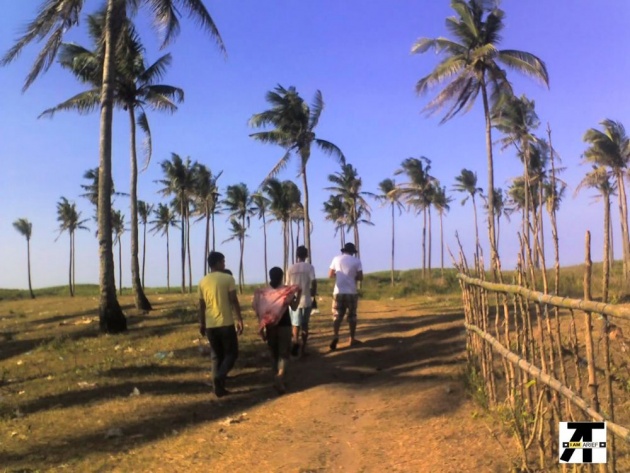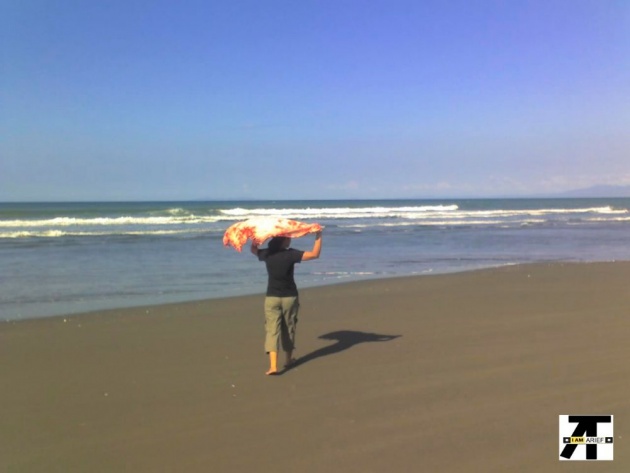 The picture below shows us converging over some shell and sand. It's quiet interesting to note that the sand is black, something you don't see very often. We were like kids going to the beach for the first time.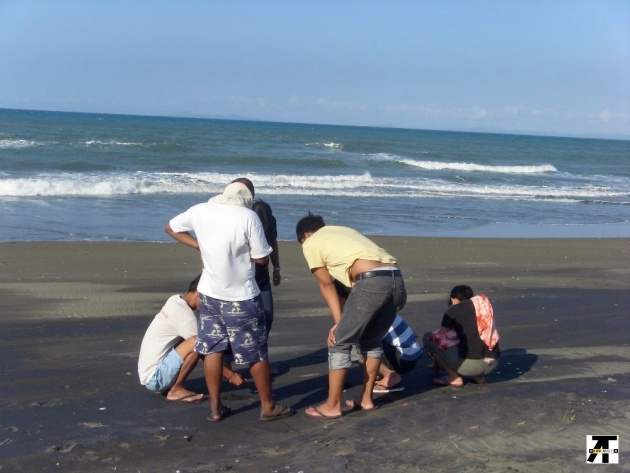 Upon arrival to the place, we were drawn in to the smell of the sea, the coolness the air, and the sound of the waves. It was a very welcoming sight and gives a very relaxing feeling. After a few minutes of rest, we were introduced to the family of the and friends of the bride and groom. We were served food, fresh catch from the sea and cooked upon our arrival. We have never felt so welcome.
After we ate, we went to the beach behind their house. We were so excited to feel the sands on our feet and the splash and spray of water on our skin. However, we did not have a swim. The waves were too big and there are sudden drop where it could get deep that it's dangerous to swim.
A few meters across from our friends house is fresh water.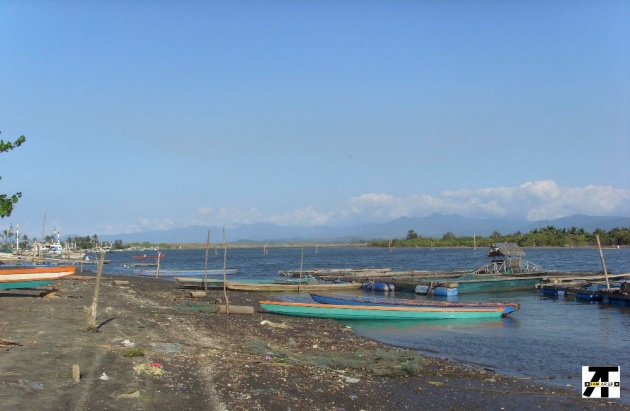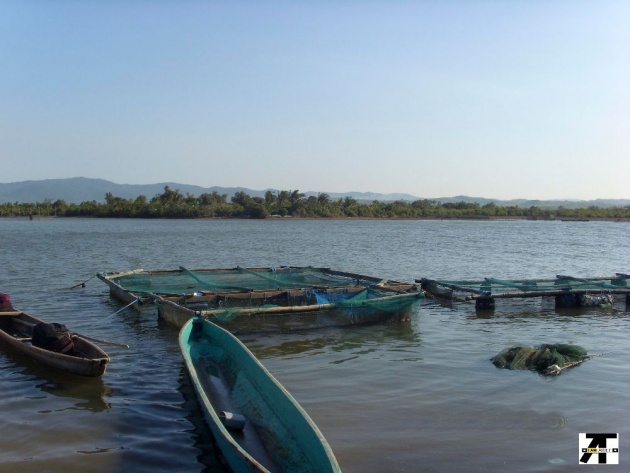 The night after the wedding, we were supposed to go where the sea and freshwater met. We did go after dinner but didn't make it. We lost to one bottle of brandy shared between us boys. Not only that, we passed by a store and had a case of beer. Even the girls who were with us had a bottle of beer each. We went home instead and slept the night off. We woke up early the next day hungover but that was insignificant as the excitement of going to a place we have never been eased off our intoxication. We headed out to Sta. Ana port around 4 am. From Buguey to Sta. Ana port took us about 4 hours.
St. Anne Parish Church
The picture above is a picture of the old church where the wedding was held. It was a historical church built in 1616 by the Spaniards who conquered the Philippines. The building of this church and a convent beside it was granted by the Governor General Don Juan de Silva. Sadly, around 1732, the church and convent was razed with fire. According to some history, the cause of the fire was a vigil lamp burning in one of the rooms. Today, the ruins of the convent is still evident but the church remains standing.
I am always amazed to see old churches built by our conquerors - churches that are still standing today. If only their old brick walls could talk, they would have a lot of stories to tell us. Imagine my awe and amazement when I saw this church standing in this remote sleeping town of Cagayan. I never expected to see a historical almost humbly proud church standing amidst the quietness of this town. This church is located in the marketplace of Buguey, the center of the town. Walking into that old church is liking walking back in time. I can only imagine the old priests and townfolks praying and worshiping in this charming church. This town maybe unknown to most but it is rich in history - St. Anne Parish Church is a witness to all of that.
Anguib
On the first picture below, the islands on the horizon is our destination. We were waiting for our boat ride to take us there. However, there was a misunderstanding at first. They did not take us directly to Anguib, our destination. The boatman thought we were to see the other islands first before going to Anguib. We then headed out to sea and the route we took was deep waters and we were met with strong waves. In some parts along the way, we were met with showers of rain. At first we were excited and gleefully enjoying the ride but when the waves got stronger to the point that they have to turn off the boat engine, we were scared and nervously made a joke about it and just laughed it out. Deep in our hearts we were praying that we will reach our island soon.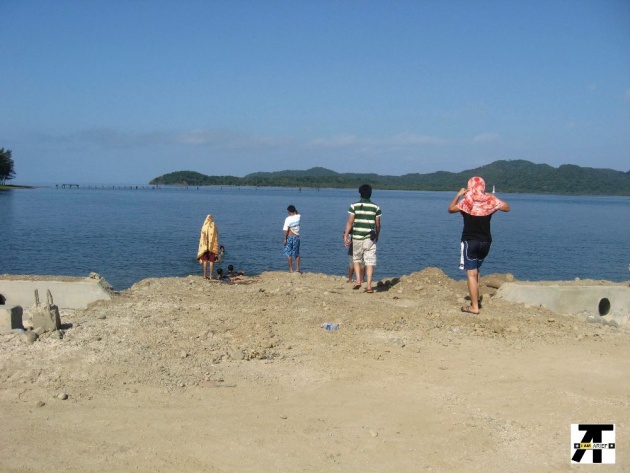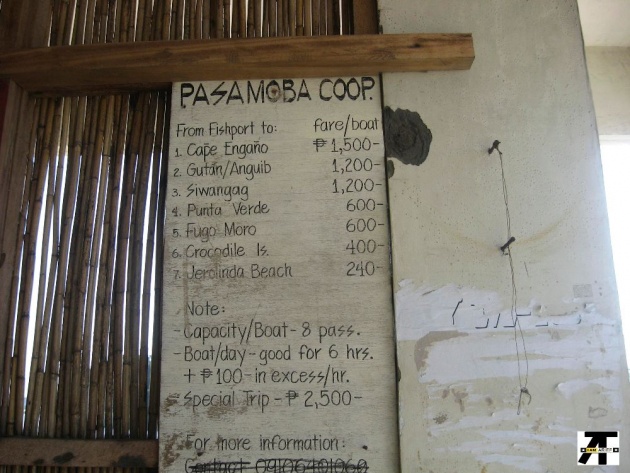 The picture above shows different rates they charge for a boat ride to different islands. I do not know what the "Special Trip" is because it was our host's call where to go bring us. Some of these islands you can travel by land by it would take longer than a boat ride.
Anguib is the beach we went to. We did a side trip to some of the islands. We docked where the lighthouse was located but noticed that the beach there is more corals than sand. It's not a good place for a swim. We rested there for a few minutes and then headed out to sea again. We spent our night there at Anguib. We had bonfire, ate fresh catch from the sea, swam in the sea and slept in tents. It was one experience I will never forget. I remember that my friend's brother and his friends placed their table and chairs near the sea. They placed the table and chairs in the water deep enough to cover some parts of their body but not enough to swallow the table and their drinks.
You can't have all what you want. Our first time in Sta. Ana reminded me that. We were not able to take pictures because we forgot to charge our batteries the previous night - with all the drinking we had.
However, there is always the next time around to visit the place.
Related videos:
The video above is my friend singing an excerpt of Reflection. It's a spontaneous thing that he did upon seeing the well.
The video above shows small fishes caught from the waters.
The video above shows some of the cars sold at CEZA. There were lots of cars sold the first time we went there.
Read more: