Blogging With Less Than 200 Dollar Equipment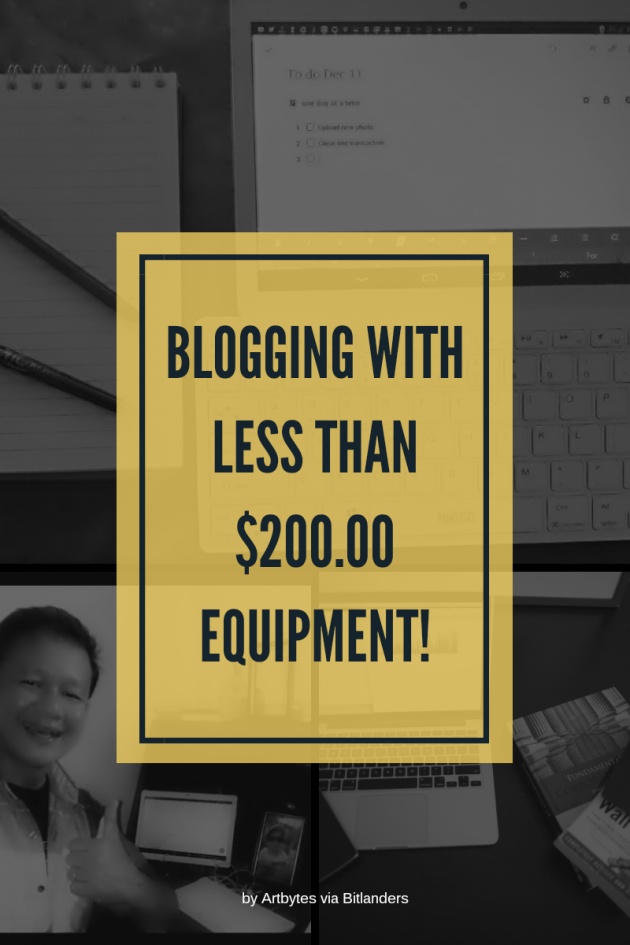 Image Credit: @artbytes via Bitlanders
Why Do You Want To Start Blogging?
Do you want to start blogging and start earning online? I don't have a computer yet, probably one of you are asking yourself:
"What kind of computer do I need?"

"How much do I need to spend on computers and other devices in order to start blogging?"
Or if you have not-so-new and not-so-powerful personal computer or laptop, you would be asking:
"Is this good enough? Do I need to upgrade this?"
Before we answer the "How Much" questions, as yourself first:
"Why do I want to start blogging"
Here is a video that will help you with that question.
Video Credit: Credit and Go Via YouTube
You Don't Need Expensive Equipment to Start Blogging
My title says, "Blogging With Less Than 200 Dollar Equipment". Yes, you are reading it right. I did not forget a 'Zero'. I am blogging with less than 200 Dollar equipment. Two Hundred! Not two thousand, not one thousand, not even five hundred dollars, it's two hundred dollars.
So, if you think that you need a very expensive equipment to start blogging and earn? No! You don't need expensive equipment to start blogging! I'm sharing this to bust that myth! The truth is, I even started with just a hundred dollar worth of smartphone!
I am sharing this because I know there are some people who wants to earn from blogging but don't have enough cash to buy a computer.
In this post, I will share with you how I made use of my low-priced equipment to make money both online and offline. So, here is my story.
My Laptop is down.
I used to have a laptop computer with an Intel-i5 processor. I had for over 5 years. It is still working, except for the charger and the keyboard. The CPU fan is no longer working too. To save you from trying to ng imagine how my laptop looks like now, here's a photo.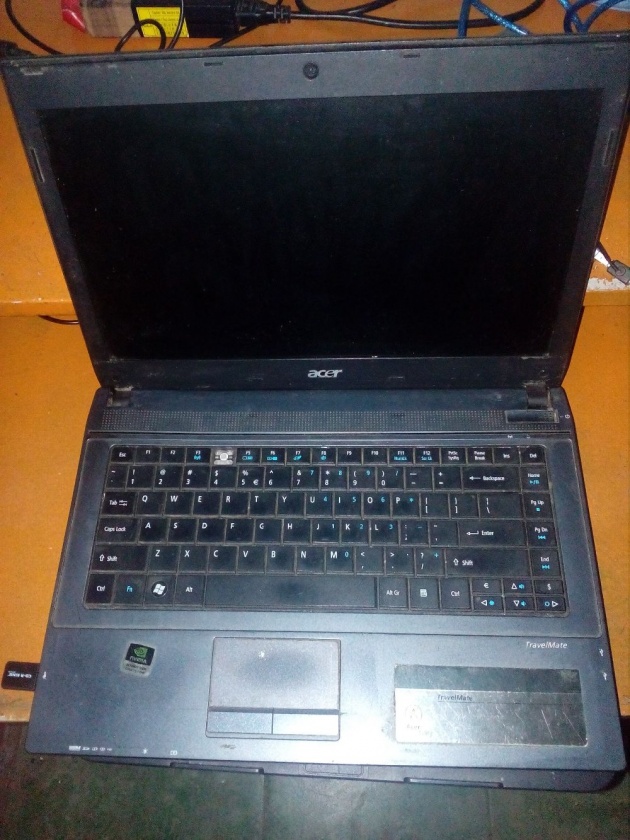 My old i5 Travelmate
Image Credit: @artbytes via Bitlanders
I could still make it run, but it is very inconvenient for me to carry around.
Blogging With My Smartphone
I've always wanted to blog using a cellphone. In january 2017, I got my Huawei y5II smartphone. It only cost me about PHP 4,990.00 or about US$100.00.
The Huawei y5II have a 5-inch screen. I admit the small screen is quite inconvenient. However, since I don't carry my laptop every day, I was able to make my blog post using my phone whenever I wanted. At the time, I was blogging for Niume. Unfortunately, the site shut down last year. How I wish I found Bitlanders back then.
I have my own WordPress site (JRLCENTRAL.XYZ). Sometimes, I would compose my blog using the WordPress App on my phone. The screen was quite small, so I looked at a screen keyboard that I could resize. That's how I found the swift keyboard.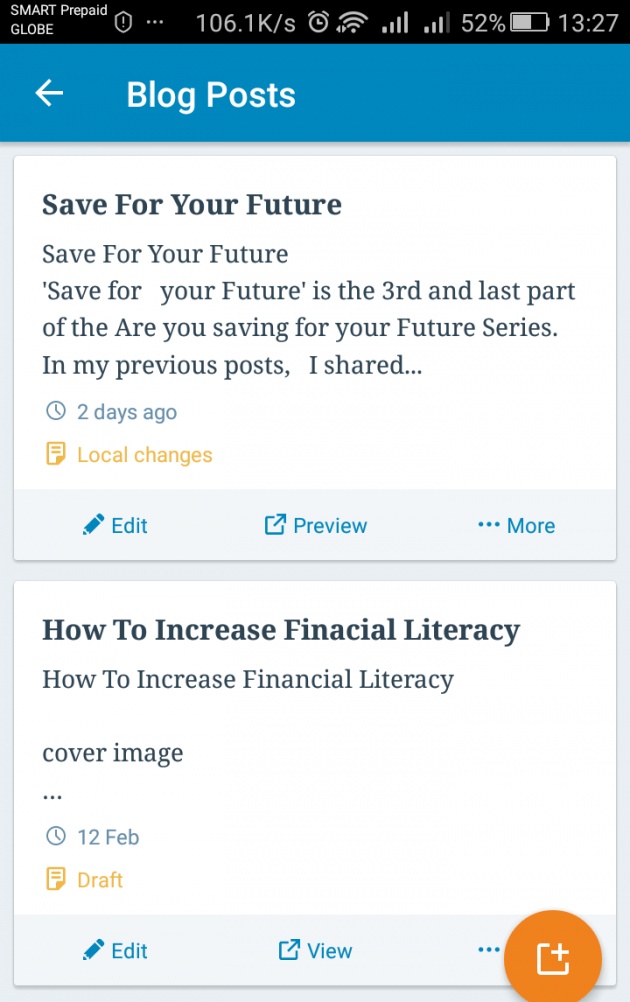 Screenshot of WordPress for Android on my Y5II
Image Credit: @artbytes via Bitlanders
As time goes by, composing a long post using my phone is no longer practical. I make so many typing mistakes that I often miss to correct. I was already aiming for a Yoga Book (Please read: My Gadget wish list for 2017) which is a laptop that can be conveniently switched to a tablet.
I was able to land a project where I earned enough money to buy the laptop. However, my wife was pregnant with our second child. As early as three months of her pregnancy, we already knew that she can't deliver the child normally. So I saved the money for the caesarian operation.
Modoex 10 inch AndroidTablet.
Instead of buying an expensive two-in-one laptop, I bought a Modoex 10.1 inch Android Tablet. I got the tablet from Lazada for a discounted price of only PHP 4,200.00. That is less than $85.00.
The tablet has a quad-core processor, 2 GB RAM and 32 GB internal storage. However, the internal storage is partitioned into two. 3 GB is assigned to the internal storage and the rest as SD0. Plus you can add external SD memory of up to 64GB.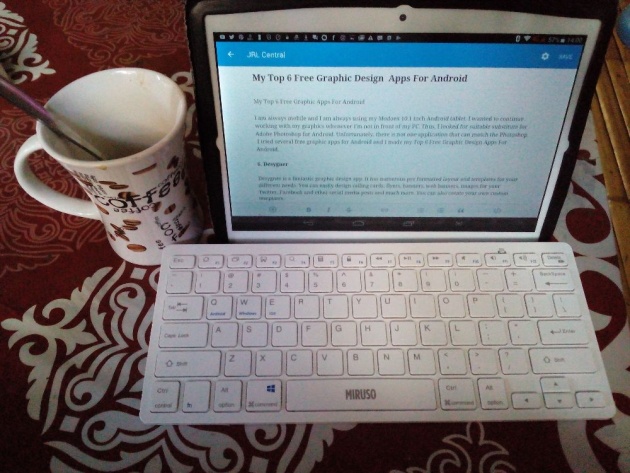 My Modoex Tablet with Bluetooth keyboard (bought separately)
Image credit: @artbytes via Bitlanders
Photo Editing, Layout Design, and Drawing
With the specification of my Modoex tablet, I can edit photos, create layout, designs and web graphics and even draw. Of course, this is made possible by the different apps available.
(1) Editing photos with Pixlr Express.
Using Pixlr Express, I could do some quick edit on the photos that I upload on different sites. I crop, resize, fix the contrast and hues. and even add my own watermark on my photos.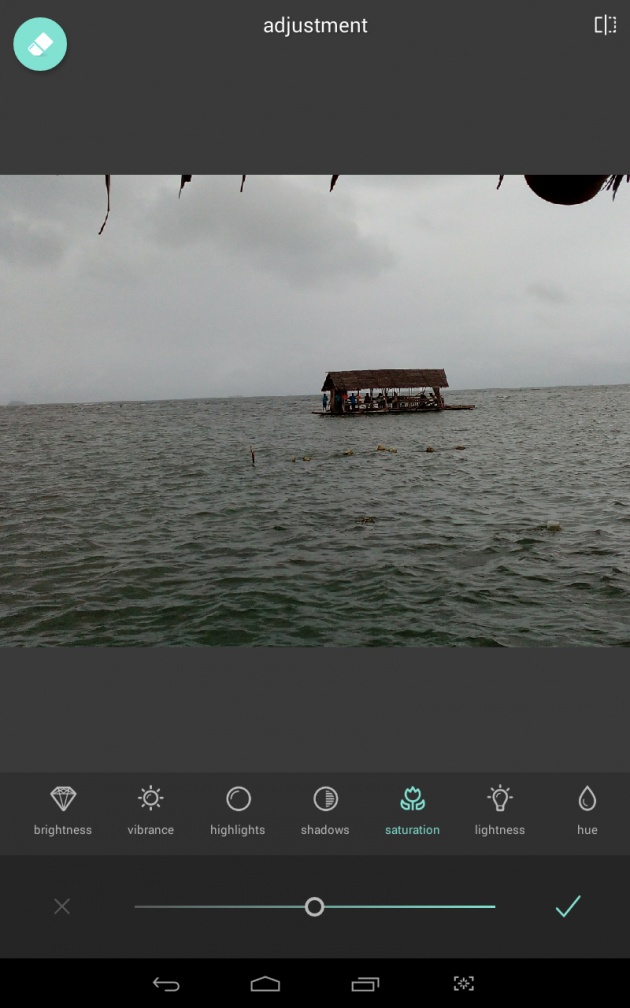 I use Pixlr to make some quick adjustments on my photos
image Credit: @artbytes Via Bitlanders
(2) Creating Layout/ web images with Logopit plus, Canva or Desynger
As I have mentioned above, I was able to create a watermark using Logopit Plus. Mostly though, I create the cover images of my posts here in Bitlanders using either, Canva or Desynger. Canva is quite great when you want to create a social media post quickly. It has hundreds of ready-made templates to choose from. @Sharon-Lopez wrote Why I Love Canva?, and I do agree with her.
However, when I want to include more cliparts and stickers, I use Desygner.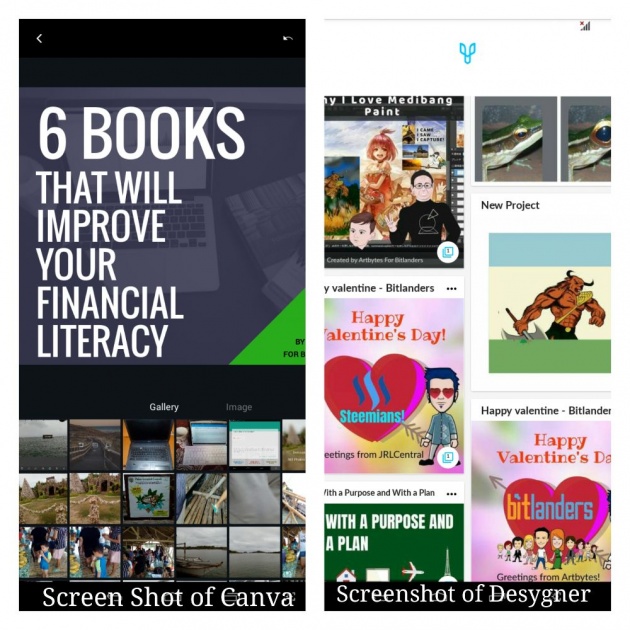 Screenshots of Canva and Desygner
(3) Drawing With Autodesk Sketchbook and Medibang Paint
I have mentioned in my previous post Why I love Medibang Paint and in my personal blog Painting With Autodesk Sketchbook and Using Medibang Paint, that I use my tablet to created drawings using Sketchbook. This is to show that even with a low priced gadget, you can do just as much with the expensive ones.
Blogging Using The tablet
Mainly though, I am using my tablet to blog here in Bitlanders, my personal blog site and other blogging platforms. In order maximize my productivity using this $90.00 tablet, I complimented it with the right tools
(1) Bluetooth keyboard
Typing using the on-screen keyboard takes up a lot of screen space. So I bought a Bluetooth keyboard from CDR-KING for only PHP380.00, that's just about $8.00. Before that, I use a USB keyboard and connect through the On-The-Go (OTG) USB connector. But using a wired keyboard is an added load of the battery.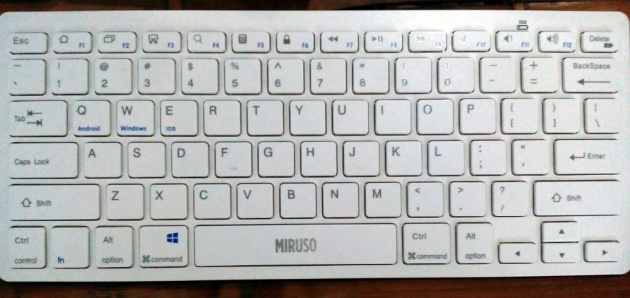 My Bluetooth Keyboard
Image Credit: @artbytes via Bitlanders
(2) Grammarly Keyboard
The Grammarly Keyboard is one important app if you want to minimize spelling and grammar mistakes on your posts. This app helped me improve my English writing skills quickly. When using a physical keyboard including the Bluetooth keyboard, you can activate Grammarly by pressing the ALT key.
Cost: FREE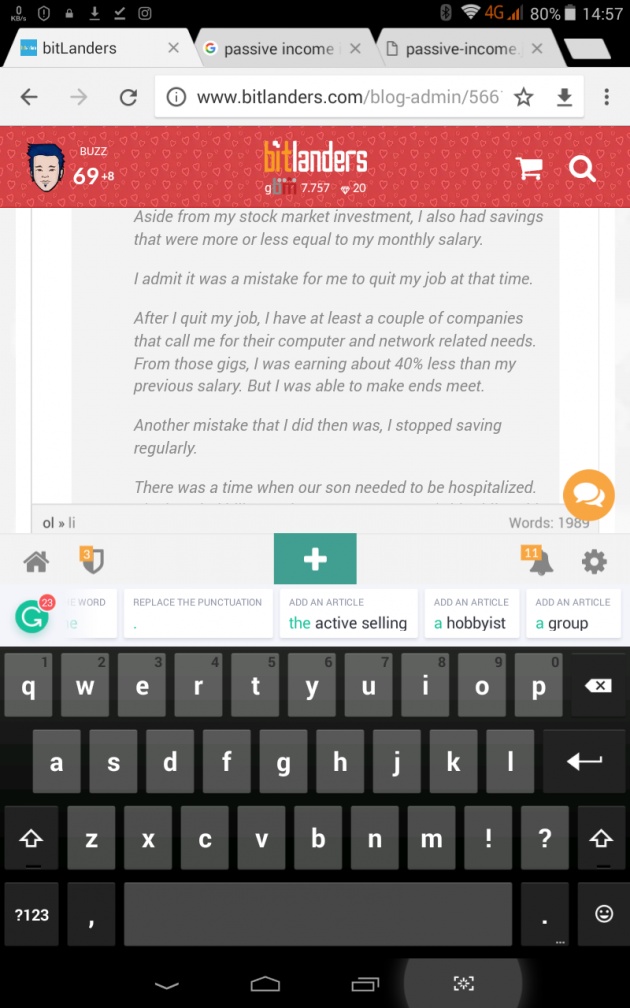 Grammarly Keyboard shows suggested spelling and grammar corrections.
(3)Jotterpad, WordPress App, and Yoast SEO
Often times I create my draft offline. Before I found out about Jotterpad I used the WordPress App for Android. With the WordPress App, my draft is uploaded automatically on my WordPress site. Then, I can check the readability score and my SEO score with the YOAST SEO plugin. With Yoast SEO, I learned how to improve further my writing style for the purpose of SEO.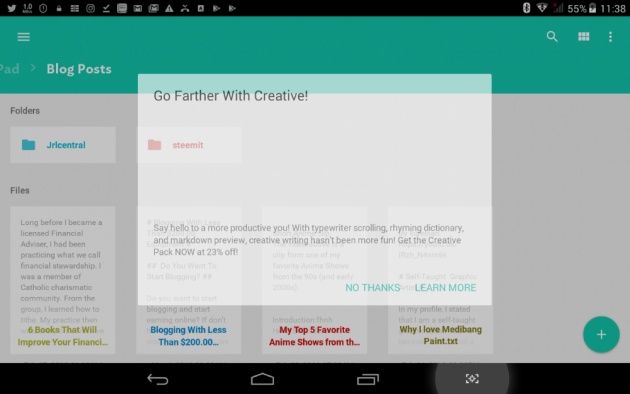 Jotterpad with some of my drafts.
Image Credit: @artbytes via Bitlanders
(4) Huawei Y5II
I am still using my Huawei Y5II as part of my blogging tools.
I use to take photos. With Camaringo App, I can take professional looking macro photos.
Quick Photo Edit- with Pixlr Express, I can do a quick edit on my photos (e.g. crop, quick-fix, etc...
Quick draft -Whenever an idea hits me, I could easily take my phone out of my pocket and take note of the ideas. Or even create an initial draft.
Estimated Total Cost of All my Equipment
1. Modoex Tablet = $85.00
2. Huawei Y5II = $100.00
3. Bluetooth Keyboard = $8.00
Total: $ 193.00
Earning Money Online and Offline
With that $193.00 I have already been earning money online and offline. In fact I have already earned more than $300.00. Perhaps I could have earned more if I found Bitlanders a few months earlier.
Earning Offline
I created logo designs and other graphic works for some local businesses here. Services which I can also offer online through Fiverr.
Earning Online
I had a website project for a new business. The project is currently ongoing.
I have my own blog. But until I could generate more traffic to my site...
I am earning mostly from sites and forums that pay for my contents. From Bitlanders alone, I have already redeemed my earnings for the 4th time with $10.00 each, since late January. I know it is not that much, my earnings online are increasing. I could have earned more my Internet connection is faster and more reliable.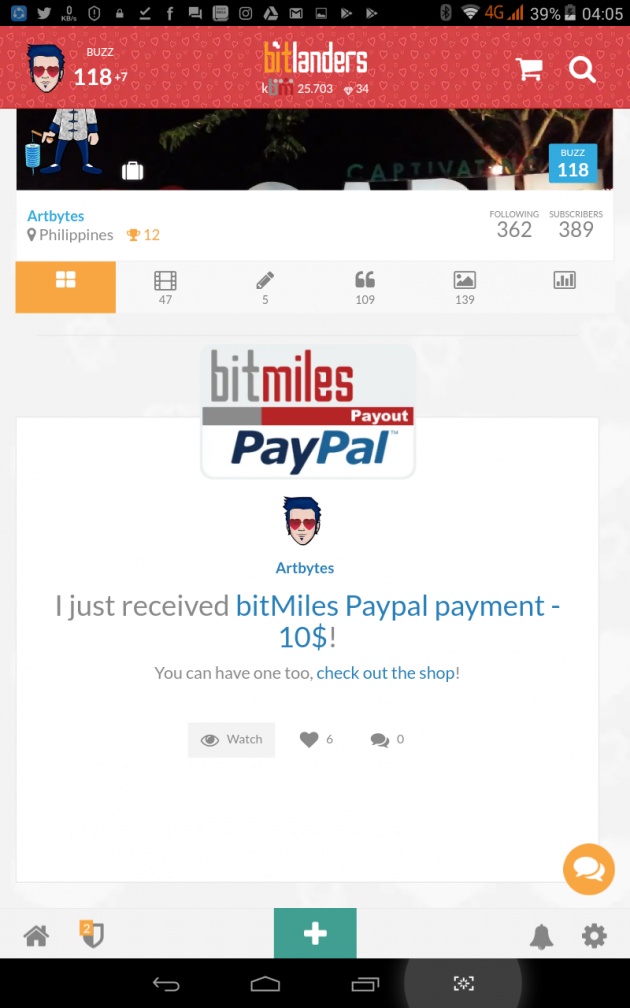 Screenshot of the notification that I have received my Bitlanders Payment
image credit: @artbytes via Bitlanders.
Conclusion
It's not true that you need to have expensive equipment to start blogging and start earning online. My experience with my existing equipment is a proof that you can start earning online with less than $200.00 equipment. Maybe if you could find a smartphone with 5.5 or bigger screen with at least 2 GB RAM and at least quad-core processors, at a lesser price, then you can start earning with much less cost.
Once you start earning, you can start saving for a more efficient equipment so you can maximize your productivity. The more efficient your equipment, but not necessarily the most expensive, you more productive you will be. The more productive you are, the more you will earn.
Before You Buy.
A word of caution though. Before you check Lazada or Amazon or any other online shops to buy the cheapest gadget you could find, consider these tips.
Check the ratings and reviews of other buyers first. Don't buy unknown brands that has not been reviewed first. Don't buy products that has less thant 4 out of 5 ratings. If the rating is between 3 and 4, buy at your own risk.
Don't buy the cheapest product that you can find.
Consider the technical specifications: Processor, RAM, Internal storage, display capacity.
Check out YouTube for the latest best budget list and/or reviews like the one below.
Video Credit: @Roberto Jorge via YouTube
Thanks for Reading.
~oO0Oo~
John Reynold Loberiza (a.k.a @artbytes) is a freelance graphic artist, web developer, and blogger. He is also a licensed Financial Adviser under Insular Life.
The content of this blog post is the author's original work. Proper credit is always given to the respective sources of information and images. Please feel free to check out my other blog posts: http://www.bitlanders.com/Artbytes/blog_post
If you have any reactions or inquiries regarding the subject of this post, please write it in the comment or send the author a private message.
For more information or questions you can also:
Join Bitlanders
If are not a member of Bitlanders yet and you are a content creator- a writer, blogger, photographer, an artist or a hobbyist, you can earn from your creations (blog posts, photos, artworks, or videos) by uploading them in Bitlanders.
You can join Bitlanders by clicking THIS LINK.