Burj Khalifa is a sky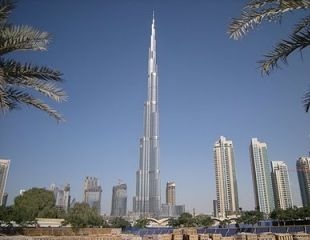 scraper in Dubai and with its height of 829.84 m is the tallest manmade structure in the world. The building officially opened on 4 January 2010 and is part of the new 2 km2 flagship development called Downtown Dubai. The tower is center for the world's finest shopping, dining and entertainment.
The skyscraper was initially called Burj Dubai, but since its completion coincided with the global financial crisis, the government was forced to seek multibillion dollar bailouts from its oil-rich neighbor emirate Abu Dhabi to complete the tower. In honor of the UAE President Khalifa bin Zayed Al Nahyan for his crucial support of the tower, the tower was renamed Burj Khalifa.