What to do when you are inside a mall and it's raining outside? You can't go out just yet so you need something to make you busy and you are hungry? Well, there's only one answer to that! Of course, you go eat!
My husband James and I were in SM City Cebu for some matters and the rain had halted us to go home just yet, it was already four in the afternoon when we thought we should get ourselves something to eat. The only case was that we decided to eat at an Eat All You Can restaurant! Was it too much or just enough? Let's see.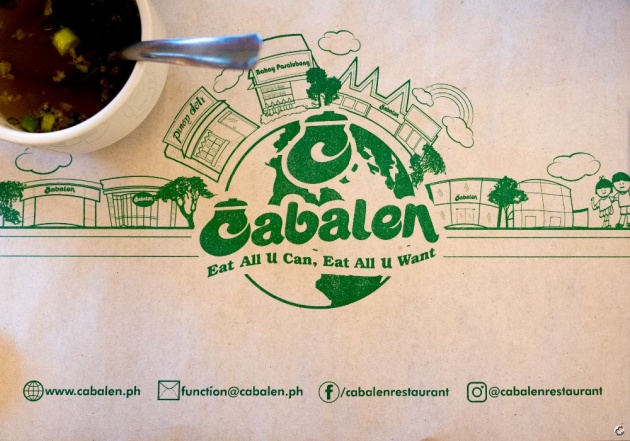 Image credits: Jean Beltran via bitLanders
Cabalen Eat All You Can
In Cebu, there are thousands of restaurants offering this buffet type of food service. They had been scattered everywhere and wherever you are within the city and the neighboring cities, you'll definitely get access to either one or two of them. In our case, we got Vikings and Cabalen as options whilst in North Wing part of the said mall.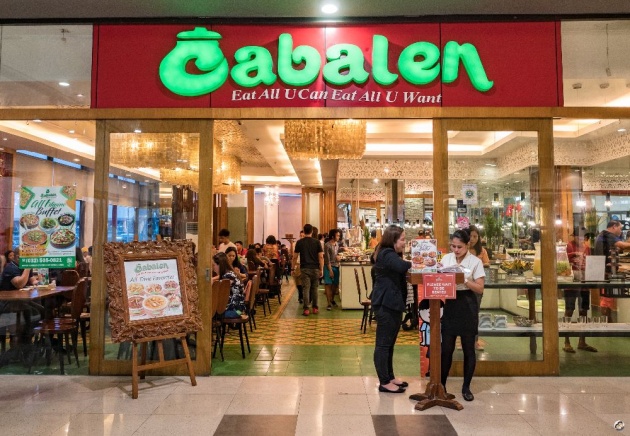 Image credits: Jean Beltran via bitLanders
But since we are not really fans of eating all you can buffet restaurants because of the fact that we don't eat that much, James' stomach can easily get full and I am also in a diet. But for this case, Cabalen takes pride of their Filipino dishes for a much affordable buffet dining experience, we opt to go here instead.
Video credits: Jean Beltran via bitLanders
Cabalen is a term which is used to refer to a "fellow Kapampangan". The restaurant was founded by Maritel Nievera who lives in Pampanga where everyone loves to cook, according to her, she started off her store as a souvenir shop. Soon after receiving a lot of good feedbacks from her constant consumers, she established her first restaurant. Although she had not taken any culinary studies, she had been blessed with a good palate which is her sword and anchor to developing new food or evolving common Filipino dishes into something interesting. Information reference: news.abs-cbn.com
Cabalen Experience: Ambiance
Video credits: Jean Beltran via bitLanders
Two staffs were at the main door greeted us and asked if we are coming in just for the two of us or if we are a group. After confirming, the lady staff showed us to our table which was good for two but with four chairs in it. I personally love the tables and chairs. I would have preferred to sit in one of those comfortable foam lounges but they were all filled with customers.
What really made caught my attention were their ceiling. They got thousands of hanging capiz shells grouped in three! The ceiling fan was causing these capiz shells to move like how sardines do underwater! It was tantalizing and I kept looking up and just observing them. Aside from its cool visual effects, it also produces a relaxing sound, not too loud and not too soft, just enough for us to hear it.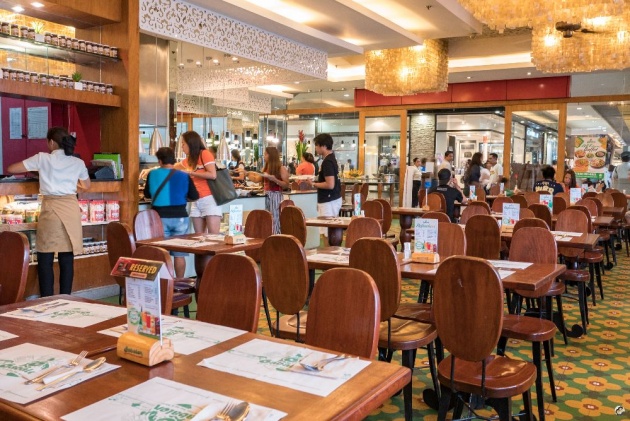 Image credits: Jean Beltran via bitLanders
I went taking photos of the location. There were only a few guests at that time, we were a little early for dinner so that explains the number of heads. On the left are all the tables and chairs while on our right are all the food available.
In an Eat All You Can restaurant set up, it is very common that their food stalls have proper lighting, good and clean plates and everything should be filled up right away when it ran out of supply. Since we were early, all the plates were full. I was already looking at the food and I was tempted to grab the grilled squid! I had to resist and wait as James was still taking time for his first plate.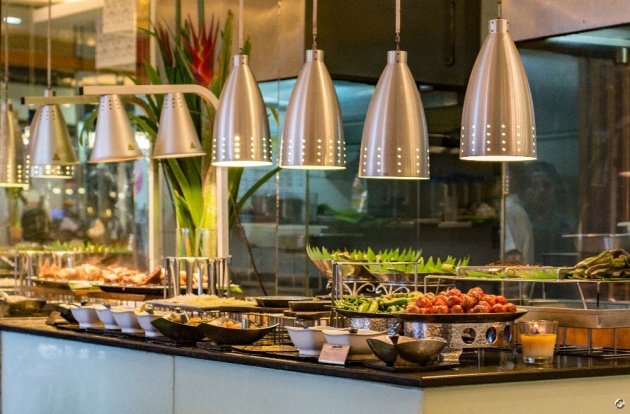 Image credits: Jean Beltran via bitLanders
Another section separated from the main dining area was intended for huge groups. Its lights were still turned off at the time when I was taking photos. All other products produced by the restaurant are also displayed at the cashier counter.
Food Options
I roamed and checked the food options, there were seafood, beef, pork, soup, vegetables, salads, sweets but nothing that offers chicken! Well, since I don't eat meat products anymore aside from seafood, eggs, and cheese, I didn't really bother asking them about it.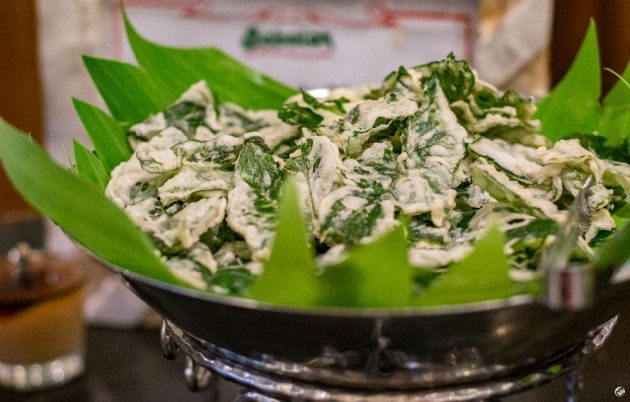 Image credits: Jean Beltran via bitLanders
I had soup first, then took some of which my eyes were feasting on, crispy Kangkong (swamp cabbage) with its tartar dip, their seashells, Papaya Ukoy, Bringhe without the meat, grilled fish, grilled squid and the Bangus Sisig!
James however, had a salad first and he said he likes the corn but was not happy with his thousands island dressing nonetheless, he was able to finish his first plate.
The Bringhe is not a Cebuano dish, its a Pampanga native and so it felt weird because it is made of sticky rice but not sweet. I only took one tablespoon scoop of it and thankfully I only took that much. My favorite would be the Bangus Sisig, the grilled Squid, and the crispy KangKong.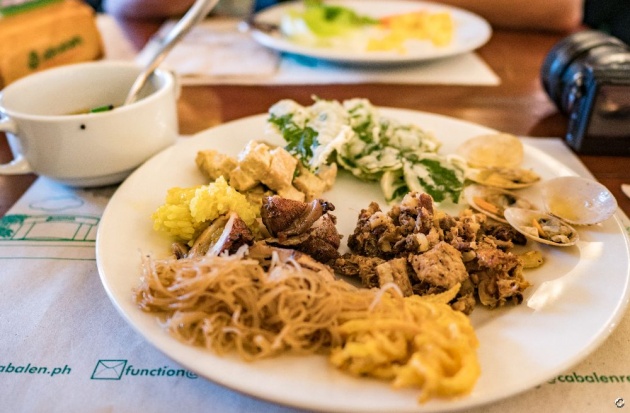 Image credits: Jean Beltran via bitLanders
I apologize, I can't provide a review on their meat options but Cabalen takes pride of their Kare-Kare.
Their refreshments is not part of the price, so if we wanted to drink iced tea or soda, we have to pay it separately, however, they still have a juice option so we opt not to pay for another refreshment, instead take advantage of their Melon juice and the water infused with citrus fruits which for me is already a winner! We don't need extra sweet drinks for this.
Their desserts include marshmallow with a chocolate fountain, Sweet Potato Fries, Gelly fruits, Sweetened Banana Saba, watermelon, fresh Siniguelas and sweetened corn.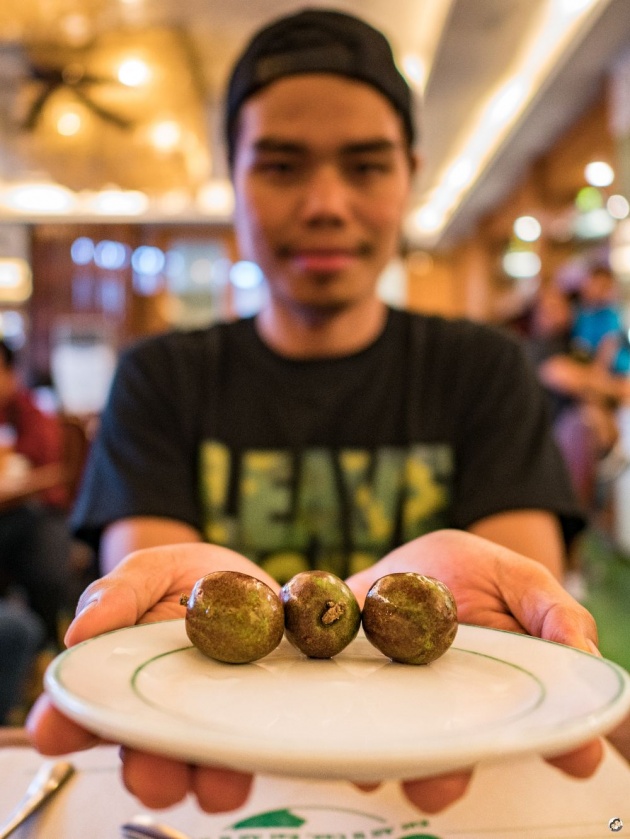 Image credits: Jean Beltran via bitLanders
I only got to take two rounds of food and three rounds of Melon Juice. I was already full for a third plate as well as James. So, after talking over table to test if we could still take in a few more bites, we decided to just go out since there were more customers coming in.
Overall Review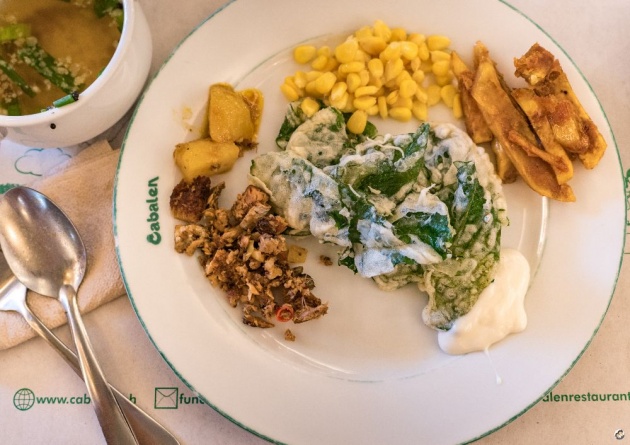 Image credits: Jean Beltran via bitLanders
The staffs were all kind and very approachable but they seem to be a little slow in terms of filling out their food. Twice or three times, I asked one of them if they are still filling out the grilled squid because I love it but on my second round it ran out. She was able to fill it again but it took some time. The same case happened with their Melon Juice.
But overall, the plating and how the food was presented looked really Filipino because of the banana leaves used and the unique pots.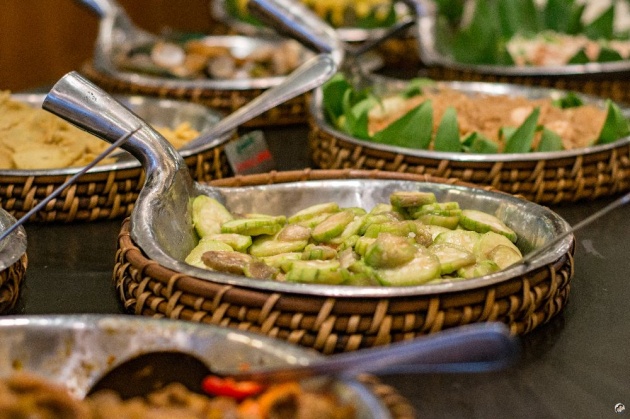 Image credits: Jean Beltran via bitLanders
I was also surprised to see foreigners like Koreans dining in here and I highly recommend it for Balik-bayans and foreigners if they want to try some classic Filipino dishes. Also, this is a good spot for Cebuanos to try out Kapampangan dishes because there are specific food options which are a little weird to the Cebuanos but they just need a few tries for us to love them.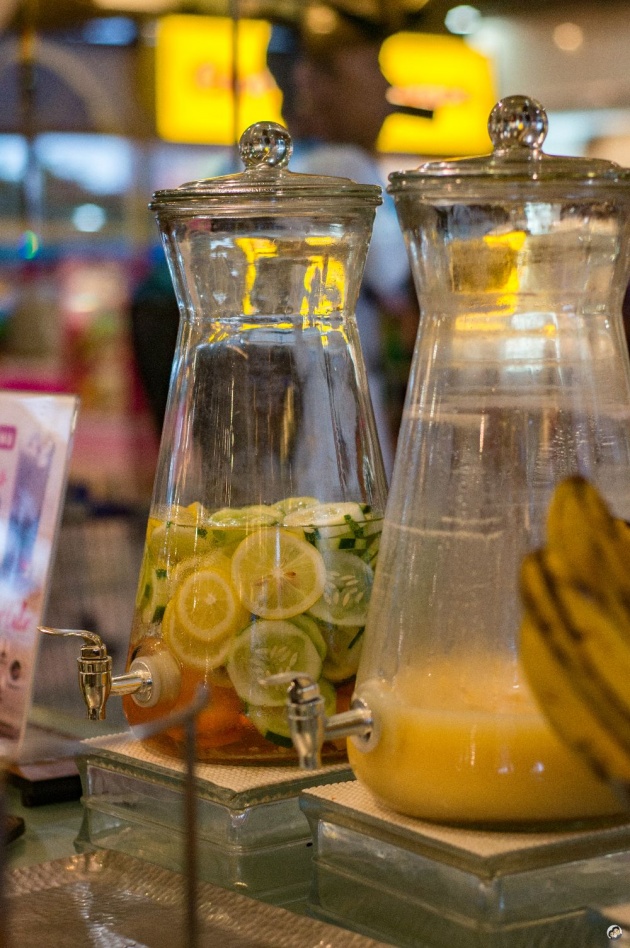 Image credits: Jean Beltran via bitLanders
Overall, I give it 4 over 5, maybe we'll try next time the branch in SM Seaside and compare if they have the same food options. But I believe they have changing menus too. I just wonder if the branch in SM Seaside has chicken options. Let's see!
This blog entry was written and published by Jean Beltran-Figues for bitlanders.com.
Join me, click here to sign up.