When you miss in order to see the greatness of Cairo landmarks famous pyramids and the castle and the Nile in a wonderful atmosphere will not only find the Cairo Tower tallest building in the capital to reveal to you all the secrets of beauty , and review the panoramic beautiful face of that country , who disappeared behind the political differences and economic , but it seems that the problems managed is other escalate to live above the tower and shut in your face the most beautiful sights you can see for your country .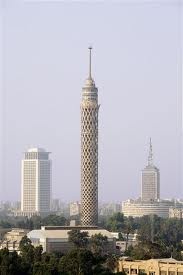 " Cairo Tower Closed " Yes, do not be surprised if you want to go you will find its doors closed as everything in our lives .. Mousoda became his successor and concrete walls of the problems , we have decided that the workers shut its doors and declare their sit-in after he told them that " foreign investor " who has the right to use the building that his contract ended and they have to wait for a new investor to determine their fate.
Do not be surprised .. Already this building witness compelling goats is Egyptian , considered to built by the late President Gamal Abdel Nasser and participated in its construction 500 people from the people of this country to become a masterpiece on the banks of the Nile in control of their own destiny foreign investor , and with phone and one for workers ordered them to reduce work hours to close its doors at 12 noon after his contract expired with the mandate to lease .
Hire the tower began in 1988 to an investor Lebanese and after that died in the nineties devolved administration to his son Khaled Abu Zahra , said the workers that the contract be renewed every five years for the same investor , but under different names by different companies , a " Ivatko , land and ie Torcetk and the Egyptian Company for the management of the Cairo Tower ," They stressed that the investor controls in the price of the ticket , where filed last April to 20 pounds of Egyptians and 75 foreigners .
The story of building the tower , which may not teach many quite different with the outgrowth of their own destiny , where historians say that America wanted to affect the position of Nasser's Egypt in support of the Algerian revolution against the French occupation , sending him to grant six million pounds and refused to dismiss them on the country , which was passing a major crisis in 1956 and thought to be built building remains a prominent note of the time with the Egyptians knew dignity .
And even odder than it is to ignore the media on this issue despite Antfadtha when I learned the idea of leasing the Pyramids of Giza or the granting of a right to use them , I do not think that it is very different Faberge Cairo of the most important parameters of the capital , which did not pass a history lesson , but mentions it.