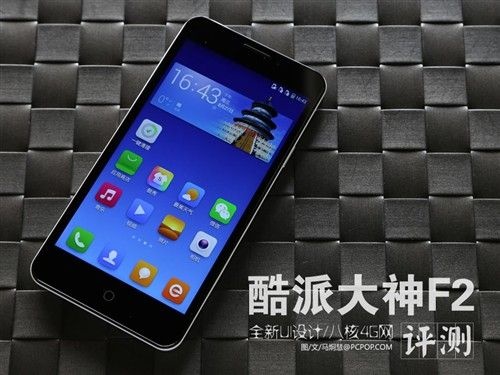 Before we start this review, here are the basic specifications:
| | |
| --- | --- |
| Name | Coolpad Dashen F2 |
| CPU | MTK MT6592, MT6290 baseband chip, octa-core, 1.7GHz |
| GPU | Mali-450MP4 |
| Memory | RAM:2GB; ROM:16GB (can be expanded to 32GB) |
| Display size and pixel density | 5.5-inch, 720p, 267ppi/inch |
| Camera | Front-facing: 5mp; rear-facing: 13mp |
| Connectivity | 2G (GSM), 3G (TD-SCDMA), and 4G (TD-LTE) |
| Operating System | Android 4.2 Cool UI 5.7 |
| Battery | 2500mAh, removable |
| SIM | Micro-SIM |
As you can see from the table, the Coolpad Dashen F2's hardware is more advanced than its predecessor. This phone sports a 5.5-inch display screen like the Xiaomi Redmi Note and Huawei Honor 3C. Its connectivity specifications were upgraded as well as it now supports 4G internet. The ROM has also been increased from 8GB to 16GB. Now, let's get this review started.
Appearance
The Coolpad Dashen F2 sports a 5.5-inch 720p display screen, which is bigger than its predecessor's, the Dashen F1. Some may worry that this may make it less comfortable to hold with one hand, which is reasonable. But, the Coolpad Dashen F2's screen size is kept in such a way that it is still comfortable to hold with one hand, so there is no need to worry about that.
The Coolpad Dashen F2's design is the classic black-front-white-back design. When the phone is off or in sleep mode, the entire front is completely black, while the back is all white. On the top are the 13mp rear-facing camera with an F2.0 aperture and LED light. We'll discuss more about the camera later.
The craftsmanship is also excellent. The cover and body are held together very tightly with no clear cracks and crevices. The two buttons on both sides, the volume switch and the power button, are well-designed too.
The Dashen F2 is a dual-SIM 4G smartphone. And so, there are two SIM slots. It also supports a Micro-SD memory card (up to 32GB).
Regarding the battery, the Coolpad Dashen F2 is powered by a 2500mAh battery. If you do not use the phone much, it can last for a day and a half. If you use it often to play games, watch videos, and make calls, it can still last for a day. Those who use their phones a lot should bring along a spare battery.
Cool UI 5.7
The Coolpad Dashen F2 uses the Cool UI 5.7 operating system. Those familiar with Coolpad should know that this is the result of upgrades made on the Cool UI 5.5.
The multi-task manager has been redesigned with the tabs with each program displayed as cards. It makes it easier for users to search for them. If you want to close all the apps in the background, just press the button with the broom picture at the very bottom to close all the apps.
One feature that should be mentioned involves the notification bar. One problem with Android phones is that you are constantly sent all types of news on the notification bar. Some are important. Some aren't. It can be quite unbearable.
Now, in the Cool UI 5.7, users may customize and select what will appear in the notification bar, which is much more convenient. If you want to receive notifications from WeChat regularly, you can set it like that.
When you swipe your hand to the right in the home screen, you can access Coolpad's newsfeed where you can look at the latest news updates in entertainment, finance, sports, etc. There are 16 topics to choose from.
There is a feature that allows you to not only can you change the theme, you can also get access to different ring tones and many different fonts. You can use this feature to customize your phone's OS in any way you like.
The weather feature has also been greatly upgraded with a new wallpaper and more detailed weather reports. It now provides us with more reliable information than before.
Entertainment: Camera, videos, and music
The Coolpad Dashen F2 also has some great features for entertainment. First, let us take a look at its 13mp rear-facing camera. Check out the photos of the interface below, then the sample shots taken using this phone.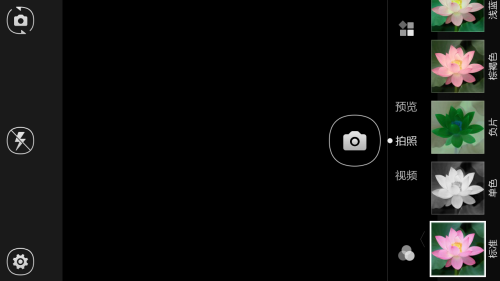 Besides the camera, the video and music features for the Coolpad Dashen F2 are pretty impressive as well. They not only support the usual codecs and formats for video and music files, but also have support for HD videos.
In the Coolpad Dashen F2's video and music app, you can stream music and watch videos online. When you're online, you will get a lot more choices for entertainment to choose from.
Lastly, the Dashen F2 retains its smart split screen feature where you can watch a video while also chatting online. Neat, huh?
Connectivity and Performance
Here is the second to the last part of the review where we check out the Coolpad Dashen F2's connectivity specifications and performance. This phone uses MediaTek's MT6592 octa-core processor (1.7GHz). It uses eight ARM Cortex-A7 cores. It also has the MediaTek MT6290 baseband chip. Not only does the MTK MT6290 baseband chip support FDD-LTE and TD-LTE, it also has support for DCDC-HSPA+, TD-SCDMA, EDGE, GSM, and GPRS voice and data communication. In other words, when you take or make phone calls, you can still use 4G, 3G, and 2G internet without any problems. According to tests that were done, making regular phone calls did not affect the 4G internet speed.
Now, for the benchmark scores:
AnTuTu: 29066
Ludashi (cellphone performance): 38510
Ludashi (web browsing): 26883
NenaMark2: 59.5fps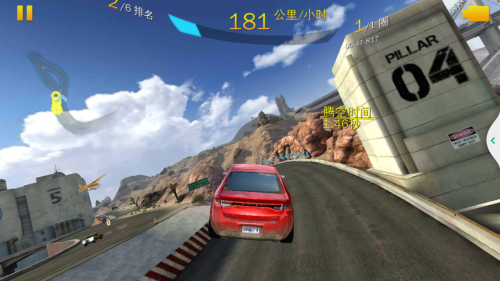 Asphalt 8 works perfectly.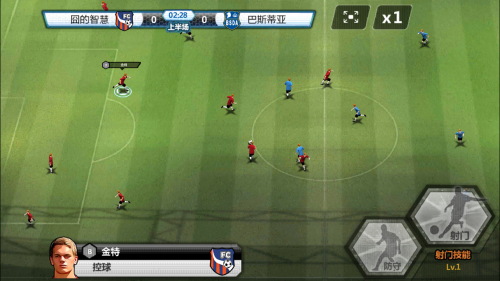 Winning Soccer also works perfectly.
Based on these benchmark scores and the writer's experience in playing these two large-scale games, the Coolpad Dashen F2's hardware performance works really great.
Conclusion
Overall, the Coolpad Dashen F2 surpasses its predecessor, the Dashen F1, in every aspect, whether it is the hardware of UI design. Furthermore, it's powerful media and camera specifications, as well as its support for 4G internet and dual-SIM card make it worth its 999 RMB (162.91 USD) cost.