Due to the delayed review contents that I had been experiencing, I didn't help myself but send an email to bitlanders' customer service. It doesn't mean that I am impatient but the reason behind that is because there were ones which were submitted later than the others and yet they were already reviewed while the rest were just staying in the corner. I don't want to really submit another blog without the other being reviewed and so I did what I thought would be best.

Here's what I had sent them: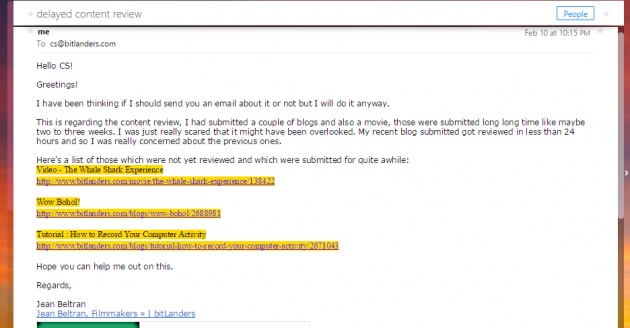 So, yeah there are three which has not been reviewed, one of which is a movie. I think bitlanders may have overlooked this and I hope to be receiving a response from the team. It has been awhile since I had sent them an email. I know the last email I had sent was about the buzz score issues. I want to also follow up the issue regarding the Facebook invite where the transform button on the notification won't work but I realized that I had already tagged one of the developers here who had responded to that post I made and I am expecting him to work on it because it has been months since I had reported that.

Well then, I will update you guys once I got a reply from them.