Dieng Plateau was initially not one of the places I thought to travel but stumble upon it by sheer chance and it became part of the must visit for me as I make my way from Jakarta to Yogyakarta, making pit stops along the way. You see I was hoping to get a good slice of Java itself, taking it slow, knowing the people and understanding the place.
Lucky for me or not, I was there during the rainy season of December in Indonesia, therefore I find myself in quite a number of rainfall especially in the evenings, but boy in Dieng Plateau, it is another league of its own. It rained practically the whole day from morning to sundown. It was raining when I reached at night and by noon the next day it started to rain again till I leave, I don't know when did it stop.
Sikunir Hills (Golden Sunrise)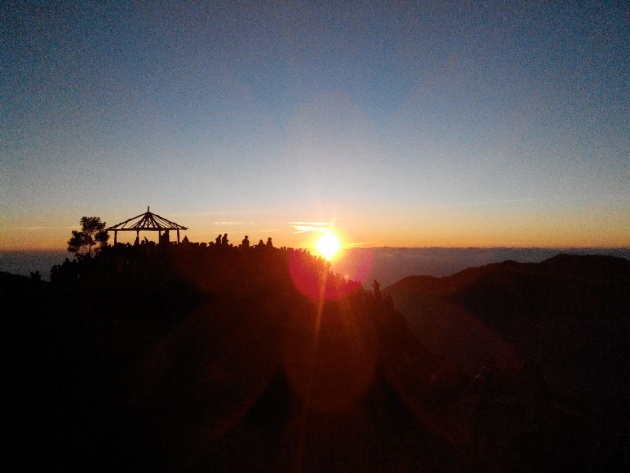 Arjuna Temple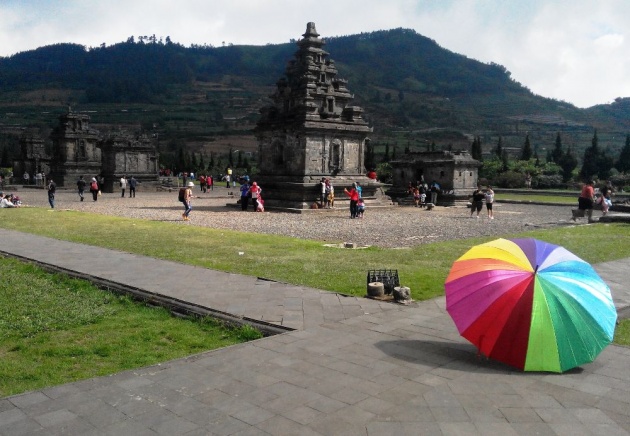 Arjuna Temples Complex – Candi-candi (ancient temples) dotted around, the most famous being the Arjuna complex not because of its magnificence, what not with the likes of Borobudur andPrambanan not too far off but for its really old age. Here you can find Candi Arjuna, Candi Setiyaki and Candi Bima. They are one of the oldest temples in Indonesia, dating back to 8th century built by the Sanjaya dynasty. It can be a bit disheartening to see the remaining small temples around the complex but keep in mind that it had stood the test of time for a long, long time.
Still do not to let it dampen you on that, I must say Dieng Plateau hold its own charm despite being veiled by the rain fall. If you happen to be here during the dry season or better weather, I am sure you have even better time than me!l Java, nearby Wonosobo. Most people in Indonesia calls it Dieng. It is a highland of 2,000 m. Even though nearby to Wonosobo, it is actually located in the regency of Banjarnegara
Where is it?
Dieng Plateau is situated in Central Java, nearby Wonosobo. Most people in Indonesia calls it Dieng. It is a highland of 2,000 m. Even though nearby to Wonosobo, it is actually located in the regency of Banjarnegara.
Why Go there?
If you want to see something different from the rest of Java in Indonesia, here is the place. It is almost somewhat existing on its own up here in the highlands. If you explore around you will betrekking through rolling hills of plantations and mountains flanking from all sides in the horizon. A fellow traveler whom I met there commented "At this view (while looking from the road a vast rolling hills of vegetables fields), it almost seem like I am back in France." And if you are here during off peak season, you will find yourself one of the only handful of travelers wandering around, making this place exclusive and off your usual beaten path.
Definitely not during the wet season like me but during the dry season of April to October, though you may find that during the peak season of June-August there might be more people than the usual sparse crowd.
Also be warned that the temperatures in Dieng can be quite cold being in the highlands, therefore remember to pack proper clothing. The guesthouses here are bare and minimal, therefore do not expect any kind of heating, a sleeping bag of your own would help tremendously in your sleep.
There are many craters (kawah) around here for you to explore, like Sikidang Crater (Kawah Sikidang) which is more popular, and there are others like Kawah Candradimuka and Kawah Sileri.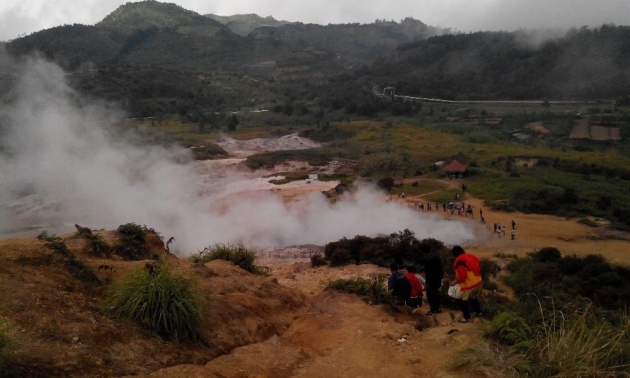 Telaga Warna (colored lake) – not to be mistaken for it's name for it is only in hues of blue and maybe some slight green. Try to walk up the hill beside it to catch a top view of the lake which can be quite beautiful if you caught it during the right light of day.

Where to go nearby?
Purwokerto – what a real city would be like in Java before it get over-saturated as a jaded city, with its little park (alun-alun), good food, laid-back atmosphere, surrounded by many natural wonders and most of all the fun and friendly people.
Wonosobo – To catch more of village lives in the heart of Java.
Yogyakarta- for the grander temples of Central Java – Borobudur and Prambanan. It is also a place for food and shopping and other tourist attractions.
Semarang – another modern city of Central Java with ancient port.
Travel Tips
Remember that Dieng can be chilly up there in the highlands, pack enough warm clothings and it helps to bring your own sleeping bag for nights are cold and the blanket provided by guesthouse can be too thin for comfort.