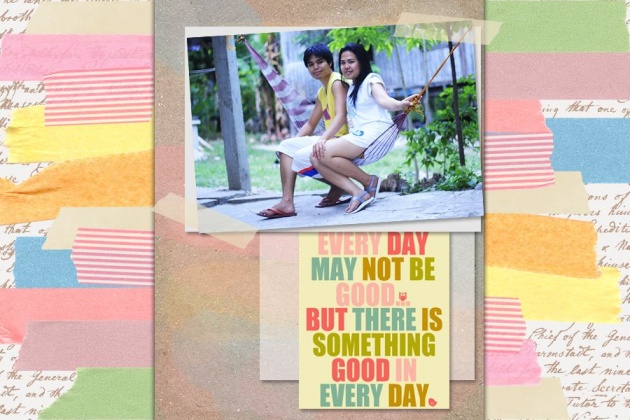 "Everyday may not be good but there is something good in everyday."
I always believe that everyday is a blessing for each and everyone who was able to wake up and still is breathing on that morning day.Our lives are gifts by our Almighty Father who is the life giver and who sustains us so we should be grateful for the everything we had received from Him specially the gift of life, the gift of second chance and the gift of the day.
I can't let a newly created scrapbook page be posted without labels on it. I would look and look for any inspirational quote which can be a perfect match for that scrapbook page and I guess this one had just become enough for this lay out as well.
The photo was taken when I had spent my vacation in my boyfriend's town in Oslob, Cebu, Philippines. I was on a vacation and so all I had in mind was to relax and not do anything at all. And I realized that even though I was not working, God was still working in my life. He is worthy to be praised and to be given all the honor for the life He had provided.
So as a closing part, I just want to share that whenever you are facing any difficulties in life, still be thankful for your life. That everyday, always be reminded in the morning part of the day that God has given you this life for a special reason. He has chosen you to be alive so rejoice in that day!