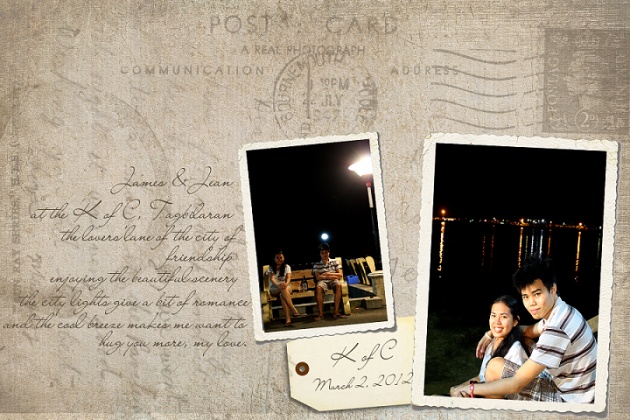 Another digital scrapbook art I had made a few years ago was a vintage postcard type of scrapbook page. I had used the photos which we took when we had a simple family gather in Tagbilaran City, Bohol when we had sent my brothers off to Dubai. A day before their flight, we had stayed in a specific hotel and spend a whole day having some family bonding.
By the night time, we went to this area in Tagbilaran just very near to our hotel which they had referred to as the Lovers' Lane because it is facing the port area and the lights are so romantic plus lovers came to spend some sweet time together with their loved ones.
I thought it was a good picture perfect for this kind of lay out. The post card effect I had made through certain photoshop brushes, then I had added some writings written in a cursive way plus some clip arts like the tag, that was it and it was it and I had found it good.
Hope you all like it!