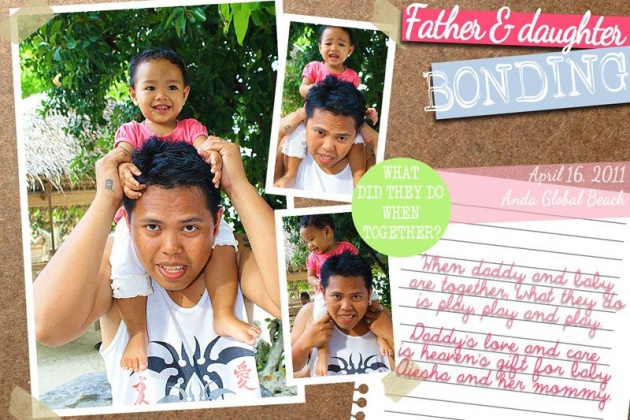 This is a digital scrapbook I made a few years ago, check the original post (click here)
I was scanning through my disk's photos because I was planning of deleting some of them to free up some memory space however, when I bumped into these photos where my Manoy (older brother) Steven, Baby Aiesha's dad was carrying Aiesha. Those were taken last April during our
Family Reunion
at Anda Global Beach
and all of a sudden, I was inspired to create a new
photo template
.
So here it goes... Hope you like it and if you want to grab it, it's all for free. You just need an Adobe Photoshop to use this
Fonts
used here if you are just curious are the following:
Dancing Script - For the father and daughter headline
Veteran Typewriter - For the question bubble, what they do when together?
The Only Exception - This is used for the note story.
Griffin - For the word BONDING.
.