Photo Credit: http://www.travelinboots.com
I have been writing about travel and leisure in the past and this time I would like to continue with my recent travel blog submitted few weeks back which I featured Boracay the stunning Island in the Visayas region of the Philippines. If you haven't seen/read it yet you may click here.
It's my intention to promote the beautiful places in the Philippines that you must not missed to visit if you get the chance to visit our country. As I mentioned before, you will not regret it, all your expenses and efforts in going there will be worth it plus you'll get to keep memories that would really last a lifetime.
So brace yourself as I introduce to you the second must visit place in my list with its breathtaking views of nature.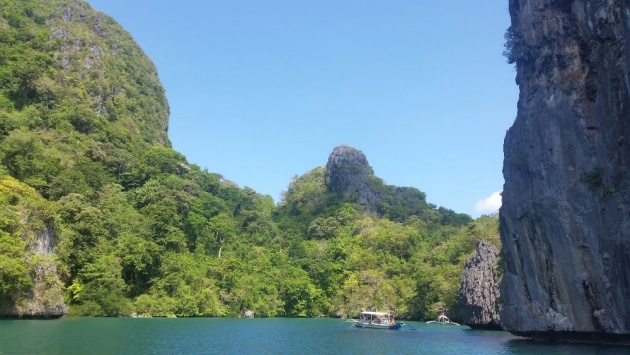 Photo Credit: Summersdale via www.pixabay.com
EL NIDO, PALAWAN
Introducing El Nido, one of the 20 most beautiful beaches in the world. El Nido is a world class beach which is located right here in my own country Philippines.
The Municipality of El Nido formerly known as Bacuit is a first class municipality subdivide into 18 barangays, composed of 45 islands and islets, and managed resource protected area in the province of Palawan in the Philippines. It is about 238 kilometres north-east of Puerto Princesa, Palawan's capital. El Nido is known for its white-sand beaches, coral reefs, limestone cliffs and as the gateway to the Bacuit archipelago.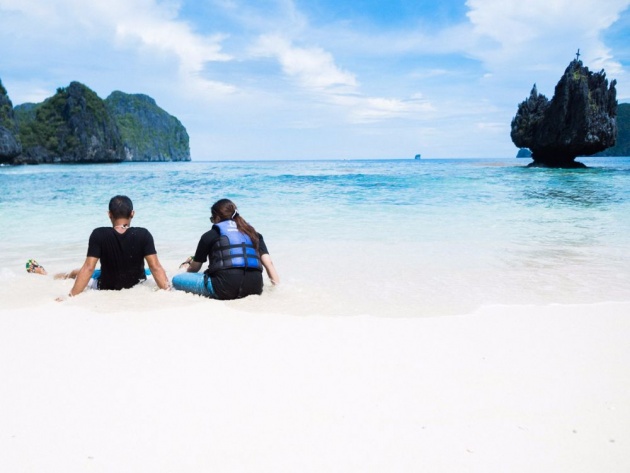 Photo Credit: http://www.travelinboots.com
El Nido is currently ranked #4 in Condé Nast Traveler's list of "20 Most Beautiful Beaches in the World." CNNGo has called it the Best Beach and Island destination in the Philippines for its "extraordinary natural splendor and ecosystem. - Wikipedia
The main source of income of El Nido is fishing and harvesting nido and edible nest found in the crevices of its limestone cliffs, used to be but this time the area is already congested with tourists so most of the revenue of the municipality now comes from visitors or local and foreign tourists so that means tourism is now their main source of income.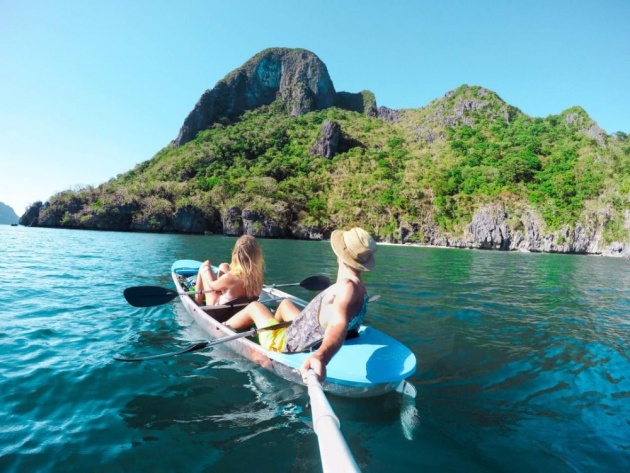 Photo Credit: http://www.travelinboots.com
El Nido is a showcase of the Philippines' geological and biological diversity. In recognition of the importance of its unique ecosystem, the Philippine government made the entire area of El Nido first to a turtle sanctuary in 1984, then to a marine reserve park in 1991, and finally in 1998, to that of a managed resource protected area. - Wikipedia
As a protected area, the Philippine government needs approximately US$ 180,000 (approximately 8 Million pesos) yearly to protect and manage its natural resources. This is the reason why tourists are encouraged to pay US$ 0.50 per day as conservation fee for the whole duration of their visit.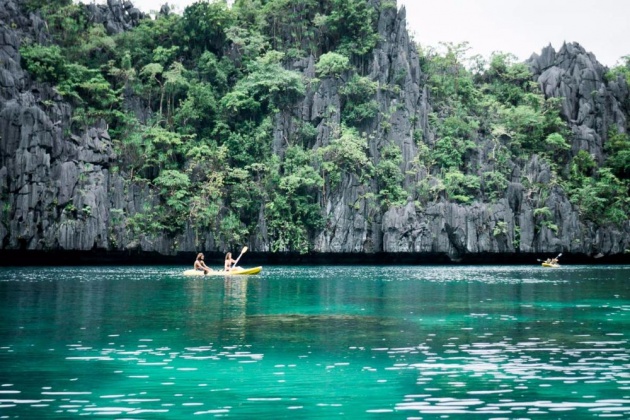 Photo Credit: http://www.travelinboots.com
El Nido, the most diverse ecosystem in the country, is protected for its unique flora and fauna, and pristine geologic formations and these include the following:
Limestone cliffs, the home of the swiftlets – source of nido the edible nest
50 amazing white sand beaches
5 types of forest
3 major marine habitats
16 endemic and 10 threatened species of birds, this include the Palawan hornbill among others.
6 species of marine mammals endemic to Palawan (including dolphins and its native dugong)
4 species of endangered marine turtles, they are the hawksbill, olive ridley, leatherback and the green sea turtles.
100 species of corals,45 of which belongs to the genera of hard corals
And 813 species of fish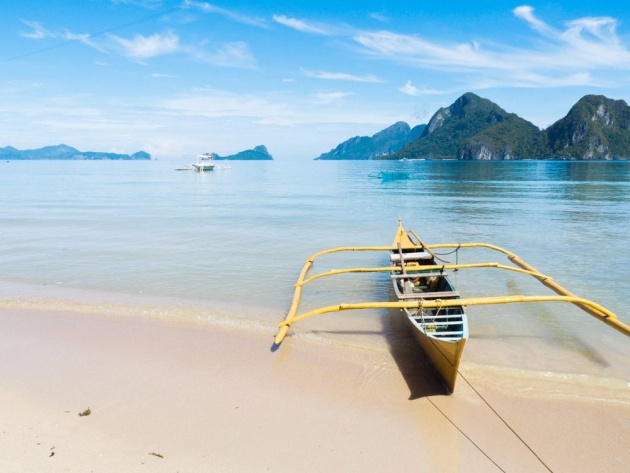 Photo Credit: http://www.travelinboots.com
CLIMATE
The climate in El Nido is distinguished by two seasons: generally dry, from December to May, and wet, from June to November. April and May are typically the driest months, while the heaviest rainfall occurs around August. Given this information, around November to May is the best time to visit El Nido although one should expect the attractions to be jam packed. Such situation would not be desirable to most of the travellers especially those who wants a little privacy. But who would expect a beautiful place like El Nido not to be swamped with tourists all year round? Although compared to Palawan, El Nido is still less crowded.
So if you want to avoid the normal tourist crowd and to save from hotel and tour rates, it is recommended to go there somewhere from June to November.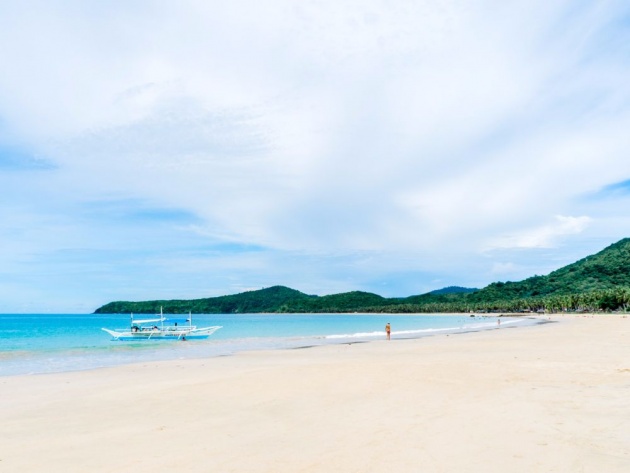 Photo Credit: http://www.travelinboots.com
WATER TEMPERATURE
El Nido's average water temperature ranges from 24 °C to 26 °C during the months of December to March and 26 °C to 29 °C during the months of April to November. So it doesn't have a significant difference that makes it desirable for snorkelers and swimmers anytime of the year.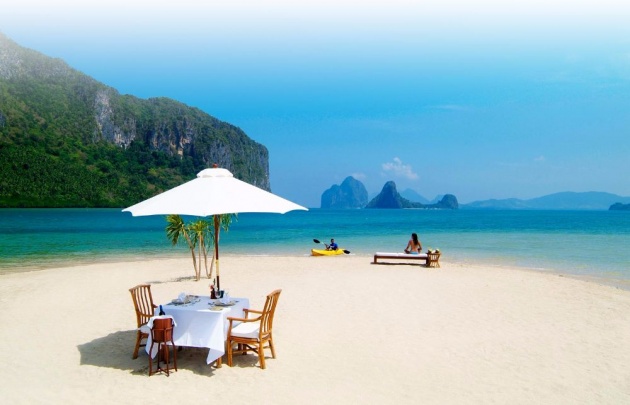 Photo Credit: Google Photo via www.traveltrilogy.com
POPULATION
"According to the 2007 census, El Nido has a population of 30,249 people in 6,311 households in its eighteen barangays. Eighty-five percent of the population are living in the rural barangays, while only fifteen percent of them are in the Poblacion area." - Wikipedia
THANKS TO THE DEPARTMENT OF TOURISM
If not because of the efforts of the Department of Tourism, Philippines won't become a mainstay on the list of the top travel destinations in the world. A lot of well-known online travel websites considered the Philippines among the most sought tourist destination considering its beautiful beaches that can compete to the other renowned beaches in the world.
So what are you waiting for? Plan now for you trip to the Philippines and visit El Nido in Palawan so that you too can experience the wonder and beauty of this tucked away gem, in the Philippine islands.
HOW TO GET THERE THE FASTEST, CHEAPEST AND CONVENIENT WAY?
For travelers on a budget, they may choose to take Philippine Airlines, Cebu Pacific, and AirAsia fly from Manila to Puerto Princesa Palawan. All of these airlines have a number of flights to Palawan every day.
Philippine Airlines flies 3x a day,
Cebu Pacific flies 4x a day, and
AirAsia flies 5x a day.
Photo Credit: http://www.travelinboots.com
Then from Puerto Princesa Airport, travelers will have two options to get to El Nido, its either by a shuttle van or if not in a hurry by bus although taking a bus would be an hour late in reaching El Nido compared to taking a shuttle van.
Please watch the video below to have a glimpse of this amazing place in the Philippines, I am sure you won't miss to visit El Nido if you get the chance to come to our beautiful country.
Video Credit: Brent Harley via www.youtube.com
SOME ESSENTIAL INFORMATION
Walking in Bikinis
Do not walk in bikinis or trunks while in town. Not a lot of tourists know that El Nido is a very conservative Catholic community, and it's considered disrespectful. So it is important that you also bring overclothes.
ATM Machines
ATM Machines are already available in the area although here are some additional charges so its better to bring cash in going there.
Money Changer
For foreigners or anyone who has brought with them currencies other than Philippine pesos they may exchange their money to several money changer around so there's no problem finding shops or establishment that accepts currency exchange.
Credit Cards
Although it is advisable to pay in cash for availed services or for bought items but one can use his or her credit cards too. Meaning there are already businesses there who accept credit cards as payment.
Check out the video below if you want to know how to get to one of the most beautiful places in the Philippines, El Nido, Palawan, its must see places as well as information as to where the best place to live and eat while you are in there.
Video Credit: LexGo via www.youtube.com
ADDITIONAL FACTS:
The edible nests of swiftlets, found in the crevices of its limestone cliffs, nido in Spanish, the main ingredient for the gourmet nido soup, are being sold at approximately US$ 3,000 per kilogram.
The so-called El Nido-Taytay Managed Resource Protected Area is the largest marine sanctuary in the entire Philippines.
The Underground River was nominated to be recognized as one of the New 7 Wonders of Nature, and eventually won in 2012.

Photo Credit: Google Photo via yellowpages.com.sg
Now do you wanna visit El Nido soon? Are you a nature lover? So how often do you travel? Try to participate in the survey chat below, powered by QUERLO, a chatbot with a human touch and learn a lot of things.
(embedded sample of QUERLO interactive chat)
Lastly, there are a lots of ways to purchase a package tour to El NIdo but you can also try Agoda or TripAdvisor if you want to look for you desired hotel the easier way.
And this has been TRB your tour guide for today, hope you enjoyed the trip!