Al Pacino is one of the best actors of all times, he have gotten so many awards during his amazing career and he will get even more,I am sure. He is my favorite actor, and I wanted to present you some his epic movies, that I personally mostly love. And, if there are some more his movies that you love and that are not on this list, please write about them in the comments belove.
Let's start!
Enjoy!
Ooh, but I still smell her!
First of all is movie "Scent of a woman" (1992), this movie really explained me a lot of things. We do not need to have everything, and we are all amazing.
In this movie the blind soldier Frank (Al Pacino) will learn young student Charlie (Chris O'Donnell) how to live, and Charlie will show to him that there are always some things to live for.
This movie is full of emotions and passion. I am sure that first thing that you think of when someone mention this movie is scene when Al is dancing tango with a young girl in the restaurant.
If there is anyone who have not seen this movie already, please watch it, you are going to like it for sure!
It is one of those stories that are showing hopeless people that are finding lifetime friends that help them to pass trough everything what life is bringing to them.
Say "Goodnight" to the bad guy
This movie was not wery popular in cinemas, it doesn's earned a lot of money and it did not get a lot of awards ... But, it is one of the best movies ever filmed! You, guess, I am talking about "Scarface" (1983)!
This movie is so epic, Al has a great role and I can say that many actors are waiting for such arole whole their life and they never get it. Al Pacino in this movie is not playing just an ordinary criminal, he is " A Cuban Drug Lord". This movie is not like all other movies about drug dealers and their rises and falls, this movie has something special.
My favorite scene in this movie is his speech in the restaurant.
Actually he explained many things in this scene, we should be what we are, even if we are a bad guy.
We do not need to lie and to hide, if you are brave enough to do something, be brave enough to confess that you have done.
And also, in this movie we can see that no matter how bad someone is there are some things that just can not be done, I am talking about part when Tony rejects to kill his enemy with bomb because he was with his daughter and wife.
Vanity... My favorite sin...
Next movie on my list is "The Devil's Advocate"(1997). Okay, we got used to Al Pacino in roles of bad guys, but in this movie he is the worst, he is Devil by himself. When you see this movie for the first time you will not get the point of it, you need to see is a couple times. And every time, you will see something what you have not seen last time when you watched it. Point of this movie is that we are all human beings, and we all want more and we are working hard to get what we want to have, but everything has a price. So, be careful, if price is to high, maybe you should give up. If you are not ready to give everything what you have do not try to get everything what you want to have.
There is always some Devil that is trying to buy your sou and it is your choice will you sell it to him.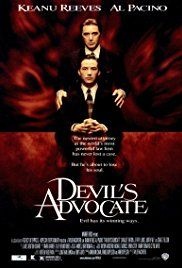 It is not over until you get on the train
"Carlito's way"(1993) , this is a movie that actually has a very, very deep message. In this movie Al Pacino is playing a crimilan that is giving his best to change his life.
After some things happend in his life, he decides to go straight and to do something legal. But, life is not that easy, and you cna not change it whenever you want to. You sometimes forget what you have done to someone in the past, but will they forget those things too?
Once you are in, there is not way out. No matter how bad you wan to change, you can't. You are what you are. Once a criminal, always a criminal.
Carlito was killed in the moment when he was sure that nobody can stop him anymore, he was finally happy and he was thinking that he changed his life. But, he could not delete his past, and even if he was trying to forget some people from his past, they remembered him very well.
This movie is showing us that we need to be extremely careful, because some mistakes can never be corrected.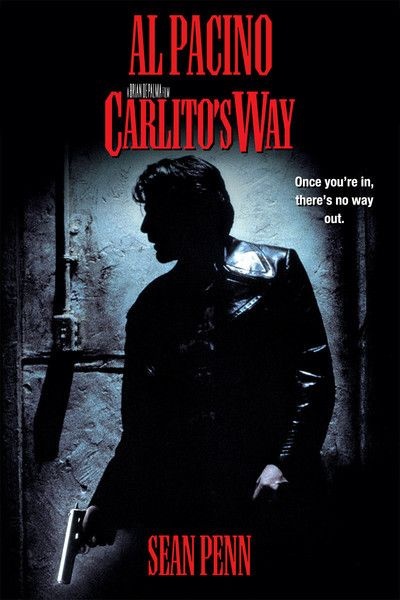 Kiss me!
-What?!
Next movie is a way different than many movies where Al pcino was playing the main role. Next movie is "Dog Day Aftrenoon" (1975) . In this movie we can see two young men that are in some troubles, they need a lot of money and thy think that only way to get that money is to rob the bank. They made a plan and they was thinking that it is perfect. On the August 22 in 1972. they started their plan, but it gone wrong. Police found out what they are trying to do, and they are in big, big trouble. Sony (Al Pacino), is giving his best to escape form the bank safely, but police is always there to ruin his plans.
Movie had tragical end, but it is actually very funny.
I recommend this movie to all those that love to watch black comedies.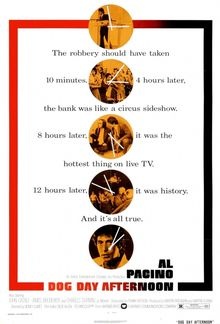 Told you, I am never going back
This is one more crime movie with Al pacino in main role, but this time he is on the other side, he is a police inspector and the criminal is Rober De Niro. I do not have a lot to tell about this movie, it is not one of those movies that are taking breath away, but it is pretty good.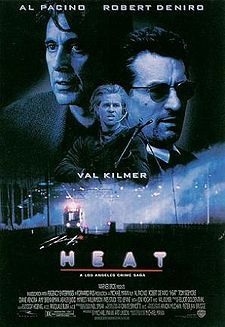 I like one De Niro's quotation that says "Never get close to something what you can not leave in 30 seconds".
So, this was the list of my favorite movies with Al Pacino in main role.
At the beggining of every paragrapfh I put some interesting quotation from each move, and I hope that you will like some of them. And also, I put the official pictures of movies and years when it was filmed, so you can find them, if you decide to watch some.
I also love some other movies where Al Pacino is playing many roles, and I will write here the list of it, so you can find them too, if you want to.
Me, Natalie (1969)
Serpico (1973)
...And Justice for All (1979)
Frankie and Johnny (1991)
Insomnia (2002)
Simone (2002)
Two for the Money (2005)
This was my list, please let me know which Al Pacino's movie is your favorite one and why and I hope that you like some of those movies from my list!