video credits: UnlockBoot via Youtube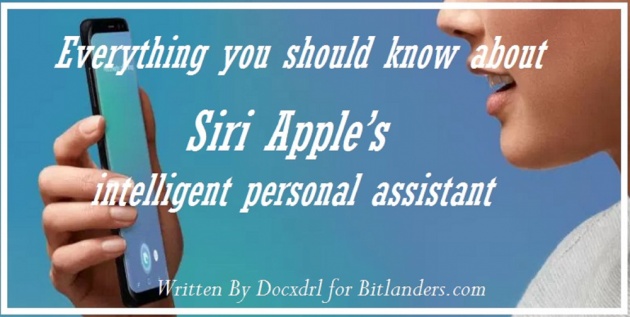 Everything you should know about Siri Apple's intelligent personal assistant: image credited; maccablo and edited by Docxdrl via Bitlanders
Siri is a personal voice assistant with Artificial Intelligence (AI) available across Apple's devices including iPhone, iPad, Mac Apple Watch, Apple Tv, and HomePod. Siri is the equivalent of Google Assistant on android devices. Originally, Siri was a standalone App, until, in 2011, Apple acquired the company Siri Inc and the mobile application ceased to exist. Siri for the first time appeared on Apple underlying software in iPhone4S.
In today's world of technological advancement and sophistication, having an interactive AI to wake you up, read the latest news from your favourite news sites, Facebook, or twitter account, remind you about your schedules for the day, this is totally awesome!
The application can do research with Google and wiki, give you updates on daily horoscope, book hotels for you, tell you about the latest trending music online. As an application, it can perform tasks like currencies conversion, perform calculations and use Google maps for navigation. This show that Siri is versatile and its intelligence, abilities and functionalities are evolving as it tries to keep up with Google Assistant and Microsoft Cortana
Siri is a virtual assistant that is part of Apple Inc.'s iOS, iPadOS, watchOS, macOS, tvOS and audioOS operating systems. The assistant uses voice queries and a natural-language user interface to answer questions, make recommendations and perform actions by delegating the request to a set of internet services. The software adapts to users' individual language usage, searches and preferences, with continuing use. Returned results are individualized

Credited: Wikipedia
Siri does more than just what people think, it also helps you stay connected whether you are having your hands full with home chores, driving, or you just want a sit in that beautiful restaurant later in the evening to impress your spouse, Siri can set that up for you.
A virtual assistant can ease some of our daily tasks via simple voice command, and Siri fits in perfectly and can be personalized by the user convenience preference. Siri understands and converses in natural language like all AI virtual assistant, and the voice preference is changeable to the users choice.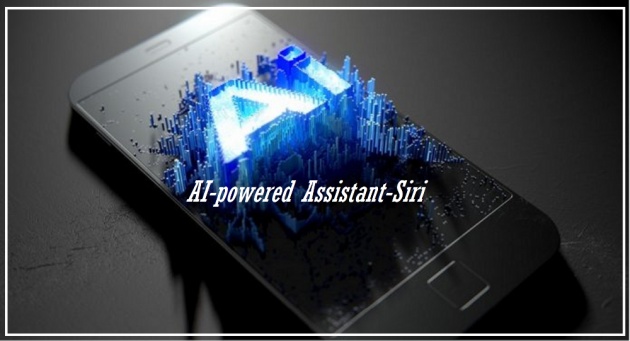 image credits: root-nation, edited by Docxdrl via Bitlanders
How to Start Siri
There are different ways to start Siri, these all depend on the device you are using at the moment. You can start Siri by saying "Hey Siri" to your iPhone, connected Bluetooth headsets, if you have a Touch ID iPhone (iPhone 6S) hold down the Home Button, then say what you need, for iPhone X, hold down the power or wake up button and on other devices, you just have to wake until Siri appears to make request of what you need from the AI virtual assistant.
How do Siri works?
Siri is an AI-based processing algorithm that understands natural language and has a conversational interface and personal context awareness.
Conversations with Siri are via two forms, voice command or using through message. The application is a two-way communication that understands word-for-word voice recognition and has the capacity to decipher and respond through machine learning.
And you can interact with Siri via text by typing what you want and it will respond to you appropriately based on its understanding and assimilation of what has been written.
Like with Google Assistant, Siri can interact with other Apple devices that support but it apps and access information the user needs.
You can ask Siri all kinds of questions about itself, although it may not give you a satisfying answer, it may end of telling you that it does not like talking about itself. To make Siri more user-friendly you can change its gender.
Let's chat about all those features that make Siri Apple's Intelligent personal assistant on Querlo
How to change Siri's gender
You can change the voice of your Siri into a man or a woman by heading down to Apple Menu> System Preferences> Siri and go to voice option gender for either a male or female.
Does Siri Speak my Language and is it found in my Area?
First and always, I'm a and still lives in Nigeria and when it comes to phones, we loving showcasing phones even if we don't use 2% of the application and functions of the phone. Siri cannot speak my language yet. It is available in more than 35 countries around the world and can and understands English (US, England, Australia, Canada, India, New Zealand Singapore) Spanish, French, German, Italian, Japanese, and Korean, mandarin, Swedish, Danish, Dutch, Russian Turkish, Portuguese and so much more. See the full list here.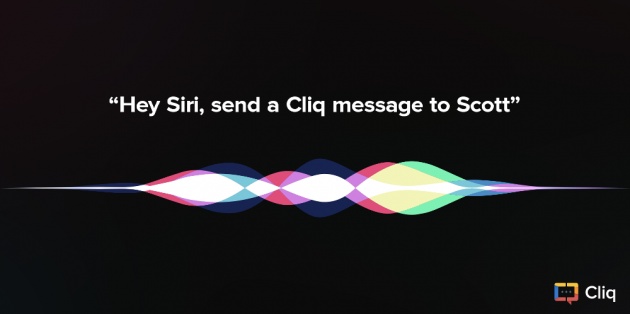 image credits: zoho
Siri as a virtual assistant powered by artificial intelligence is effective and capable of performing many useful tasks via voice commands; it does not mean it is perfect, Apple needs to strive to make it better at performing and understanding questions.
Google Assistant continued its outperformance, answering 86% correctly and understanding all 800 questions, Loup Ventures Gene Munster and Will Thompson wrote in a blog post. Siri was close behind, correctly answering 79% and only misunderstood 11 questions. Alexa correctly answered 61% and misunderstood 13. Cortana was the laggard, correctly answering just 52% and misunderstanding 19
These virtual Assistant voice-activated applications in our smart devices can and is interacting with every one of us differently. Siri is smart enough to consider your location along with the context of your voice-command and conversation to engage in a more convenient conversation.
video credits: DHTV via Youtube
Sir as an AI-voice assistant, although not human, it has the capability to communicate with you and you may feel you are talking to another person from the other side of the phone.
On A Conclusive Note
As a tool, Siri is versatile, compactable and has so many functions that every Virtual Assistant needs, and more so, Apple does everything with style. Siri is not perfect, but we expect nothing less from what the AI-technology is offering at the present.