Exploring Bluewater Sumilon Island Resort is a continuation of the amenities that I tackled in part one of my A Day in Bluewater Sumilon Island Resort blog. There are two facilities that I discussed and those were the Cliff Bar and Children's Playground. Basically, these facilities are free of charge as it comes along with the day tour package.
There are a lot of facilities in the resort that walk-in guests can enjoy with the day tour package but of course, it solely depends on the guest preferences. As I've mentioned in my previous blog these facilities are on a first come first serve basis so grab yourself one before it runs out. It's been on my wishlist for quite some time to see and explore Bluewater Sumilon Island Resort and fortunately, the day has come that I finally ticked it off in my wishlist.
AMENITIES
► SPA MASSAGE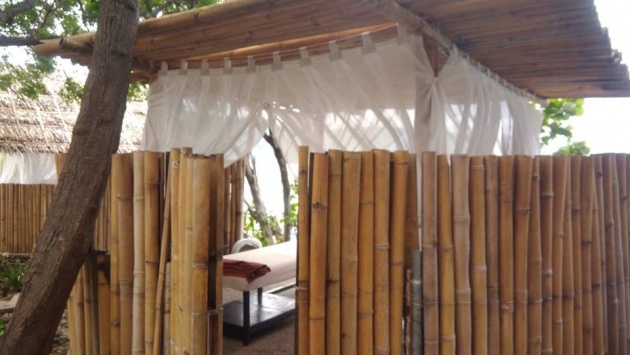 Having a body massage is the best treat you can give to yourself after a strenuous grind. Let yourself indulge in this Amuma Spa of Bluewater Sumilon Island Resort. This spa cottage is located on a cliff that is overlooking to the ocean. You can pass by these cottages just before reaching the infinity pool and the Pavilion. I am not quite sure if this is free of charge for Bluewater Bliss members but definitely, it's not free of charge for walk-in guests. If you are interested in Amuma Spa service you may contact this number (038) 318 9098 or visit this link for your queries and reservations.
Amuma - is a Visayan word which means to take care.
► Sunbeds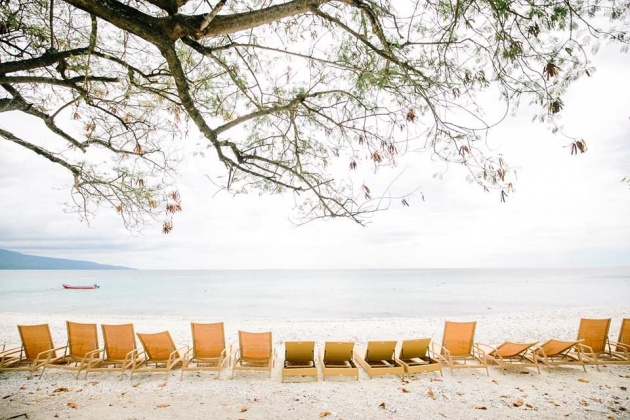 If you feel like getting tanned then there are sunbeds waiting for you in the resort. The sunbeds were lined up on the shore facing the ocean. Feeling the cool breeze and the rumbling seawater sound is the best way to set a tranquil mood. So have one for yourself before it runs out. Remember! It's a first come first serve basis.
Bluewater Sumilon Island Resort / Video Credit: Finding Paradise via Youtube
In this video, the uploader will show you a map of the Philippines showing the location of Sumilon Island. It will also show you how to get to the drop-off point in Oslob up to the island. Since I was not able to discuss the rooms or accommodation of the resort, you can see in this video one of the accommodations that intrigues me and it is called the Glamping Tent. The buffet is showcased in this video the spa and other amenities that are present in the resort.
► Picnic Tables and Chairs

If all the nipa huts are being occupied, need not worry because there are wooden picnic tables and chairs available nearby the sunbeds. These picnic tables are lined up along the shore and are covered with a green garden nylon net. When the sun is up definitely you will be staying under the heat of the sun. It isn't that spacious compared to the nipa huts but it will do to keep your bags and other belongings intact.
► Nipa Huts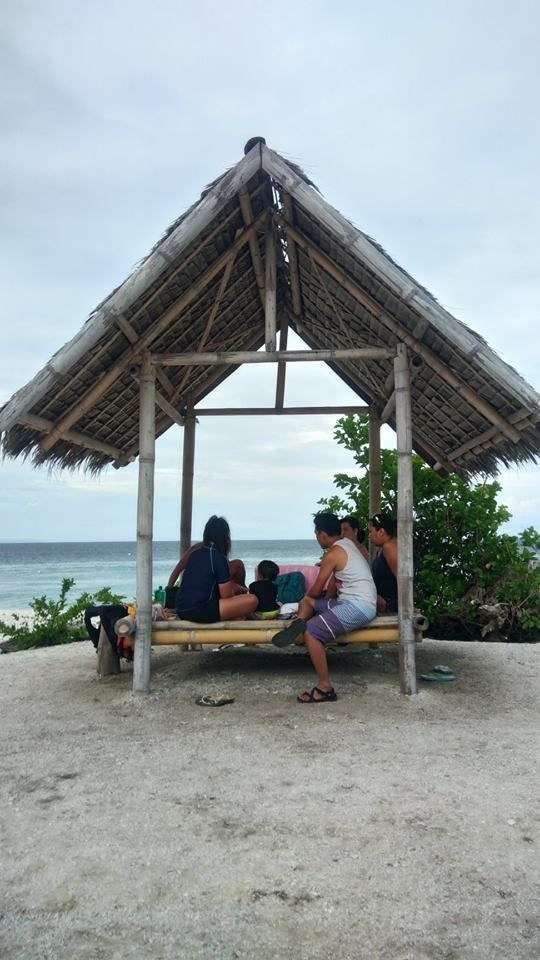 Just like the sunbeds, nipa huts were also lined up but on an elevated level of the seashore. It can accommodate a group of 10 persons but depends on the built of each person. You can make use of the nipa huts for your belongings while exploring the island but make sure to keep your valuables with you. Sleepyheads can surely can't resist this nipa huts because of the cool breeze and the calmness of the surroundings. Just lounging yourself in this nipa hut makes you feel so relax.
► Hammock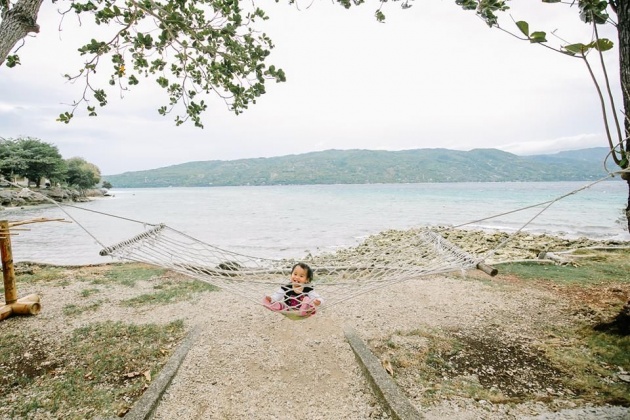 In between nipa huts, you can find one hammock. The hammock is made of rope mesh in a diamond square pattern where both ends tied to a tree. Again this is on a first come first serve basis and there aren't many hammocks that you can find in the area so if you see one unutilized, seize it and never let it go. The hammock shown in the photo is a restricted one. It is for the exclusive use of the Bluewater Bliss members and for the check-in guest/s. I've seen hammocks near the Amuma Spa huts and some are in between nipa huts near the lagoon. When we arrived in the area I waited for a few minutes before I had the chance to make use of the swinging bed.
► Swimming Pool for the Walk-in Guests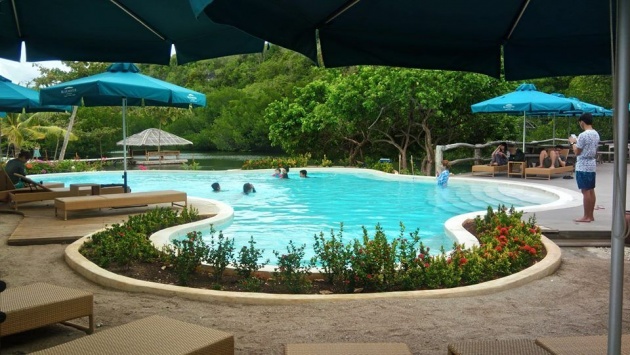 Joycee told me that this swimming pool isn't there yet the last time they visited here. Even before when they were walk-in guests they were able to use the infinity pool. Changes have been made after this pool was in full operation and that is -- walk-in guests can make use of this pool but not on the infinity pool.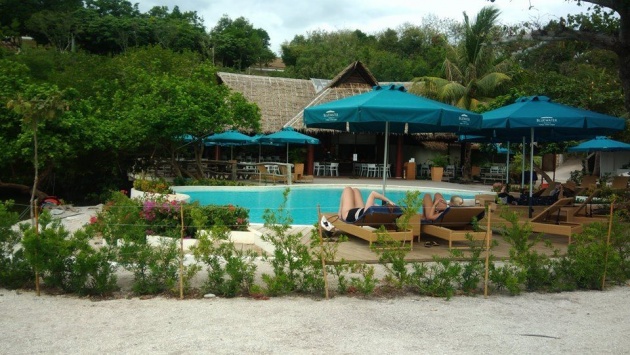 Sunbeds are also available here in the public swimming pool. If you can see in the photo a big nipa hut with white monobloc chairs that is the Pulo restaurant. Didn't have the chance to take a photo of the restaurant because of my growling tummy and it slipped my mind after dining due to excitement in exploring Bluewater Sumilon Island Resort.
Pulo - is a visayan word that means island.
► Infinity Pool for Bluewater Bliss Members and Checked-In Guests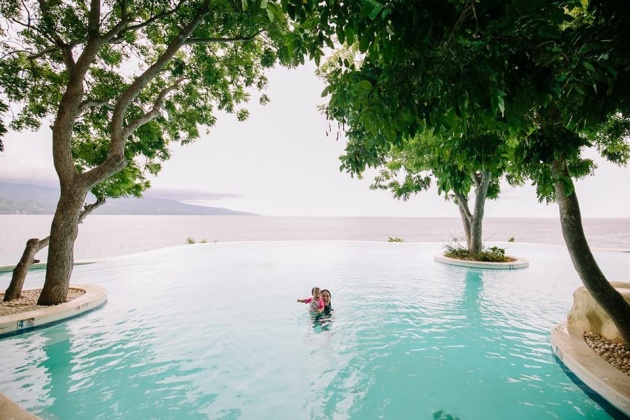 As a member of the Bluewater Bliss and as a check-in guest, you get to enjoy this beautiful infinity pool just like Joycee and Summer did. You can pass by this pool just before the Pavilion. This infinity pool has a great ambiance aside from the panoramic view that is overlooking to the ocean.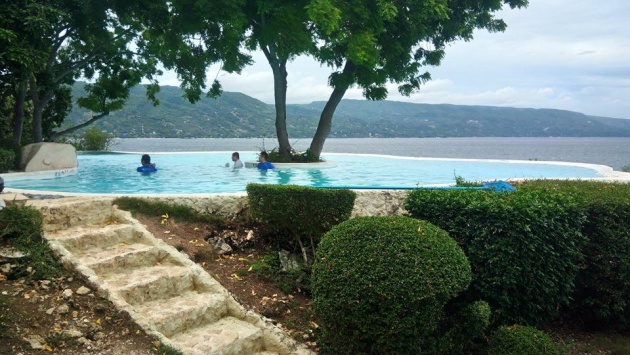 On the other side of the infinity pool, you can see the mainland Cebu. When you look at the picture it is quite near. It seems so near for a 10-15 minutes boat ride from the mainland Cebu to Bluewater Sumilon Island Resort. I like the tree detail that is inside the pool and how the pool is situated on the cliff. Bad thing I never get the opportunity to dip into the water and experience the infiniteness of the pool. Well, there's always a second time and I got to explore Bluewater Sumilon Island Resort for free and permanently ticked it off in my list.
Bluewater Sumilon Island Resort / Video Credit: NCFuncion via Youtube
Let me share with you a video from NCFuncion where the journey starts from the time they alight from the van until they arrived in the resort. In this video, you can see the sandbar, the amenities that I mentioned in this blog and the activities that I will be sharing on the third part of this blog.
► EXPLORING BLUEWATER SUMILON ISLAND RESORT

With a wide spread of lushes and greeneries as the backdrop of the lagoon made me feel like I am one with nature. This isn't just a lagoon for the guests to stare, to have me-time, to take selfies, or to admire but it is for them to explore and to enjoy. How? There are various activities that you can do in this lagoon. You can refer below for the list of activities at your preference.
Fish Spa
Fish Feeding
Lagoon Kayaking
Pedal Boating
You can choose any of these lagoon activities or you can have it all if you wish to. As for me, I chose only three since it's not free of charge for us since we were just companions of the Bluewater Bliss member. I will be sharing some photos for the three lagoon activities on my next blog which is part three of my Bluewater Sumilon Island Resort adventure.
NOT THE END YET
I will leave this blog in exploring the Bluewater Sumilon Island Resort since it is not the end yet. There are a lot of activities that I will be showing you on my next blog and it's purely island adventures. So stay tuned and thank you for reading my blog. Until next time.
* * * ♥ ♥ ♥ * * * * * * ♥ ♥ ♥ * * * * * * ♥ ♥ ♥ * * *
Thank you so much for reading my blog.
* * * ♥ ♥ ♥ * * * *
For more travel blogs you can visit my page Dimpsy.
* * * ♥ ♥ ♥ * * * * * * ♥ ♥ ♥ * * * * * * ♥ ♥ ♥ * * *