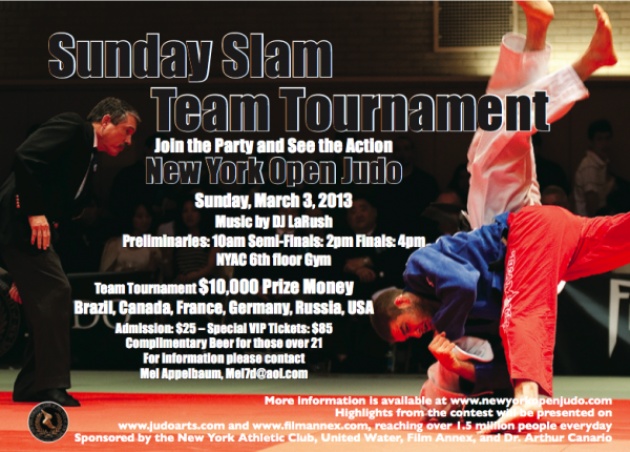 Teams from seven countries will compete in the New York Open Team Judo Championship on Sunday, March 3, 2013. Competing countries include Brazil, Canada, France, Germany, Russia and the United States. The event will be held at the New York Athletic Club in New York City and is sponsored by online film distributor Film Annex, water services company United Water, and the New York Athletic Club.
Judo is an Asian martial art that deals primarily with throwing and pinning an opponent in order to immobilize or subdue. Fighters will also use strikes and chokes, the latter being similar to wrestling techniques.
Because of wrestling recently being eliminated from the Olympics, Film Annex and its founder, Francesco Rulli, are focused on generating appreciation and interest for this sport. Niche spoting events and teams are a focus for Film Annex, and that is why Film Annex chose to sponsor this New York Open Team Judo Competition, in
addition to the Esteqlal Football Club in Kabul, Afghanistan.
The Judo event begins at 10 a.m. and three U.S. Olympians will be honored:
Kayla Harrison, Gold medalist;
Travis Stevens; and
Jimmy Pedro, who was also an U.S. Olympic coach in 2012.
Semi-finals start at 2 p.m. and finals will begin at 4 p.m. The competition will utilize a five-man team format and a round robin format. The winning team will receive the champion's plaque and $7,000. Second place team will win $3,000.
The New York Athletic Club is located at 180 Central Park South, with the tournament being hosted on the 6th floor. Spectators are welcome and general tickets can be purchased at the door for $25. VIP seating costs $85.
For more information about the New York Open Team Judo Championship, visit http://www.newyorkopenjudo.com or facebook.com/NewYorkOpenJudo.