In the summer of 2013 I was asked by a UK rapper going by the name "Reload" to go and record his performance in Croatia at the music festival Outlook.

Outlook is a fairly new Festival and is getting more and more popular as the years go on and its safe to say that I bit off his hand at the opportunity to film abroad and capture the chance of experience I would be gaining.

Although he only asked me to only record his performance, its a 4 day festival, only leaving me to use my initiative and film the whole festival. After a few e-mails back and fourth I eventually got confirmation that this was possible so onwards towards Croatia I went to later find out that this will be a life changing event for me.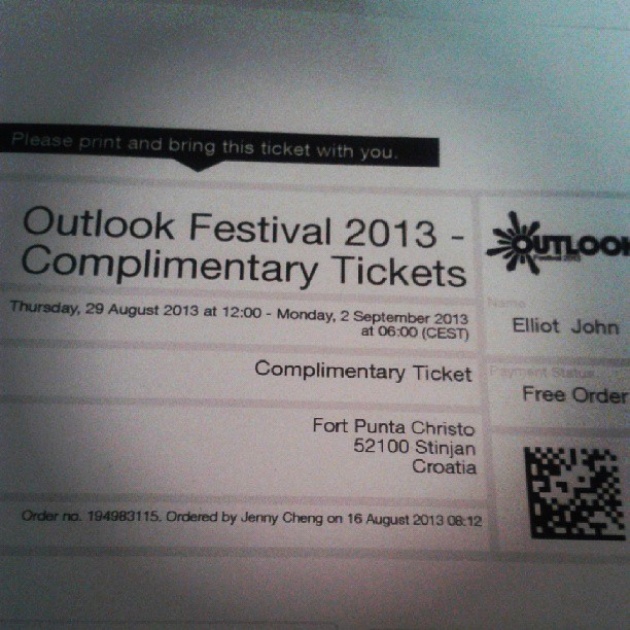 To get to Croatia we had to take the COACH A staggering 36 HOUR drive got us there, passing through France, Belgium, Luxembourg, Slovenia, Switzerland & Italy, it was a great experience to explore all these different countries and going through cities such as Paris and Milan, but was very emotionally and mentally over whelming which left me quite mentally exhausted by the time we finally reached our destination.

Once arriving into Croatia we found ourselves in the heart of a thunderstorm and was actually nearly bolted by a lighting strike which was practically only 20-30 metres away from us, we ran to the press office, got our tags and passes and off we went to the accommodation office to sort out our apartment. (After a 36 hour drive, its safe to say we were on edge with our patience) When sorting out our accommodation, we bumped into a friend from the coach we met called Calvin. We agreed to live together for the trip and split the cost between the apartment between the 3 of us. We FINALLY arrived, showered, then I took time to get out my kit and begin setting up.

I'm not rich, I don't come from a wealthy background and still hadn't done a job which actually paid me, so to shoot this whole festival I had equipped myself with -


Canon 550D
50mm 1.8 Lens + 18-55mm Standard Lens
Battery Grip (With 5 batteries)
A Shoulder Rig (Borrowed)
A LED Attachment Light (Also Borrowed)
2x 32GB Mem Cards
So it was safe to say I was extremely unequipped for the occasion (especially when I found myself recording alongside RWDMag, Vibe and a very English popular SB:TV) I was out of my depth, but this drove me on, and I wanted to prove to everyone that I could still do this and make an amazing video for fans to enjoy.

The opening night went AMAZING. I captured everything I wanted to capture, met a silly amount of people and it was safe to say people knew who I was after a few hours (Soon obtaining the name "The Camera Guy") The next day me and Reload were joined by a close friend of Reload and someone who I respect MASSIVELY in the media industry "Despa". Despa is huge within the Midlands music scene for video production and is very well respected nationally, he had been doing what I was trying to do for years, so having someone with so much experience next to me produced a thought of comfort and someone I could ask for advice off if things got complicated for me (he would prove an impeccable help during the post prod stages)


As the days went on, i met more and more people, being allowed to go backstage, meet artists, meet photographers and film makers who had 10x more experience than me was great, just being able to speak to them and pick up so much from them was incredible. Every night I had obtained more footage and in a way lived a celebrity lifestyle for a whole week.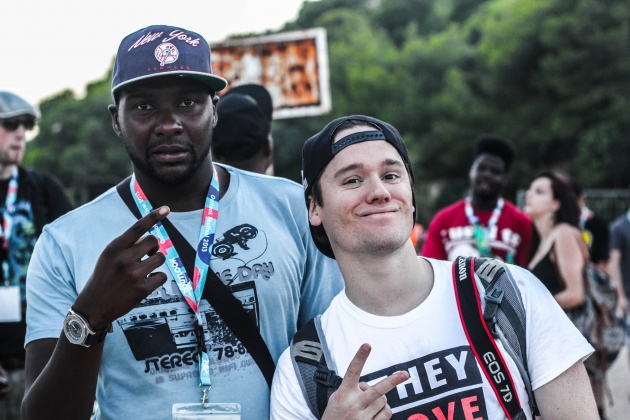 Because of the lack of lenses and great kit compared to my rival film makers around me, I had to really think about the way I shoot things and how I wanted them to look, instead of simply having a zoom lens to get the shots from the crowd I had to actually go into the crowd, which in a way I think worked better because you most defiantly caught the atmosphere a lot better, rather than watching from a distance. Having a very bright LED light was also amazing as it seems that drunk people get really attracted to very bright lights (who would of thought)

After meeting so many people, creating a lot of new friends and simply having the best time of my life to date, it was time to go home (another dreaded 36 hour drive, but it all seemed worth it) I couldn't wait to start the edit. All I could think about was how my movies going to look and how I'm going to make it look so great.

When I finally reached home, I first slept for nearly 12 hours, I was exhausted. But as soon as I woke up, I started to get to work. One of the main critics of the video is the song I choose for it, It wasn't music what was necessarily played at the festival but I choose the song "Adventure Club - Gold" because I personally believe that the song was a perfect tempo for what I wanted and I still believe now it was the perfect song for the video. I went through 7 edits of the films, getting feedback of friends from my film course and other people who have an opinion I trust highly. I now thought the video was ready for the world.

1 month and a half later my video is live and is nearly on 10,000 views on Youtube, I have networked with so many people and my name is very much out there.

I've wrote this blog to share my experience with you all and also to let film makers who are surrounded by people with kit what shadows theirs that its not what you film with, its how you film it.

Heres the video for you guys to watch.

Elliott Out

P.S this character with the blue hair is a girl. NOT A MAN KISSING ME!!!!! Enjoy.