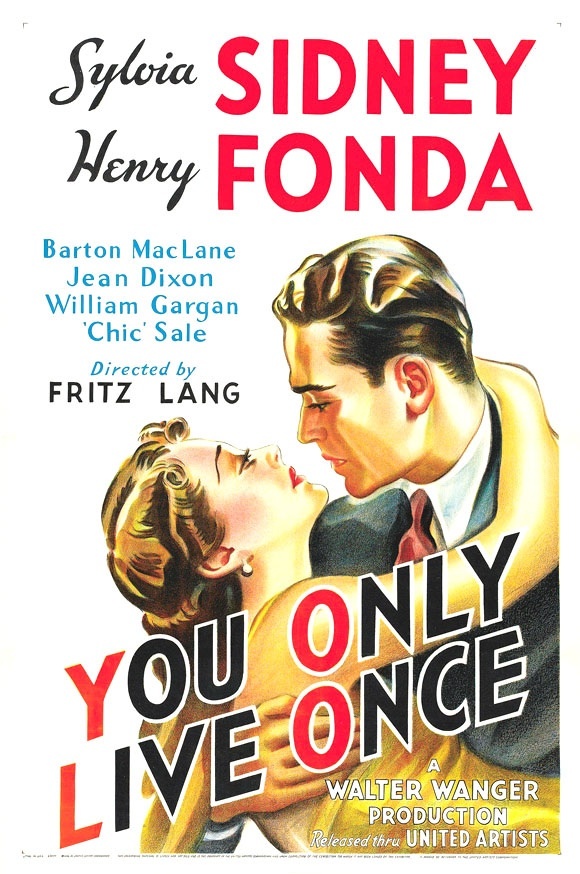 Fritz Lang continued his theme of a harsh society and mass mentality with "You Only Live Once" in 1937. His 1931 German masterpiece "M" exemplified this theme and he had woven it into his previous film, 1936's "Fury" which was also his first American film. Fritz Lang's outcasts (here Sylvia Sidney as Joan and Henry Fonda as her lover/husband Eddie) are assigned a fate that seems only resolvable in death. The justice system has cast its verdict and the masses are 100% behind it. They'll also gang up on the outcasts, this time by assigning every crime in Joan and Eddie's wake to them, including perpetrating crimes in their name. These Langian characters are doomed from the start.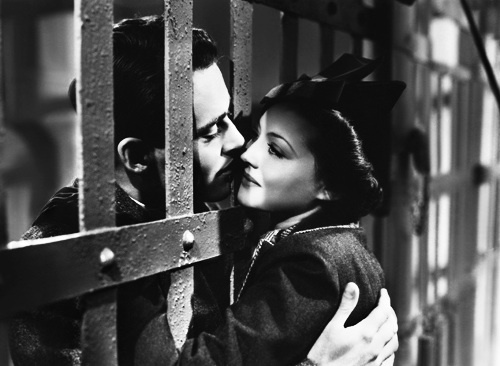 "You Only Live Once" is a sad love story between an ex-con and his public defender's secretary. When Eddie is released from prison, the warden asks him if he'll go straight to which Eddie replies, "I will if they let me." The public defender, Barton MacLane (Stephen Whitney) arranges a truck driving job for Eddie which he gets fired from when he runs late on a route due to his stopping to look at a house with his now wife Joan that he plans to buy. He begs for his job, and his boss who's more interested in arranging his dinner party with his wife on the telephone waves him away. Eddie can't find any other work and then gets the blame for a bank raid that included some deaths. He goes to jail and is sentenced to death. He blames the justice system for keeping him a criminal. He entered jail as a teenager for beating someone up and then was in and out because no one wanted to hire an ex-con. The only logical thought process for Eddie in evading death in prison is to escape. During his escape, the warden tells him he's been pardoned. Would you believe him if you were Eddie? Heck no and neither did Eddie. He was almost forced into committing murder on his escape from prison. And thus, now he really is guilty of murder. No luck for the Eddie man.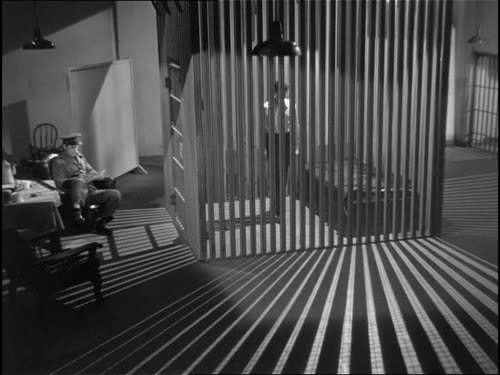 Fritz Lang's filmmaking career touched six decades and he crafted a unique vision throughout his oeuvre. He's perhaps best known for his earlier German work with "Metropolis" and "M" but made some great films during his American period as well (1934-1956). Legendary produced David O. Selznick called "You Only Live Once," "One of the greatest directorial jobs I have ever seen." He did not shy away from attempting to show violence in his movies but was asked to tone it down for the censors more than once. The bank raid scene in "You Only Live Once" was toned down after Lang was told not to depict bomb throwing, dead bodies laying around, or people in agony among other things. The film's producer Walter Wanger later sold the bank raid scene for use in 1945's "Dillinger." Lang's early use of expressionist tones lent itself perfectly to film noir. His lighting schemes, camera work, characters and serious attention to detail were all emblematic of his films. The man was a true maestro of filmmaking.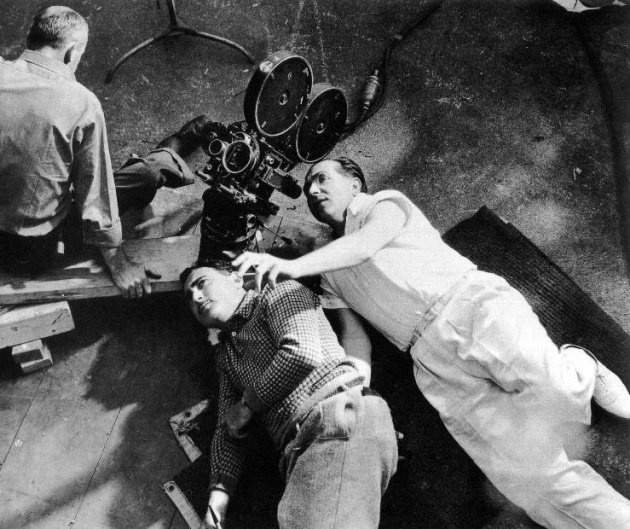 Like many other great directors (Kurosawa and Kubrick come to mind), Lang had a vision and was in total control of almost everything in order to carry out that vision. Producer Walter Wanger gave Lang creative control over this film, although censors eventually edited him. He was said to have treated actors like puppets. "You Only Live Once"'s top-billed Sylvia Sidney starred in Lang's first three American films and loved working with Lang. Henry Fonda was determined to turn in a great performance as Eddie (which he did) just to spite Lang's controlling ethic. One example of such detail in "You Only Live Once" is the death row prisoner's isolation cell which he replicated from the same cell in San Quentin prison, which he visited for research. Lang was really on top of his game and his films are a lot of fun to watch. I've seen most of them and have never been disappointed.
One more of Fritz Lang's film I've blogged on is "Scarlet Street" which came out nearly a decade later in 1945. Read that blog HERE!