Eat Bulaga! - "Lunchtime Surprise!"

Eat Bulaga! It is known to be the nation's(Philippines) longest running noon-time entertainment show. It is aired by GMA Network on Mondays-Fridays 12:00nn - 2:35pm and Saturdays 11:30am - 2:30pm Philippine time (PHT) at the GMA Broadway Centrum which is located in New Manila, Quezon City. It is produced by Television And Production Exponents Inc. (TAPE). And it's the traditional lunch time show of the Filipinos for three decades.
Eat Bulaga! means "Lunchtime Surprise!", is also broadcast worldwide through GMA Pinoy TV.
On July 30, 2015, They celebrated the 36th year of Eat Bulaga on Philippine television. It is premiered on July 30, 1979 and holds the record, in the history of Philippine television of being the longest-running noontime variety program on air. And still loved to watch by Pinoys until now.
They have their first overseas franchise which is the Eat Bulaga! Indonesia. It is currently aired on ANTV Network in Indonesia, and in their SCTV Network for premier on July 16, 2012 . Eat Bulaga! became the first Philippine show to be franchised by another country.
They had been to many networks too but they're back to GMA for two decades. For three decades running the show, there's so many celebrities who had been a part of it for a long time and some were still part of it until now and most specially the three main hosts of the show were there up to the present, the TVJ - Tito, Vic & Joey.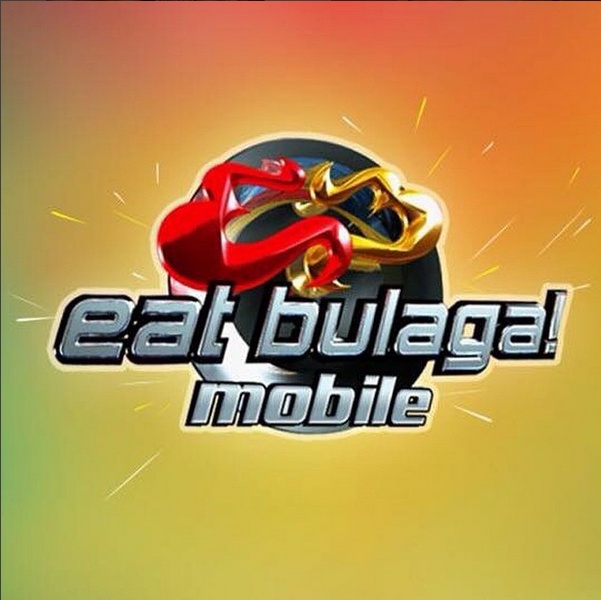 They also have their own Mobile Application for the show, it's an android mobile app that is made to allow us to stay connected to them, which is released on January 23,2015. It contains exclusive videos for the three decades in television. And it has also a game from one of the most unforgettable segment of the show, Pinoy Henyo (Genius Pinoy) ,mobile version. http://eatbulagamobile.tv/
Meet the EB Dabarkads in Broadway

(Image source: Eat Bulaga) From left to right: Julia Clarete, Anjo Yllana, Pauleen Luna, (Aling Maliit) Ryzza Mae Dizon, Allan K, Sen. Tito Sotto, Bozzing Vic Sotto, Henyo master Joey de leon, Pia Guanio, Alden Richards, Ruby Rodriguez, Jimmy Santos, BoomBae Sam, HBD girl Patricia & Ryan Agoncillo
EB Dabarkads in Barangay
(Photo credit to EatBulaga)From left to right: Jose Manalo, Maine "Yaya Dub" Mendoza, Wally Bayola and Paolo Ballesteros
Tito, Vic & Joey(TVJ) - Main Hosts
(Image source : Eat Bulaga)
Current Segments (as of October 2015)
ATM with the Baes

Bulaga PA MORE!

HBD: Happy Birthday Dabarkads

Juan for All, All for Juan: Bayanihan of d' Pipol
ATM with the Baes

Ang Tenga Mo(ATM) with the Baes hosted by the Pambansang Bae Alden Richards, BoomBae SamYG and Baeby Baste, is the first segment of the show, where the hosts will choose five(5) players from the studio audience after they do the assigned pose which is modeled by one of the Baes when the music stops. Players will choose their partners / Baes for their instant cash prize. And for their jackpot prize, the five players need to play "pass the message" and write the answer correctly on the touch screen monitor to win the jackpot or else, the prize will be given to five lucky people from the audience. So while the players are passing the message, audience will have to make noise as loud as they can to make the players panic, won't understand and can't hear the message and they will have the chance to win in case players didn't get the correct answer.
And another thing that viewers want in this segment is the LAGLAGAN WARS between these two hosts, where they reveal secrets of each other about their rumored crushes with their co-tv hosts.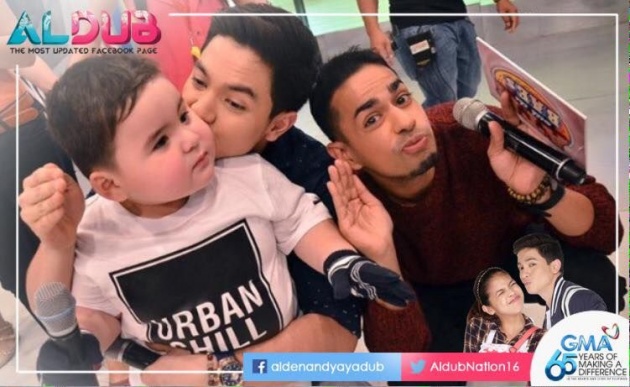 (Photo credit to AldubNation)
EAT BULAGA October 8 2015 ATM with the BAEs
Bulaga Pa More
This is a weekly talent showdown between two celebrities . Bulaga pa more, K-Pop pa more!, is another weekly celebrity showdown for this 1st week of October - Korean Pop showdown. Watch this:
EAT BULAGA October 7 2015 K-POP Pa More
Bulaga Pa More Grand Finals! 10-10-15
As they celebrate their 36th year running this show, they had a talent showdown between the two EB Dabarkads Hosts daily. The winner of the day wins P20,000 and qualified for weekly grand Finals and has a chance to win the P100,000 cash prize. Here's also their different week themes : Aegis, Regine, Hip-hop, Ballroom, Rock, Throwback, VST, Cheerdance, Tahitian, Musical, Videoke Novelty, Francis M., K-Pop (Korean Pop) and for the most awaited theme Bulaga Pa More Grand Finals EB Dabarkads Edition on October 10,2015. The celebrity contestants are 1.Paolo Ballesteros, 2.Ruby Rodriguez, 3.Ryzza Mae Dizon, 4HBD Girl Patricia Tumulak and 5.Maine "Yaya Dub" Mendoza. But despite of their "Buwis Buhay" - breathe taking performances, the winner will not take any cash prize, but, he/she is allowed to choose one school to give help + P500,000 for the school they chose.
(Image Source: Eat Bulaga)
EB Dabarkads Grand Finalists
(click image to watch their performances - Images credit to Eat Bulaga!)
Bulaga Pa More! Grand Winner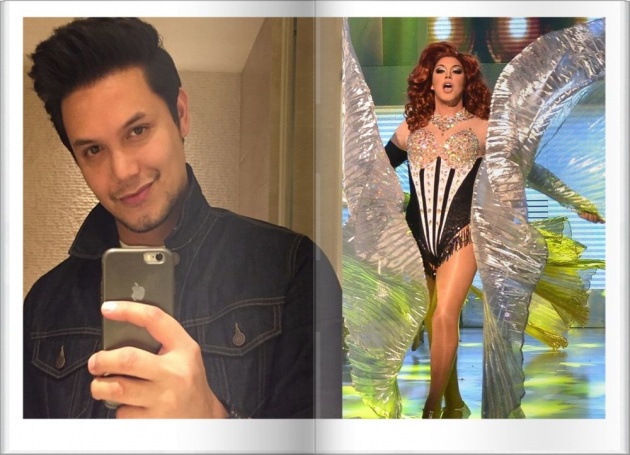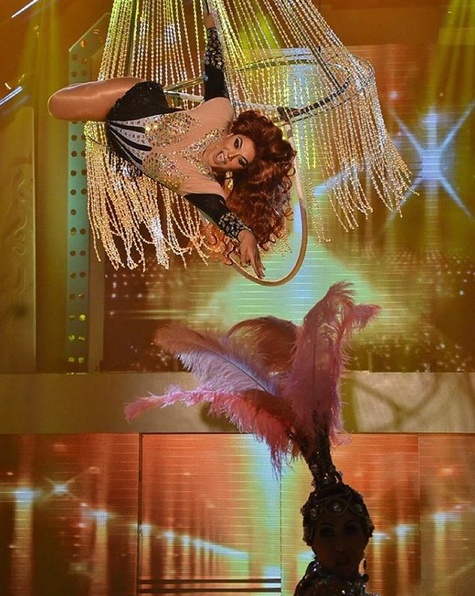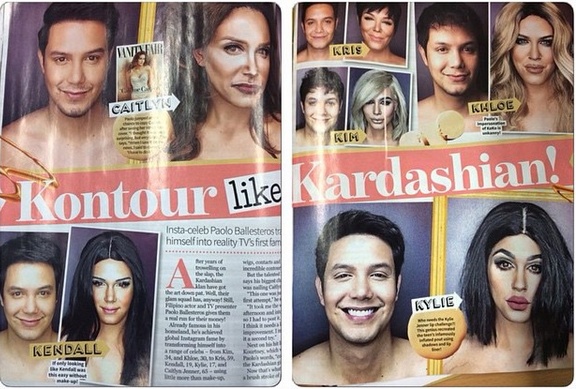 (images source: Paolo Ballesteros)
As expected, Paolo Ballesteros is the winner. They have to pick one of the Tatak Eat Bulaga segmets for them to perform in Bulaga Pa More EB Dabarkads Edition. And he got the Super Sireyna so he has to perform a Super Sireyna Theme. He needs to wear wigs and high heels because super Sireyna is for gays. And he is really good in transforming from national artists to Hollywood stars and make him look like a real woman and has been featured in different countries worldwide for his talent in transforming. Watch his breath taking winning performance:
HBD: Happy Birthday Dabarkads
with HBD Girl Patricia
This is an on-air greeting on Eat Bulaga! A portion where anyone can send their warm messages with photos to greet their loved ones , presented by HBD girl Patricia.
Juan for All, All for Juan: Bayanihan of d' Pipol
Barangay Bayanihan
The Purpose of the show is to give happiness to every Juan and to help less fortunate people who supported them all through the years. It's their way of giving back or saying thank you. In this segment, they have the "Plastic Ni Juan Project", collecting plastic bottles from the people in the Barangays they visit daily and turns them into many plastic school armchairs that will be given to schools from specific Barangay.
Sugod Bahay
Studio host will draw an entry from the registration forms of people of the Barangay then they will call the lucky person to confirm the name and address. Then the Barangay hosts will go their home address to give the prizes and congratulate the winner. After a few interview about family backgrounds and problems, the winner is given food and drinks from Coca-cola, cash prizes and appliances from sponsors, grocery from Puregold which they can also use to start having a sari -sari store, motorcycle and there's a lot more from their sponsors. Aside from that, they will also have a raffle entry and chance to win house & lot which is from Lumina Homes. And the final prize given is from the show aside from sponsors, winner will receive cash prize for them to start a business.
Bayanihan Na!
Before they start this, hosts will give the signal and shouts "Bayanihan Na!" (the spirit of communal effort to achieve a particular project). Those who wants to join this game should bring the specific items that they mentioned and race to the laid numbers on the street in one minute. Studio host will pick a random number and the one who stands in that number and the three more person next to him will receive cash prizes and gift packs the sponsors of the show. They will then choose the "Bayanihan Line" - this is the line or group with the most behave line of people during the game and will receive P20,000 or P1000 each for the 20 people.
Barangay Bayanihan
This is for the Barangay of the day. They should have a well behave, clean and well organized Barangay in order to qualify or else they will be disqualified. They have less than 20 barangays in a month qualified for winning prizes. Three Barangays will be chosen after each month to win special prizes depending on their ranks and a Grand prize for the winning Barangay.
Kalyeserye - AlDub
This is a segment that spreads moral values to everyone specially for the teens, the Lola Nidora's advice. It was previously a segment for Problem solving but turned into Kalyeserye entitled "Kilig Pa More" due to chemistry seen by the viewers between Alden Richards and Yaya Dub (Maine Mendoza) - who was discovered recently because of her viral dubsmash videos. They called them the ALDUB loveteam. And the characters became the significant factor of Eat Bulaga's higher television ratings.
Eat Bulaga! introduced the first and only live drama series on the street, Kalyeserye, on July 16, 2015 after the accidental formation of ALDUB loveteam. They tripled the normal television ratings nationwide and it became the top trending topic on twitter daily in Philippines and worldwide.
The show holds the highest number of tweets using the #AldubEBforLove, with more than 20M tweets on September 26, 2015 episode, National Pabebe Wave Day.
EAT BULAGA SEPTEMBER 26 2015 Kalyeserye
Follow them for their updates
Eat Bulaga
page : https://www.facebook.com/EBdabarkads?fref=ts
Eat Bulaga
account : https://twitter.com/EatBulaga?ref_src=twsrc%5Egoogle%7Ctwcamp%5Eserp%7Ctwgr%5Eauthor
OFFICIAL ALDUB|MAIDEN NATION ACCOUNTS

WEBSITE: aldubmaidennation.com
FB PAGE: facebook.com/ofcaldubmaidennation
TWITTER: twitter.com/MaineAlden16
INSTAGRAM: instagram.com/mainealden16
ASKFM: ask.fm/aldubmaidennation