Sagada, located in the Mountain Province of the Philippines, our second destination when James and I traveled for our second anniversary last February. This blog will showcase how our two day adventure in Sagada went. This also provides the things to expect and some tips when visiting Sagada.

Here's a video on our way to Sagada. Video is mine.
Sagada had become popular because of the movie That Thing Called Tadhana starred by a Philippine prime time star, Angelica Panganiban and JM De Guzman. The movie was shot in Sagada itself where in they had showcased some of the major places to visit at the small town. From the perfect sunrise view to the little cafes and such, Filipinos started flocking the town, then more other tourists, foreigners had learned about it too and eventually, the town started becoming a sensation for those who are trying to move on with their lives. It was referred as the place to go for those broken hearted - that was how the movie was portrayed.
While we were not broken-hearted of course, we are romantically in love but we still opt to go there since we have an ample of time to spare after enjoying Batad.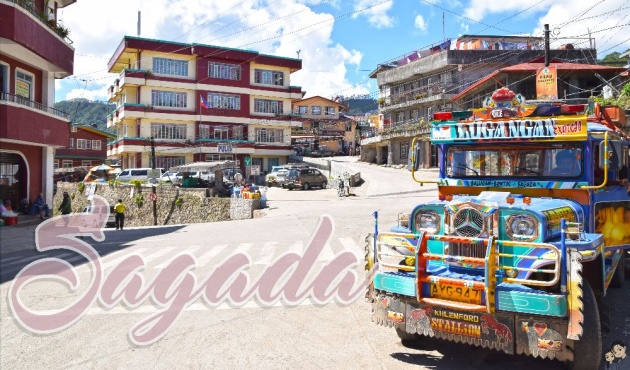 The jeepney which brought us to Sagada. Photo is mine.
So on our second day in Batad, we packed our things at five in the morning, asked for our breakfast from the inn's front desk who was miraculously awake at that time. But then the cook was still asleep so we decided to move out at six in the morning. By then, we should still be able to catch up with our ride back to Banaue. It was a challenging and tiring morning trek but we have to do so.
However, what's rewarding was the sunrise view. We both experienced the gentle rays of the sun while it as on its way up. I got to film a few views of the sun behind the bushes and it was a great shot! Also, we heard the various insects humming around us. Only a few people were up at that time so we were almost alone on the road. We even had the time to take a photo of the two of us from the Batad welcome imprint.
At seven, we found our ride waiting at the junction. Nais, Kuya Ceasar's nephew in law was very patient and we were really thankful about it. He took us to Banaue where there are cars and v-hires which have routes to Bontoc. That tricycle ride took around 30 minutes but we enjoyed the morning view of the mountains. Breakfast is the most important meal of the day so we made sure to have it at Banaue.
On our way to Bontoc, we had a few stop over to also check out the other tourist spots featuring the Banaue Rice Terraces, that's the view of which is also printed in the Philippine bill and we stopped by another village which also has their own rice terraces view, I forgot the name of that village unfortunately.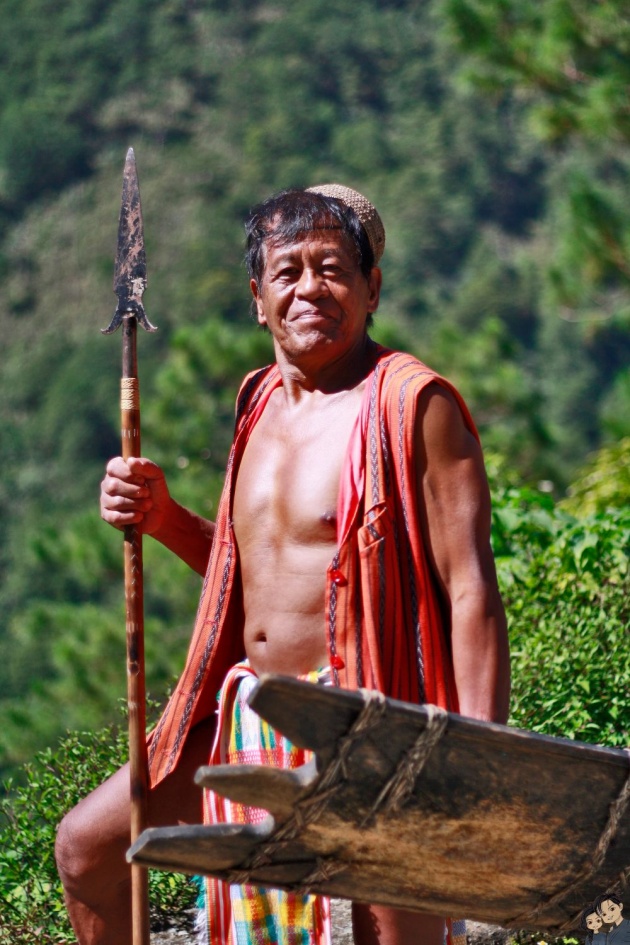 A native wearing their cultural dress. Photo is mine, taken on our way to Sagada at a stop point.
From Bontoc, our v-hire driver organized a jeepney which brought us to Sagada. It was a total of one and half hour travel and finally we had a glimpse of Sagada's pine trees. The jeepney stopped and we immediately went to the Tourism Office, paid the environmental fee of Php 35 and went off to the inn where we stayed for a day.
Where We Stayed
It isn't really hard to find a place to stay in Sagada. It seemed every corner you turn to, there are hotels and inns to stay at. The only problem is the number of guests. Although there are many hotels and apartments, they still gets easily fully booked because of the numerous visitors so make sure to get your hotel booked prior to coming to Sagada.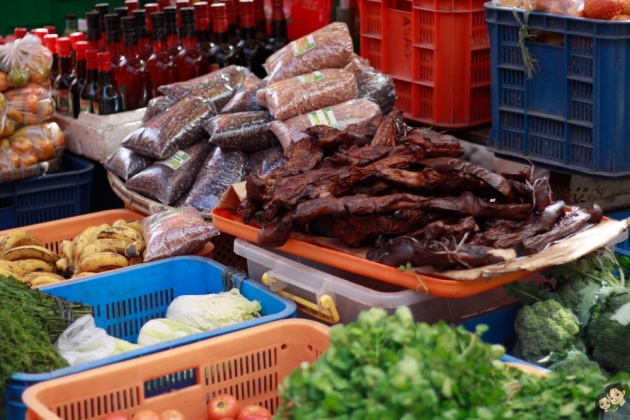 Just right below Isabelo's is a mini market. Photo is mine.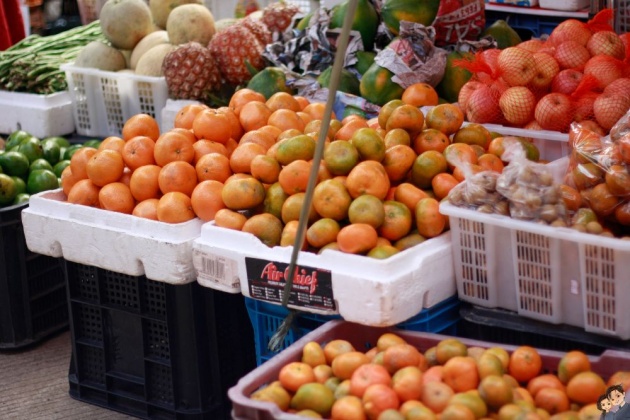 Fruits, vegetables and a lot more are displayed at the mini market. Photo is mine.
I personally had booked via Agoda.com both for our Sagada and Batad apartments. It was a hassle free booking and I have them both at a good price, I believe it was a good deal plus I had paid it via my PayPal account which means, I used my bitLanders funds for that. bitLanders has always been part of my travel stories so expect these stories posted too inside bitLanders.
Isabelo's Inn was super close to the Tourism Office and we had no issues whatsoever in finding it. Google Maps showed us the way, just few steps away after we paid the environmental fee. The front desk had immediately pulled out our reservation and we were sent to our room right there and then.
I love the wooden feels of the room, it has clean and comfortable bed, it was super enough for us. We have our own bathroom too which has its own hot and cold showers with functional bowls too! I actually love our room considering the price. A table was also provided and my favorite part was the human sized mirror!
Going Around Sagada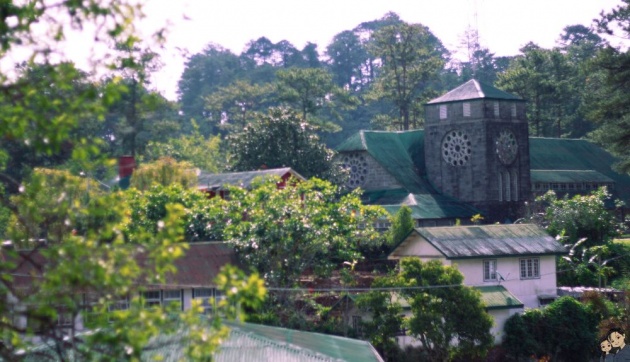 This photo makes me think I am on a different country, but this is just in Sagada. Photo is mine.
Sagada again is just a small town, it seems like everything you wanted to check out is just within your grasps. However, the government here had set up specific rates in every destinations. This is where I become a bit disappointed with how the tourism goes here. I still do understand there's process here but the pricing were too expensive for solo travelers or those who are traveling in two.
So we figure out we should only check the ones which are interesting to us. We found a way out by renting a motorcycle! That was a perfect idea except that it rained that afternoon which made us really sad but nonetheless it was still a good day.
Here are the places we checked out while in Sagada: (Note, this is just the first part)
Echo Valley Hanging Coffins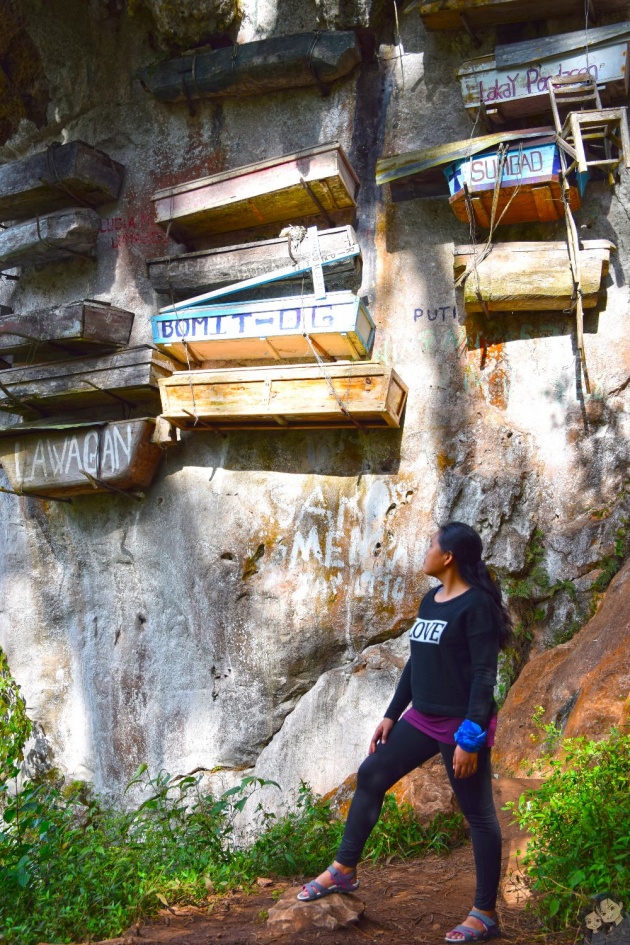 Acting like a tomb raider at the Sagada Hanging Coffins. Photo is mine.
Sagada is very well known for Hanging Coffins. These are the traditional way of burying the locals there in Sagada and it has become a tourist attraction. I personally was not really that interested with coffins and mummies but then when traveling, it is important to learn the location's history and going tho the Hanging Coffins is one way to do so.
As I had mentioned, Sagada is a small town and the location for the Hanging Coffins was just walking distance from where we were staying. However, since we had rented a motorcycle, we had to bring the wheels as well.
Entrance fee was at Php 50 plus another fee, I guess it was municipal fee of ten pesos was collected before getting inside. We were assigned with one tourist guide who has been doing this job for more than two decades!
I already forgot his name but I can clearly recall his face. Dark skinned, perhaps because of sun exposure, thin and with average height but he was talkative in a nice way! However, there were several instances when I don't really understand any word from him. He mumbles and perhaps mixes up Tagalog and their local dialect.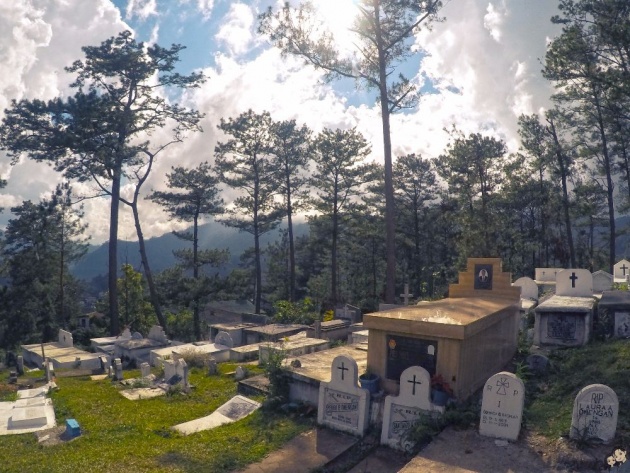 The Sagada Cemetary. Photo is mine.
We passed by their local cemetery, I still find it odd to be passing by this place which contains broken dreams and dead bodies. He showed us the tomb of SAF members and the nuns who were the first to be buried in this cemetery. I still can't believe a cemetery was made into a tourist attraction!
After passing by their regular cemetery, we went into a rocky area which they refer as the Echo Valley. I find it really interesting, only thing to do there was shout and be amazed at the echoes created. I guess James got it on cam.
Finally, after a few more walks, we reached the spot where the hanging coffins were laid. Indeed these are hanged in a way that one would be asking, why would they do this? There were short coffins and longer ones, there were chairs attached to it and some have names while others don't.
Time lapse video of Sagada. Video is mine.
Our tour guide had explained everything to us. These which have been buried are true elders of Sagada. The dead body during mourning is usually positioned in a chair, if one wants to bring their chair with them, they include it together with the coffin. This is decided by the elder when they are still alive. They put the bodies in fetal position too, this is because they believe that when we came into this world, we were in fetal position thus we should also be positioned this way when leaving the earth.
They were hanged as their beliefs that getting hanged will bring them closer to heaven, that they could also watch over their families from there.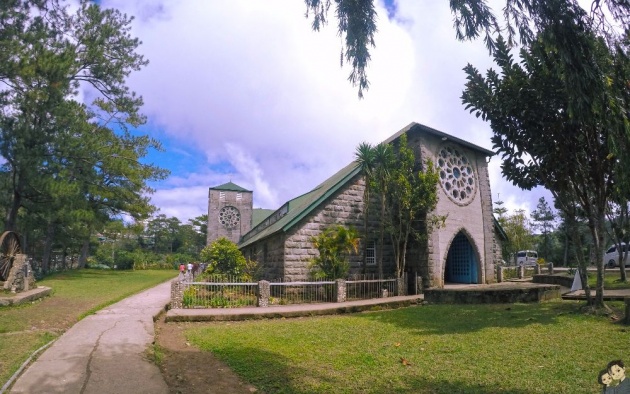 Before reaching at the main cemetery, we passed by their local church. Photo is mine.
One more thing that makes this really interesting is that as per our tourist guide, when one elder dies and gets into the hanging coffin tradition, there will be no work or school on that day, no one gets to work but would all be participating in the burying plus there's no fee in getting buried as well.
Lake Danum
While in the Tourism Office, photographs of their tourist spots were placed in the walls and I found this sunset view which made me really interested. We thought it would be great to include it in our itinerary on the first day so we can watch the sunset.
Indeed we grabbed a motorcycle for rent at Php 400 per four hours, quite expensive compared to Siquijor and Bantayan's but we still grabbed it so we can be more free in choosing where to go.
After the Echo Valley and Hanging Coffins tour, we went straight to look for Lake Danum. That was already three in the afternoon, with only Google Maps as the guide, James started the motorcycle engine and off we went and followed the map. We passed by pine trees after pine trees towards the mountain area of Sagada. There were more houses for rent up there and more which are still under construction. This path was more of like the views in the Twilight movie.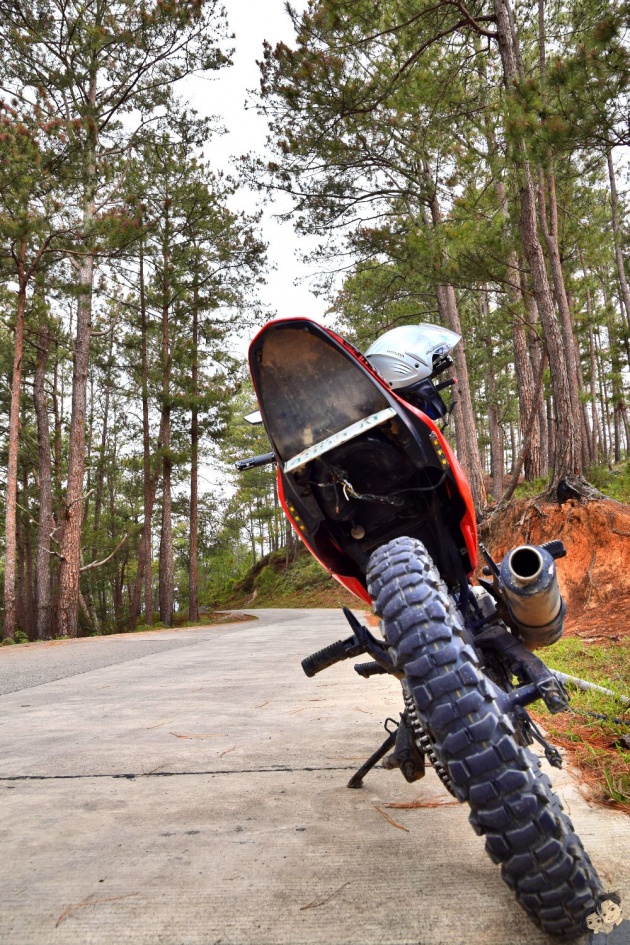 This Twilight scene with our trusty ride. Photo is mine.
The Lake Danum was just less than ten minutes away from our first destination but there was no indication of a cross road to its spot so we got lost, we passed it and didn't notice it until we reached a spot with lovely view of pine trees and thought of photo shoot. We grabbed our time and when done, we went our way again but to our surprise, we were already at the end of the road, we asked locals which were constructing a house nearby but they were out of idea about Lake Danum. Our mobile phone don't have any good mobile data signal at that time but the last saved information shows we already passed it so we have to go back.
Then it started raining! We looked for a spot to park and shade to keep ourselves from getting soaked but the rain started pouring big time. At the distance, we found another rider under a waiting shed! Thank goodness! He was very helpful and told us that Lake Danum was just a few minutes away, there are no signage indeed so we have to be conscious.
When the rain stopped a bit, we went on our way again, it seemed to us that there won't be any sunset view anymore but we thought we must check the place as we were already in the vicinity. We found a crossroad and thought that was the way towards Lake Danum but no, it was another time for getting lost. We had a wrong feeling being there and it seems there's danger so we went back our way with pine trees leaves covering the way, it really looked like the scene in Hansel and Grethel the movie. I was already thinking of meeting a witch in a minute.
At the main road, we went again and finally found another corner which we believed is the right spot as there were vehicles. The rain had made a mess as the road was not cemented, red mud welcomed us and there's nothing really in there but a bare lake.
I like that there are no human interference in Lake Danum. Just bikers camping at the corner. But we found co-Bisaya too selling flavored Greek Yoghurts! I was carried by the vendor's slogan: "Money back guarantee if you don't like it."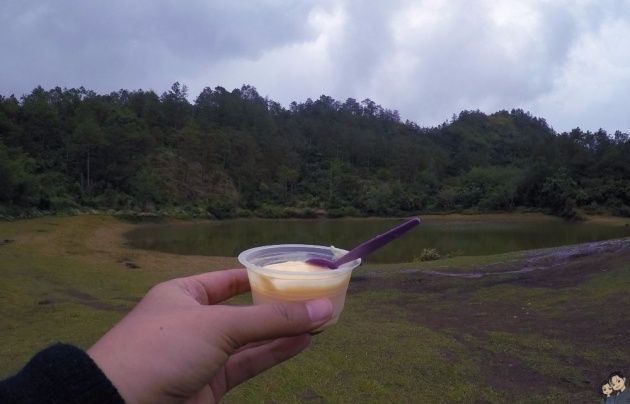 After the rain, a Mango Greek yoghurt awaits! Photo is mine.
Oh well, we had to try it and boy, it was super good! There's a famous resto in Sagada called the Yoghurt House and we haven't tried it yet. As per the vendor, their yoghurts are tastier however, they just arrive there three months ago from Cagayan De Oro. His expertise was on making Yoghurts and these are not famous in Cagayan but they are in Sagada so they decided to move. He was working for a Greek Yoghurt factory before in Manila.
We didn't really get to see the sunset but we had a good conversation with the Yoghurt vendors and tried their special mango, ube and vanilla flavors. They were all good! Almost like ice cream goodness except they were healthier. I wished them all the best before we left for our next destination.
The blog has been totally long so I am splitting it to two. This will be the first part and I will be posting the second part on a separate blog.
Here's a Travel Querlo page for you to also participate in:
Take care!
Regards,
Jean Beltran-Figues
bitLanders User since 2015