Where do broken hearts go? To Sagada. Yes, this small town has been a getaway for those who had their hearts broken. Sagada is located in the Mountain Region of the Philippines and tourism boosted when it has been featured in a local movie. The first part of this blog covered the Echo Valley Hanging Coffins and Lake Danum. This time, I am going to share the rest of the places we went to during our two days, one night stay in Sagada.

Photo taken at Kiltepan viewpoint. Photo is mine.
GAIA Cafe
I did mention that Sagada's tourism boomed when it was featured in the movie That Thing Called Tadhana. One of the scenes in that movie was in a rustic themed cafe, they were having local coffee together. I asked James if we could come there and he nodded!
So after getting soaked by the rain, eating cold Yoghurt in Lake Danum and getting soaked again with a matching muddy motorcycle, we went ahead to GAIA Cafe to just check it but actually, I already have plans of buying my second blank book journal from Alunsina since they are also selling those.
With the help of Google Maps, we finally made it to GAIA Cafe, it was in a secluded area though where the roads were not yet cemented and so more mud on our way! It was really cold and James was in dire need of any hot drinks. There were a few people inside.
It was a small cafe, really small with just a few tables available. They do have a good view of some mini rice terraces. We opt to sit at the corner where we can get a 180 degree view of the cafe. I like rustic themed cafes like this. They look vintage but there are artworks too displayed in their counter room. They sell books, camera straps, native items, bags and a lot more. I was already eyeing on the Alunsina Books but couldn't find it at that time.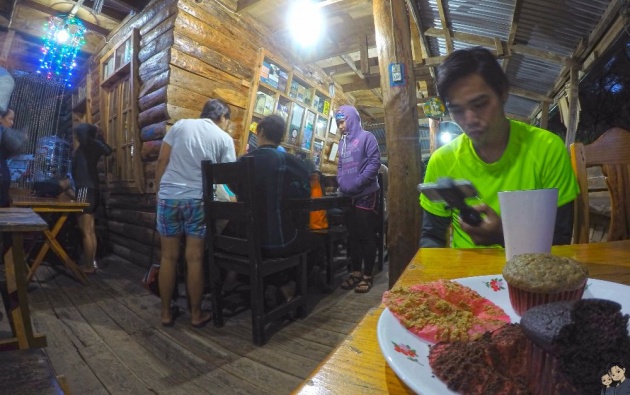 James checking his timelapse video on his phone at GAIA cafe. Photo is mine.
We first ordered our cupcakes and tea, mine was a Citronella Tea and James had his Turmeric tea. Chocolate and banana muffins were ordered too. I started the time lapse and we watched the fog slowly drifting towards the mountain. That was the mountain we went to for Lake Danum, it was already foggy actually when we were on our way back to the main town, made our ride way way colder.
More and more people started coming, I had to stop the time lapse video and started eating our very late snack. The muffin was not good! I was totally disappointed, we have to ask for a container to take it out. The turmeric tea satisfied James and I was glad he was not feeling cold anymore. I didn't like the Citronella Tea either and I was just thinking this was really a hype! I guess I was just in a bad mood that time as I was not anymore liking the place. There was only one crew working on asking for the orders, delivering the orders on each table and accommodating the guests. She was also the cashier! She was undermanned! The cafe was not yet ready to accept more people seriously. There were more coming and we thought we should go now so the others who were standing can get their order and sit.
However, before leaving as we were at the cashier counter, I finally found what I was looking for! The Alunsina Journal! It costs more here but since we found it, I decided to buy one. I bought my first Alunsina Journal via the internet for 800 PHP, it costs Php 1500 in GAIA Cafe but I didn't mind it. I still bought it though.
I was not totally sad leaving the cafe, I was happy with my Alunsina Journal!
Kiltepan Viewpoint
While I have been mentioning that the movie That Thing Called Tadhana was the the main reason of the boost of Sagada, I am sharing one more thing that had hyped people up to check this small town - Sea of Clouds at Kiltepan Viewpoint.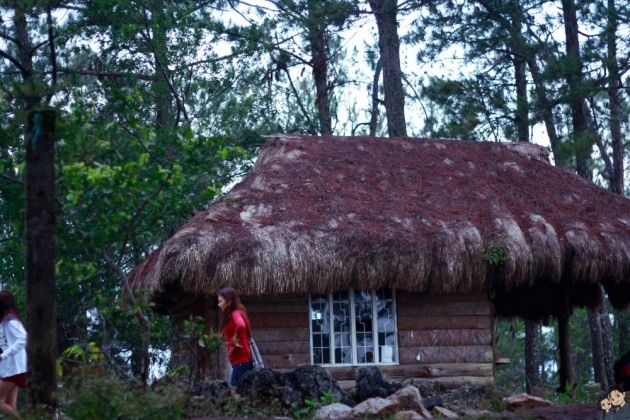 Taken at Kiltepan Viewpoint. Look like a witch is living there. Photo is mine.
Who loves watching sunrise? Of course everyone would love to witness that. But a sunrise with some view of this sea of clouds? Each single soul deserves to see this event even once in their lives. James and I are one of those souls who both want to witness that phenomenon slowly revealing right in front of our naked eyes! That trip is one of the best moment to check out the sea of clouds.
The night after we had been drenched with rain, we went to the Tourism Office and glad that it was still open at almost eight in the evening! In fact, it was just a few minutes away from closing and we were able to get in touch with one of the officers.
For Php 500, ten persons and below, we will have our own service and guide who will take us to Kiltepan and will also wait for us to come back to the main town. Based on Google Maps, we were just 15 minutes away from Kiltepan, that's just thirty minutes walk perhaps but since it's early morning and we are strangers to this town, we might as well grab the tour package. It was a bit pricey for just the two of us but we don't have any choice though. Actually the guys were telling us that we might be seeing sea of heads instead of sea of clouds plus there's only 80% chances of witnessing one since it rained that day, which was a bummer. They offered us another tour at Malboro Hill but that was too expensive for the two of us. We grabbed the first offer.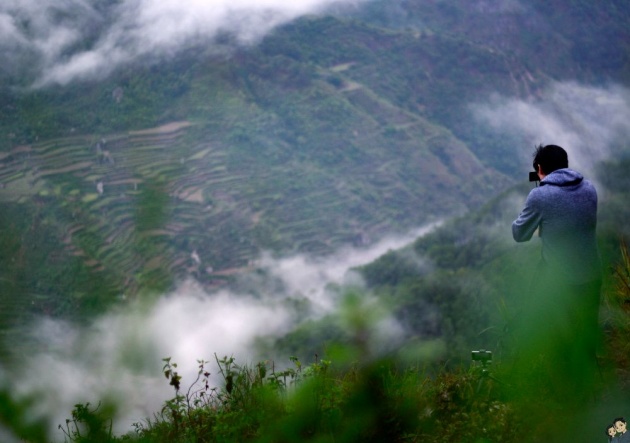 James at the viewpoint, still taking photos. Photo is mine.
So I set up the alarm, both of us slept very early like around nine in the evening and we got no issues waking up very early the next day. At four in the morning, our tour guide called and asked if we were already up. We met in front of the Tourism Office and we were on our way to the view point. I was already expecting a foggy morning. It was also super cold! It is recommended that one visiting Sagada should be bringing thick clothing to avoid getting frozen with all the fogs and cold winds in the town specially at early morning time.
My expectation was right, it was just a very short trip from the Tourism office to Kiltepan however, the roads going to the view point is a bit harsh, rocky and bumpy so it was indeed better for us to grab a tour guide and have someone to send us there. It was surprising that at that very early time in the morning, there were already hundreds of heads roaming around. Some where looking for the best spot to witness the sea of clouds, some were eating as there were vendors around while others were already taking selfies! That was really awkward as I bet there will be no signs of faces after taking that selfie in the dark!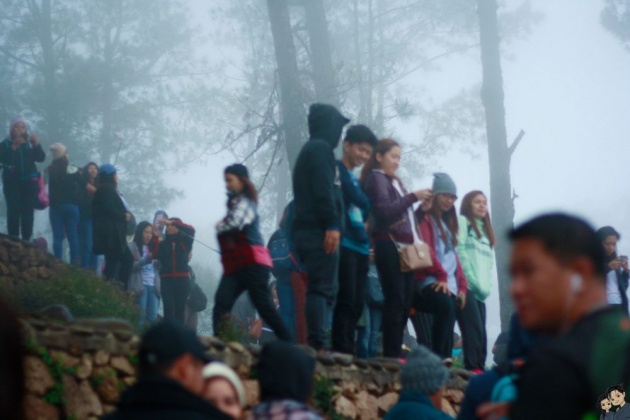 The broken hearted at the sea of heads. Photo is mine.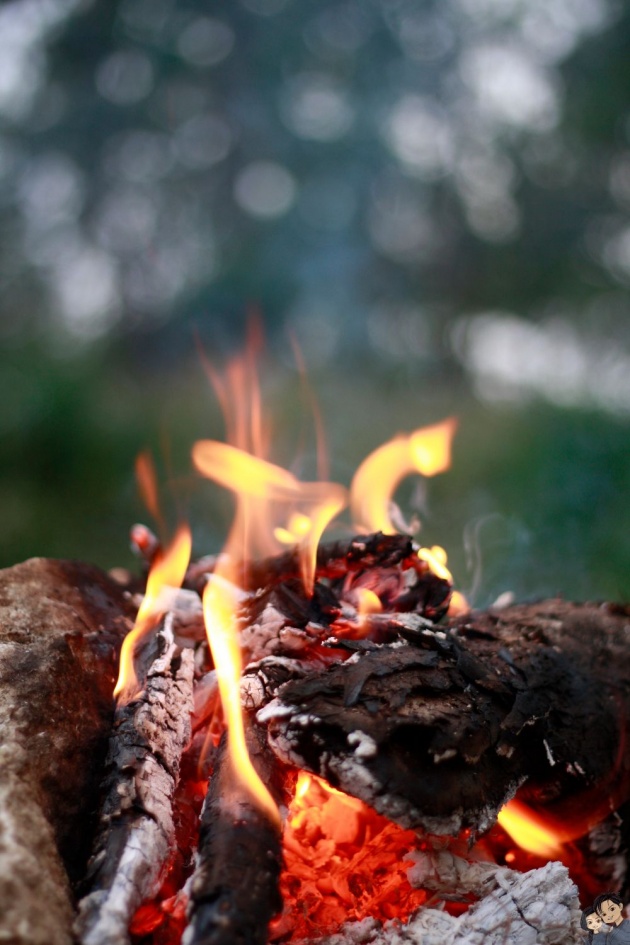 I was super happy finding this because it was super cold at Kiltepan. Photo is mine.
I got to grab a coffee and some noodles to put food in our stomachs. The surrounding then started to show some signs of clouds, but I really think those were just fog. Then there were couple times that the sun would attempt to show up but it seemed very shy that it had to cover itself again behind the clouds, thick ones though so there was no sea of clouds nor a sunrise view here at Kiltepan. It seems there were lots of hearts which were broken with that news. However, although there was no sea of clouds and no sunrise, I tried to entertain myself with the people around. I took candid photos and also nature photos! I guess I was okay without the sea of clouds!
Sagada Weaving
On our second day in Sagada, we went to walk around the town, got some candid shots around the market area and took also a little further towards the Sagada Weaving. It was not too far from where their Sunday market is located so we thought of checking it out to maybe buy something as gifts or souvenirs.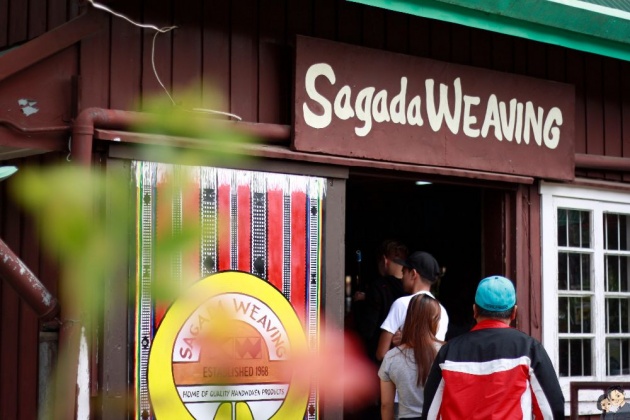 Sagada Weaving from the outside. Photo is mine.
There were a lot of people around, we found actual sewers inside with the owner entertaining the visitors. I was filming and taking photos but the owner told us it is not allowed to take photos of the workers or anyone inside, only the items which I agreed.
Then at the back of the main building is another building where the actual weavers were weaving rolls of cloth. It was interesting and overwhelming at the same time to see these bamboo or wooden weaving materials. Even more overwhelming to see the weavers in action!
The weaver in action. Video is mine.
After observing the weavers for sometime, we went out without anything in hand because first, we don't quite like the items available. We both like the pouches but they don't have those which are small. There were also items which were sold but were not made from there.
Lemon Pie House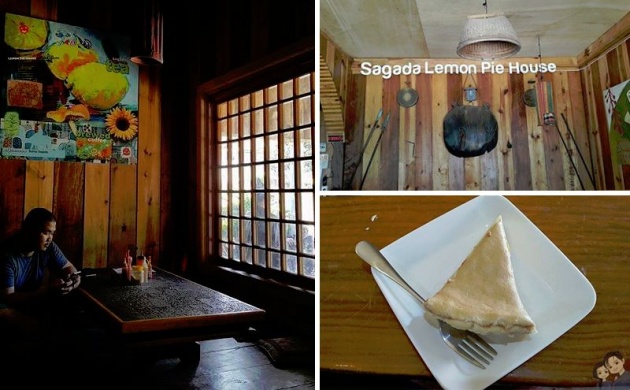 Lemon Pie House ambiance. Photo is mine.
Before lunch time, we checked out from the apartment but left our bags at the counter, I appreciate that the front desk allowed it. We walked towards the Lemon Pie House so we can buy a pie to be brought back to Cebu for James' colleagues and to eat lunch too.
The walk was a bit tiring because it was almost noon time and the sun was out but it was still a bit cold from there. We got to the restaurant only to find out that they were already sold out. Everything for lunch was already sold out but they still have a few boxes of Lemon pie which were sold per slice only to accommodate others. Gladly, we got to buy six slices which makes it into a whole box and they gladly packed it in a box too.
The restaurant is a small one, it seems Sagada has all of their restaurants to accommodate a small amount of guests, perhaps because their town is also a small one. I find it interesting to find their tables and chairs in this Japanese style where there were only pillows around to sit on, tables were low however there are also chairs but they were all in a low design so your knees will somehow reach the table if you're a tall or big man.
Each of us got to eat one lemon pie each then left with a box of lemon pie. I believe that was their last box and they'll be closing already.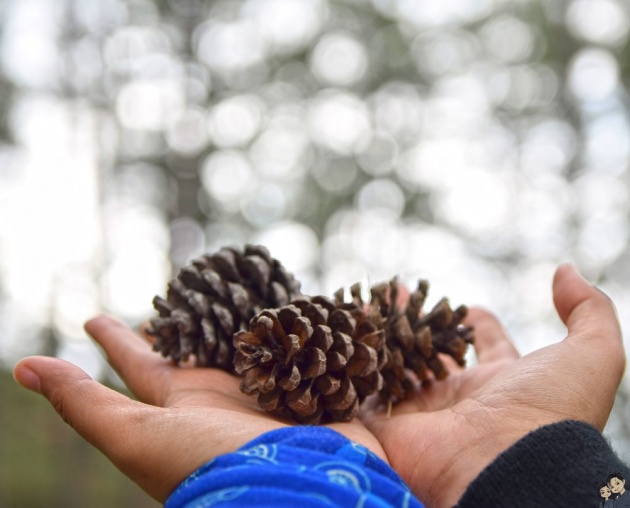 Glad we found pine cones which were very photogenic! Photo is mine.
So overall, we had concluded that Sagada is a bit overrated. People flock for certain spots which doesn't seem to really offer a lot but then, I would like to commend their local government for making a generic rule for pricing and getting everything all at one stop, their Tourism Office.
Getting Back to Manila
Research is badly needed when traveling. It was one of my New Year's Resolution that I should be researching deeply when we travel so I won't be missing anything or any important parts of location that we are checking out.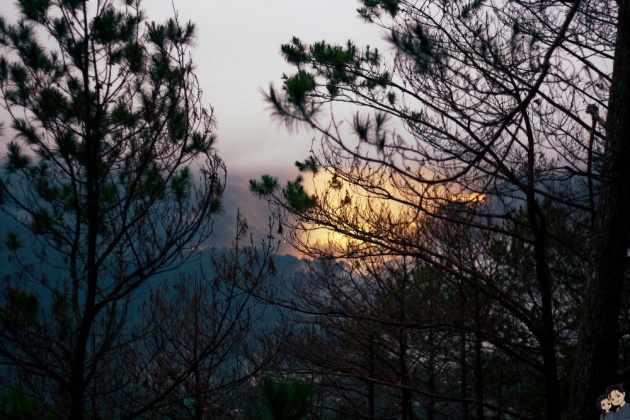 Life will always test you but remember, when you walk up a mountain, your legs get stronger. Photo taken at Kiltepan viewpoint. Photo is mine.
One of the most important things as well is to make sure we have secured tickets going back to Manila so we won't miss our dear flight back to Cebu. Gladly, there's a direct trip from Sagada to Manila through Coda Bus Lines. They are the only ones which offers this trip and they only have limited number of seats per day.
I booked our tickets at biyaheroes.com which was a swift process. It was all online, again, I paid it through PayPal which was really nice as I don't have to go through lines on banks and other money transfer establishment. The trip was at three in the afternoon however, upon reaching Bontoc, we have to go down the bus, walk from there towards the Bontoc Bus station since the bridge was destroyed during the typhoon and it won't be able to accommodate a huge bus.
Great day at Sagada. Video is mine.
The trip was a good 12 hours land travel, several stops were made but the most unforgettable for me was that I had an upset stomach. Gladly, it didn't erupt itself while on the road, I had to go to the comfort room several times during stop overs and I had lost my appetite but I was thankful I survived without getting myself embarrassed inside the bus.
It is therefore a reminder that when traveling, one has to be very careful of the food we eat. I suspected the cause for that was the second lemon pie which I ate myself. James and I ate one slice each but during lunch, I ate another one slice from the restaurant. James didn't have an upset stomach so I believe the culprit is the second one. Actually, that was the first time that I had bad stomach during travel and I don't want to experience it again in the future.
Participate in this Querlo chat survey below:

Check out my other blogs from our Batad - Banaue Expedition:
Regards,
Jean Beltran-Figues
bitLanders user since 2015