Good Food, Great Time at Panda Cafe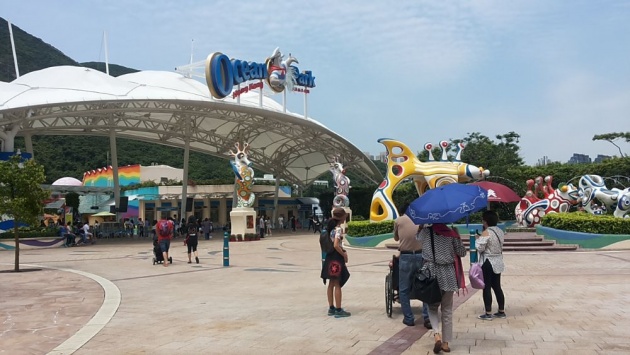 Photo credit: lapiz-lazuli
Visiting Hong Kong's Ocean Park was on our last itinerary. The night before, I was using Evergreen Hotel's guest desktop and had planned to eat lunch at The Bayview Restaurant.
Keep Looking, i.e. Klook
I bought me and mom's Oceanpark tickets via Klook because of the huge discount and also to try it out. There were many rave reviews about Klook. If you plan to visit an Asian country, you might want to try out Klook.
I originally planned to avail of the park admission only, but seeing the price difference from buying entrance tickets with meal inclusion made me hit the second promo option.
HK Oceanpark is Huge!
Video credit: lapiz-lazuli via bitlanders.com
When we arrived at Ocean Park, I was really shocked because the place was colossal! Rides and attractions were really far apart and it was a pain to get to where you want to go next. Sure, there were rides close to each other, but you'll surely get leg fatigue going from one region to the next. I really thought it was just like Enchanted Kingdom, but no, it was way bigger than that.
Panda Cafe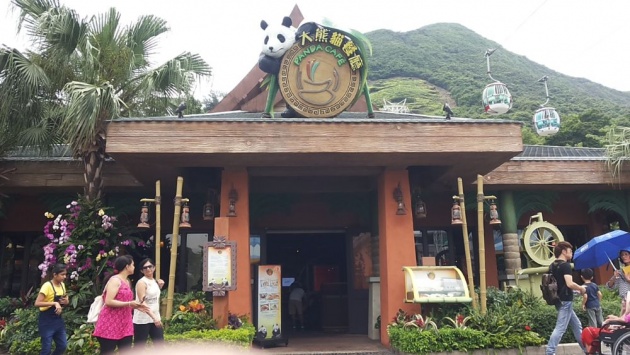 Photo credit: lapiz-lazuli
We've only spent about 2 hours, and our tummys were already growling from much walking (and waiting in line). I knew we won't be able to get to Bayview Restaurant in time because it was located on the farthest region in the map. Tired and famished as we were, we just settled for the nearest restaurant which was Panda Cafe.
Video credit: lapiz-lazuli via bitlanders.com
It was near the Express Train (yes, there's a train inside the park, going from one region to the next--it's that far apart). I was a bit hesitant because I didn't know what to eat in there, I've never browsed online beforehand. Anyway, it was fortunate because we can avail our Klook meal inclusive tickets at Panda Cafe.
Recently, I searched online and this was what I get about Panda Cafe, HK Oceanpark:
A true panda lover's paradise, this woodsy eatery serves up savoury Asian delights, including Cantonese-style dim sum and Chinese barbecued dishes. Vegetarian available.*

- from Oceanpark.com.hk
Place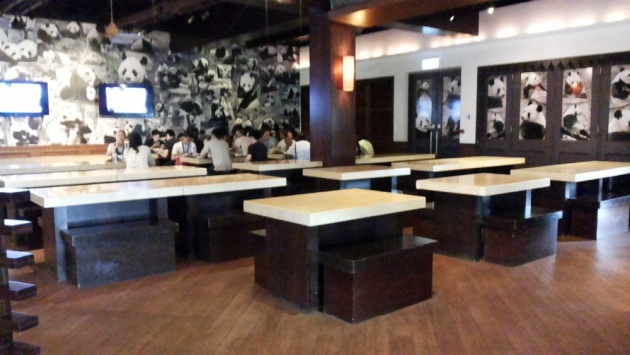 Photo credit: lapiz-lazuli
The place was unexpectedly roomy, but the place was only half filled. Probably because we arrived around late lunch so other people were already finished eating and enjoying the attractions.
People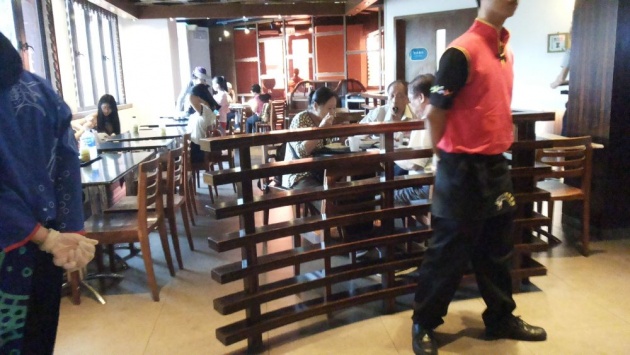 Photo credit: lapiz-lazuli
There were ample waiters and it was a seemingly friendly place. I had no idea where I'd present our tickets, so I asked the cashier. She was really helpful, eventhough she knew little English.
Phalling in Line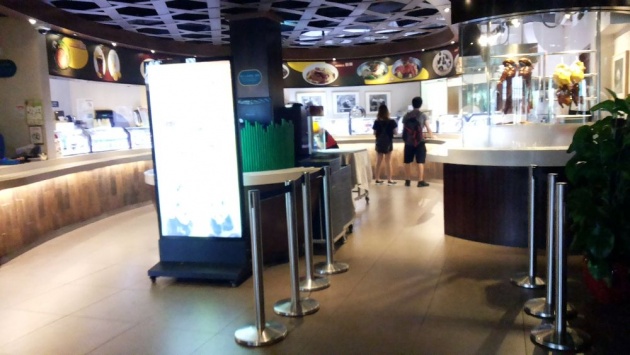 Photo credit: lapiz-lazuli
I took pictures and presented it to the cook over the counter. Their ordering scheme was just like a cafeteria--you get your tray, fall in line, order up, then pay. But be sure to get to the right cook's counter because fish, poultry and beef sections, even the beverages section have separate counters. There weren't any lines that time so I had a speedy run at the counter.
Phood

Photo credit: lapiz-lazuli
Pour Down
Because me and mom had a different ticket than the others, we couldn't choose what drink that came with our order. It was kiwifruit (but I think it had other stuff or fruit than kiwifruit). Well, I tried not to be grumpy, but my throat really feels itchy eating kiwi. The taste was a bit sweet and tangy and the texture was slushy, so I really enjoyed it (except its after effects in my throat).
As for other beverage issues, getting ice for your water would be a hassle because of language barrier. Uncle went thrice to the drinks counter just so he can get an ice-filled glass.
Peking Duck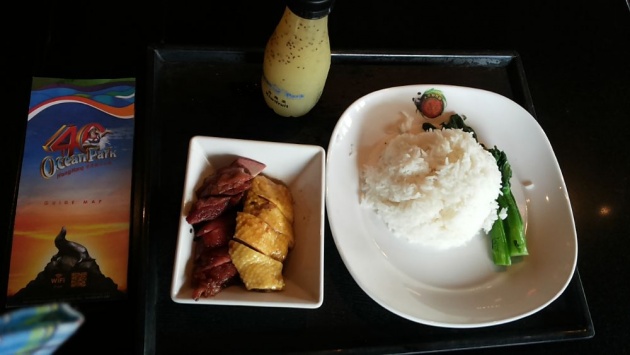 Photo credit: lapiz-lazuli
I initially ordered chicken with roasted duck. Well, I hadn't tasted duck when we were in Hong Kong at that time, so it was a necessary Peking order (hehe). As I eat it, I found that me and the dish couldn't get along really well, because I had issues with hard-to-chew viands. So I switched with my mom's.
As for the taste, I really found the Hainan chicken bland. I also noticed they cook chicken like it had hepatitis (so yellowish). As for the roasted duck, it really was delicious but I switched so I coudn't do anything about it. They flavor and roast their duck really well.
Phishy?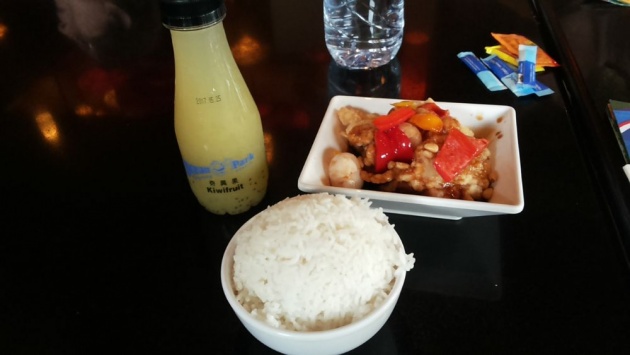 Photo credit: lapiz-lazuli
Now here's comes the joyous part. Switching dishes with mom was the best choice I ever made that day. We had bad luck at managing our time that day, but I wouldn't forget my time at Panda Cafe over their sweet and sour fish dish.
The tart and sucré blend of this dish had a superb, almost homey allure to it. It reminds me of how we season dishes back home in the Philippines, but with an air of foreign roots. The bell peppers and lychee/logan amped up the meat and sauce to create a vibrant taste of the delicately sweet and sour combination. The rice also made a complementary factor to it for its high quality taste and cooking. The rice wasn't your average a-kilo-a-buck quality, if you know what I mean.
Describing it, I kind of felt like a judge at Cooking Master Boy, haha!
Panda Bun: the Deserted Dessert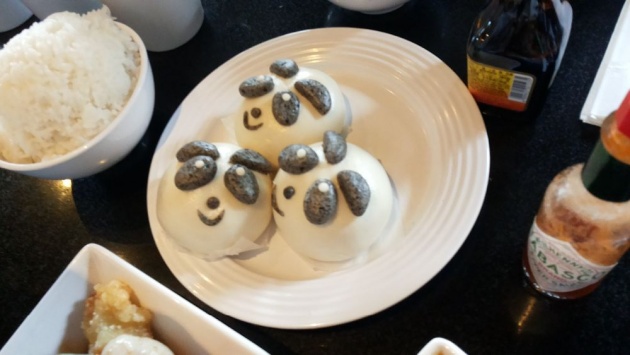 Photo credit: lapiz-lazuli
As for dessert, sis order Panda bun. They design it to look like very cute pandas, with black eyes and ears. It had a sweet bean filling. I was hesistant to eat it because it was so cute, I couldn't destroy it.
I didn't really appreciate eating it because: 1) I was already full at that time, 2) I ate it after it went into the hotel's fridge (yeah, it had been a take away, and 3) it was already cold and hard when I munched on it. If it was fresh from the steamer, I might appreciate it a little more because the filling was really tasty.
Phrozen Dessert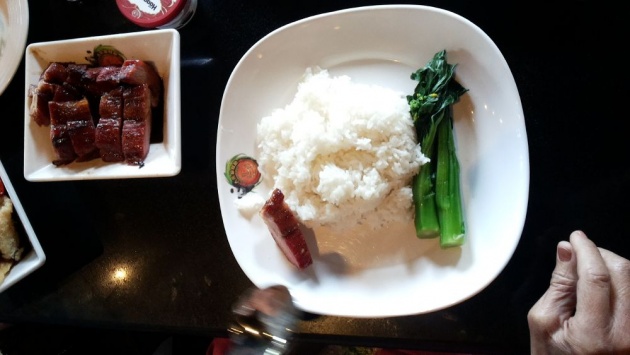 Ice cream a little to the top left. Photo credit: lapiz-lazuli
I finished my sister's Häagen-Dazs's cup. It was very creamy but when the cup went onto my hands the ice cream had already melted. Some chunks where left though, so I still savored it. As for the taste, well, it's Häagen-Dazs!
Phace?!
We were taking our time to rest when one customer beside us asked if our grandma was Chinese! Then she pointed at my mom and told her she had the same facial features as my grandma (which was partly true). For me, I take as a complement.
Panalo! (Win!)
I really enjoyed my time at Panda Cafe. People and staff are friendly, no discriminations, big and neat place to eat, great food...the only thing I would suggest is to train their staff conversational English.
Here's a Querlo chat about restaurants:
End note: Pictures, videos and write-up are originally made by lapiz-lazuli, unless stated otherwise. Views and opinions in this blog post are truthful but subjective and are not influenced by sponsorship of any sort.