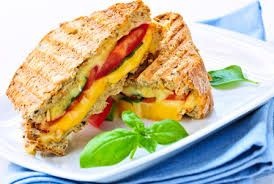 INGREDIENTS (measuring cup used, 1 cup = 250 ml)
8 to 10 slices of bread ( white, brown or whole wheat bread)
butter as required, at room temperature
cheddar cheese as required
freshly crushed black pepper, roasted cumin powder and chaat masala as required
INSTRUCTIONS
first grate the cheese and keep aside. then spread butter on each slice.
top half of the bread slices with grated cheese.
sprinkle two to three pinches of black pepper powder, cumin powder and chaat masala on each slice which is topped with grated cheese.
cover the cheese topped slices with the remaining buttered breads.
spread butter on top of each slice.
on a heated grill place the sandwich carefully with the buttered side facing down.
spread butter on the top slices. close the grill sandwich maker and grill for 2-3 minutes till the sandwiches are crisp and golden.
serve grilled cheese sandwich hot, plain or accompanied with green chutney or tomato ketchup.