I have been saying this and I will say it again, I am a sucker of Free stuffs but I then realized, not just free stuffs but also for discounted ones specially the ones from Groupon and other online sites.

I always book my tickets online a head of time to avail of those seat sales. When I went for vacation while still working in Dubai, I had booked my tickets two months before and guess how much the round trip tickets cost me? Php 10,000 only and that's a round trip ticket which includes 30kgs baggage allowance.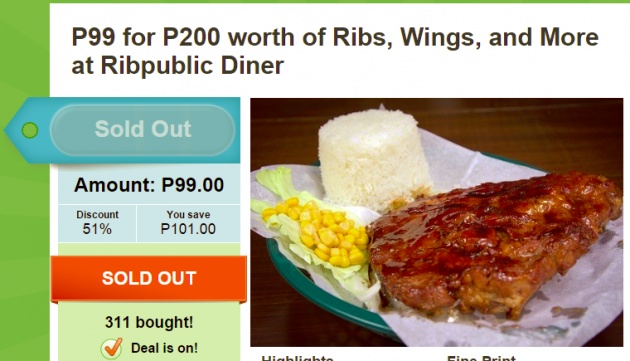 Anyway, just recently, I had purchased another Groupon discounted vouchers. This is for Ribpublic Diner which is a new restaurant here in Cebu City. I had purchased four vouchers, each contains Php 200 worth of Food and Drinks for only 99 pesoses! The vouchers are valid until June of this year.

I am planning to use it for a dinner with friends tomorrow.

Check out the menu: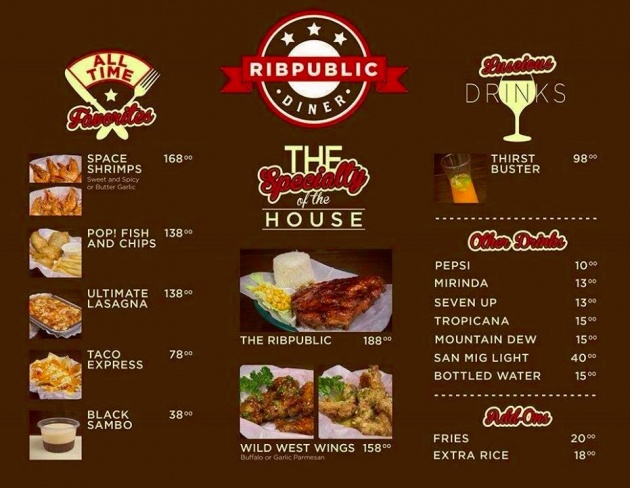 I am planning to get my husband their specialty of course, the Ribpublic, mine will be their wild west wings, I might be ordering the Parmesan. Then I am going to get as well their ultimate Lasagna and the space shrimps!

Will update you tomorrow about the experience!