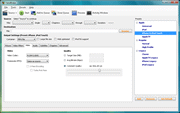 It's a fundamental law of computing: multimedia files are never in the format you need. And so while in theory something like an iPod Touch is great for watching videos, in practice they'll need to be in something like M4V, MP4 or MOV formats, and getting your files converted can be a problem. But that's where HandBrake comes in.
The program accepts video data in just about any source format, including DVDs (as long as they're unencrypted: commercial DVDs can't be imported unless you install extra libraries).
You can then choose your output format (MP4 or MKV), and apply whatever additional tweaks you might need. Videos can be resized or cropped, for instance, filtered in various ways (deinterlace, denoise, deblock, more), you're able to choose the destination frame rate, or even set a target size for the converted file so you can be sure it'll fit on your target device.
If you prefer a simple life, though, you can just choose one of the conversion presets like iPad, iPhone or AppleTV. HandBrake will automatically set all its other options, and all you have to do is click Start and wait for your new video or audio file to arrive.
HandBrake 0.10.0 is a major upgrade with a ton of improvements:
- Added Intel QuickSync Video, the hardware based H.264 encoder.
- H.265 is now available through x265 1.4
- VP8 using the libvpx encoder.
- Removed LibFaac due to GPL compatibility issues, and replaced with the libav AAC encoder
- Denoise. The new NLMeans filter offers much higher quality denoising.
- OpenCL Scaling. HandBrake now offers BiCubic scaling on Windows via OpenCL.
- Feature Parity. A lot of work has been done to bring the user interfaces closer in terms of feature parity.
- Audio and Subtitle Defaults. The audio and subtitle controls have been overhauled.
Verdict:
An effective way to convert videos, especially for Apple devices - and much easier to use than most of the transcoding competition