It is health that is real wealth and not pieces of gold and silver.

Qoute by: Mahatma Gandhi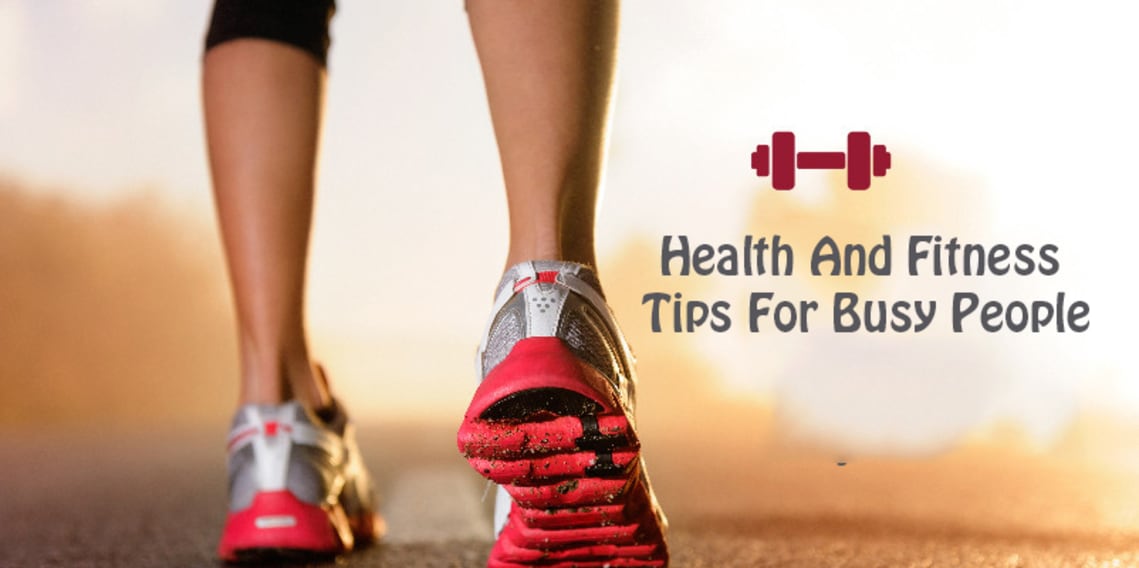 Image Credits: https://longevity.media
In this world of hustle and bustle, we do not have time for our own selves. If you are a student then you are so busy in making assignments and preparing for exams that you do not have time for you and your body. If you are a worker, job holder or business owner, same is the case with you too that you also do not have time for yourself because you are also busy in your daily affairs. In this busy life, whenever you look to yourself and think about your health and body fitness, first thought comes to your mind is to start exercise and go on a healthy diet. But in a next moment, you realize that you cannot manage time from your tough routine. Thus you get back to your work without caring your health and fitness.
But now, you do not need to worry about your health and body fitness because I am bringing you such information which will be very effective for you in your busy life. In this article, I will explain few exercises and foods which will take no time and your health and fitness go up to a good level. So without wasting any of your time, I would love to start this beautiful blog.
Image Credits: http://limitless365fitness.com
Best Foods
When you are busy and you do not have time to eat properly because a good and a healthy food needs to be cooked at its best with all of its nutrition. When you are busy, you do not have enough time for such type of diet but you need not worry
1. Tomatoes
As tomatoes are very good for your heart and you can eat them while traveling to your office or while doing any type of work.
2. Spinach
Similarly, spinach is very good for your brain and you can have it anytime and at any place.
3. Blueberries
Blueberries are good for your cholesterol level and you can eat them without sitting on a dining table. Frozen berries could be more healthy because you can eat it all the day and have more nutrition in it. Researchers have found that there is a high level of fat-fighting antioxidants in frozen fruits like blueberries because of the ice crystals which releases the beneficial compound. Pumpkin seeds are very good for your memory and all of these are hugely nutritious and the will keep you full.
Image Credits: https://marvinsfitnessblog.com
4. Almond Butter
I know in this busy era we are always in a hurry and we do not have time for our selves that is why almond butter or nut butter could be a very great addition to your healthy diet. Whether you are going to the meeting or any educational institute and you do not have time for proper diet then always keep a jar of nut butter and whenever you got few moments then you should eat this nut butter because nuts are full of fats and healthy proteins which your body always needs. So, I recommend keeping nut butter with you all the time.
Creating List
If you wanted to stay healthy and fit then you should have a daily plan according to which you will be working. If you have not created anyone yet then create a list of priority works that you would like to do daily or which are necessary for you. Number them and start doing your daily tasks according to the list. Once you have had the list, then try to give some of your time for exercise and gym. A proper running for a good time would be enough for you in your daily priority list and then you will see the fitness in yourself.
Image Credits: https://hubpages.com
If you are still unable to give time to exercise, then reduce the timing of watching tv or using social media because your personal health is above all of this because as said by Thomas Carlyle
He who has health, has hope; and he who has hope, has everything

Qoute by: Thomas Carlyle
The purpose is not to compel you to do an exercise of an hour or more. Daily 10 to 20 minutes will be enough for your body fitness. Once you start doing this, you will enjoy it and you will see changes in your body appearance too.
Learning Quick Recipies
Cooking could be your hobby too but if it is not then still you should know some quick cooking recipes which you can quick in no time and have a good food to eat so that you may not remain hungry and your stomach does not get out of order. Noodles can be cooked in less than 10 minutes. Similarly, an egg can be fried and can be taken with bread in no time. Milk can be boiled and used in less than 2 minutes. There are many other quick recipes too which you can learn easily and have a better diet for your busy day.
Image Credits: https://play.google.com
Add Vegetables to Your all edibles
Vegetables have been always a good source of nutrients and proteins which are very very necessary for your body. Different vegetables have different types of fats, vitamins, and other nutrition so, I recommend you all include different vegetables in your diet instead of meat and chicken. Although meat and chicken are a good source of proteins but vegetables are actually natural and they have natural nutrients in them so I prefer vegetables to eat. Although they are delicious too.
Image Credits: https://www.shutterstock.com
This was all for today. I hope you have enjoyed reading this and something new must have been gone through you. I hope that this article must have helped you to cope up with your tough routine and you may have got some idea how to manage your life so that you could have better health and fitness in your busy life. The video below will explain more about my topic.
Video Credits: Georgie Stevenson via www.youtube.com