Hollywood Movie Review - Arrival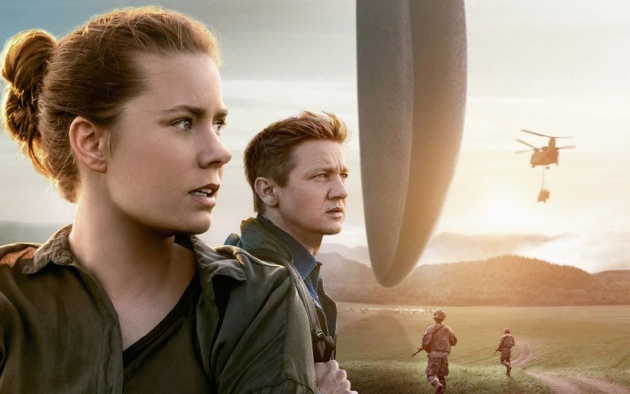 Image Credit: wall.alphacoders.com
✔ Introduction



Hello Friends, I hope you are doing fine and are having a good time on bitlanders. Today I have come up again with my new blog with the title of "Hollywood Movie Review - Arrival". Friends, this blog is about a recently released Hollywood Science, Fiction and Drama Genres movie "Arrival". The story of the movie revolves around communication with aliens that come to this world in their 12 air crafts. An expert communicator who has expertise in linguistics is hired to talk to those aliens and to know whether those aliens came here with good intentions or not. The story depicts the American State of Montana where one of those space ships have arrived and the US Army is put on high alert in order to eradicate any possible harm posed by those aliens. The movie strongly supports the idea of Women Empowerment and that is the reason why the main character in this movie was played by a woman Amy Adams. This movie was directed by Denis Villeneuve and was produced by Shawn Levy along with Dan Levine and few others. The screen play for the movie was written by Eric Heisserer and the movie was produced under the supervision of FilmNation Entertainment, an American Film Production and Distributor Company.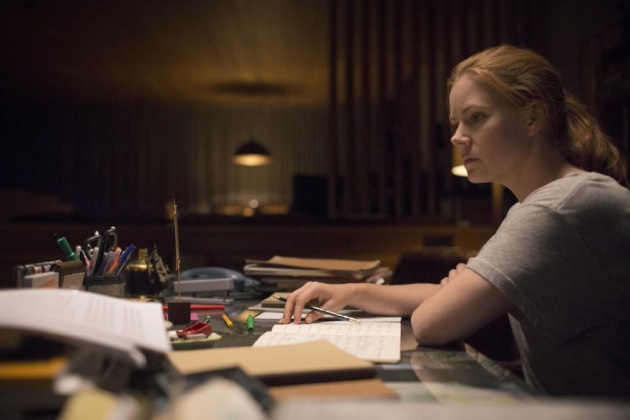 Image Credit: wall.alphacoders.com
The movie "Arrival" was released on November 11, 2016 in the United States under the distribution banners of Paramount Pictures. Some details of cast of this movie are as under:
✤ Amy Adams as Louise Banks
✤ Jeremy Renner as Ian Donnelly
✤ Michael Stuhlbarg as Agent Halpern
✤ Forest Whitaker as Colonel G.T. Weber
✤ Mark O'Brien as Captain Marks
✤ Tzi Ma as General Shang
✤ Julia Scarlett Dan as Hannah
✤ Frank Schorpion as Dr. Kettler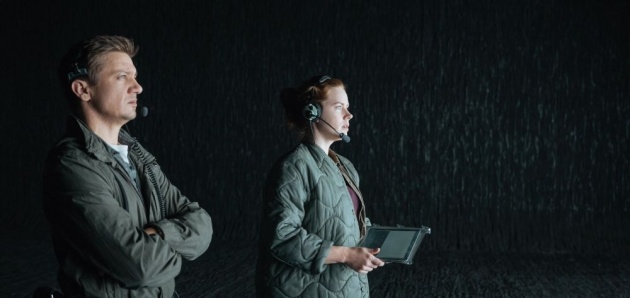 Image Credit: wall.alphacoders.com
Science fiction is never really about the future; it's always about us. And Arrival, set in the barely distant future, feels like a movie tailor-made for 2016, dropping into theaters mere days after the most explosive election in most of the American electorate's memory.

But the story Arrival is based on — the award-winning novella Story of Your Life by Ted Chiang — was published in 1998, almost two decades ago, which indicates its central themes were brewing long before this year. Arrival is much more concerned with deep truths about language, imagination, and human relationships than any one political moment.
Movie Review Extracts From: www.vox.com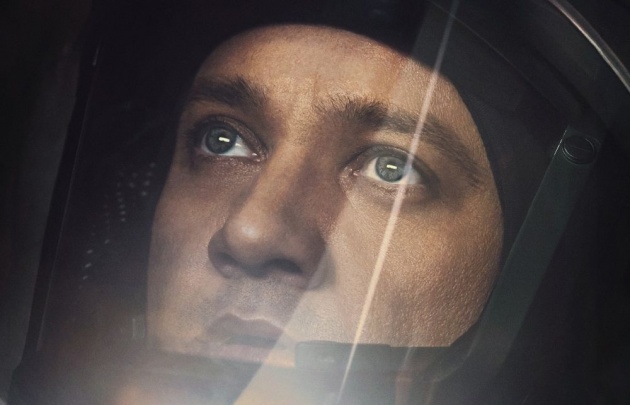 Image Credit: wall.alphacoders.com
Video Credit: Paramount Pictures via Youtube.com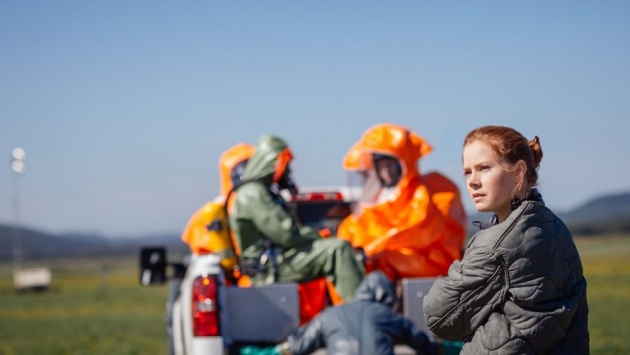 Image Credit: wall.alphacoders.com
✔ Movie Plot And Review
The movie begins with Dr. Louise Banks and her daughter who is suffering from a terminal illness. Dr. Louise is spending time with her daughter who later died at a very young age due to her ailment. Dr. Louise is shown to be an expert linguist and is also working as a language professor. One day, when she was in her class giving lecture, the news breaks that 12 huge space ships have landed in different areas on the earth. Since Dr. Louise Banks is a famous linguist; therefore, Colonel Weber from the United States Army visits her and asks for help because there was no proven way to communicate with the aliens present in the vessels that came from the space. Dr. Louise Banks is taken to the military base by Colonel Weber in a helicopter next day for their help where she meets Ian Donnelly who was there for the same cause. The ultimate aim is to find out the reasons for the aliens to visit the earth in order to avoid any lethal activity that could take place in confusion as there was a danger that this event could also lead to wars between different countries.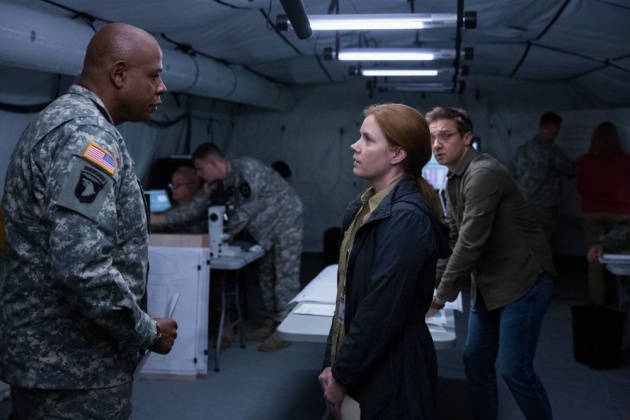 Image Credit: wall.alphacoders.com
At the military base, Dr. Louise and Ian Donnelly come across two aliens who look like giant creatures no one has ever seen before. Dr. Louise starts her work and tries to communicate with the aliens by writing on the board there with her. Dr. Louise tries to befriend with the aliens by removing her typical clothes that were provided to her by the military people. Soon, the efforts of Dr. Louise bear fruits as the two aliens start to give positive and friendly responses to different gestures by Dr. Louise and Ian Donnelly. In other places however, people with bad intentions have started to create problems for the law enforcement agencies by looting and plundering whenever they get a chance to do so. Furthermore, the event of space ships landing also sparks tensions between different countries who blame each other thinking that space ships were sent by them. In particular, China shows extreme anger and does not trust aliens' communicated messages which were translated by Dr. Louise. On the other hand, as Dr. Louise communicates with the aliens more and more, a special bond between them start to generate and later Dr. Louise also experience visions of her daughter Hannah in her dreams.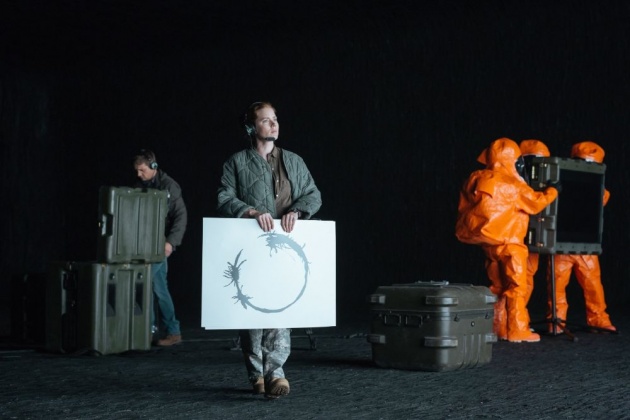 Image Credit: wall.alphacoders.com
Chinese authorities decide to take a stern action against the aliens as they misinterpret the aliens' message and give the ultimatum to aliens to leave the planet earth within 24 hours in order to avoid dreadful consequences from their side. Furthermore, they also ask other countries to join them for any operation necessary against the aliens. Dr. Louise try to calm down the situation by trying to define the difference between the words "weapon" and "tool" to the aliens because use of words were misunderstood and ignited the concern in the Chinese authorities. Meanwhile, some soldiers plant a bomb on the vessel in which Dr. Louise and Ian were working and they did not know about this. However, before the bomb detonates, the two aliens save Dr. Louise and Ian Donnelly from the harm as they both fell unconscious because of the bomb explosion. During the conversation with the aliens, Dr. Louise is informed that aliens came to the world to give language to the humans so that they could interact with the aliens in the future. The movie ends as the tension between countries come to an end and aliens leave the planet. Dr. Louise and Ian Donnelly become a couple as Dr. Louise sees visions in which she is present with her daughter and Ian Donnelly sharing some family moments.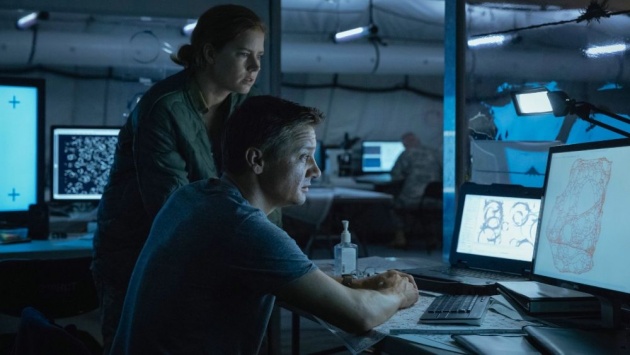 Image Credit: wall.alphacoders.com
Video Credit: EDGAR RENTON via Youtube.com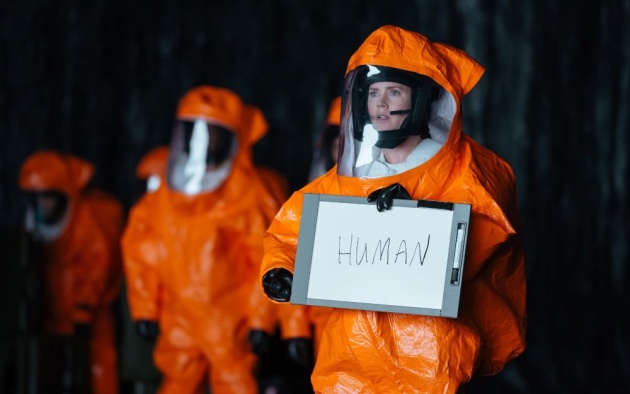 Image Credit: wall.alphacoders.com
✿ Here is Querlo Chat for you. Isn't it fun to chat with a Chatbot ?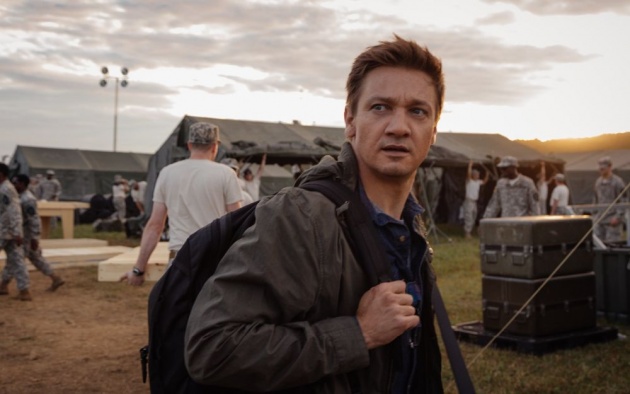 Image Credit: wall.alphacoders.com
✿✸✔✤✪ - - - - - - - - - - - - - - - ✿✸✔✤✪ - - - - - - - - - - - - - - - ✿✸✔✤✪ - - - - - - - - - - - - - - ✿✸✔✤✪

Thanks for Reading. This Blog was written by Rafaquat Noman (a Resident of Saudi Arabia and a Traveler) for bitlanders.
✿✸✔✤✪ - - - - - - - - - - - - - - - ✿✸✔✤✪ - - - - - - - - - - - - - - - ✿✸✔✤✪ - - - - - - - - - - - - - - ✿✸✔✤✪