Hollywood Movie Review - The First Purge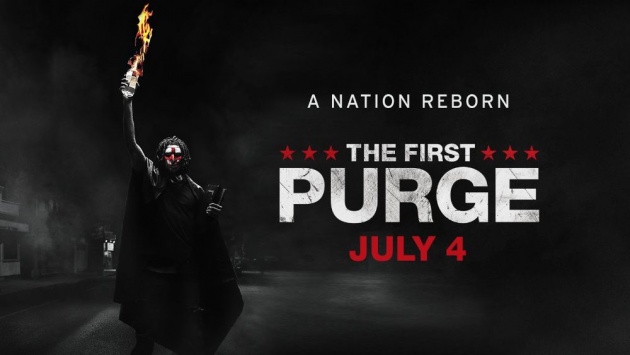 Image Credit: 3.bp.blogspot.com
✔ Introduction



Hello Friends, I hope you are doing fine and are having a good time on bitlanders. Today I have come up again with my new blog with the title of "Hollywood Movie Review - The First Purge". Friends, this blog is about a recently released Hollywood Fiction and Horror Genres film "The First Purge". The story of the movie revolves around an event lasting for 12 hours in which all the crimes are given the status of being legal. The criminals who like to go on a rampage find it a nice opportunity to show their ravage. However, the min idea was to curb the ratio of crimes in the area and the purpose of conducting this test was to check the consequences. Nevertheless, things get an ugly turn when the situation seems to be getting out of control; but in the minds of new rulers, this test becomes a success and they want to conduct the same in other states as well. The movie was directed by Gerard McMurray and produced by Jason Blum and Michael Bay for Blumhouse Productions. The screen plot for the movie was written by James DeMonaco.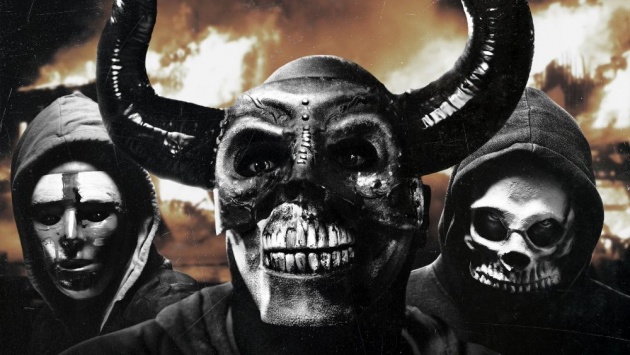 Image Credit: wall.alphacoders.com
The movie "The First Purge" was released on July 4, 2018 under the distribution banners of Universal Pictures. Some details of cast of this movie are as under:
✤ Y'lan Noel as Dmitr
✤ Joivan Wade as Isaiah
✤ Lex Scott Davis as Nya
✤ Lauren Velez as Luisa
✤ Marisa Tomei as Dr. May Updale
✤ Mugga as Dolores
✤ Christian Robinson as Capital A
✤ Kristen Solis as Selina
✤ Patch Darragh as Arlo Sabian
✤ Maria Rivera as Anna
✤ Siya as Blaise
✤ Rotimi Paul as Skeletor
✤ Mo McRae as 7 & 7
✤ Melonie Diaz as Juani
✤ Steve Harris as Freddy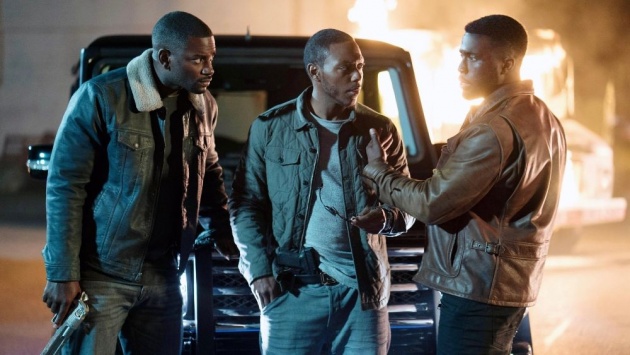 Image Credit: wall.alphacoders.com
James DeMonaco's Purge series is premised around an annual 12-hour period in which crime – including murder – is legal. This prequel to the hugely successful dystopian horror series explains the why and how of the social experiment. Devised by Dr May Updale (Marisa Tomei), who declares her interest as "psychological" rather than "political", the controlled experiment is quickly co-opted by ruling rightwing political party New Founding Fathers' chief of staff Arlo Sabian (Patch Darragh) into a chilling evening of sanctioned ethnic cleansing.
Movie Review Extracts From: www.theguardian.com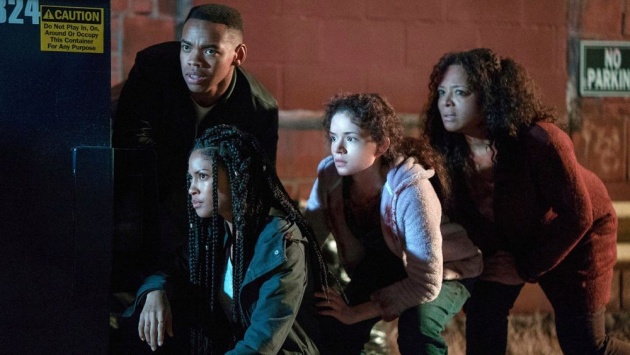 Image Credit: www.empireonline.com
Video Credit: Universal Pictures via Youtube.com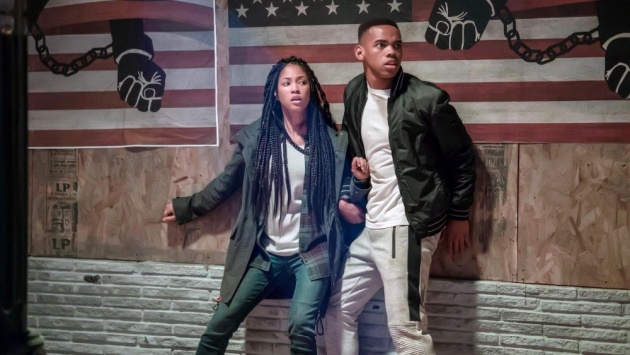 Image Credit: wall.alphacoders.com
✔ Movie Plot And Review
The movie begins in a new America where there is no Republic or Democratic Government and America is under the rules of New Founding Fathers of America (NFFA). This is mid of 21st Century and there is a time of economic and social turmoil in the United States. There is a strange looking drug addict Skeletor who is expressing his desire to bring out his anger and frustration called "the Purge" on the people he does not like to another person on camera and he is advised that he would be given this opportunity soon. In order to reduce the rate of crime, the NFFA officials Arlo Sabian and Dr. May have planned to conduct an experiment in Staten Island in which people will be allowed to get rid of their inner hatred and evil feelings for others and they can do so by committing any crime for which they shall not be penalized. The people are offered a handsome amount if they opted to stay indoors during the 12 hours dangerous period. The ones on rampage during 12 hours will be laced with the tracking devices and cameras in order to record their activities.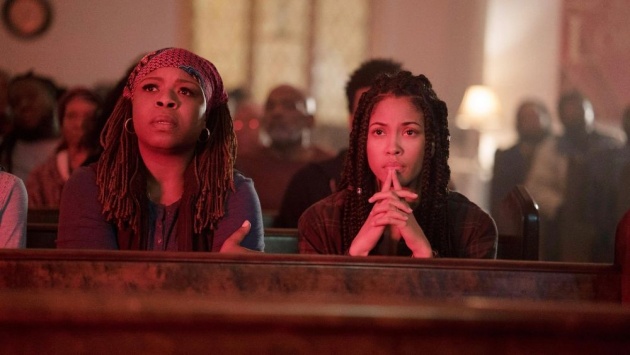 Image Credit: wall.alphacoders.com
While making plans for the Purge night, the drug dealer lord Dmitri (Y'lan Noel) makes his plan to leave the town on the Purge Night but other dealer Capital A insists on staying in the town and taking part in the event. Meanwhile, another drug dealer Isaiah faces Skeletor who threatens him with his plans on the Purge Night but gets injured by Isaiah before running away. Isaiah's sister Nya was an ex-lover of Dmitri and she is annoyed at him now because she thinks he is using his brother Isaiah for drug dealing. As the Purge Night gets closer, many people leave the town to save themselves from harm. Nya along with her friends Mugga and Luisa plan to stay inside a church in the night of Purge. Isaiah takes part in the Purge without informing his sister to take revenge on Skeletor. On the other hand, Dmitri also stays inside his office and another drug dealer Capital A send two girls to Dmitri to kill him. Skeletor kills a man making it the first murder of the night. Isaiah gets into trouble as he fails to kill Skeletor who runs after him to kill him. Isaiah calls his sister Nya and informs her about his ordeal and Nya goes out to find and help him. Meanwhile, when Dmitri senses danger, he kills the seducing girls who were sent by Capital A with a plan to take over Dmitri's business after his killing. When Nya reaches the place where Isaiah is hiding, she is caught by Skeletor who tries to rape her but Isaiah comes out and stabs Skeletor in the back and runs away with his sister Nya.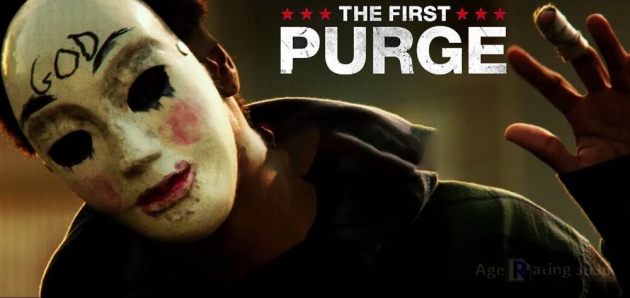 Image Credit: www.ageratingjuju.com
As Capital A reaches Dmitri's office to know what his girls had done to Dmitri but he finds Dmitri's men and the Dmitri comes in and kills Capital A for his betrayal. There are more Purgers in the street than expected by NFFA and these Purgers start to kill people on the streets without any mercy. Dmitri contacts with Nya and informs her that Purgers are heading towards her apartment and she should be careful. Dmitri along with his men shoots many Purgers on the streets; however, they are attacked by NFFA drones. Dmitri manages to reach Nya's apartment and fires gas bomb at the Purgers and explodes it which kills all of them. At this time, the sound of siren marks the end of "the Purge" time and the people now can come out safely. Dmitri is declared as a hero and he iterates his ambition to fight back along with other people. The NFFA declares the event as successful and issues a statement that there may be more "Purge" events in the other states as well.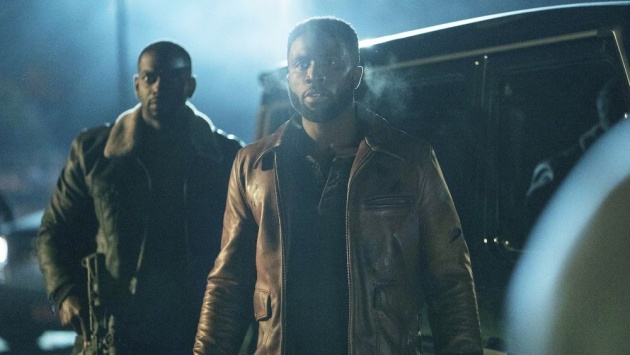 Image Credit: www.space.ca
✿ Here is Querlo Chat for you. Isn't it fun to chat with a Chatbot ?
Video Credit: Movieclips Coming Soon via Youtube.com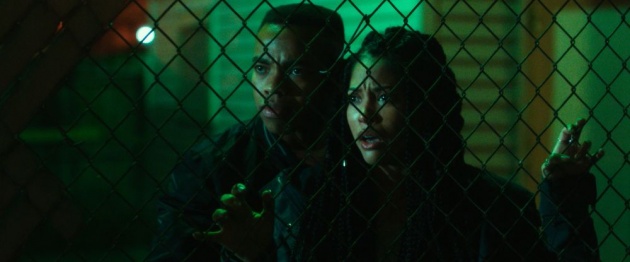 Image Credit: newcityfilm.com
✔ Conclusion
The movie "The First Purge" is a real scary and thriller movie. No one would like to have such a ruler who would allow criminals to go on a killing spree in the streets for 12 hours. However, this was made possible in the movie and this central idea clicked on the big screen. This movie "The First Purge" is the 4th movie in the series of "The Purge" movies and all of the previous movies made a good impact on the screen. This movie as well, was welcomed and liked by the movie lovers across the world. The producing team includes James DeMonaco who is a famous American screenwriter as well as producer and his idea has clicked and there are more movies in the same series to come in future. The movie's budget was a meager amount just over 10 Million US Dollars but the movie has made more than 110 Million US Dollars which shows the level of interest shown by the Hollywood movie lovers for this movie.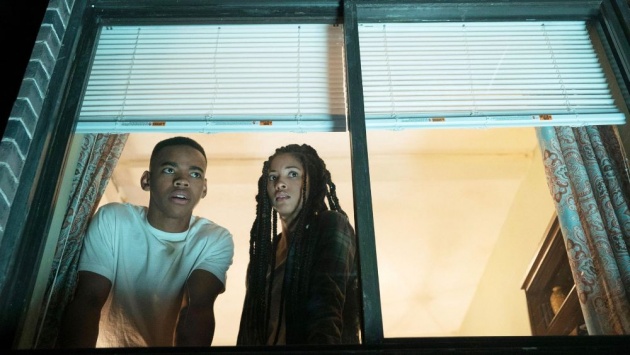 Image Credit: filmfed.com
✿✸✔✤✪ - - - - - - - - - - - - - - - ✿✸✔✤✪ - - - - - - - - - - - - - - - ✿✸✔✤✪ - - - - - - - - - - - - - - ✿✸✔✤✪

Thanks for Reading. This Blog was written by Rafaquat Noman (a Resident of Saudi Arabia and a Traveler) for bitlanders.
✿✸✔✤✪ - - - - - - - - - - - - - - - ✿✸✔✤✪ - - - - - - - - - - - - - - - ✿✸✔✤✪ - - - - - - - - - - - - - - ✿✸✔✤✪