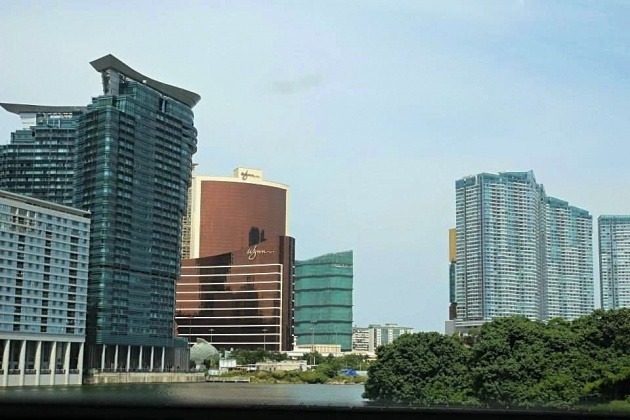 Macau - Las Vegas Strip of Asia / Photo Credit: Dimpsy
I ended the second part of my blog A Side Trip: Getting Around in Macau at the end of Dasanba Street where the ruins of St. Paul Cathedral can be sighted by far. Still part of my a side trip blog but this time it will all be the hotel-casino hopping in Macau. Due to the restriction of taking pictures inside the casinos, I can only show you either the hotel-casino lobby or the building itself - no indoor shots can be seen on photo attachments of this blog.
Macau is said to be the Las Vegas Strip of Asia and I can personally attest to the tagline after hopping some big hotels in the city. It was indeed the US Las Vegas replica though I've never been to the US but based on what I've seen in the movies it was similarly the Vegas Strip. In an area of Cotai, there you can find the strips of famous hotel-casinos. You can see a different Macau when in broad daylight like the colonial Portuguese buildings, temples, and parks. But as soon as the sun sets the city will transform into a bright, colorful, and lively place that will draw the people towards the gleaming hotel-casinos. Unfortunately, we missed this part of the journey. So here is our hotel-casino hopping in Macau on a day tour.
Here is a drone coverage of the Cotai Strip in Macau where most of the high rise buildings that you can see in this video are the big hotel-casinos nestled in Cotai that I also discussed in this blog. Take a peek so you can have an idea of how the Las Vegas of Asia looked like in a broad daylight.
HOTEL-CASINO HOPPING
► CASINO OCEANUS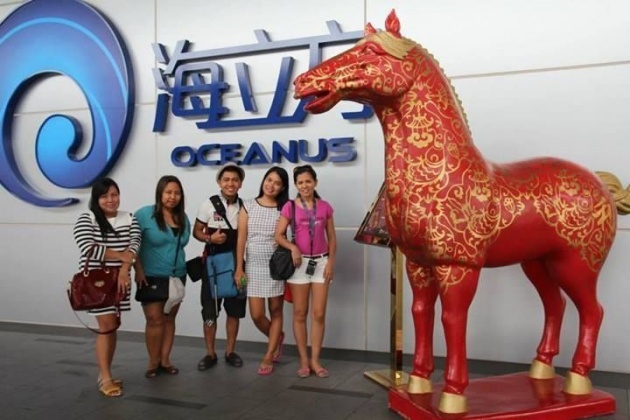 Casino Oceanus Lobby / Photo Credit: Dimpsy
As I mentioned in my A Side Trip: Getting Around in Macau blog Casino Oceanus was our first destination right after the immigration clearance. It's the first casino that we explored since it was our tour guide's workplace. Before entering the casino, our tour guide advised us not to take photos while inside the casino and that is why we had this photo opp outside the casino lobby with the logo and a red horse (not the bottled red horse) statue with golden embellishments which I believe horses are good luck charms in Chinese Feng Shui.
There are a lot of game selections in the casino that are aliens to me aside from the slot machines. It's quite a big casino with three stories gaming floor and shops but basically, Oceanus is solely for gaming purposes only no hotel to stay in this place. Oceanus has 269 table games and 569 gaming machines that are good enough to accommodate all the visitors so no need to worry about queues. The casino is open for 24 hours and has self-parking, valet, and street parking. When in Oceanus, there is a minimum bet of 0.1 Hong Kong dollars.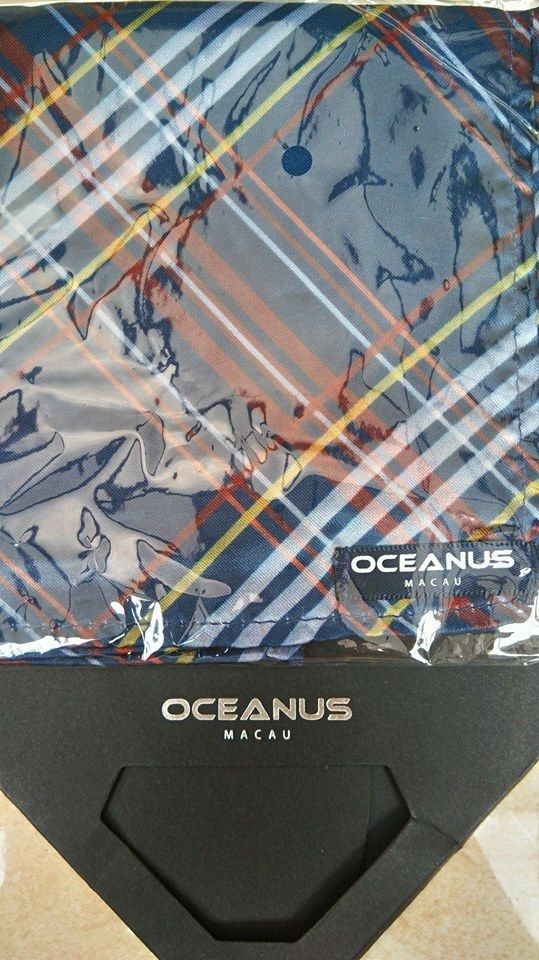 Oceanus Hanky / Photo Credit: Dimpsy
After exploring the Casino Oceanus our tour guide handed us respectively an Oceanus hanky as a souvenir. Awww I was so touched! The hanky comes inside a plastic with a black envelope having an Oceanus Macau mark on it both on the hanky and on the envelope. I never take out the hanky from the plastic because I am going to keep it as it is but now I was thinking of putting it in a frame for my travel memorabilia and as a reminder that once in my trip to Macau I meet a kind fellow citizen that I am grateful for.
►PHARAOH'S PALACE CASINO AT THE LANDMARK HOTEL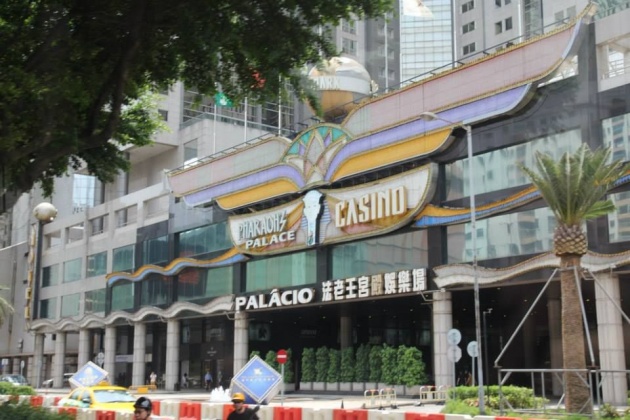 Pharaoh's Palace Casino / Photo Credit: Dimpsy
From the Casino Oceanus, we head to the Landmark Hotel where the Pharaoh's Palace Casino is located on the third floor of the hotel. This casino is one of the first casinos that marked the beginning of the western part of the Amizade strip. Based on Macau's property rankings, this casino is almost on the bottom list. It has a resemblance to what's inside the Pyramid. Upon entering you will notice the large sitting statues of Pharaoh King and Queen situated just above the casino floor on the royal pair tower as if watching over their gaming kingdom. Egyptian murals, bricks, some sacred animals, and hieroglyphics on the walls are an added attraction to the Pyramid theme of the casino.
Pharaoh's Palace Casino has 65 tables, 54 slots machines with bet limits of 2 cents to a dollar. There is also a space on the main floor with no tables for minimum gamers that exceeds 500 dollars and at 100 dollars. The casino houses the most tables of Macau gaming which is the Baccarat. This is the game for masses that attract big crowds to the table including rows of people watching behind the players. We even took a stand for a while to see how it is played. During daytime, the lowest bet that once can make per hand in most casinos is 200-300 Hong Kong dollars and the minimum bet will increase to 500 Hong Kong dollars as the night time comes. It even goes up as high as 1000 Hong Kong dollars in some casinos.
WHAT IS BACCARAT?

Baccarat is an exciting card game type that has three possible outcomes it's either the Banker wins, the Player wins or it's a tie.
► GOLDEN DRAGON CASINO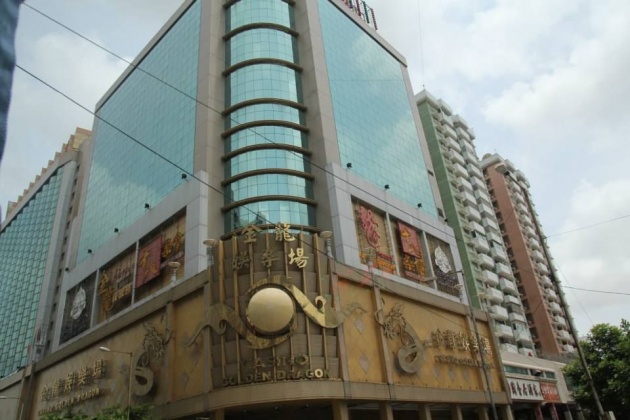 Golden Dragon Casino / Photo Credit: Dimpsy
Golden Dragon Casino is a ten-minute walk from the Ferry Terminal and fifteen minutes drive from the Macau airport. This hotel-casino as per our tour guides statement is famous for its night entertainment shows, she even said she can accompany us to the hotel's nightclub if we can spend the night in Macau. We loved to but we are on a time constraint. There are two buildings that connect the Tower Wing and the Main Building of the hotel. Our tour guide took us to the 4th floor of the Main Building where the Dragon Palace is situated. Here she treats us to a Chinese cuisine meal that is famous in the town since it's already lunchtime. Right after the sumptuous meal, we head back to the gaming area where an array of casino games located.
There are three floors of gaming area in the Golden Dragon Casino. We just had a tour around the three floors and I can see slot machines, Baccarat tables and the game that I am fond of playing at home with my family - Mahjong. This tour was at a high speed because it's noon time and we're running out of time for our other hotel-casinos to explore and the Macau Tower that should be done before the sunset.
WHAT IS MAHJONG?

Mahjong is a numbered tiles game that is originated in China with four players using 144 tiles in different suits.
MAHJONG TILES SUITS

Bamboo Suit 36

Circle Suit 36

Character Suit 36

Wind Tiles 16

Dragon Tiles 12

Bonus Tiles 8

Flowers 4

Seasons 4
► CASINO LISBOA
Casino Lisboa / Photo Credit: Dimpsy
One of the many first casinos opened in Macau is the Casino Lisboa. The best place for money conscious gamers. Few slot machines are available in this casino but it is more of table gaming that it outnumbered the gaming machines. There are two Lisboa casinos in Macau. Casino Lisboa is the original casino and the Grand Lisboa is the new casino just a few steps away from the original one. When you are inside the casinos you can definitely identify which one is old and new through its surroundings. With the building alone of the Casino Lisboa, you can see a long and distinct history characteristics during the era it was built. While on the other hand, the Grand Lisboa complex is more on the modern day features in competition with the newly opened Wynn Macau.
Predominantly, table games occupy a large gaming area that covers three floors of the hotel-casino building. There are four major sections of the Casino Lisboa and these are Hotel Lisboa which is in the main casino building, SJM Slots Hall, The Mona Lisa Casino, and the Crystal Palace Casino that has its doors on the Avenue D' Amizade walkway. For gaming statistics, Lisboa has 146 table games and 107 gaming machines and a minimum bet of 20 Hong Kong dollars. This hotel-casino is open 24 hours a day with street parking and valet.
► WYNN MACAU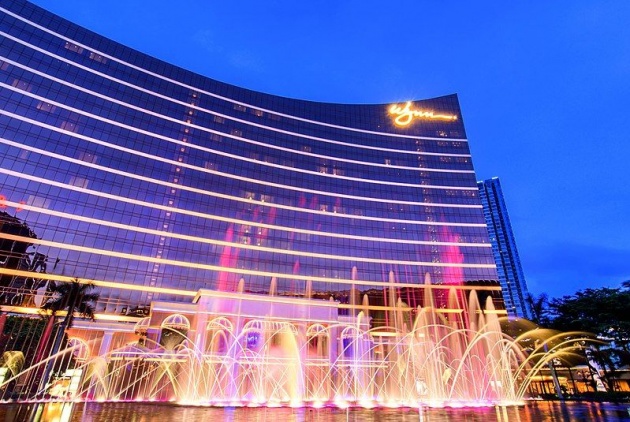 If you are a poker player then this is the best place for you. Among the other four hotels in all Asia, it's Wynn Macau who grabbed the prestigious Mobil Five-Star award. A bona fide "Las Vegas of the Old East" for excelling a high-end action that attracts visitors with a vigor in doing something with pleasure. Guests will be greeted with a splendid water show at the main entrance of the casino. I was fascinated with the upscale restaurants and the retail shops that display the finest, luxurious, and original designs that I hanker for such as Bvlgari, Giorgio Armani, Tiffany & Co., Prada, Louis Vuitton, Fendi, Christian Dior, Chanel and a lot more.
For gaming wise, Wynn Macau offers a wide gambling floor with ample choice of high limit 1,000 slot machines, 500 table games with variations of Baccarat and Pai Gow, and the Las Vegas classics that every gamer is looking for. Wynn Macau has its own Poker room that is always fully packed especially when holding a tournament. The room was nice but I really can't relate because I don't know how to play poker. If you are fond of playing Texas Hold'em Poker games on your phone then don't miss out to visit this place definitely you can relate and enjoy watching live games here in Wynn Macau or if you have a few bucks then go and take a shot.
WHAT IS A PAI GOW?

Pai Gow is a Chinese gambling game with the use of 32 Chinese dominoe tiles and the oldest of the Casino games.
► CITY OF DREAMS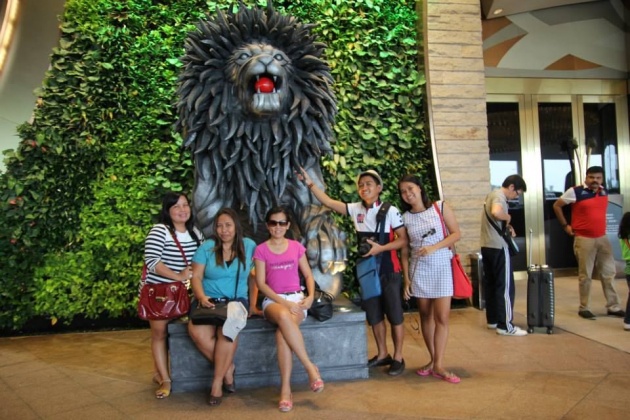 City of Dreams Entrance / Photo Credit: Dimpsy
Just before heading to our last hotel-casino hopping destination we stopped by at the City of Dreams Resort Casino entrance not to tour around the resort but to wait for the complimentary bus that will transport us to Venetian Hotel - the end point of our hotel-casino tour in Macau. We opted to skip this resort to give ample time to roam around Venetian which was our main purpose in going to Macau. While waiting for the bus to arrive we sat at one of the 2 guardian lions situated in both ends of the entrance of the City of Dreams resort and took the photo opportunity. I heard a lot of amazing stories from friends who happen to explore the City of Dreams that says there are a lot of amazing shows that we missed for not exploring this resort. Well, there's always a second time.
► THE VENETIAN MACAO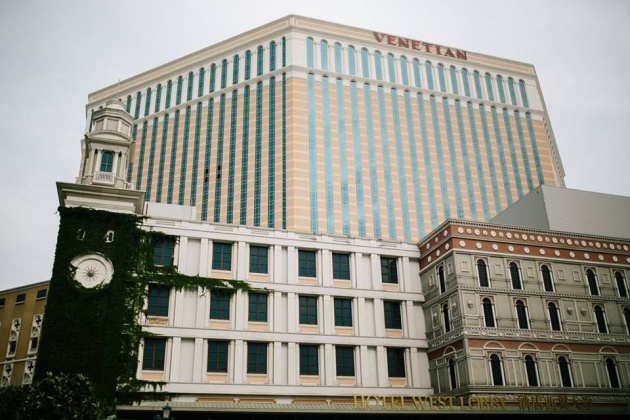 The Venetian Macao / Photo Credit: Dimspy
It was on local television when I dreamed of going to Macau a few years back because of the Venetian. I never imagined that I was able to fulfill that dream seven years after. I was imagining how big is The Venetian Macao hotel to fit in all that was featured on the television and really it was big enough to tagged as the largest casino in the world. Furthermore, it ranked seventh as the largest building in the world and the largest single structure hotel building in Asia. The hotel is a Venetian inspired modeled after its sister casino resort The Venetian Las Vegas. A thorough discussion and more photos of The Venetian Macao will soon follow on a separate blog.
The casino has 3,400 slot machines and 800 gambling tables. For the hotel, it has 3,000 suites and 15,000 seats at Cotai Arena for sports and entertainment events. I love the lobby of this hotel and the Great Hall was just so amazing and so spacious. You can see what I am talking about on my next blog.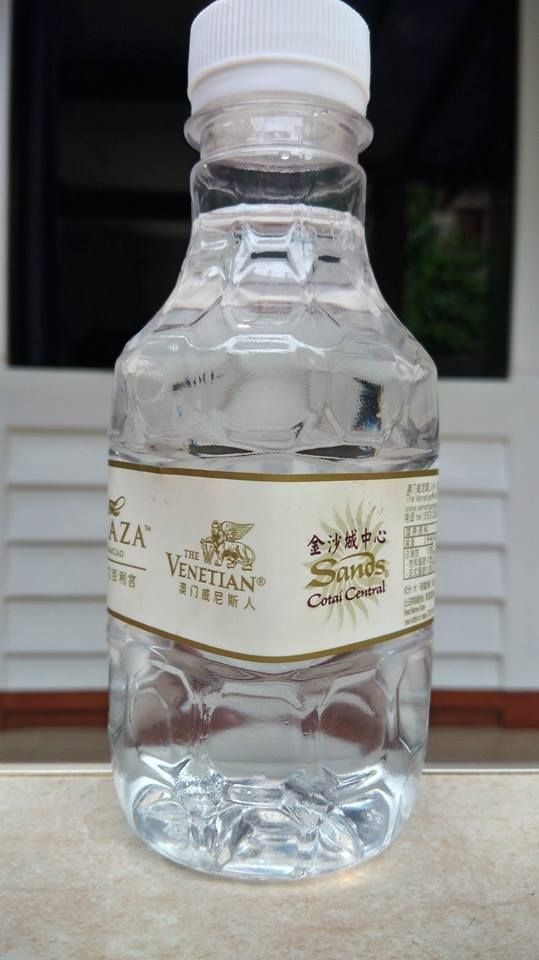 Free Bottled Water / Photo Credit: Dimspy
While inside the hotel small bottled waters are unlimited and I have no idea how many ml it is because details are all in Chinese characters except for the Hotel names. So funny that our tour guide kept on handing us bottled water and hid it in our bags so we can bring it back to Hong Kong for our consumption (I got 12 bottles). Indeed we saved a few bucks for water expenses and we have to consume it before going back home but reserved one bottle that I brought back home for memorabilia and by the way, it is still sealed.
Cotai Strip at Night / Video Credit: Rica Wong via Youtube
Here's a drone coverage of the Cotai Strip during the night were hotel-casinos are beaming with colorful lights that keep Cotai come alive. Not too many lights though compared to Las Vegas but the idea is there to make it look like a Vegas Strip.
END OF HOPPING
Hopping from one complimentary bus to the other and walking from a walkway to another walkway is one exhausting journey but a self-gratifying one. Complimentary buses from hotel-casinos helped a lot in cutting off travel expenditures. Assistance wise we owe it to our fellow citizen who in turn not just our tour guide but been so generous and kind for spending and lending us a hand all throughout the trip. Though we paid her a certain fee for the tour I can still sense the warmth of Filipino hospitality in her. I salute this girl, it's my bad that I can't remember her name - sorry for that but if ever I see her again in Macau, I will definitely acquire her service. I may forget her name but I can never forget the camaraderie she bestowed on us.
Make way to share your travel experiences with us by participating a short survey from Querlo. Feel free to answer the short questions.
The Venetian Macao was the end point of our hotel-casino hopping in Macau. The same endpoint is the starting point of a new blog related to my Macau adventure. For my next blog, it's all be about The Venetian Macao another dream come true for me. So watch out for it.
Thank you for spending a little of your time to read my blog/s. Until next time.
◄►♥♥♥◄►
Other Macau related blogs that you want to read.
For my other rated blogs, you may click my link here.