In the first part of my Cebu's Wonderful Falls, I discussed two waterfalls and those were Kawasan Falls and Tumalog Falls. For the second part, I will be discussing the Aguinid Falls alone since this falls have plenty of photos to share in one blog post. Read through my blog so you will see how Aguinid Falls differ from any other falls.
Aguinid Falls comes from the word "Aginod" which means to go slow. The falls don't have its typical height compared to Kawasan and Inambakan Falls but its solitary charm stands out among the rests that it entices local and foreign tourists to go farther in the southern part of Cebu. Visitors will do a lot of climbing and wading before reaching the topmost level of Aguinid Falls. There are five levels that visitors can go so far in Aguinid Falls but before starting off the level guests are briefed for safety purposes. After the briefing, there is a tourist guide and an assistant that will carry all the guest's belongings before kicking off the trek.
LEVEL ZERO (0)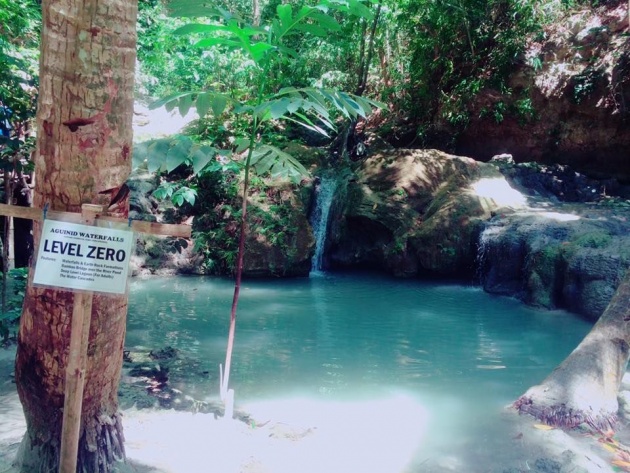 After the trek for about less than five minutes, you will come across the Level Zero (0). The basin is too shallow and muddy so no swimming is allowed. All you need to do is take pictures before going on to the next level.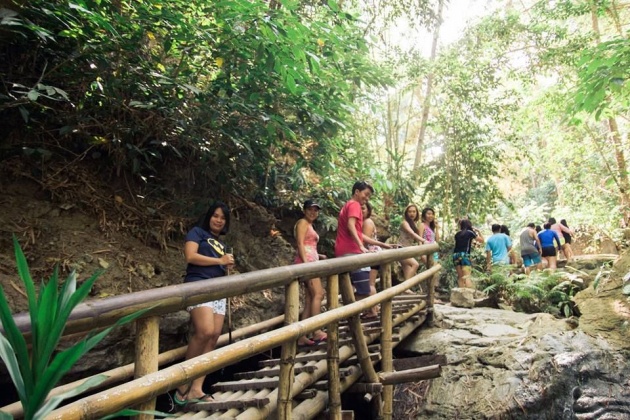 For us to get to the second level there is a bamboo bridge to cross the riverbank. The bamboo bridge complimented well with nature and on the riverside scene thus making our trek more refreshing and enjoyable. It will not take more than fifteen minutes of walking if all you do is purely trekking but if you pause for a while for some photo ops then it will definitely exceed to the estimated time of trek.
Here is a video from Michael Melliza during his trek to Aguinid Falls. You can see in here from the main road where the drop off point of Aguinid. All the description in my photo attachments is shown in this video as well. This video will give you an idea of the trekking that we've been through.
LEVEL ONE (1)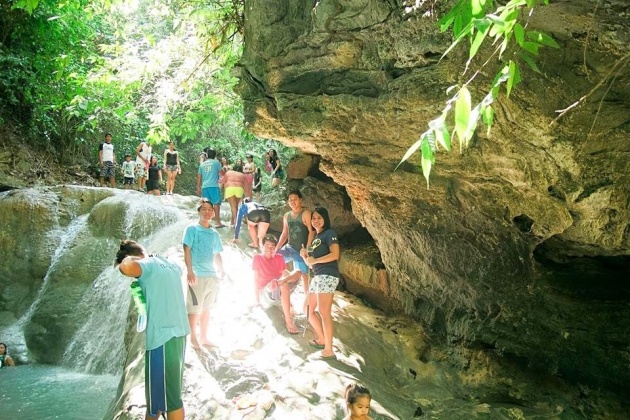 As you go on trekking to level one, you will come across shallow river pools that are ideal for kids and kids at heart to play around. These water streams from the deep pool of the first level of the waterfalls or labeled as Level One (1) and is best for deep swimming and diving. In the photo, you can see an elevated rock on the side of the pool. We opted not to dip because we still have 2 more falls to visit on that day so we just had our group photo instead and carry on to the next level.
LEVEL TWO (2)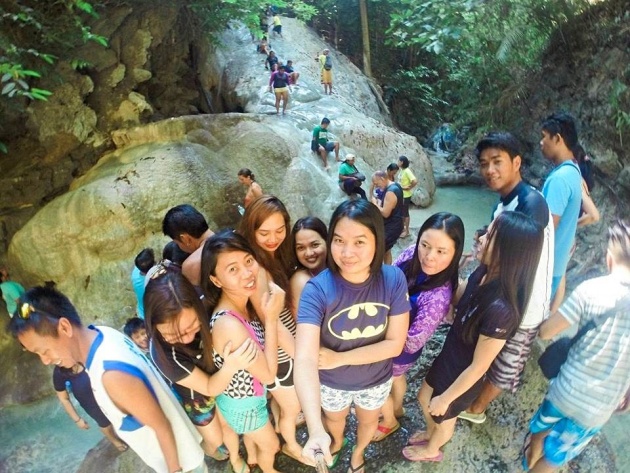 Level 2 / Credit: Joycee Abaquita via Erlin Yen Yu's Fb page
Reaching Level Two (2) was quite a surprise for us. Speaking for myself, this is the level where the adventure begins and daredevil skills are put to a test. Why? Because you need to climb the estimated 100 meters high slippery and steep rock as you can see it at our back in the photo. Grappling with the strong force of the flowing water while having a grip on a rope and setting your feet to the foot holes while climbing is quite a struggle for someone who has not tried wall climbing. Just heed on to your tour guide to avoid injuries and unfortunate incidents. How to descend from the rock is simply to sit on the rock, both hands at the back for support, move your ass as you transfer your feet from foot holes to foot holes. Those people who were sitting on the rock are guests descending from the second level of the waterfalls.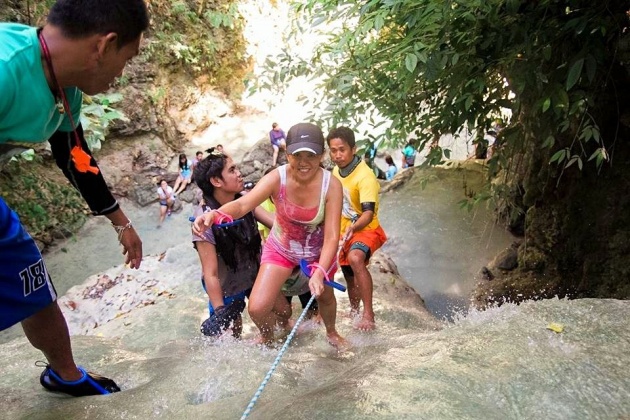 Level Two / Credit: Joseph Bacalso via Erlin Yen Yu's Fb page
All smile for me! Thank goodness I made it to the top of Level Two. It is easier to climb the rock on bare feet. The man in green is the tour guide who went up beforehand and normally climbed the rock without the aide of the rope. One slip from this climb will definitely give you one serious injury or one fatality.
LEVEL THREE (3)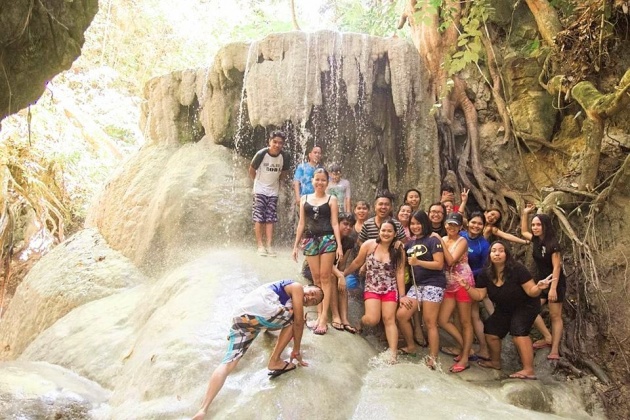 After a few minutes of trekking in the woodlands, we finally arrived at the third level of the waterfalls or Level Three (3). For me, this is the most remarkable level of Aguinid waterfalls or shall I say one of Cebu's Wonderful Falls. How naturally and beautifully these rocks are carved where you can tuck yourself behind the flowing water and hid under a curtain-like cavern.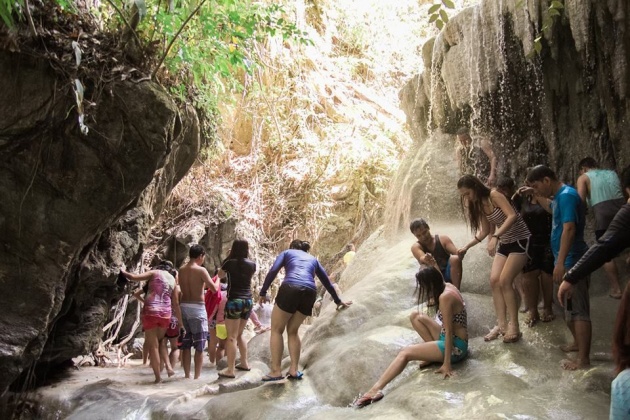 You may find the third level as the end of our journey but mind you behind these rocks is a small channel for a more adventurous way to the fourth level. In the photo, we head ourselves to the small channel situated in the moist saturated soil with visible roots of the tree.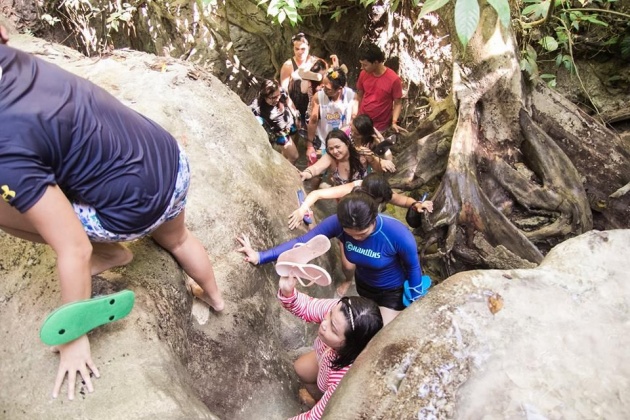 Rock climbing is what this whole adventure is all about. This is how the small channel looked like. Impossible to climb at first glance but very much possible on bare feet. The rocks are quite slippery but local made handholds are discreetly available for a much easier climb. Literally, it's one hell rock climbing!
LEVEL FOUR (4)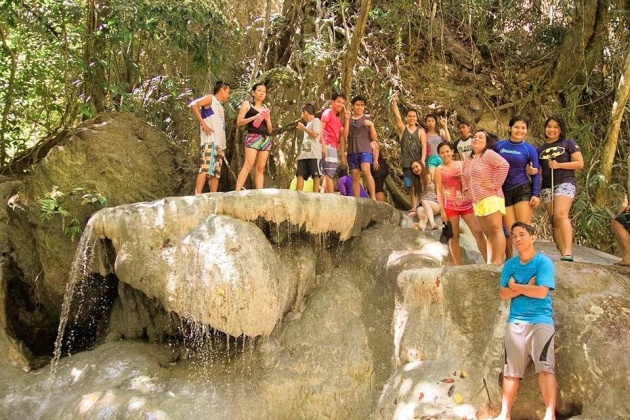 After the literal rock climbing, we finally reached Level Four (4). The water flows down on a basin with a 6 feet deep where cliff jumping is doable. Nothing much to do here but to jump and swim. Of course, I won't let the chance slip by without having a first-hand experience.
LEVEL FIVE (5)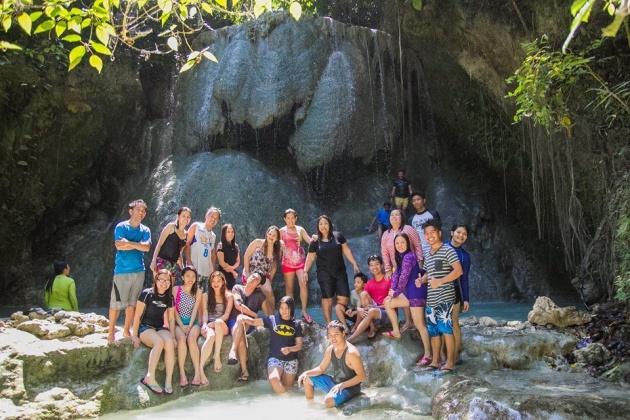 And the most awaited level of the journey is the fifth level where the crowning glory of Aguinid Falls situated. A curtain draped-like cavern on top with a stunning rock formation as its entirety. Below is the turquoise water having a waist to chest deep and obviously diving is prohibited. You can climb up on the rocks or have a fish spa from where we seated. This isn't the last level of the waterfalls as per our tour guide. Three more levels are up but not for viewing. Soon, those remaining levels will be available for guest viewing after a thorough inspection. Well, that is something to look forward to.
Another video from Philippine Dreams during his trip to Aguinid Falls. He will show you from the drop off point to the brief station, the briefing, the trek starting from level zero up until the fifth level of the Aguinid Falls. It will also show you how he descends from the second level of Aguinid.
IT's A WRAP
And that ends my rock climbing adventure in one of Cebu's Wonderful Falls: Aguinid Falls. Exploring every level of the Aguinid Falls is something that Mother Nature is skillfully made this place a wonder. You are truly one with nature as you go through each level of Aguinid Falls and will truly make you fall naturally.
Stay tuned for my next blog for more Cebu's Wonderful Falls. Until my next blog.
* * * ♥ ♥ ♥ * * * * * * ♥ ♥ ♥ * * * * * * ♥ ♥ ♥ * * *

Thank you for reading my blog. Until my next blog of Cebu's Wonderful Falls.
You can read part one of Cebu's Wonderful Falls on the link below.

* * * ♥ ♥ ♥ * * * *
For more travel blogs you can visit my page Dimpsy.

* * * ♥ ♥ ♥ * * * * * * ♥ ♥ ♥ * * * * * * ♥ ♥ ♥ * * *