Photo credits: stratospherehotel.com
Valentine's Day is a day of love so on this day, everyone should just be happy and spread love all over the world.
Valentine's Day is not really that special for me because me and my boyfriend, we are like having Valentine's Day every day. Most of the people might have went out with their boyfriends on a date somewhere. Some may have gotten fancy surprises from the people they love. Some may have received bouquet of flowers and bunch of chocolates. But, for me, I won't be able to do that. Because, as far as you know (if you have been reading my blog posts) I am in a long-distance relationship.
Photo credits: creativehomekeeper.com
So, yes, Valentine's day came and I can see people posting on facebook about the surprises they have gotten from their loved ones. And you know what? Even if my boyfriend is thousands of miles away? He was still able to send me something for Valentines. And that is just so sweet of him. It was my first Valentine's that someone gave me something to celebrate it with.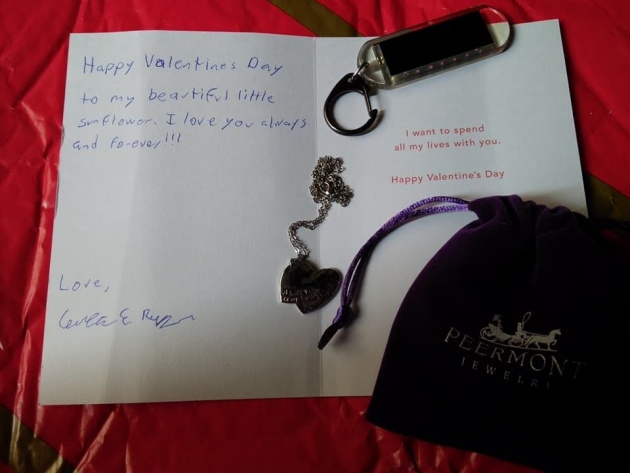 Photo credits: Pumpkin642016 via Facebook
WHAT DID I RECEIVE?
I actually got his gift a little earlier. I got it two days early from the actual Valentine's Day. I got so excited and rushed to the post office to get the item. And, when I got it, I hurriedly went home and opened it. It has a necklace (the necklace says "I will hold you in my heart until I hold you in my arms").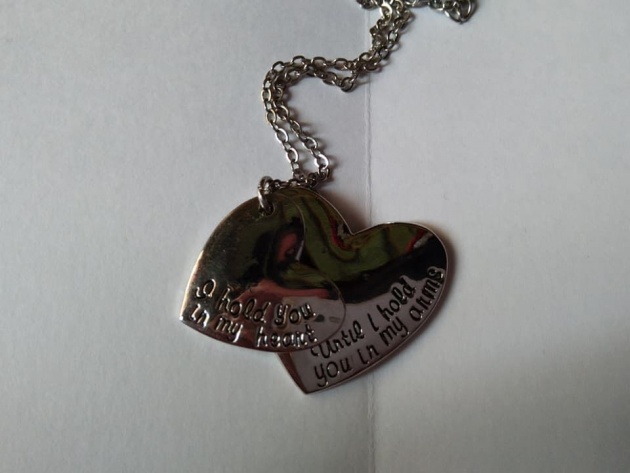 This is the picture of the necklace :)
Photo credits: Pumpkin642016 via Facebook
It also has a keychain that has his name on it. He got it from his visit to the "Tower of the Americas" the last time he went there. He was about to get me something that have my name on it but, unfortunately, they do not have it available that is why he just went on buying that one with his name on it.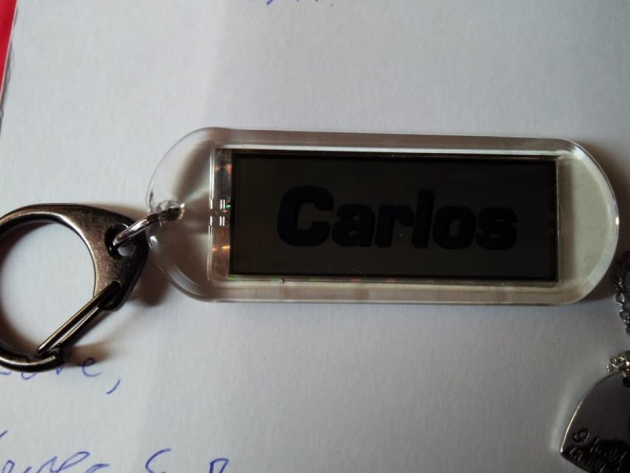 FRONT :)
Photo credits: Pumpkin642016 via Facebook
BACK :) (It has the Tower of America picture in it)
Photo credits: Pumpkin642016 via Facebook
Also, I got a valentine's card from him. The thing that I love most about it is that, the picture in front is a picture of two cats hugging each other (we are both cat lovers <3)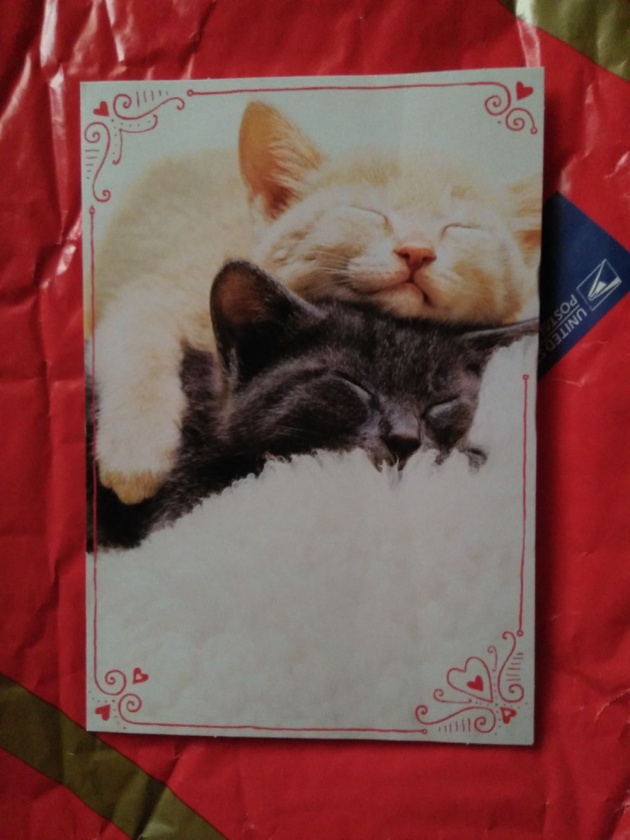 Photo credits: Pumpkin642016 via Bitlanders
And of course, the highlight of everything, I got the replacement of my phone screen (because I dropped my phone a month ago and the screen was just SOOOO BROKEN).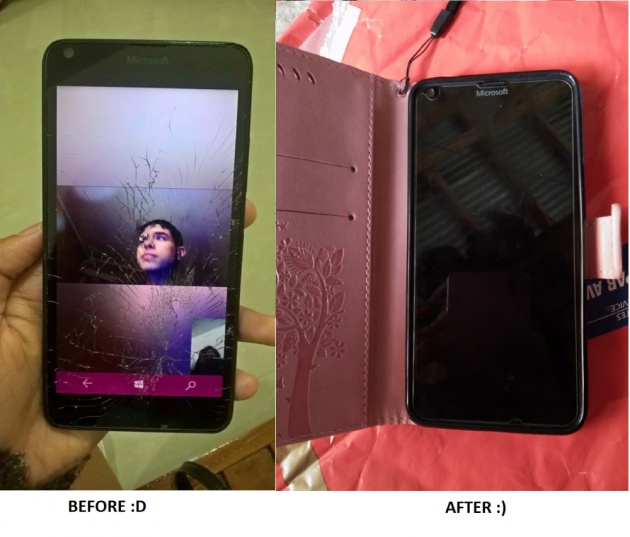 Photo credits: Pumpkin642016 via Facebook
WHAT DID WE DO ON VALENTINE'S?
Well, yes! Let us get into the topic. What we did? Well, basically, first thing that we did is fix my phone. And, guess what? He let me fix it myself. At first, it was easy (getting the screws off) but, when it was time to replace the screen, it was getting difficult that I almost gave up. I was really sweating trying to fix it and not mess everything up because this phone has a sentimental value to me (since this is the first package he sent and this has been what connected us for almost two years now). He was just there on Skype while I am doing it. He was guiding me all the way and he was motivating me to do it. He even told me,
This is what you should be thinking before you drop the phone again.
And I think that was funny but yes, he is right. And finally, I got my phone fixed! I got really so happy because I missed my phone.
This is a video clip from the screen video my boyfriend did when I was fixing my phone :)
Video credits: Pumpkin642016 via Youtube :)
Second thing we did on Valentine's Day is that, we had a MOVIE DATE! You might be thinking,
What? Movie date? How did they even did that when they are from the opposite sides of the world?
I do not blame you because I have questioned that myself, too. But, we did it! We went on a movie date. We had the skype call on, I got the movie link ready, I shared my screen to him so he will be able to see and hear the same thing I am watching. And that's it! That is how we did our Movie Date. It wasn't really new to us because we have been doing it every time we have free time. The movie that we watched was "Love You To The Stars And Back". It was a very GOOD movie. I even cried in the last part and my boyfriend just laughed at me :D
Photo credits: rebloggy.com
Just a small tip for everyone ... :)
So yes, enough for that. Now, let me give you few tips on how to be happy on Valentine's Day. :) I decided to write this added to my blog post since, last February 14, my friend was messaging me and she was so heartbroken that day because she is jealous with the things she see on facebook. And I was giving her some advices and I will also be giving you those advices as well. I am not a good in giving advices, actually. But, I will still be giving you some anyways. So yes, Valentine's Day is not just for lovers, couples, boyfriends-girlfriends, or people in a relationship. Even if you are single, you can still be happy on Valentine's Day because, a lot of people loves you. I might just want to use those stuff that I see on facebook, I won't be bitter instead, I will see those as a motivation and one bullet in my bucket list. Be happy because there are still a lot of people that loves you – you have your family and friends. I saw this commercial on Jollibee that really inspired me and I will be sharing that inspiration to you, too.
This is the video I was talking about. One of Jollibee's commercials :)
Video credits: JollibeePhilippines via Youtube
So, even if you are single on Valentines Day, BE HAPPY! Because one day, when that perfect man comes along, you will be experiencing those not just on Valentine's Day and that would be a magical moment.
Photo credits: tumblr.com
Just some last words before I end my blog, to those who are in a relationship out there, keep your love always alive and to those who are single, keep your faith alive. :)
How did you guys celebrated Valentine's? Did you receive something from your special someone? Let me know in the comment section please.. Let's have a little chit chat :D