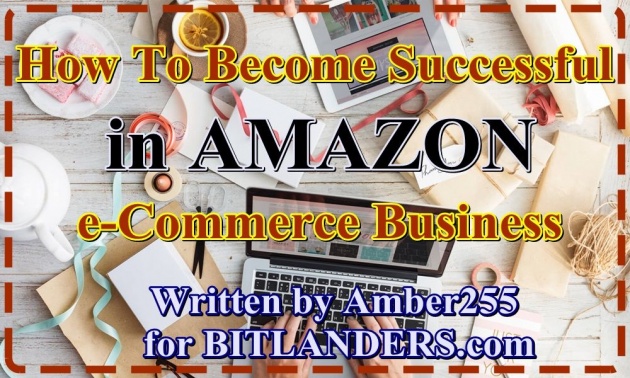 How To Become Successful in Amazon e-Commerce Business
Photo credit: blog-roarapp.io Edition by Amber255 via Bitlanders.com
Greetings! Not long ago I wrote a blog about First Steps To Starting An Online Store. It was impossible to add all my knowledge to one blog. I want to separately describe each of the most popular e-commerce business platforms. In today's commercial world, selling products online is an easy way to earn passive income, and you even do not need to have created your own product. Today's theme for my blog is how to become successful in the Amazon e-commerce business.
I think Amazon is the greatest start-up and the greatest company in the world. The way they are using new technologies is not just disrupting retail, it's getting ready to disrupt everything. - Mark Cuban

Credit: brainyquote.com
Today, Amazon e-commerce platform allows the fastest and easiest way to reach a large audience of consumers and does not require almost any initial investment - you can start your business at this platform with a few thousand or even several hundred euros. Today let's talk about Amazon e-commercial platform, how to become successful there, how to reach a large audience of consumers in the fastest and easiest way?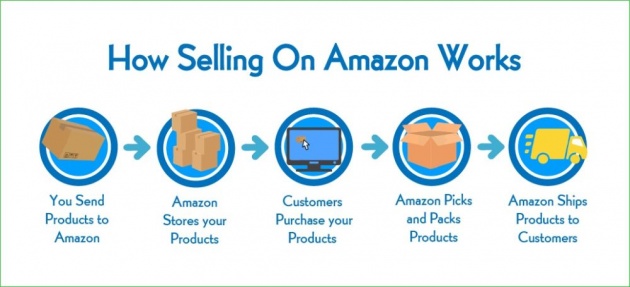 How e-Commerce Business Works on Amazon - Photo credit: on9adviser.blogspot.com
The Best Place To Start e-Commerce Business
The various ideas are circling in different people's mind. It is said that in the minds of business people, one idea better than the other how to earn money are circling in the head all the time. However, not everyone is determined to start his own business. It's not like getting a job in a new company or changing your job profile. Almost every new business is tortured by ignorance, there arise various questions - from what to start, whether a business will be successful?
Choose not a platform for business, but create products for the platform. With the usual business model, people first create their product and then look at where and how to sell it. Well, if you want a quick business, look at products that are already popular, upgrade them or create similar but better ones and bring them to the market next to the previous ones.
While reading my blog about How To Become Successful in Amazon e-Commerce Business, please, check the QUERLO CHAT:
If you are not Chinese-speakers, then the Amazon is the best place to start an e-business in the field of commerce. After all, Amazon provides plenty of data for the products you sell for free - their ratings in the relevant product category, customer feedback, competing products, etc.
To trade in Amazon, it's enough to have a bank account, credit card for one of the major systems (Visa, Mastercard, Amex, etc.), email, and internet connection.
If you already have your own product, first investigate how similar products are sold on Amazon and how different they are. If the product rating is good in the main Amazon category, you can try it. If there are no similar products or their ratings are low, it's better to choose another item.
Start Business on Amazon e-Commerce Platform - Photo credit: facebook.com
How To Start a Business on Amazon e-Commerce Platform?
I will add one simple example that really will be easy for the starters. Choose to trade in the Amazon FBA platform. The Amazon FBA is an awesome and highly profitable business model. FBA means fulfilled by Amazon. Amazon stores your products and whenever someone buys your product, they pack your product for the customer and send it straight to the person to his home. This business model requires start-up capital, but it is closer to passive income.
You must initially have a market analysis. There are two ways to do it: do it yourself manually, but it will take much longer to analyze the market, or you can buy a simple Jungle Scout application. I personally use the gadget, and it saves me many hours because it shows various statistics and filters Amazon products according to my chosen parameters.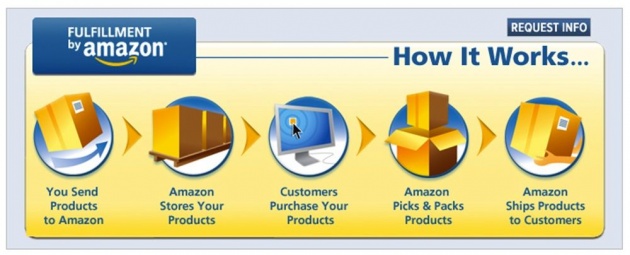 How the Amazon FBA Works? - Photo credit: Screenshot via Amazon.com
Now, I'll explain how to analyze the market, and what to look for. You must find a product that was sold about 3,000 per month, and the product should have as little feedback as possible (reviews), but it would be better if it has fewer than 100.
I turned on my Jungle Scout application and made a picture with an example. I decided to look for a hammock for cats. If you think who would buy such nonsense, so I would suggest looking at the first two results, and that's just from one product.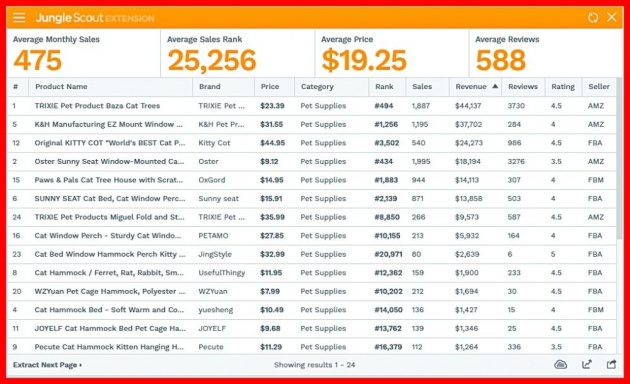 The screenshot of product analysis on Jungle Scout application - Photo credit: Amber255 via Bitlanders.
You can see that it really sells more than 3000 times and there are people with fewer than 100 responses on the first page, so I'll explore this product below. Need to read all the good reviews and all the bad ones, then write everything on the page. You have to analyze this information, understand what people want, what they like or do not like and create a better product than your competitors.
Product Creation
You will need to go to Alibaba and find a supplier who will produce the product according to your requirements. On this page, you can actually find any item you want to, but you have to choose a supplier that you can trust. For some manufacturers Alibaba gives a guarantee, that is, if the parcel is lost or broken, they will cover all your losses.

The screenshot of product analysis on Alibaba online store - Photo credit: Amber255 via Bitlanders.
When looking for a supplier, always check the following boxes in the search box: (trade assurance, gold supplier, asserted supplier). I would suggest contacting as many producers as possible and choosing who speaks well in English and often adds photos/videos to your questions.
How to Find Products That Sell on Amazon - Video credit: RyanMoran13 via Youtube.com
Amazon Search Engine Algorithm
All successful Amazon FBA traders manipulate the Amazon algorithm and then appear on the first products page. With around 2.6 billion visits per month for Amazon, tens of thousands of people are seeing your product.
There are several things that the Amazon algorithm is looking for:
It is important to name the product, add the title.
Create a good quality description and pick the keywords people are looking for.
Add high-quality photos that are meeting Amazon standards.
Add people's feedback: the more you have good reviews, the higher the Amazon puts you in its search engine.
Add the number of sales in the last 7 days.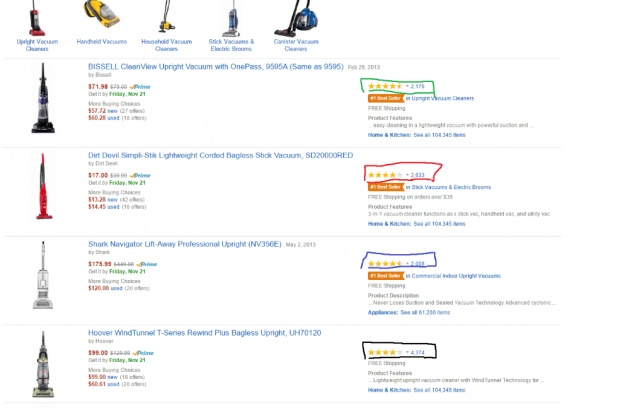 Understanding Amazon Algorithm - Photo credit: freewechat.com
Usually, people just manipulate the algorithm and then get up to the first page. For example, to collect feedback from people, they log in to various Facebook groups (Amazon reviews) and distribute products for good reviews. This kills two bunnies with one shot! In the algorithm, it's seen that there has been a lot of sales in the short term (the goods are actually sold for $ 1 or more). That is why Amazon is starting to push up such people's products to the top of its search engine. I know that people are trying to get good feedback, others even hire the employees who call the customer and ask them to leave a feedback.
For example, they call and ask whether or not you received the parcel, whether everything is in order and also they are asking whether they can give a discount coupon. If a person agrees with everything, then he is asked to leave a good testimonial and send an email with a coupon and a link to the product where the person can comment.
There are more passive ways to get more good feedback, such as inserting a business card into the package. There is a link on the card. Opening this link, a person enters his or her e-mail, and discount/tips and the link to the product, where he can give the feedback, is sent automatically.

Zero To $1 Million On Amazon In 12 Months - Video credit: RyanMoran13 via Youtube.com
The Most Common Mistakes of Marketing in Amazon e-Platform
A successful business is impossible without risk. Do not be afraid to take risks getting out of your usual comfort zone, as this will only help to achieve the highest results. But do not forget that the risk has to be calculated. Always calculate all pluses and minuses and weigh risk opportunities before making a risky decision. Never invest in where you see the probability of failure.
The most common mistakes are the inability to choose the right products, insufficient attention to product quality and customer service, the Amazon system ignorance, thinking that after the product is announced, the buyers themselves will come.
The knowledge of the basics of marketing psychology would be useful also, and these could be acquired at Amazon courses. Many mistakes are made when choosing a product manufacturer.
Using Alibaba, the product today can be found anywhere in the world, but most likely in China. So you need to learn how to communicate with business partners with different thinking and habits and build long-term business relationships with them.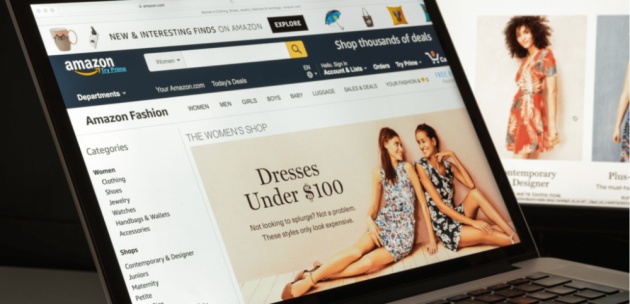 Selling on Amazon e-Commerce Platform - Photo credit: room214.com/blog/
It is not advisable to engage in Amazon algorithm manipulation, especially through third-party services offered when purchasing customer feedback and artificially raising product ratings. Such sales agents have become particularly active in the United States in recent years, but Amazon has begun an active fight against manipulation, so your product or even the entire Amazon account can be quickly blocked. I somehow think that in the near future, Amazon will create an algorithm update similar to the Panda and Penguin algorithms used by Google in its time to clean up its system.
If I could start marketing on Amazon for the new, I would focus more attention on choosing the right products, I would not afraid to make more mistakes, and learn more quickly from them. I would create quicker and expand other sales channels in addition to Amazon using social media.
Investing In Studies
If you are considering the possibility of marketing on Amazon e-commerce platform, first of all, study the Amazon e-commerce platform using high-quality course materials, but avoid business gurus, whose sales of products on the Amazon platform are less than seven digits a year, and preferably not from a single product.
If you, like me, are living in EU, I suggest starting with Europe: amazon.de and amazon.co.uk are managed at a single European expense. These markets are far less competitive than the US platform amazon.com.
Nevertheless, there is always the need to examine what is the perspective of the products you are ready to sell, as this may vary considerably from one country to another.
Study the Amazon Selling Platform Basics - Photo credit: blog.markgrowth.com
The successful trading on the Amazon e-commercial platform requires a thorough study of the system itself, which can be done through a wealth of online training. Some of them are free, and others can cost a few thousand dollars. The next your step is to choose the right product and start selling it.
For anyone looking for money to fund the starter, I would advise you to spend time on the Amazon e-commercial platform study. It's possible that after six months or a year, having reached the success on this platform, you will be able to finance not only your own but also the starters of friends.
On the Final Note
I don't remember who said that the day we stop learning, we also stop to live. If you want to become successful, you have to study every day. Successful individuals must continually learn new skills and techniques that will help them achieve new professional and personal goals.
The only ambitions will not help, knowledge is needed always.
First of all, you need to try to solve the problems of clients in their most convenient and best way so that customers will be satisfied with your sincere work. Only then can you think about profits. You must understand what the customer really needs to be happy. A satisfied customer always returns, usually bringing some more customers after himself.
Many of the cool business ideas were not recognized because people simply did not need it. When analyzing your idea, look at with the customer's eye: do you or your competitors would buy such a product or service?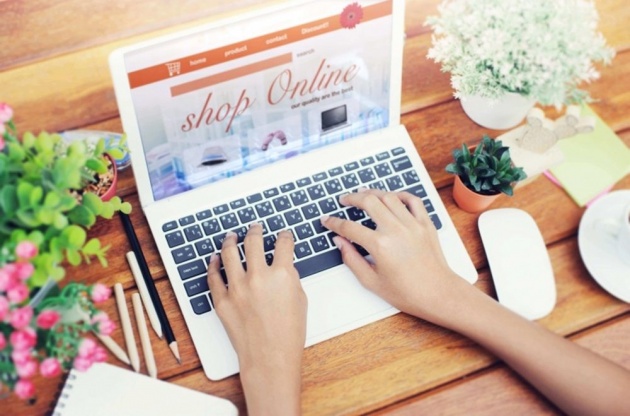 Start a Business on Amazon - Photo credit: worldfirst.com/au/blog/
If the answer is yes, then the market needs you. But do not forget - there is anything steady, so blindly do not trust the current wishes of buyers. An intelligent businessman predicts how the market may look like after two or five years, so be smart - live at current, but think about the future as well.
We've had three big ideas at Amazon that we've stuck with for 18 years, and they're the reason we're successful: Put the customer first. Invent. And be patient. - Jeff Bezos, founder and CEO of Amazon

Credit: businessinsider.com
I WISH YOU A BIG SUCCESS!
***************************************************************************************************
Thank you for stopping by and reading my blog.
2018, All Rights Reserved.
You are very welcome to join Bitlanders and share your valuable knowledge and opinion.
***************************************************************************************************
You can check my another blog on this theme:
1. First Steps To Starting An Online Store
Come back to find more...
***************************************************************************************************