Facebook page is one of the biggest platforms that is used by many people. These pages are used for different purposes. Some people use facebook page for advertising their products, some people use it individually for making money. Nowadays facebook pages are used for online shopping. This is the biggest advantage of a Facebook page that anyone can run his/her own business through Facebook.
credits: https://www.metcrypto.com
Facebook is no more a wastage of time; you can do a lot more things with it. Many freelancing sites also offers Facebook page managing jobs. Creating a page is much easy but managing that page is the most important things. I will tell everything about page management in this blog. I hope it will help all those who want to run a facebook page successfully.
Step#1: Choosing the category o page you want to create
First of all, when you go for creating a page, Facebook asks you the about the type of page you want to create. It will give you two options: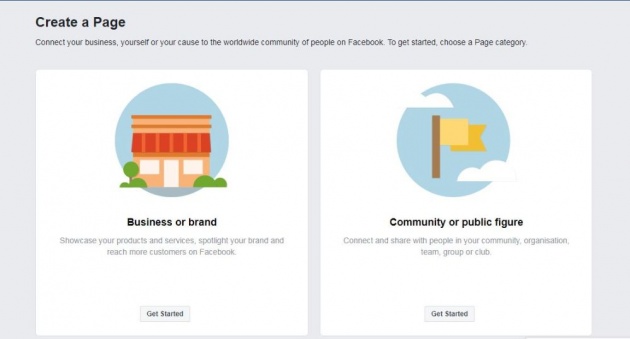 credits: Kiran Abid
Business and Brand
If you want to run a page that is related to business or some brand, you should choose this option. This facebook page will allow you to promote your company, business or brand to lot more people.
Community or public figure
Secondly, if you want to run a page for connecting with your community, group or friends, you should go for that option. Besides that, if you are a celebrity or a public figure, with whom his/her fans want to connect you can use this.
These are the type of pages facebook provides his users. Now, coming back to page management. After creating a Facebook page successfully, how to manage a facebook page? How to control your page?
Facebook Page Management
Managing your page is very important because you must have control over everything you post on your facebook page. Settings should be changed in order to get a professional. Let's see how to manage a facebook page.
How followers/ customers can contact you on the facebook page?
After creating the page, setting up information about your page is necessary. Shown in the image you can add all the general information related to your page and business in the tabs. You can add your phone number and email also so that customers can contact you easily.
credits: Kiran Abid
There is an interesting option for people who can't stay active 24 hours of a day. You can manage the hours or days to stay active so that only during these hours clients can contact you. If you want to be off during Sunday, it is also manageable. Facebook allows you to do everything on your page, just explore and you will be shocked. Facebook Page management will make you calm and relax.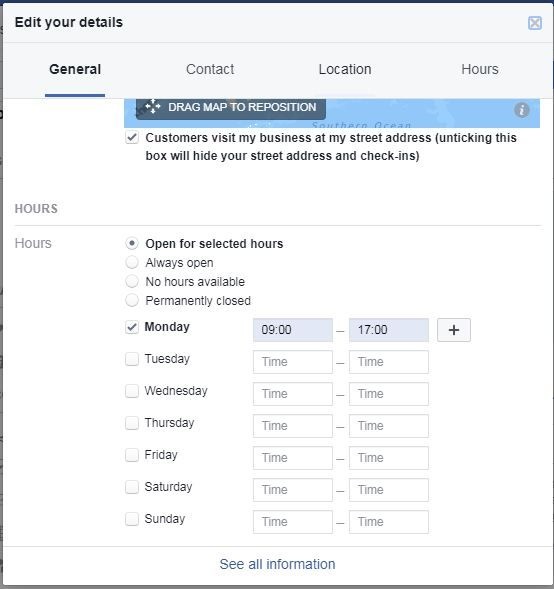 credits: Kiran Abid
Advance settings in Facebook page
I tell you about the general settings of the Facebook page. Now let's move towards the advanced settings of a facebook page. Going to the tab of settings and you will see that stuff.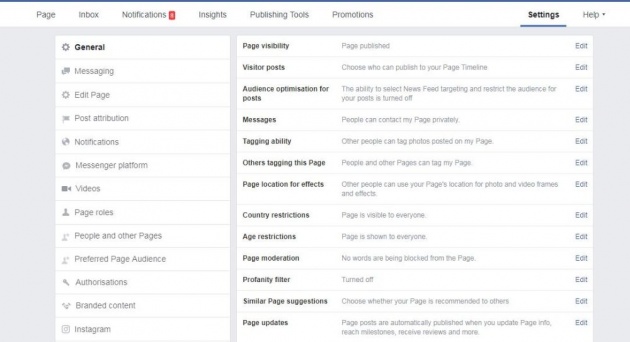 credits: Kiran Abid
There are many options given right in front of you. But I am going to discuss only a few essential options. Let's discuss some important options one by one.
● Page Visibility
Page visibility is an exciting feature provided by Facebook. It is used when you want your page to disappear from all the people. Whatever the reason be you can hide your page from everyone for a limited time. Whenever you want to connect again with the audience you can publish your page.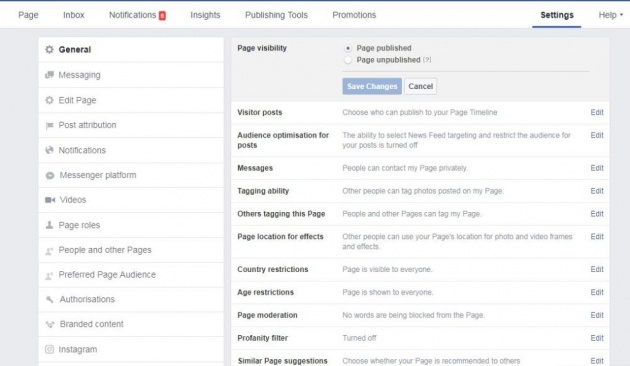 credits: Kiran Abid
● Visitors Posts
This option is for having a check on visitors that visit your page. You can easily control who can post on your page. Facebook also allows you to first review the post and then post. It makes page management much easy.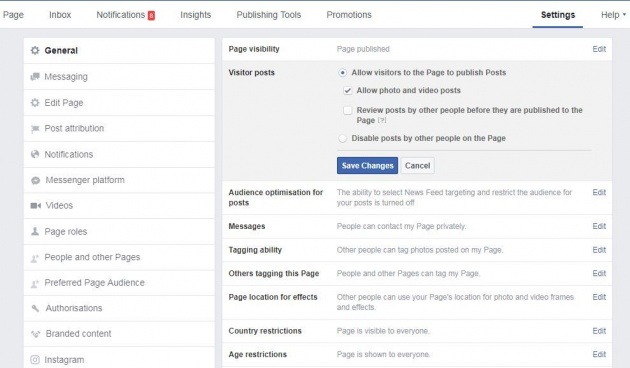 credits: Kiran Abid
● Tagging ability
This feature allows you to control who can use your posts. Users can post or share your content on their profiles.
● Others tagging this page
This option is used to allow others to post your whole page on their profile. This option is very beneficial because due to this your page reaches increases.
How to assign Page Roles?
A company creates its facebook page to connect with its customers, the company need someone to manage its page. Many freelancing sites offer facebook management jobs in which they give you access to their page and in return, you have to manage the page.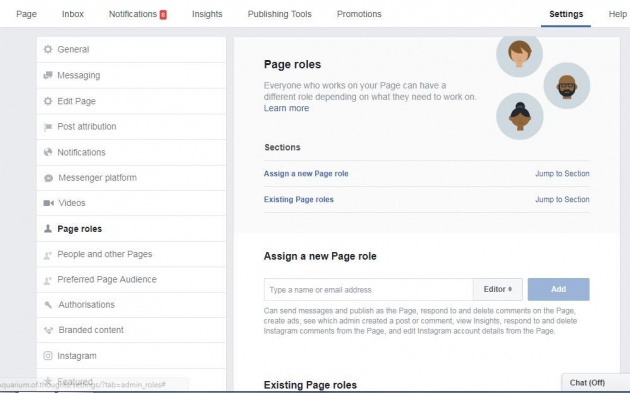 credits: Kiran Abid
Page Roles
Facebook provides a feature of page roles in which you can give limited access to employees depending upon the type of role. The type of role defines the job you can perform on Facebook. As shown in the figure below.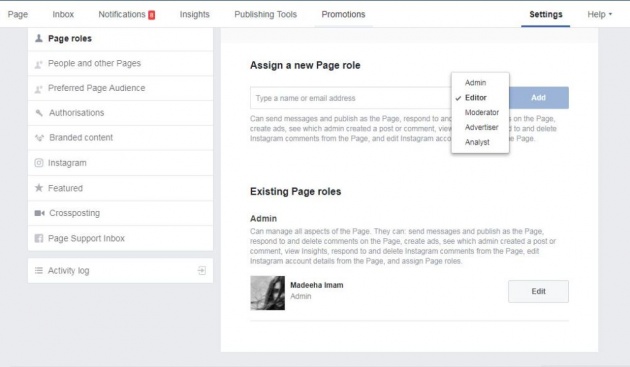 credits: Kiran Abid
There are different roles and each role has its own functions. Different functions are assigned to employees by giving them roles.
● Analyst
An analyst is the one with whom the company gives all its data for analyzing. He can analyze data on facebook but he is not allowed to edit or post something.
● Advertiser
An advertiser is a person who made an advertisement for the company. He is also responsible for showing it to the customers.
● Moderator
Moderator is also a role on the facebook page. This role is only allowed to see posts and comments. He can't post anything but can delete unwanted comments.
● Editor
The editor is a strong role of a Facebook page. He has Rights of posting, editing and access to data. He can post anything and also edit whenever he wants.
● Admin
Admin is the boss of the page. He has all rights like assigning roles to each and everything. Admin has all rights and only he can delete the page. He can do whatever he wants.
This feature of Facebook makes your work easy. If you don't have time for editing you can hire an editor for keeping your page active.
credits: Ranking Academy via https://www.youtube.com
These are some basic and general settings that you can follow to manage a Facebook page. I hope it will help you in running a page successfully.