If given a chance, I would like to work from home and spend the whole day at home but then, being a home-based person will also bring the boredom out of me. I can tell this because I have been into home based jobs for six months and I can't take the loneliness so I would prefer a home-based plus an office as an option kind of work. That is really cool I guess.
But actually, this is already an option for me, as my job would allow me to work during weekends at home as an additional income. However, for weekdays, I have only tried to work at home once. It would be cool if I can just call our manager and tell him I would just be staying at home at this day and I'll work there but again, I have not accommodated enough courage to do so. And that's okay. Because there are certain times where going to the office is really needed especially when my boss would be treating lunch for free.
And so because I am a sucker of free stuffs, free food at the office, free drinks, free coffee, free tea, free snacks and most specially free lunch. This is not a regular free lunch but it is a free lunch buffet! And I can't miss that most especially when the location is a "bloggable" one. Yes, bloggable in a sense that it is a newly opened restaurant and that it is my first time to go there. I would only be willing to go to these types of dining restaurants when it is given for free so yeah, I had to go.
So where did we dine in?
VIKINGS CEBU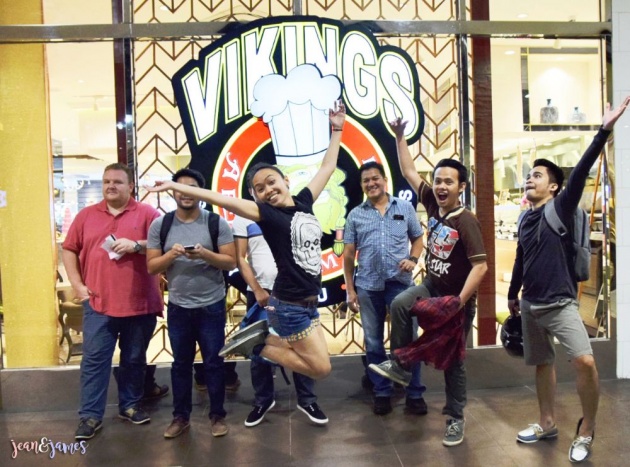 Caption: The colleagues were full but was still able to do a jump shot here, taken when we were about to go back to the office.
I have only heard of it when a vlogger or video blogger I have subscribed to featured it. Will Dasovich, a fun cool Fil-Am guy had a specific video blog about it and referred it as the best buffet he had in the Philippines. So when I had learned that we are going to this new branch in Cebu, I don't just want to miss it so I went to the office very early for it.
Call time was at eleven in the morning which for me is a very early time for lunch but nonetheless, I had to make the most out of this experience. At the back of my mind, it is something which I need to document for two reasons:
1. For blogging purposes
2. For office documentation
So I brought our camera with me and had to take photo of every inch of the said restaurant.
FIRST IMPRESSION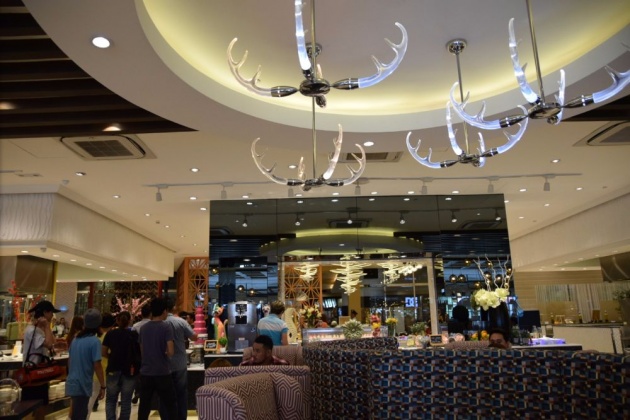 Caption: Just one of the areas facing the fondue and desserts. There are different kinds of chairs and tables.
This is my most anticipated restaurant because of it being a luxurious buffet.
I didn't check their website so to ensure that my review won't be influenced by its marketing strategies online so I only heard it costs 900+ Philippine pesos per person that time and I was like shocked to know that because, let's be honest, no one can eat 900+ Philippine pesos worth of food in one dining like seriously that will be gluttony for sure.
Well perhaps someone can, if they'll be dining at a five star hotel or so but for one person, that would be too much. I can actually be full in less than a dollar meal but that would be in a local food stall.
Anyway, Vikings Cebu Luxury Buffet is located at the second level of SM City Cebu beside Forever 21. Their lunch buffet starts at 11 in the morning until 2:30 in the afternoon. They also have dinner buffet which starts at 5:30 in the afternoon and ends at ten in the evening.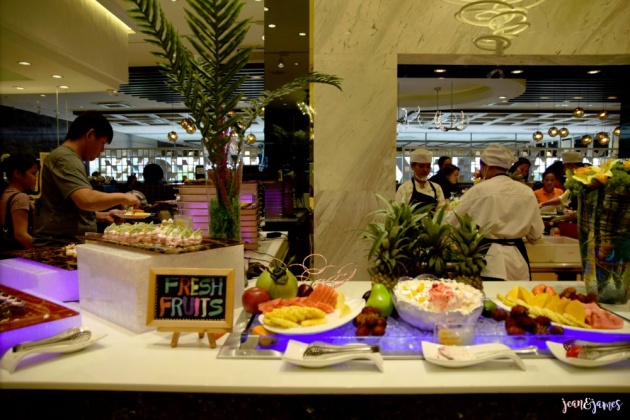 Caption: At the fresh fruits station, visitors, guests were all busy picking up the food they want to eat.
I was imagining a few heads around but man! I was totally wrong! There were lots of people already around in fact, if we didn't get a reservation, we would definitely have a hard time looking for a table which will accommodate all of us in the team. I had to take advantage of the thought that I had arrived earlier than the others so I had the time to take photos of the place, the food which by the way were already half empty but they'll be adding more while the buffet is going on. I get to also check around the stations and find what the available foods were offered.
The interior design is a hit for me. I love the fact that there were vibrant colors all around, the chairs have different variety of designs and colors, there's contemporary design. I love the patterns, colors as it gave a youthful feel for me and although the room isn't that too spacious because the tables are almost close to each other, I can't believe it can accommodate 350 diners! They had definitely made use of the area to its finest.
Oh! I also had passed by a specific empty room at the left side of the restaurant. I was wondering why it was empty but later learned it was one of the two VIP rooms for those who would like privacy. The big room can accommodate 20 heads while the smaller room can take 10 persons. Actually, I like that they have given that option too specially when there are meetings being held there.
EAT LIKE A VIKING!
After getting around and got all the photos I needed for documenting, I had to start picking up the food that I wanted to eat. In my mind, I would need to try those which I had not yet tasted in my life or that of which I rarely eat.
But why do they always say eat like a VIKING? Even their table paper mat says that:
Vikings are distinguished as those who wore bear or wolf skin and howled in battle like wild animals. Movies like How to Train Your Dragon, A Viking Saga: The Darkest Day and Outlander show Vikings as wither the villain or the main characters of the movie. One of which can be easily point as an example is Thor which is believed to be one of the Viking gods.
These kinds of people eat a lot, like heavy meals and so the Vikings Luxury Buffet Restaurant was created. So now, join me as I eat like a Viking too!
First Plate
Since I am not used to eating at buffet restaurants, I don't have an idea as to what's the first kind of viand that I should start with. But my close friend who usually visits one suggested, we should take the Japanese stuffs first.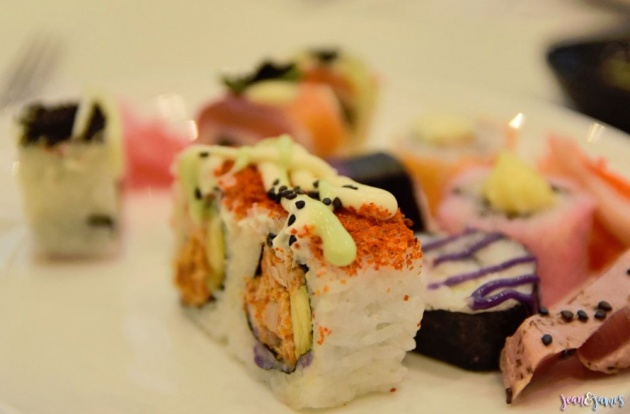 So I was influenced to take the Japanese foodies first.
Different kinds of Sushi and Maki. I can't really recall which is which but I know that the California Maki was good! The one focused in the photo above was really spicy I have to give to my colleague the other half. Oh the pink sushi was good too! Plus we ordered Tempura was really delicious.
The pink colored thin sliced ginger was also good! I definitely enjoyed my first plate! Also, I had learned that we should try to avoid drinks which will easily make the stomach and fool the brain that you are full.
Second and Third Plate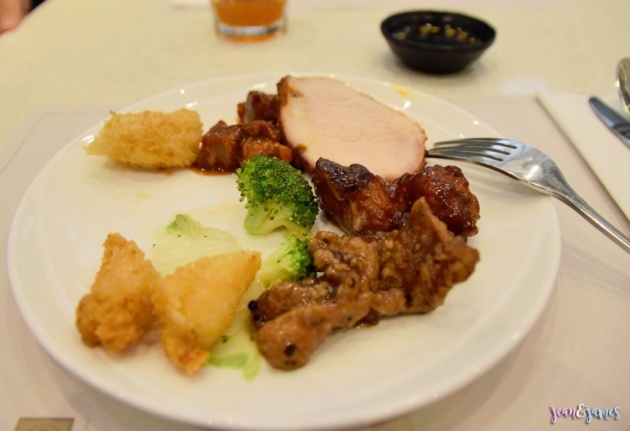 This time, I took the meat options. I asked for beef steak, I had some spicy chicken and deep fried fish. My plate do looks half empty in here but believe me, I had eaten a lot and these was just a late photo. Notice that I had also added some vegies to it so to neutralize my meat intake.
One plate was not enough so I had to take another plate with almost the same kinds of food, maybe I had added a few Chinese and Thailand types.
This part, I was already feeling full so I had to pause, talk and laugh to burn the ones I had eaten.
Fourth Plate
I went Italian and got a few kinds of cheese, slices of pizzas, note there were lots of different kinds of pizza, one I can remember was a four cheese then there was also mixed vegetable pizza plus an all meat kind too!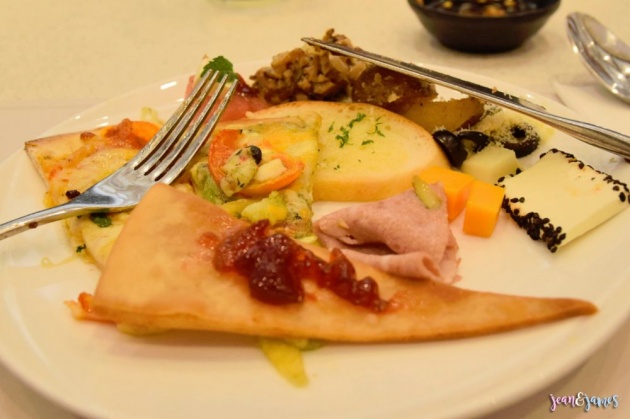 I also tried their garlic bread which I didn't find good. The other stuffs in my plate were so-so. I also regret tasting the other kinds of cheese which didn't really give any flavor at all. The yellow cheese which I thought would be the tastiest of them all was actually plain!
Last Plate
Of course we can't stop eating without tasting the desserts. Here I had taken four kinds of cakes which I had shared with my colleague seatmate. We also tried the marshmallows with chocolate and strawberry fondue.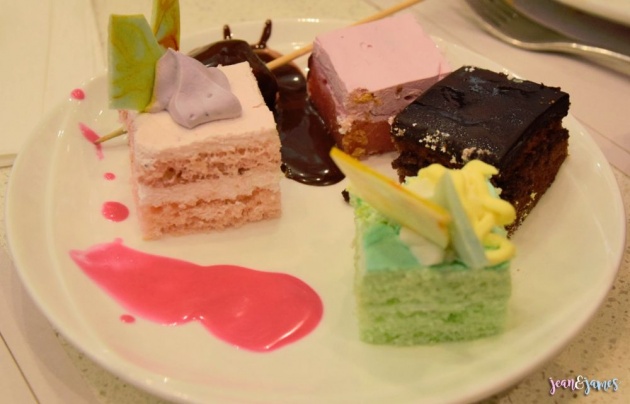 There were other kinds of desserts like ice creams, crepes and yogurt which I won't forget because one of my colleagues took a bowlful of it and was not able to finish it all because it was sour even if he had added lots of chocolate syrups in it. Yogurts are so he regret that choice.
Drinks
There was a variety of drinks from coffee, to tea, to shakes, there were fruit juices and lot more. I had opted for the Guyabano fruit juice which was really good! I even took two glasses of it.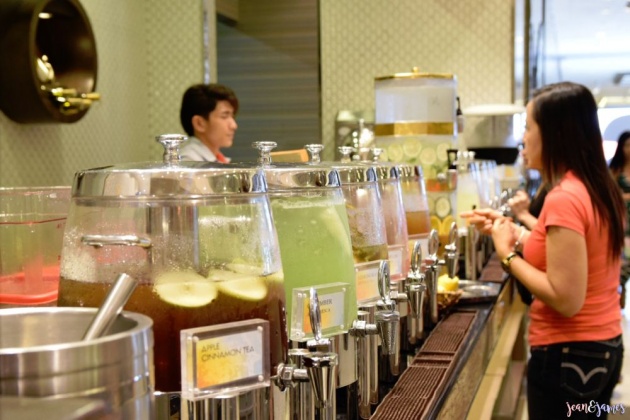 Then before having my last plate, we were offered with Avocado shake which I can't refuse because I love avocados. It surprised me personally that their shakes didn't include sweeteners. So that was plain avocado and ice, it was more of like a smoothie minus the artificial sweets in it.
Lastly, before we went out, I asked for a Jasmine Green Tea.
CELEBRATION
Part of the luxurious restaurant's aim is for every Cebuano to celebrate their birthday in the said restaurant. Of course if you are celebrating your birthday and you want to treat your friends, it would be good to spend and get discounts out of it.
So Vikings offers free lunch or dinner buffet to anyone either celebrating their birthday on that specific day or if it is your birth month. However there are still criteria for that but as long as there's discounts that would definitely encourage everyone to visit the restaurant.
And because every day is someone else's birthday, Vikings Cebu is also joining them on this celebration. At a certain point during the buffet, all of the staffs started to gather in line facing the customers, some of them were even wearing Vikings costumes which was really cool.
Then they started singing and dancing to the tune of Happy Birthday Song. I was glad I got to take a video of this chef who was really lively and energetic during this part.
The guys in costumes will then roam around and give cakes to these birthday celebrants plus taking photos with them too!
RATES
While they do offer lots of promos which ranges from birthdays, group numbers, wedding celebrations. OFW Promos even students get a promo too, the rate is still too pricey for me. But then since this is free, I grabbed the opportunity. Thanks to our boss who treated us lunch there.
Here are the Vikings Cebu Rates which I found from their website:
Weekday Lunch
Adult – Php688
Kids between 3.1ft to 4ft – Php188
Kids between 4.1ft to 4.6ft – Php388
Kids below 3ft are free
75 years old and above will get 50% discount
Weekday Dinner, Weekend and Holiday Lunch and Dinner
Adult – Php888
Kids between 3.1ft to 4ft – Php288
Kids between 4.1ft to 4.6ft – Php588
Kids below 3ft are free
75 years old and above will get 50% discount
*All prices are subject to 5% service charge.
Visit their website for more information and reservation inquiries: www.vikings.ph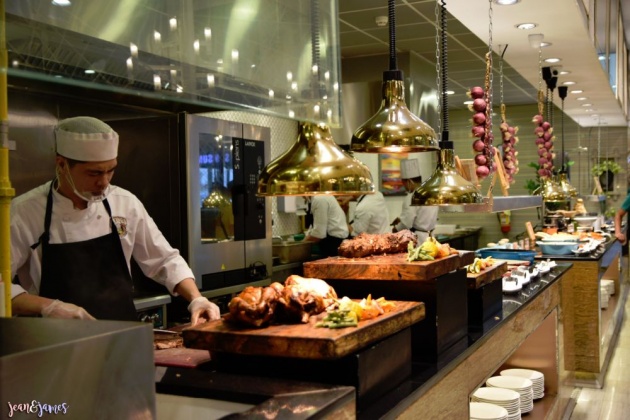 All in all, it as an extravagant and luxurious experience. I guess that would be my first and last unless the boss says he will be bringing us there again in the future. I would love to still come back and try the other cuisine which I wasn't able to taste with the first visit.
Copyright 2016 Jean Beltran-Figues
All rights reserved.