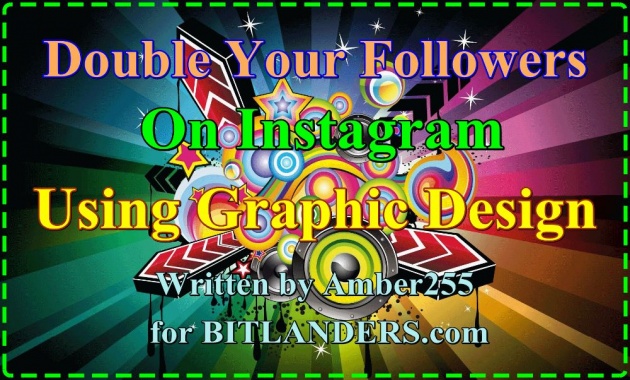 Importance of Graphic Design for Business Promotion on Instagram
Photo credit: Amber255 via Bitlanders.com
Greetings! In this internet marketing age, it is important to use all advantage that it offers. Some online marketers don't fully understand how a good presence of their goods or services can significantly increase sales. So, let's talk about what we can do for the better presentation of our business, what can attract the attention of the audience, finally, let's talk about the importance of graphic design for business on Instagram. It's true what I mentioned in the heading of this blog - correctly chosen graphic design can double your followers on social media and increase your sales. Of course, you need it only if you are doing any online business. If not, this is not important to you. If you want just to get a few likes under your content, then you do not need to change anything. But if you have other goals, let's learn how we can improve our business promotion on Instagram.
Graphic design is a paradise of individuality, eccentricity, heresy, abnormality, hobbies, and humours. - George Santayana

Credit: canva.com
If you are doing online business, or want to have any, the best way is to have a social media presence in the market of your website. Competition is very big out there, and everyone wants to grab the attention of the audience, especially of the targeted audience. For that, the essential thing is to focus not only on the content to add to your website but also on the design.
Instagram is a popular social network. The main content there is photography and video. Cafes, restaurants, boutiques, floral shops and all kinds of activities that can be beautifully photographed - have long been earning money from just an account in Instagram. It's not only the ability to share photos and videos with friends, but also a powerful tool to support brand loyalty, the ability to be closer to customers, know their interests, and the relationship to your product.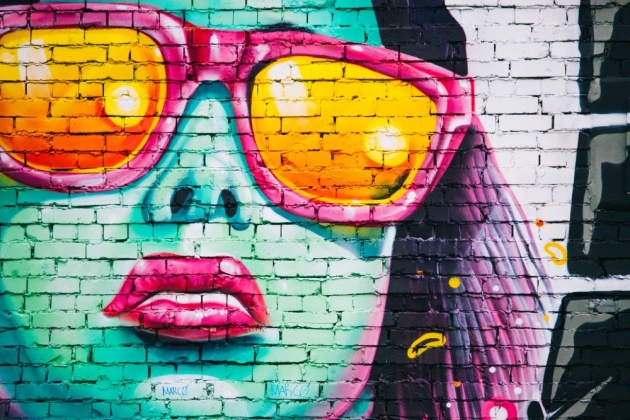 Professional Graphic Design - Photo credit: uhdwallpapers.org
The Important Role of Graphic Design
Correctly chosen design can help you to convert your leads into sales. Just ask yourself, when you visit any business website or a business page on a social media, what do you look at first of all? First of all, you notice the layout of the website and its design, right? And it should be appealing to move further. If you do not like the design, or it looks annoying, you just close the window and search for another one. But if the design is attractive, you start reading content.
So, it is evident that in order to make an appealing visually website or profile, the main role plays graphic design, and it plays an important role in the success of your business. The social media marketing experts state that the graphic design is crucial in such social media platforms as Instagram or Facebook.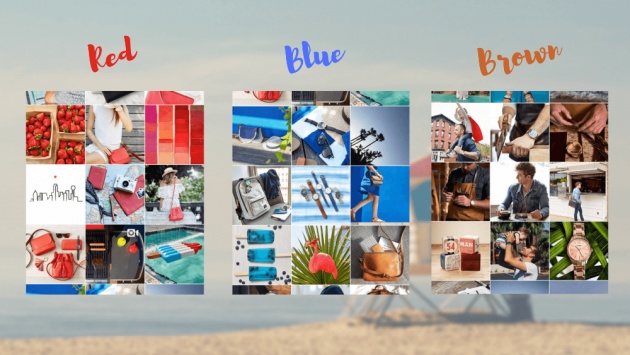 Graffic Design Effects - Photo credit: arafen.com
If you have a website and present it on social media or have created a business page for your website, the great advantage is to use a WordPress website because it had an Instagram theme. There is also a plugin for free to use. This means that your website gets a great visually appealing look and your profile attracts more views, you get more likes and more followers. Of course, there are sites where you can buy followers, but the best followers are those who find your profile themselves. Remember, that if you have only a few likes and a few followers, it will be hard to get the attention of potential followers as they will ignore your profile. Always attractive content that thousands of people are already interested in.
How Can The Graphic Design Help You in Social Media Marketing?
Many old-fashioned business owners simply ignore the fact how important is the graphic design when they use the platforms of social media. Nowadays, the reality is another - if we want to promote our business on such social media platform as Instagram, we must understand how important is graphic design for the establishment of a strong brand of our business in the online market.
In order to attract the targeted audience to your Instagram page, you have to care about the right layout of videos and photographs you add there. The first minute when they open your profile, they must be fascinated by the professional looking layout and formatting of your profile. This is the best way to make them interested by your profile longer and check the products you are offering there.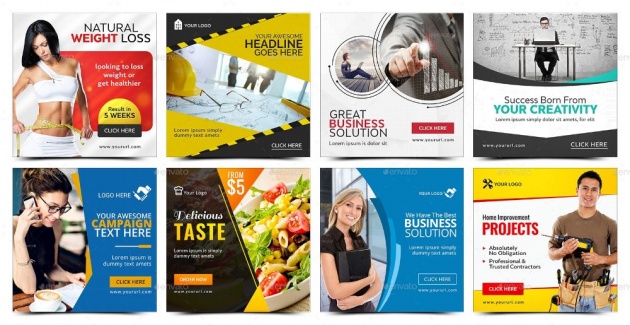 Business Presence on Instagram - Photo credit: cooloriginal.info
Combine Instagram and graphic design, and you will create a powerful business profile in the market.
To create a business, sell goods or provide services, it is not necessary to take off an office, equip the store or even have a website. A systematic approach, a little creativity and you can earn, having only one page on Instagram. Before you go to the promotion, you need to have a preparatory work. Competent filling determines whether your buyer will find the product or service of interest on your page.
Getting acquainted with your account begins with a description of the page and the photo in a small circle: clinging avatar, page title, a description of what you are doing and how to contact you.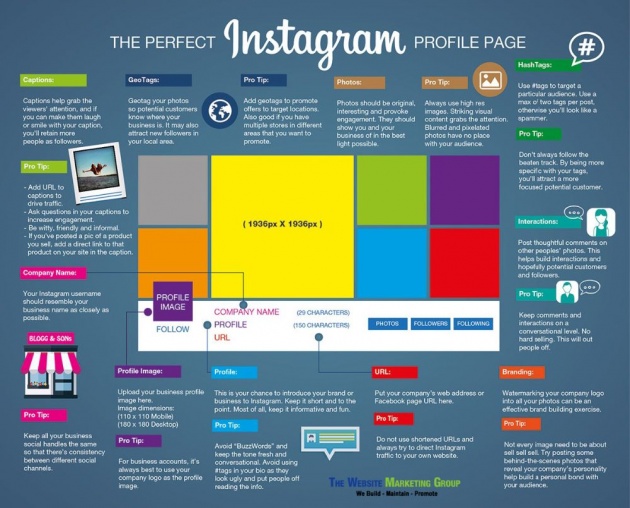 Create Instagram Account for Business - Photo credit: vincenzocarbone.wordpress.com
An image reigns in commercials: if it does not catch the attention of the audience, do not expect anyone to read the text next to it. This rule applies to all designs: from a business card to a website design. The image of the business and the impression of the client are inseparable from attractive, creative and professional graphic design.
The facts:
A man gets 94% of the first impression out of the image.
Attractive graphic design enhances the memorization of a message by 65%.
A poor, cheap looking design creates a sense of distrust in the company.
Why is it useful?
Creates a better consumers' engagement in the advertising.
It creates an attractive and solid business image.
creates a possibility of using the integrated image on all channels: from the website to banners on the Internet.
We know great how to use social networks, but do we know how to tailor them to business?
It is said that the human brain perceives visual material 60,000 times faster than text. No one knows is that truth since no formal investigation can be found. I also do not understand whether this is a lie. However, it is worth relying on saying that visual material for the human brain is more natural and provides more information. Therefore, when designing marketing campaigns, remember to add photos, pictures, and videos.
While reading my blog about Graphic Design for business on Instagram, please chech Querlo Chat:
Graphic Design Trends For 2018
The world is constantly changing together changing our aesthetic perception and the prevailing tendencies. So, what are graphic design trends for 2018?
Last year, the desire of people to search for organic and naturalness already began to emerge, but this year it is concentrating on it even more. It is important to mention that organic things and naturalness are not always related to nature. Artificial retouching of photos, artificial smiles, and other obviously generated emotions are not in fashion anymore. So, look for what's genuine.
Glitch art effect. This effect is not a new but well-known, and this year, it is reborn again. Chaotic, unstable, and realistic forms distorting tool that gives not only vitality but also a certain surrealistic sensation to the visual view. This effect resembles broken electronics screens, and it also creates the impression that you should watch 3D images with a 3D glasses. The Glitch art tool is very often used in posters related to electronic music. This effect can easily be created with the Photoshop program or specially designed gadgets.
Ruined photo effect. It is another 2018 reigning effect. With its help, you can create an illusion that the visible photo is damaged, torn, painted, greasy and so on. In general, the use of the Ruined photo effect can be very wide: starting with packs, posters, pictures and video clips. In addition to the effect, adding the graphics drawing elements, you get a wonderful and our eye-catching image. Therefore, you should let your imagination to reveal and play with these two elements. You may even be surprised by the result.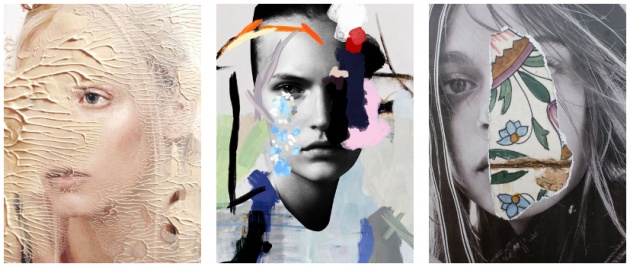 Graphic Design Effects: Ruined - Photo credit: emiliogarciavarona.wordpress.com
Typography effect. Letters - Objects. Improvisation has never disappeared anywhere and, probably, will not go away for a long time. This year, we continue to see letters that resemble or build certain objects. Generally speaking, there is a complete freedom to work. This principle is mainly used in logos to show both the brand name and its meaning.
Bright pictures and fonts. The focus should be on BOLD symbols. The bigger and thicker the better and more noticeable. However, you should not abuse the bold and solid letters. Use BOLD fonts only for words that you think are the most important and worthy of paying attention to people. For example, titles or promotional slogans. Frequently used BOLD fonts are Franchise, Coolvetica, Helvetica and Morton Typeface.
More and more advertisements use large, vibrant and eye-catching visuals. A short text, written in bold type, makes it easier to read the main idea. This combination clearly conveys the message you want and at the same time does not annoy the audience too much. Since this is the way to go straight to the point of view, it is particularly suitable for cases where the amount of information provided to the viewer is negligible.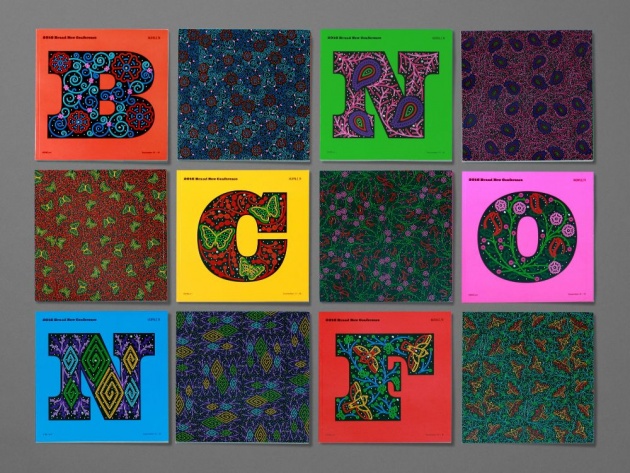 Graphic Design Trends - Photo credit: wired.com
Also, the so-called handwritten fonts are not forgotten. They give the natural and organic visual appearance. Using such fonts can be very effective, but not for all brands. They should be used with children, creations, food or women's clothing, but avoided by banks, institutions or electronic stores.
Hand-painted images and illustrations help to establish a close personal touch of the company with its customers and stand out from others. At the first glance, this tendency may seem childish, but it helps to create an easily recognizable image of the company. Most customers appreciate such drawing efforts, as it is unique and personal.
What Else is Popular In Graphic Design This Year?
* Minimalism
Most design areas utilize minimalism thanks to its simplicity and functionality. Some world-known companies (such as Instagram) are undergoing a transitional period by drastically changing and streamlining their logos. It seems minimalism does not want to leave, so this year we have the opportunity to see many monochrome accents and simplified lines, especially in the logo. Minimalist accents are especially used by those companies whose main target group is young and modern people.
*3D Images Design
In the 2018th year, the 3D images design is pronounced in virtually all areas of the design. Illustrations, product packaging, advertising - all of these areas are filled out using a combination of 3D and geometric design. You can also see both a 2D and 3D mix that can deliver a unique, multifaceted impression.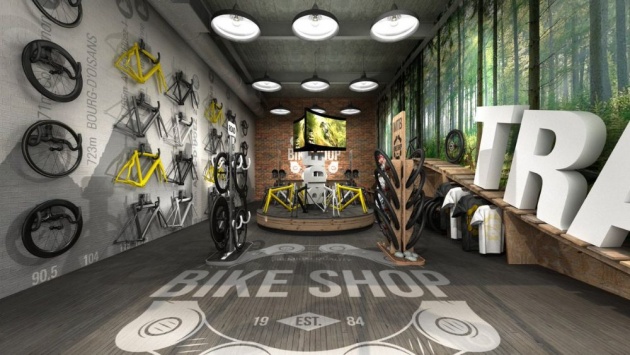 3D Images for Instagram Marketing - Photo credit: twitter.com
*Merging of the picture and video effects.
This year, the small, moving pictures created by combining details and video effects (cinemagraphs) are very popular. The result of this technique is a dynamic image that attracts the eye by a repetitive movement of an Delement. Because this technique has the ability to attract human attention, it is used for marketing purposes.
If you use Instagram for your business marketing, use the photo filters and colors consistently. How? Posting pictures on Instagram, the best option is to use the same photo filter for all your photos.
Graphic Design Applications
Nowadays, good video content can be created without complicated graphic design applications. Apple Store and Google Play stores offer you powerful mobile app gadgets that you can easily create text-based images or movies. The applications make it easy to visualize ideas, promote events, create business cards, product descriptions, tell business history, create greetings cards or implement other ideas.
1. Boomerang
Graphic design Applications - Boomerang by Instagram Video credit: TechCrunch via Youtube.com
What can you create? Moving pictures.
How it works. You can find a moving image, press a button, and the gadget captures 10 frames and produces a short movie. All the fun is that the shots are rotated not in the circle, but in the back and forth.
Sharing opportunities. You can share movies on Instagram and Facebook directly from the gadget. They can be saved on the device, so later movies can be shared on other social networks as well.
Price.Free.
2. Hyperlapse
What can you create? Photofilms.
How it works. When the button is pressed, the applet starts to take pictures at certain time intervals, and a film is taken from the received shots. The Hyperlapse has an integrated stabilizer function, so it compensates for all inconsistencies between shots. This creates a consistent, not a jumping movie.
Sharing opportunities. You can share created content to the Instagram and Facebook directly from the gadget. Also, you can save them and share later on other social networks.
Price. Free.
3. Legend
Graphic design Applications - Legend: animate your texts with Style - Video credit: Stupeflix via Youtube.com
What can you create? Anime text images and movies.
How it works. First, you type a text that cannot be longer than 100 characters. Then styling the text - choose one of the 20 text animation styles. 6 styles are free, and all others can be bought. After you have animated text, you select the background you want. You can choose a specific color or pictures for the background. You can choose a background image from the gadget offered or add your own.
Sharing opportunities. You can send directly your created pictures or videos to the Messenger widget or share on Instagram, Facebook, Twitter, or Vine directly.
Price. The base Android device version is free, and paid items can be bought for 2,12-2,19 Eur. iOS-powered version price is $ 1.99.
I described just three graphic design applications as an example, but you can choose any other. There are a lot of them: Animoto, WordSwag, and others.

Graphic Design Trends - - Photo credit: yandex.ru
On the Final Note
The design is a very important factor in successful sales - the proper design of a product or service demonstrates quality and makes a remarkable impression on a person.
Summing up all the graffic design trends, I see that brands need to be as creative as possible and to look for exclusive design solutions to not only acquire a unique image on the market but also adapt to the rapidly growing natural and organic themes.
Even if the eclecticism and contrasting combinations are dominated in the design, one should try to maintain harmony. In any case, pay attention only to those trends that will help maintain your brand identity and uniqueness. Do not forget that the original style is more important than the constant pursuit of fashion!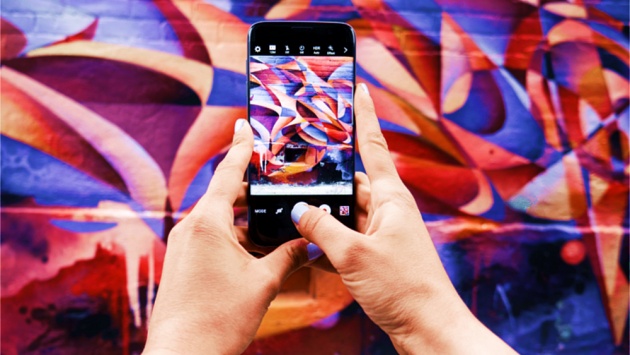 Graphic Design on Instagram - Photo credit: blog.uniplaces.com
Instagram is a visual platform, so its users expect to see aesthetic content there. Choosing a theme and color palette will help you highlight your brand against the rest of the world and make it attractive to users.
The graphic design makes a powerful impact on your Instagram followers. If you are doing a business and have ignored the graphic design for presentation of your business, start now as it is never too late. A well-designed strategy for the visual culture of your business is the key to a successful first impression of a potential customer and his contact with what you do.
There are three responses to a piece of design – yes, no, and WOW! Wow is the one to aim for. - Milton Glaser

Credit: 99designs.com
*************************************************************************************************
Thank you for stopping by and reading my blog.
2018, All Rights Reserved.
You are very welcome to join Bitlanders and share your valuable knowledge and opinion.
***************************************************************************************************
You can check my other blogs:
1. Test: What is Your Personality Color?
2. Does Personal Branding is Important in Bitlanders?
3. Don't give up on Bitlanders without understanding its basics
4. Bitlanders Review - My First Week at Bitlanders
Come back to find more...
**************************************************************************************************