Indian Movie Review - Raabta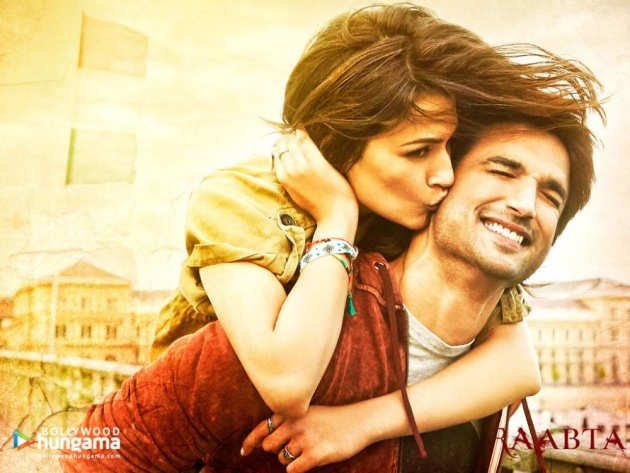 Image Credit: www.bollywoodhungama.com
✔ Introduction

Hello Friends, today I am here with my another blog titled as "Indian Movie Review - Raabta". I just saw this movie on the weekend and found it pretty interesting. I thought writing blog on this movie was not a bad idea, therefore, in this blog I shall discuss this Indian movie based on Drama, Romance and Adventure Genres. This is more like a love story in which lovers along with their common enemy come into this world after a period of 1000 years to actually give their love another chance. This happened because in their previous lives, they were not able to live beyond their marriage as they were murdered by their enemy. Not only they reunite, but they also take their revenge on enemy who hindered them to continue with their lives in their previous encounter. This movie was directed by "Dinesh Vijan" and was co-produced by Homi Adajania and Bhushan Kumar. The screen play for the movie was written by Siddharth-Garima and the movie was produced under the supervision of Maddock Films, an Indian Film Production Company.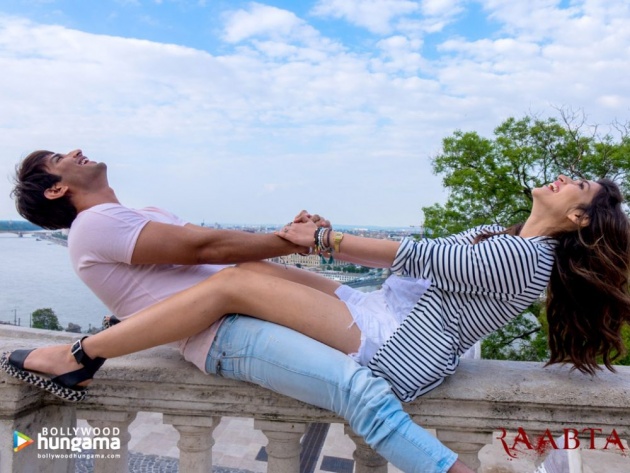 Image Credit: www.bollywoodhungama.com
The movie "Raabta" was released on June 9, 2017 under the distribution banner of T-Series run by Bhushan Kumar and his brother Krishan Kumar. Some details of cast of this movie are as under:
✤ Kriti Sanon as Saira Singh and Saiba
✤ Sushant Singh Rajput as Shiv Kakkar and Jilan
✤ Jim Sarbh as Zakir Merchant and Qabir
✤ Varun Sharma as Radha
✤ Vikas Verma as Manav Mehta
✤ Rajkummar Rao as Mohak
✤ Rachita Singh as Astrologer
✤ Suneel Sinha as Saira's Father
✤ Jashan Singh Kohli as Golu
✤ Miroslav Lhotka as Zak's Bodyguard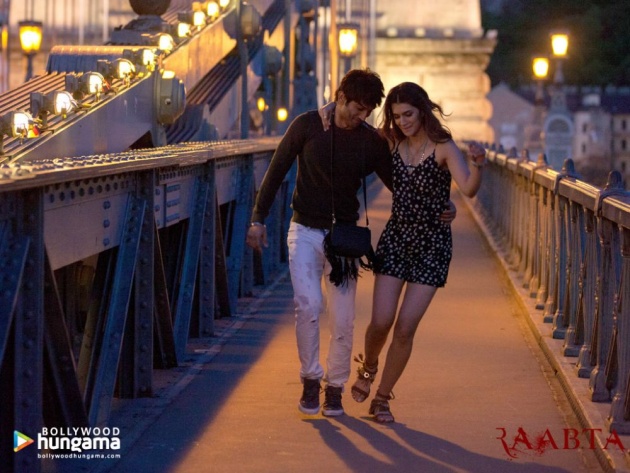 Image Credit: www.bollywoodhungama.com
Rating: 3/5

Reincarnation is still a sought-after theme for the Hindi film industry despite its fondness for modern clothes, gadgets and locations. Commercially successful films and shows like Baahubali and Game Of Thrones also influence choices. Sometimes, then, filmmakers appear stuck in a dilemma. Debutant director Dinesh Vijan is probably one of them.

Vijan's Raabta (Urdu for connection) is thematically a 'love-never-dies' sort of a film, and it wants to look glossy, which means the characters are likely to make transitions in time and space. With such predictability comes the challenge of striking a balance between two different time zones. Raabta struggles real hard there.
Movie Review Extracts From: www.hindustantimes.com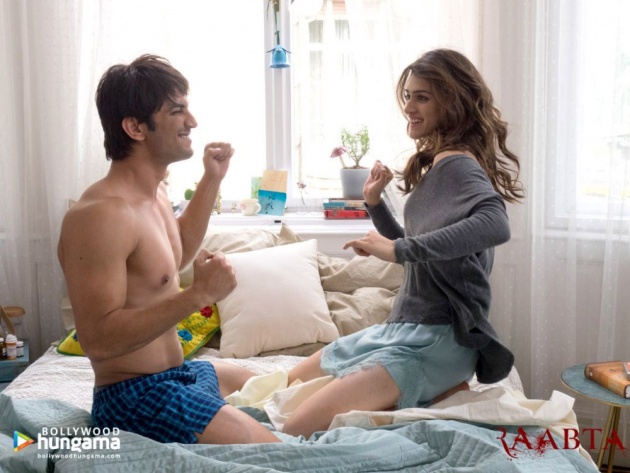 Image Credit: www.bollywoodhungama.com
Video Credit: T-Series via Youtube.com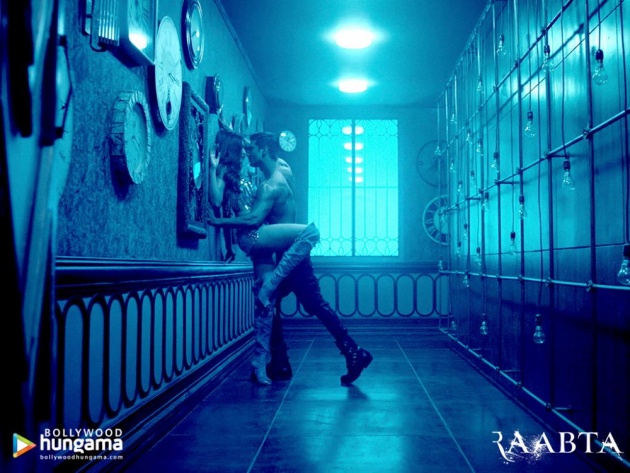 Image Credit: www.bollywoodhungama.com
✔ Plot Of The Movie And Review
The movie begins as Shiv Kakkar is sent to Budapest by his bank in India on an official assignment to perform his duties from there as he was an aspiring new banking talent. He is also accompanied by his dear friend Mr. Radha who stays with him throughout. Over there in Budapest, Shiv meets a young girl named Saira Singh who appealed to him in the first look. Being a person who likes to be around women, Shiv tries to impress Saira with his romantic intentions and soon he finds success as Saira also starts to take interest in him as she felt a secret force behind her affair with Shiv which was compelling her to be with him as if she was looking for Shiv for a long time. Saira intermittently sees a dream in which she meets her badly injured lover under water and that she thought was a message to her. She also shares the dream with Shiv but he thought it was just a dream and nothing was connected to it in their real lives. Saira also saw her drowning in water and was afraid of it because her parents had died in water having met a road accident and ending up in a river when she was very young.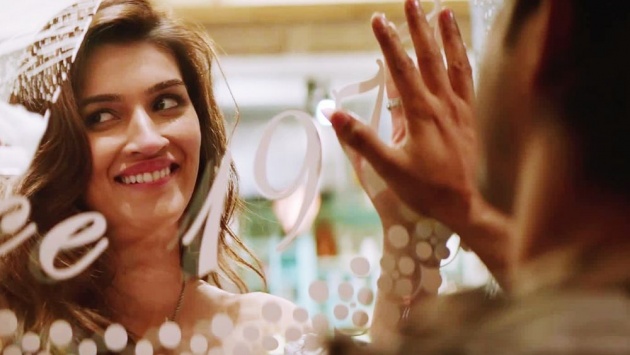 Image Credit: baltana.com
Saira meets a mature lady who knows what Saira's dreams were indicating and she informs Saira that something in the past was left incomplete and now in this life she would get a chance to complete it and soon she would meet a "Prince" in her life which would turn her life upside down. Soon, a millionaire Zakir turns up and Saira gets ample time to be around her as Shiv had to go to another city on an official assignment for a week. Quickly, the chemistry between Zakir and Saira becomes so strong that Saira confides into Zakir about her dreams that she had been seeing. Although, Zakir does not show swift reaction, but soon he kidnaps Saira after a dinner when he doused Saira's drink with sleeping pills. Then Zakir takes her to his place on a helicopter. When Saira wakes up, she finds herself in a castle like building on an island. She finds it very strange and soon, she comes to know through Zakir that he is actually her lover who has come back to this world in another life just like her but he'll have to face Shiv to get her as he was his enemy. Saira gets frightened and tries to run away; in her effort, as she is chased by Zakir and his men, Saira falls into the sea and drowns exactly like what she had been seeing before in her dreams.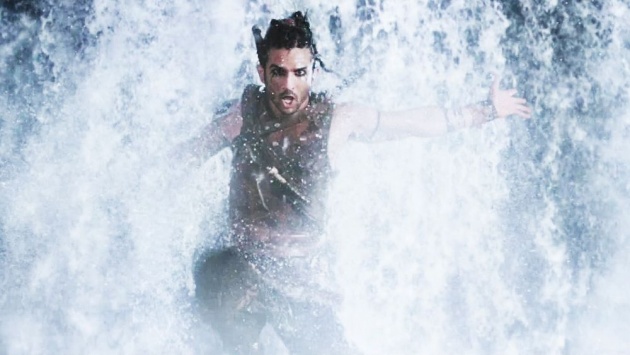 Image Credit: baltana.com
However, Saira is saved by an unknown force and she finds herself back in the time 1000 years ago when she was a princess known as Saiba and Zakir was her lover as Qabir. They lived a happy life until Shiv who was a warrior known as Jilan and wanted to occupy their land attacks and direct them to surrender. However, Saiba challenges Jilan and during their fight, Jilan and Saiba fall for each other. Qabir takes it as a humiliation as he loved Saiba dearly. He injures Jilan and throws him into the water, only to see Saiba jumping into water after Jilan to die with him because she loved him. Seeing this, Qabir commits suicide and Mohak seeing all this event forecasts that they (Jilan, Saiba and Qabir) would meet again some time to complete this love story. Now coming back to present times, as Saira manages to escape from the custody of Zakir and meets with Shiv again, she warns Shiv that Zakir would attack him and would try to murder him but he would have to fight and survive this time in order to live a happy life with her. Initially, Shiv did not believe this but as Zakir approached with his men to kill Shiv, he started to believe and did exactly what Saira told him to do. As a result of heavy fight between Zakir and Shiv, both of them fall into the sea and Saira manages to reach underwater and saves Shiv whereas Zakir dies in the process. The movie ends with Deepika Padukone making a guest appearance in the song "Raabta" as Shiv and Saira are shown to be living a happy family life together and now Saira stops seeing nightmares as she did in the past.
Image Credit: baltana.com
Video Credit: T-Series via Youtube.com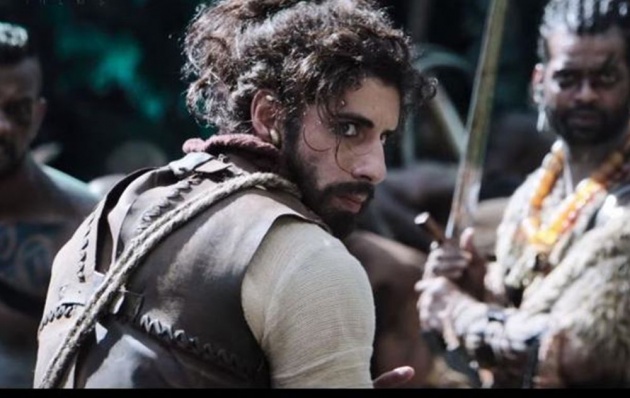 Image Credit: bizasialive.com
✿ Here are some related Querlo Chats for you. Isn't it fun to chat with a Chatbot ?
- "Do you support women's empowerment?"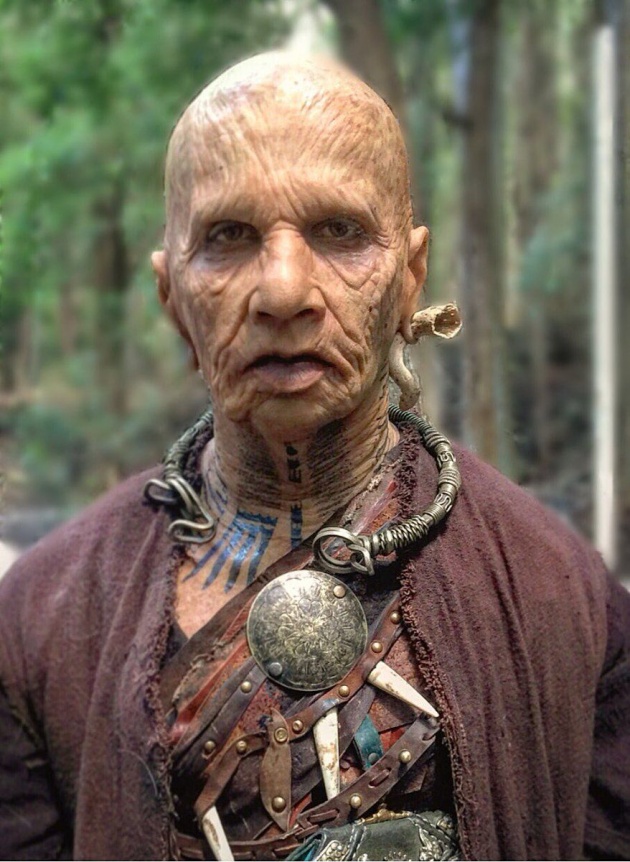 Image Credit: relypost.com
- "What kind of movies do you like?"
✿✸✔✤✪ - - - - - - - - - - - - - - - ✿✸✔✤✪ - - - - - - - - - - - - - - - ✿✸✔✤✪ - - - - - - - - - - - - - - ✿✸✔✤✪

Thanks for Reading. This Blog was written by Rafaquat Noman (a Resident of Saudi Arabia and a Traveler) for bitlanders.
✿✸✔✤✪ - - - - - - - - - - - - - - - ✿✸✔✤✪ - - - - - - - - - - - - - - - ✿✸✔✤✪ - - - - - - - - - - - - - - ✿✸✔✤✪