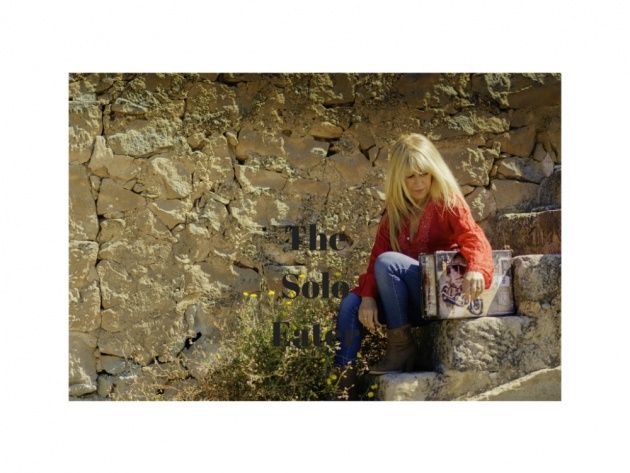 *Image is from Canva and it is free.
I wanted to travel alone, far from home and I am making myself ready.
Before the the year ended, I did try to be like a tourist in a place I am very familiar with, I have to get used to crowd, to be seen by many and be exposed. I pent most of my time at home, just around the four corners of our house, well sometimes in our front yard, but that's just it. If I go out, most of the time it is for an official transaction and be going home after, well, i grab some food before I go home.
Though I have eaten alone in fast food restaurants where more people has been eating, and most of the time, it hasn't worries me since more people, more attention were given by the service crews. Not just that, I have also tried watching movie alone and since most watchers were old, I didn't mind and I did some chit chats and it made me feel I am with someone that time. But I wanted to try something more, when eyes are on me, well, it is not about getting attention, I had been the conscious person, and I wanted to get used to have some eyes on me, I always step back and hide, now I trying to get some "exposure". Go out of my comfort zone.
Yesterday, after a week of being busy and get myself stressed out, I thought of getting myself a treat. But before I jumped in to the the act, I asked myself many times if I can take it, or will I be able to do it. That even when I am near the area, I am still having a self doubt, yes, I am not that confident despite this friendly personality, I can get scared easily. I gathered every confidence that I have, asked the tricycle driver to bring me to this place and then get inside and choose a seat.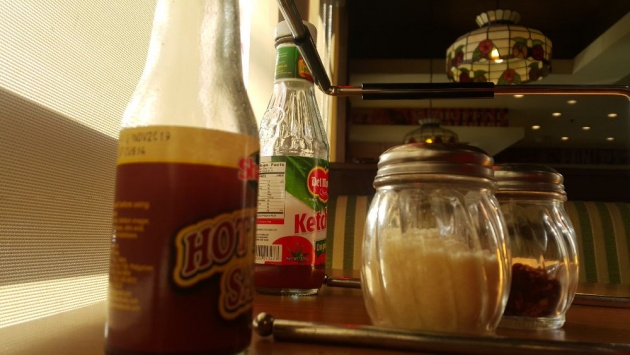 *Image is credited to Rain Tajon via www.bitlanders.com
Few hours before eating alone.
In the morning, I washed my clothes then I have my vouchers transmitted after a week of getting it done. I have also have the new office printer installed to the computer and even eat some snacks with the accounting staffs. Left the office at lunch and grab some cooked lunch in a "karinderya" or food stall.
While watching my favorite noon time show, I thought of buying office supplies for I needed some new pens, and post-it-notes, I also checked if the books the I bought on line last Sunday had arrived to the courier's office and I saw it had arrived to the Vigan Office. So I went to the courier's office first but they told me that it is still on its way, I am just excited to get my hands into those HB books(will write another blog how did I get those when they arrive). Then went to the book store to grab some much needed office supplies and I even check for one book if it is available, but the staff said it is not.
Still hesitant with the idea of eating alone in that restaurant, I roamed around for more minutes and then from Vigan City, I left for Bantay, Ilocos Sur, where the restaurant is located.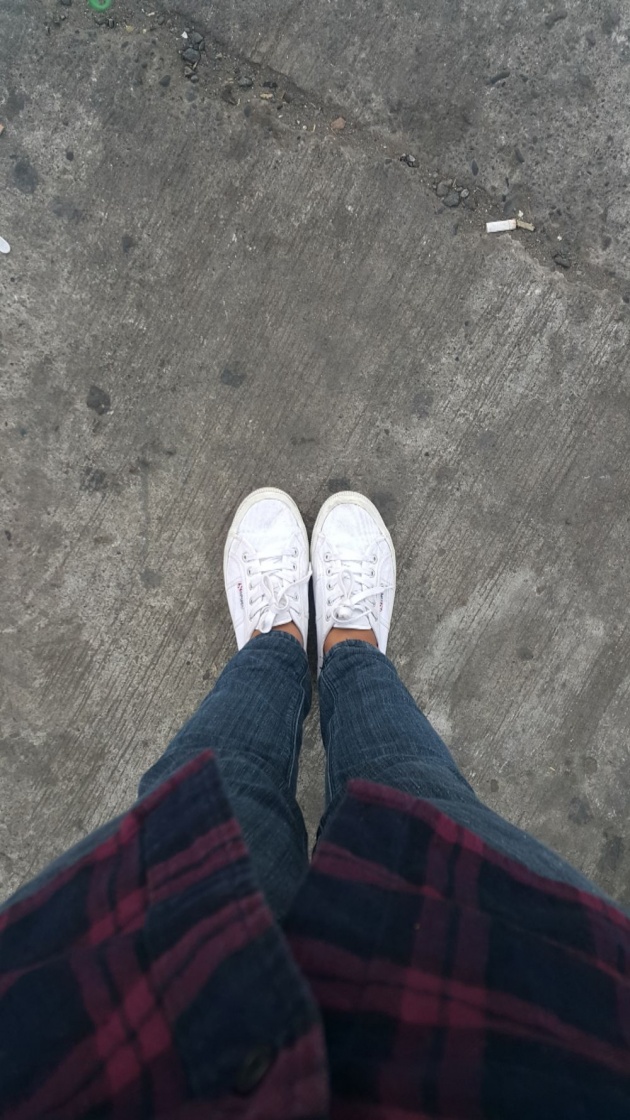 *Image is credited to Rain Tajon via www.bitlanders.com
Shakeys: Why did I choose it?
I always call for home delivery, when my siblings would want some pizza and mojos, and even did some home delivery for pizza and had the whole thing for myself, well it is not for just one sitting of course. I went to the restaurant also before, but I am with my family and with my friends too, and with that, I am fine eating in the restaurant for I am with family and friends.
Yesterday, I went there alone and eat alone in a table for four in the corner of the restaurant.
I have chosen Shakeys for there are lesser people, where crews' eyes are focused on each customer for each table has an assigned staff, they are more attentive to your needs, like every now and then, they will be asking what else will you need, somehow it made me cringe. I have been the one more attentive than me, being attended, the feeling was not okay for me, or maybe I have some issues with getting some "spotlight".
And really get those yesterday since there were just around 15 customers that time and the restaurant was quite big, I am just glad to have my iPad that kept my attention diverted, though I wished I have a book to read.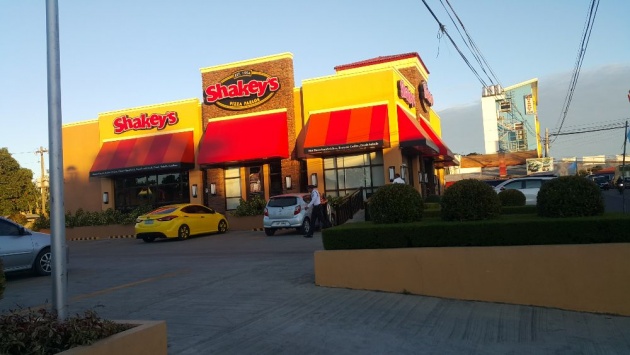 Outside the restaurant
*Image si credited to Rain Tajon via www.bitlanders.com
What did I order?
I wanted so have everything on my plate so I ordered combo meals, the Bunch of Lunch. The Bunch of Lunch has chicken, a slice of hand tossed hawaiian delight, spaghetti, and a couple of mojos. I have Iced tea and for dessert, a chocolate sundae that I wondered if that is a sundae or a vanilla ice cream with chocolate syrup.
All in all was, Php336.00. Three times more than what I always have in Jollibee or McDonalds. I was not surprise, but I am thinking of will I be doing it again or not or just do more home delivery for a box of pizza. I am just glad that I have a Supercard and I have a 10% discount.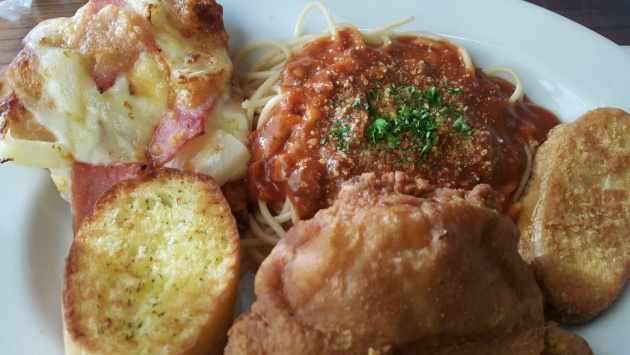 Bunch of Lunch
*Image is credited to Rain Tajon via www.bitlanders.com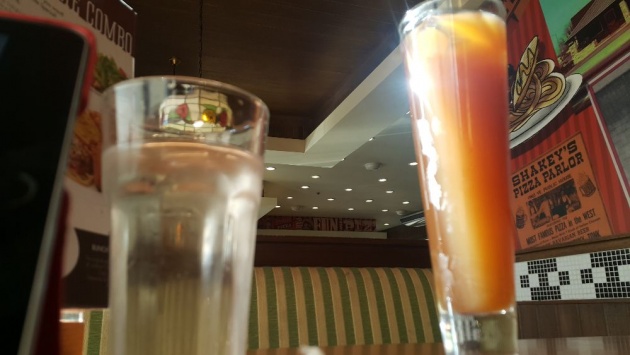 Iced Tea and my service water.
*Image is creddited to Rain Tajon via www.bitlanders.com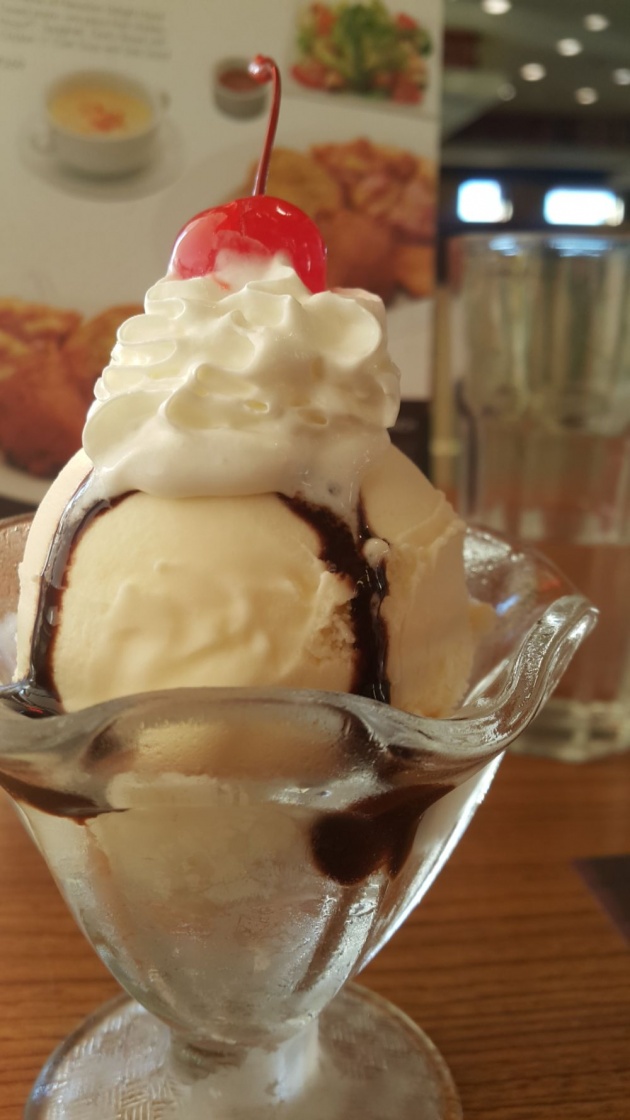 Dessert
*Image is credited to Rain tajon via www.bitlanders.com
How was the experience?
Aside from the amount I took from my wallet to pay for my food, I got the chance to be alone in a place I am not, or haven't comfortable yet. When I get inside, one of the guards asked me if I am alone, since there were no table for one of two, I told him of getting that table for four in the corner.That part won't be not getting that much attention from staff and also to my fellow customers, that was my thinking but I was wrong.
As I entered the retaurant, I already get some eyes on me, both crews and customers. As I sat down, I still get the same thing, maybe most of them were thinking why I am alone or, am not sure. To be in a place where most of the time, customers are coming in group, I have gone there all by myself, like I am new to the place.
All in all, I get what I wanted to see and experience. Though my dessert came late and haven't come to my table if I didn;t asked them too, for I have waited for it for 30 minutes. And it made me stay inside the restaurant for one hour. And if you ask me if I will be doing it again, not sure, next time I will be going there will be with my friends for their 2018 promo.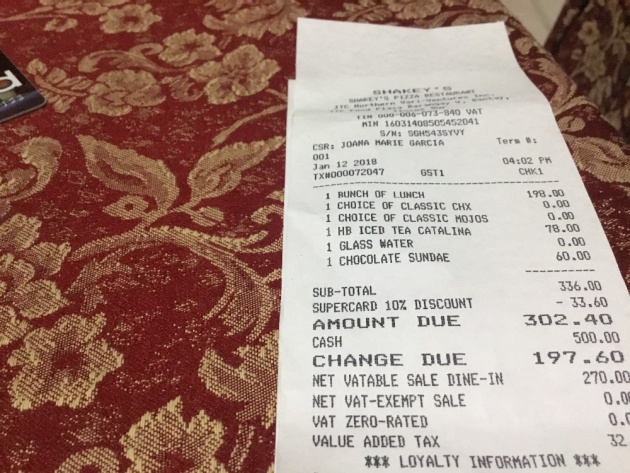 *Image is credited to Rain tajon via www.bitlanders.com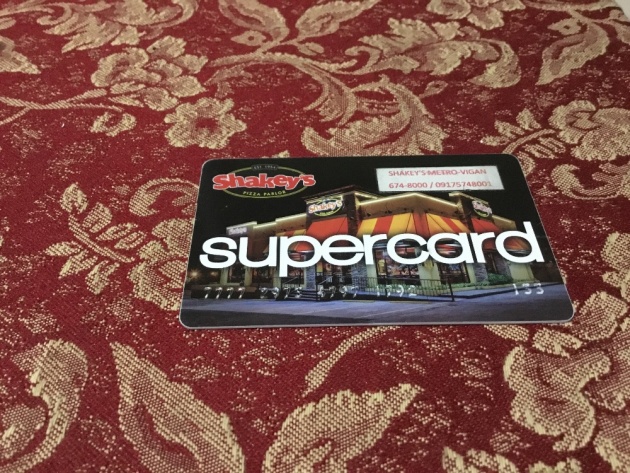 *Image is credited to Rain Tajon via www.bitlanders.com
**************
Thank you so much for reading!
Thanks fo reading!