It's entertainmnet is a bollywood hit movie.It's a comody social genered movie directed by new director named "Sajad Farhad" and produced by "Ramesh Taurani". Main starrings are "Akshy Kumar" and "Tamannaah Bhatia" ,"while rest are Johnny Lever, Krishna Abhishek, Mithun Chakraborty, Damian Mavis, Prakash Raj, Sonu Sood". Music is taken by Sachin-Jigar and production Company is "Tips Industries Ltd."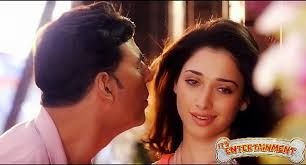 This movie's trailer was released on 19 May 2014 and came to cenima houses on 8 August. It's first 5 days collection on Box Office was 48crores and now on sixth day it is about to crossing 50 crores. This increasing budget reveals its fame.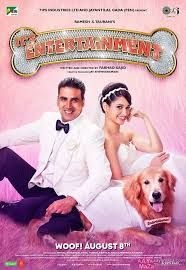 It's main soundtracks are "Johnny Johnny", "Tera Naam Doon" by Atif Aslam and "Maange Maange Entertainmant" Sung by Akshay Kumar.
Casts are:
Akshay Kuma ->Akhil Lokhande
Tamannaah Bhatia -> Saakshi
Johnny Lever -> Habibullah Shiekh
Krishna abhishek -> Jugnoo
Mithun Chakrborty -> Saakshi's Father
Sonnu Sood -> Arjun
Darshan Jariwala -> Akhil's Adoptive Father.
Parkash -> Karan
Story:
Akhil Lokhande(AKsh) in the start of film got job in ads company and got paid but he gets into sapt becoz he was not paid fully with the money as had been decide,but he accepted it andremain still to it. After that he joined saakshi who was doing her television shooting. Afteer finishing shooting they went for a walk and were observing other couples who were dating there. After that a song begin and Aksh performs for her and the end of song he purposes her to marry him, she accepted his purposal and they went to her father but he put condition on Akhs to get her. Inspit of being poor he accepted her father's challenge and set to her journey for getting money. He was trying hard for money but in the mid he comes to know that his father(adoptive father) is still admitted in hospital,he wnt there but he comes to know that that man was not his real father,insread he had adopted him for money. Aksh tolarate this with patience and isn;t geting this failure to his mind. He kept this thing in mind that failure make man stronger, so he set to explor his father real property, who had decieved his mother and let him alone with his mother in the childhood.But he keeps on doing his hardwork, atlast he reached his father's bangalow there he heres about successor of property of his father.He feels very bad.
The new succesor was a Dog named "Entertainment", from here new story starts,He makes plans disuccess from the property. But here also come the new characters "Arjun" nad "Karan",who both are brothers and are the 2nd cousins of "Pannalal Johr", they also claim themself as adpoter of property. So both the rivals,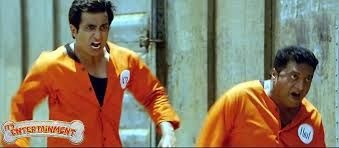 Lokhande and both brothers also plan to surpass that dog but dog prevents lokhandy from an accident and his revenge turns into sympathy with the dog so he left the thinking of being property holder and both the brothers gain achance to get property so they also thrown the dog out from the house.
Lokhande feels sympathy for that dog and set to help it, so he manages to get ajob as servent in that bangalow ention where both the brothers where livng so goes there with the plan that divide and rule, so suceedes and thus takes revenge of dog.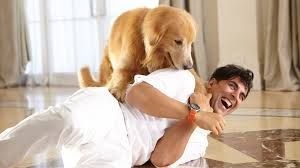 But here starts a new climax that a sever fighting starts between all them and dog manages to take away the cd,which was captured by lokhande to unveil the truth.
At the end akhil lokhande was shoot by karan but dog was with him, it jumped over him took bullet on its chest.Finally, this happens his memory lose,so everyone lives happily.