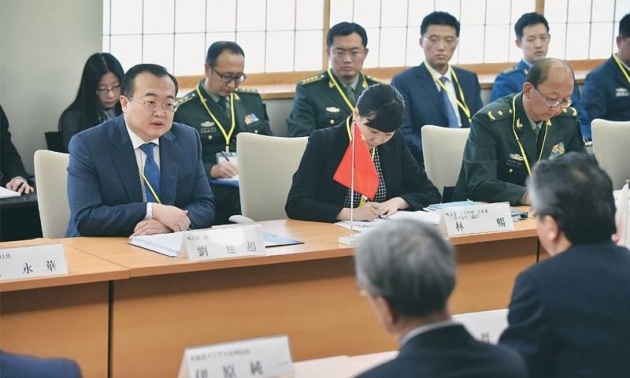 Tokyo: China's Assistant Minister of Foreign Affairs Liu Jianchao (left) speaks at the 13th round of Japan-China Security Dialogue at the Foreign Ministry on Thursday.—AFP
TOKYO: Japan and China held security talks on Thursday after a four-year hiatus because of simmering territorial tensions, with the two sides agreeing to hold meetings "more frequently" to speed up a thaw in once-frozen relations, officials said.
The first such dialogue between the two rivals since January 2011 was held at Japan's foreign ministry in Tokyo, a government official said, in the latest sign of slowly improving ties.
The talks involved top officials from each country's foreign and defence ministries, including Japan's Deputy Foreign Minister Shinsuke Sugiyama and Liu Jianchao, China's assistant foreign minister.
Take a look: Can Japan, China and S. Korea end their war past in Jakarta?
"Both sides agreed that these kinds of direct talks in the areas of national security and defence should be held more frequently," said a Japanese ministry official who was at the meeting.
Specifically, the officials agreed that they should start operating a maritime crisis-management mechanism soon, the official said.
Tokyo asked Beijing to make its growing defence spending more transparent and explain the reasons behind its military expansion, he added.
Japanese officials told their counterparts that Japan would continue to follow the path of pacifism, at a time when Prime Minister Shinzo Abe intended to relax the restrictions on Japan's military to allow it to come to the aid of allies under attack — a move that had angered Beijing.
China's Liu told the meeting that Beijing hoped to develop ties with Tokyo in the spirit of "taking history as a mirror and looking forward to the future", according to China's official Xinhua news agency.
The comment reflects Beijing's persistent theme of Japan's need to face up to its aggressive actions in World War II.
Tokyo and Beijing are also at loggerheads over the sovereignty of uninhabited islands in the East China Sea, which Japan administers as the Senkakus, but which China claims as the Diaoyus.
Relations soured in 2012 when the Japanese government angered China by nationalising some of the islands, and Beijing had since refused most high-level talks with Tokyo, as ships and planes from both sides regularly sparred in the East China Sea.
Some observers had warned that the regular presence of military or paramilitary vessels from two of the region's powers risked sliding into conflict.
But the two sides broke the ice in November when Mr Abe and Chinese President Xi Jinping shared a frosty handshake on the sidelines of the Asia-Pacific Economic Cooperation forum.
"Our country sees (the dialogue) as important as it is expected to improve mutual trust between Japan and China in the field of security," Yoshihide Suga, the Japanese government's top spokesman, told reporters earlier.
"Through this dialogue, we want to foster a sense of trust between the two countries by exchanging views frankly and honestly on security policies, defence policies and the regional situation," Suga added.