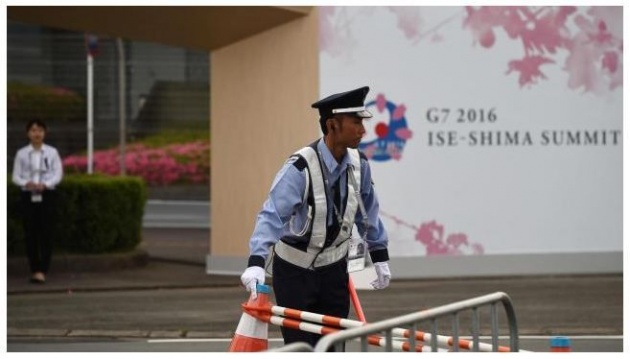 Japan is on high-alert ahead of a Group of Seven summit with thousands of police on the streets of Tokyo and fanning out across the country as authorities boost security to unprecedented levels.
The annual event, which takes place on Thursday and Friday, draws leaders from some of the world's richest nations, including US President Barack Obama and German Chancellor Angela Merkel.
Host Japan said it is taking no chances in the wake of the Paris and Brussels terror attacks, and Fukushima's operator said Tuesday that work at the crippled nuclear plant would be suspended during the talks.
Up to 70,000 police are being deployed before the two-day meeting of the club of rich nations, with about one-third of the officers headed to Ise-Shima, an area between Tokyo and Osaka that is hosting the event.
Thousands of other police will be on hand in Hiroshima when US President Barack Obama makes an historic visit to the atomic-bombed city on Friday, the National Police Agency said.
Dustbins have also been removed or sealed and use of coin-operated lockers blocked at train and subway stations in the capital and areas around the venue site.
Electronic message boards in train stations are warning passengers of the elevated risks and advising them to keep watch for suspicious activity.
Authorities said they will be keeping a close eye on so-called "soft targets" such as theatres and stadiums.
There have been few public protests so far in Japan unlike some previous G7 gatherings.
Fukushima operator Tokyo Electric Power told AFP it will also suspend most work at the site-which was destroyed during the 2011 quake-tsunami disaster-on Thursday and Friday. As many as 8,000 employees are working on decommissioning and other tasks at the plant.
The company said the measure was not taken over fears of an attack at the plant itself, which is hundreds of kilometres (miles) away from both Tokyo and the G7 venue, but rather to "minimise the risk of incidents" that could divert authorities' attention.
"The summit is happening when there is a very serious threat of terrorism internationally," National Police Agency chief Masahito Kanetaka said Monday.
"Protecting Japanese people from the risk of terrorist attacks on soft targets, not only at the summit venue but also in big cities such as Tokyo, is a key issue. We will be ready for any incident."
The March Brussels airport and metro attacks which killed 32 people are believed to be the work of jihadists closely linked to the cell which carried out the November Paris massacres in which 130 people died.
Japan is unused to incidents of international terrorism and is seen as a low-risk target "in normal times", said security expert Shiro Kawamoto.
"But because of international events such as the G7 summit and the 2020 Tokyo Olympics, Japan could be a target for terrorists," the former senior police agency official said.