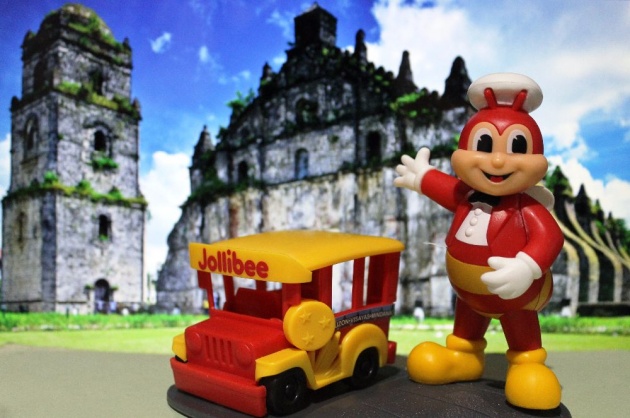 Photo Credit: Ruel Umali Photography via http://ruelumali.com
JOLLIBEE: Dubbed as Asia's answer to McDonald's in the fast food business!
I'm kind of bored with my Health and Wellness blogs as well as with my Internet Privacy blogs already (I think I was able to submit 3 articles each of these topics). Aside from that I also received an undesirable ratings lately so I decided to write about some easy to create blogs but of course I am also looking for something interesting and I hope my topic for today will be of something significant to all of you out there especially to all Filipinos. But if I am able to submit uninteresting one? It's okay I am not determined and inspired anyway LOL.
Anyhow, I did check all the QUERLO survey chat over Micky's blog and choose one topic so I could still get extra buzz scores. I know this has become part of the daily lives of a Filipino for quite some time now wherever they are when and where there are available branch of it. This topic would be related to this Querlo survey chat:
Filipinos are originally fond of parties or festivities and are somewhat addicted to food chains too, this can be demonstrated with the number of people you'll see in every branch of those food chains around even in between regular meals and that's the reason why Philippines has almost all International Food Chains like McDonald's (maybe my next topic) KFC among others. These food chains are scattered almost everywhere, not only inside malls but also in some relevant areas of every key cities in the Philippines.
INTRODUCING: JOLLIBEE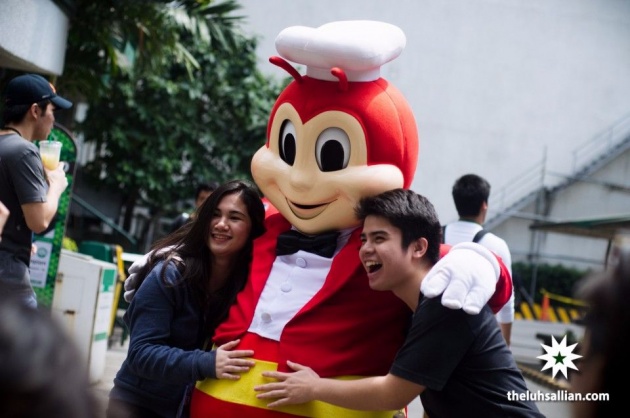 Photo Credit: http://spoof.thelasallian.com
I am proud to introduce to you, a great pride of Filipino people as it is a Filipino Multinational chain of fast food restaurants, I mean the company is originated in the Philippines. Jollibee Foods Corporation is the legal name of JOLLIBEE which is their flagship brand, and fried chicken as their core product which they call it Chicken-joy. It is based in Pasig, Philippines and now has branches in almost all key cities of the Philippines and even abroad. Yes, a purely Filipino company that has become successful also in the international market. Perhaps its success is mainly due to the presence of a lot of Filipinos abroad who are really patronizing own products.

Photo Credit: www.jollibee.com.ph
There are already more than 2000 stores opened in 2011 in Philippines alone and more than 20 stores in Vietnam in 2012. As of 2015, Jollibee already had more than 3000 stores worldwide. And this year, Jollibee records the highest number of store opening in a single year in the history of the fast food industry. That means more and more Filipinos are patronizing Jollibee over the other foreign food chain restaurants. Actually not only Filipinos, I also see other nationalities eating in one of Jollibee branches here in Jeddah, KSA. That means non-Filipinos also like the taste of it.
PRODUCTS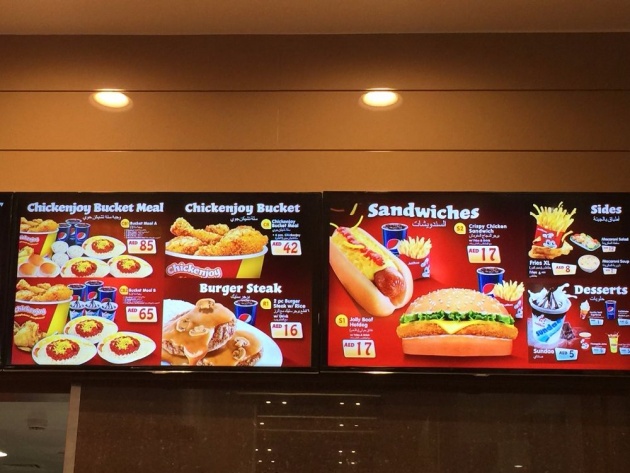 Photo Credit: Google Photo via https://diaryofanewbiemom.wordpress.com
Jollibee is Filipino-style fast food restaurant with American-influenced dishes specializing in burgers, spaghetti, chicken and some local Filipino dishes. In the Philippines, Jollibee serves Coca-Cola products for its beverages; in overseas markets, the chain serves Pepsi products. - Wikipedia
HISTORY
Jollibee started as a Magnolia Ice Cream Parlor In 1975. The family who owned it first focused from ice cream and then later on serve hot dogs when they discover that a larger market is waiting to be served with those yummy jolly hot dogs.
5 years later, Jollibee experienced a rapid growth even surpassing the entry of McDonald's in the Philippines sometime in 1981. Their success is really amazing such that they were able to open new branches so fast.
JOLLIBEE BIGGEST MILESTONE
In 1991, Jollibee was able to open its 100th branch in Davao City in Mindanao. The 200th store was opened in Malolos, Bulacan in 1996 and in just 2 years' time, Jollibee's 300th branch was open in Bulacan. In 2001, Jollibee opened their 400th store in Intramuros, Manila and in 2004, a Jollibee store was opened in a Muslim area Basilan which was the 500th branch so far. The 1000th branch was opened in Bonifacio Global City.
EXPANSION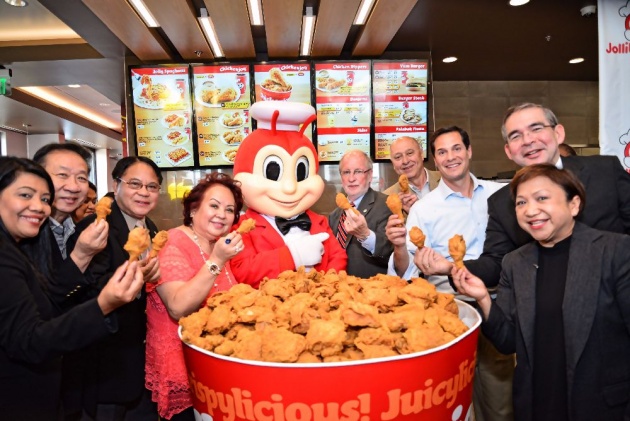 Photo Credit: keywordsuggest.or
Jollibee continue to soar high each year, opened the 1000th branch in Bonifacio Global City, Taguig. They are already present in almost all places in the Philippines. And with the success of Jollibee, the company was able to acquire other fast food business in the Philippines like Chowking (2000), a Chinese fast food resto, Greenwich Pizza, Red Ribbon (2005) a bakeshop business in the Philippines known of their delicious cakes, Burger King Philippines (2011) and my favorite Mang Inasal.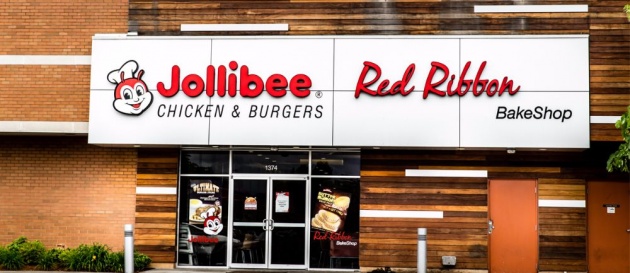 Photo Credit: http://www.foodserviceandhospitality.com
As of January 2015, Jollibee Food Corporation (JFC) had a total of more than 3,000 stores worldwide, with system-wide retail sales totaling 82.1 billion pesos for the 2011 fiscal year. – Wikipedia
It was in 1994 when Jollibee acquired 80% of Greenwich Pizza and acquired full ownership of it in 2006.
Truly the success of Jollibee is far beyond compare you will be amazed of their rapid growth and success in all their ventures. According to Wikipedia:
In 2004, Jollibee acquired Chinese fast food chain Yonghe Dawang for $22.5 million. Jollibee entered into a joint-venture contract with US-based Chow Fun Holdings LLC, the developer and owner of Jinja Bar Bistro in New Mexico, in which Jollibee acquired a 12% stake for $950,000. In 2005, Jollibee acquired Red Ribbon, a bakeshop business in the Philippines. In less than 5 years, Jollibee managed to nurture the business and transform it into a popular and rapidly growing bakeshop chain. In 2006, Jollibee purchased 70% of Taipei restaurant Lao Dong in June and Chun Shui Tang tea house. In 2007, Jollibee acquired the Chinese fast-food chain Hongzhuangyuan for $50.5 million (roughly P2 billion).
JOLLIBEE OVERSEAS
Jollibee Food Corporation has Jollibee branches outside the Philippines in locations in other countries in Southeast Asia, Hong Kong, the Middle East, and North America.
The first branch overseas was opened in Taiwan in 1986.
In 2011, Jollibee opened 93 stores. Around 70 branches in China and 11 branches in Vietnam. Jollibee opened their first store in the US in 2013 located in Virginia Beach, Virginia and in Houston, Texas. Few months after another branches were opened in Chicago, Illinois, the latest branch in the US was opened in March 18, 2017 in Jacksonville, Florida.
Jollibee was able to open branch in Dubai, Malaysia and Indonesia in the past but unfortunately were closed due to the 1997 Asian financial crisis.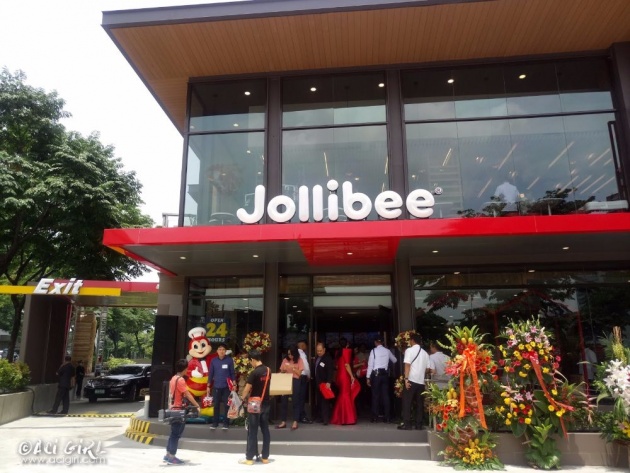 Photo Credit: Aci Girl via http://www.acigirl.com
JOLLIBEE GOES TO CANADA
In 2016, December 15 to be exact, the first Jollibee store in Canada was opened. It was located in Winnipeg.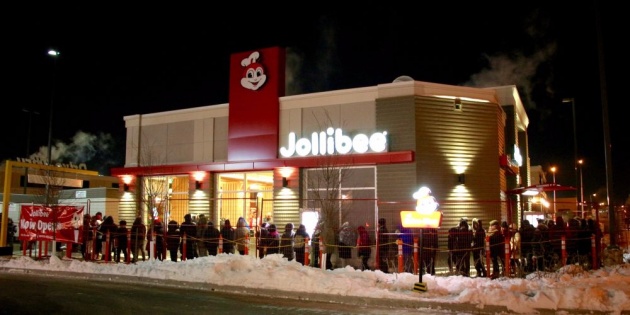 "Hundreds of eager and patient kababayans braved the colds at minus 25 to minus 30 windchills starting at five in the morning to patiently wait for their turn to grab a ticket. A trailer on stand-by was used as shelter for those who had to wait long hours and could not be accommodated inside the store." - http://ckjs.com
Photo Credit: http://ckjs.com
OPENING SOON
In October 2016, Jollibee and Cargill formed a joint venture, C-Joy Poultry Meats Production, and broke ground on a new poultry processing facility at Santo Tomas, Batangas in the Philippines. The facility will be expected to process 45 million chickens per year. - Wikipedia

Photo Credit: http://www.chicagotribune.com
MARKETING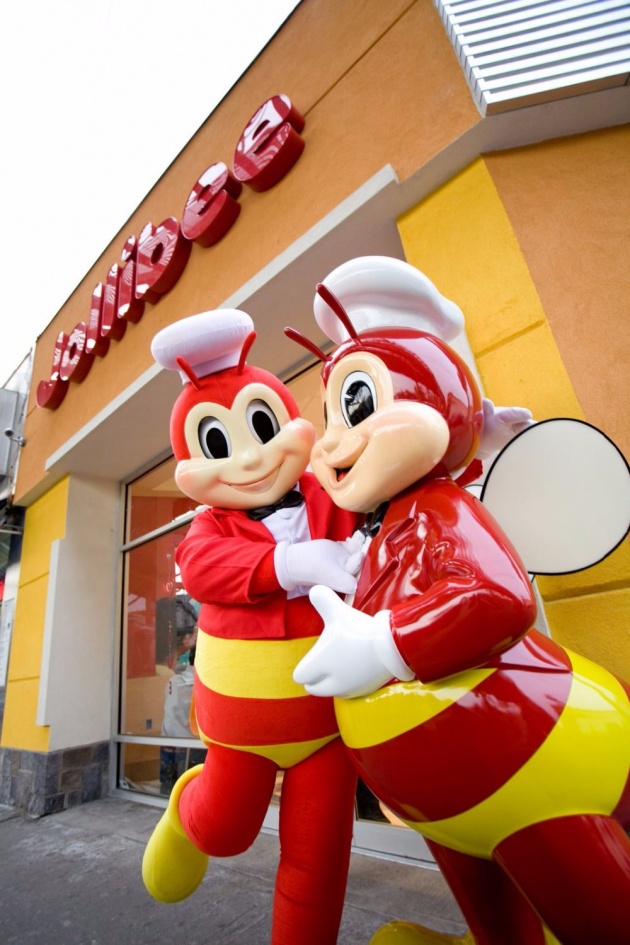 Photo Credit: Loyal KNG via http://loyalkng.com
Mascots
Jollibee, a large bee mascot dressed in a blazer, shirt, and chef's hat introduced by the brand in 1980, is probably the most widely recognized character in the Philippines.

The mascot Jollibee was designed to epitomize Filipino optimism. Tony Tan, chairman and founder has compared the mascot's character to the Filipino working folk reasoning that the bee "hops around and produces sweet things for life, and is happy even though it is busy. - Wikipedia
Jollibee Promotional Video, watch and enjoy!
Video Credit: Jollibee Philippines via www.youtube.com
AWARDS
Jollibee has won many accolades. It has consistently been mentioned as one of the Philippines' and Asia's most admired companies in surveys conducted by publications such as Asian Business Magazine and The Wall Street Journal Asia and has received other plaudits from Euromoney and Asia Money. In 2008, it was also the recipient of the FMCG and F & B Asia Pacific Supply Chain Excellence Award at the SCM Logistics Excellence Awards. - https://howlingpixel.com/wiki/Jollibee
Watch the video below and ENJOY!
Video Credit: Noypi Stuff via www.youtube.com
Hope you enjoy this tender juicy blog (LOL) as I did, till next!
By: TRB - A father of 5, an Overseas Filipino Worker and willing to be part of the worldwide campaign against poverty, climate change, and inequality.